This Sunday, France will play Portugal in the Final of Euro 2016, at the Stade de France in Saint-Denis, a suburb of Paris. As France is the host nation, its team would seem to have a great advantage. But Portugal has Cristiano Ronaldo, often considered the best soccer player in the world. We shall see.
France previously won the European Football Championship in 1984 (also on home soil) and 2000, and the World Cup in 1998 (again, at home). But 10 years ago, an incident occurred that will be debated for as long as the sport is played, and it took this long for France to recover: For all their talent, they finished last in their group at Euro 2008, had a mutiny against their manager at the 2010 World Cup and lost all 3 of their Group Stage games, and lost in the Quarterfinals of Euro 2012 and the 2014 World Cup.
*
July 9, 2006, 10 years ago today:
The World Cup Final is held at the Olympiastadion in Berlin. France play Italy.
Italy were loaded with legends: Gianluigi Buffon, Fabio Cannavaro, Andrea Pirlo, Francesco Totti, Luca Toni. This was a team so good, Daniele De Rossi and Alessandro Del Piero did not start and had to come on as substitutes, Alessandro Nesta and Filippo Inzaghi remained on the bench, and Paolo Maldini, still starting for AC Milan at age 38, was not even selected.
But France were equally laden with starpower, many of them holdovers from the 1998 triumph: Fabien Barthez, Lilian Thuram, David Trezeguet, Patrick Vieira, Thierry Henry, and Captain Zinedine Zidane. Others had developed since that win:
Claude Makélélé, Florent Malouda, Sylvain Wiltord, Lasanna Diarra,
Éric Abidal,
Franck Ribéry.
The key was Zidane: The midfielder, who had starred for Girondins de Bordeaux in his homeland, Juventus in Turin, Italy, and Real Madrid in Spain, had put the team, indeed his entire country, on his back, and led them to victory in 1998.
The son of Kabyle immigrants from France's former colony of Algeria, he was a symbol of reconciliation, as both nations were still dealing with the nasty war that Algeria fought for its independence from 1954 to 1962 -- having ended only 36 years before.
Although light-skinned enough to appear white -- unlike several national side teammates, including Henry, Vieira, Thuram, Trezeguet, and his Real Madrid teammate
Makélélé
-- he had faced prejudicial gestures large and small, including the insinuation that he was not truly, or not wholly, French.
Yet he went into that 2006 Final once again having led the team to glory. It was to be his last game: At age 34, he had announced his retirement as a player. Win or lose, it would be all over when the final whistle blew for this game.
*
In the 7th minute, Malouda, then playing his club football for Olympique Lyonnais, was knocked down in the box by Marco Materazzi of Internazionale Milano. If Materazzi were a hockey player, he wouldn't be a "pest": A good player who frequently plays rough; he'd be a "goon": A player whose sole purpose is to play rough, because he can't do anything else.
Horacio Elizondo, the Argentine selected to referee the game (because he was from neither team's continent), correctly awarded a penalty, and Zidane converted it. France led, 1-0.
The lead did not last long. In the 19th minute, Pirlo, the AC Milan legend, sent a hellacious corner kick into the box, and Materazzi, of all people, headed it past Barthez, the famously bald goalkeeper who was back with Olympique de Marseille after starring for them, Toulouse, AS Monaco and Manchester United.
In the 2nd half, Luca Toni, then of Florence-based Fiorentina, hit the crossbar with a shot, and then correctly had a headed goal disallowed as having been offside. Malouda was tackled in the box by Juventus' Gianluca Zambrotta, but was incorrectly not awarded another penalty. Arsenal legend Henry was stopped by Juventus goalie Buffon. Malouda skied a shot over the bar. Pirlo just missed with a free kick.
In extra time,
Ribéry, then with Marseille and later to star for Bayern Munich, just missed. Buffon just barely knocked a Zidane header away.
And then, in the 110th minute, Materazzi pulled on Zidane's jersey, the 2 of them exchanged words, and Zidane head-butted Materazzi right in the chest. In French soccer, this is known as a coup de boule -- literally, "stroke of ball" or "blow of ball," but also meaning "play of head." (The more familiar phrase
coup d'état
means "blow of state," and refers to the overthrow of a government.)
Elizondo did not see the incident. The 4th official,

Luis Medina Cantalejo -- so respected that he not only officiated at 3 games of that World Cup, but was one of the few Spanish referees to officiate at La Liga games between arch-rivals Real Madrid and Barcelona, a rivalry so intense that foreign referees are nearly always assigned to oversee it -- told Elizondo through his headset that it had happened.
Elizondo properly showed Zidane a straight red card, making him the 4th player to be sent off in a World Cup Final, and the only player ever sent off in games of 2 separate World Cups. The scene of Zidane walking into the locker room, past the World Cup trophy but not even looking at it, is nearly as iconic as the coup de boule itself.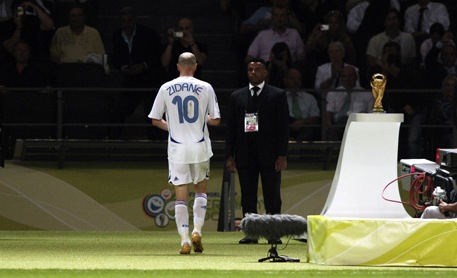 Extra time ended with the game still 0-0, so it went to penalties. Italy kicked first. Pirlo scored his penalty. Sylvain Wiltord, then with Lyon and previously the man whose goal past Barthez secured the League and Cup "Double" for Arsenal in 2002, made his. 1-1.
Materazzi was next for Italy, and made his penalty. Next for France was Trezeguet, facing his Juventus teammate Buffon. In extra time of the Euro 2000 Final, he had beaten Buffon with a shot. Under the rules then in place, it was a "golden goal": Automatic victory. This time, he was not a hero: He clanged his shot off the crossbar. 2-1 Italy.
De Rossi made his penalty. Abidal made his. Del Piero made his. Willy Sagnol made his for France. Finally, Fabio Grosso clinched the win for Italy: 5-3, with France's last shot not taken, seeing as how it would have been meaningless. Italia:
Campioni del Mondo
.
Zidane, of course, was not available for the penalties.
Why did he do it? Three British newspapers --
The Times, The Sun
, and the
Daily Star
, with varying degrees of reliability -- all hired lip-readers who were fluent in French and Italian to look at the tape, and to see what Materazzi had said to Zidane to provoke it. (I don't know if Materazzi speaks French, but Zidane played in Italy long enough to learn the language.)
The Times
has a reputation for sterling journalism;
The Sun
and the
Daily Star
are considered lying right-wing propaganda rags. Yet the lip-readers hired by all 3 reported the exact same thing: They all said that Materazzi had called Zidane a "son of a terrorist whore."
It had been less than 5 years since the 9/11 attacks, and a year to the week after the 7/7 attacks on the London Underground (subway). Apparently, Materazzi was unaware that presuming that all Muslims are terrorists is not only bigoted, but stupid. To make matters worse, Zidane's mother was ill at the time.
Materazzi's version of events was a little different. He said he would never have insulted someone's mother, having lost his own when he was 15 years old. Without question, he had tugged on Zidane's shirt. The exchange of shirts is a postgame tradition that goes back decades, and Materazzi said that Zidane told him, "If you want my shirt, I will give it to you afterwards." Not an unreasonable request of the Captain of one of the finalists to the other, and not an unreasonable response.
Materazzi said that his follow-up was, "I prefer the whore that is your sister." In other words, "Your sister puts out, and I'd like you to set me up with her." In other words, Materazzi admitted that he had gone too far.
But so had Zidane. There were about 10 minutes of play to go. Winning is the best revenge. A man as accomplished as Zidane -- 2 League titles in Italy and 1 in Spain, a Champions League win, a World Cup and a Euro title -- should have accepted this. Win the game, and you look like a champion, and the guy trying to provoke you looks like an idiot. Instead, the great Zizou looked like an easily provoked fool, and Materazzi an undeserved World Champion.
The play swept the world. Dozens of people posted their attempts at recreating it on the Internet. American TV shows parodied it. A song titled "Coup de Boule" hit Number 1 on the French music charts.
*
Top 5 Reasons You Can't Blame Zinedine Zidane for France Losing the 2006 World Cup
First, let me do a reason that didn't make the cut:
The Best of the Rest.
The Second Malouda Penalty.
Had it been correctly awarded, it would have been 2-1 France, there never would have been extra time, and the
coup de boule
would never have happened. Zidane would have gone out a winner, he and his country would have had a 2nd World Cup win, and Materazzi would have gone down in history as a dirty player whose dirtiness cost his country a penalty and a World Cup win.
The reason this isn't one of the top 5 is that Buffon was one of the greatest goalies of all time, pretty much at his peak, and could have stopped the penalty.
5. The Other French Players.
Zidane scored penalties against Portugal in the Semifinal and Italy in the Final. Other than that, France hadn't scored since Thierry Henry's goal in the 57th minute of the Quarterfinal win over Brazil. From then until the penalty stage of the Final, that was 243 minutes without a goal from open play.
So, for all their talent, France weren't exactly lighting up the scoreboard. In other words, had the
coup de boule
not happened, and the game had remained 11 vs. 11, given how France were playing at the time, there wasn't a great chance of them scoring in the last 10 minutes of extra time anyway. Italy certainly didn't look like they were exhausted.
Which brings us to...
4. The Italian Defense.
In the 1960s, both Milan clubs, AC Milan and Internazionale (or "Inter"), became known for a defensive style called
catenaccio
-- "padlock." AC Milan used it to win the European Cup in 1963 and 1969, and Inter won it in 1964 and 1965 and lost the Final in 1967.
From that point onward, defense was viewed as the highest virtue in
calcio
(the Italians' word for soccer). The great sportswriter for
La Gazzetto dello Sport,
Gianni Brera, effectively Italy's Grantland Rice, once wrote that the ideal
calcio
game would end 0-0.
In the 1970s and '80s, Juventus would dominate the Italian game with a rugged defense. By the time AC Milan became great again in the late 1980s, their combination of Italian
catenaccio
(the aforementioned Paolo Maldini and his defensive partner Franco Baresi), Dutch
totalvoetbaal
(the superb striker Marco Van Basten), and the Dutch-Surinamese combo of
totalvoetbaal
and
samba
(Ruud Gullit and Frank Rijkaard) made the Italians appreciate attack again. But defense was still what Italian fans preferred.
How good was the 2006 Italy defense? In 7 matches, including their Semifinal win over Germany and their Final win over France that both went to extra time, they did not allow a single goal from open play to the opposing team. The only goals they allowed were Zidane's penalty in the Final, and an own goal by Cristian Zaccardo of Palermo that forged a 1-1 tie with, of all teams, the U.S. That's 690 minutes, 7 2/3rds games' worth of soccer, and not 1 single solitary goal was scored by the opposition from open play.
Which brings us to...
3. Gianluigi Buffon.
The legendary keeper -- still going strong in 2016, by the way; it seems as though his 1st manager for Italy was Julius Caesar -- is on the short list for the title of greatest goalkeeper of all time.
He was immense throughout the 2006 World Cup, including the Final. While it is true he didn't stop Zidane's penalty in the 7th minute, and Trezeguet's miss in the penalty kick phase wasn't directly his doing, had Zidane (whose last season at Juventus was the season before Buffon's 1st) been available, Buffon might have stopped him.
Which brings us to...
2. David Trezeguet.
He missed. I did say that Buffon wasn't directly responsible. But It's worth noting that Trezeuet then played for Juventus. He practiced penalties against Buffon. Which means they knew each other's tendencies. Did that make Trezeguet the ideal guy to try one against Buffon? Maybe, but it also made Buffon the ideal guy to try to stop Trezeguet. Perhaps there was some mind game in there that we didn't see, but a Juve fan would have -- the soccer equivalent of an inside joke.
If Trezeguet had made his kick, then, instead of ending 5-3 to Italy, it would have been 5-4, with France having a chance to send the penalties to sudden death. And then, who knows what would have happened.
Which brings us to...
1. Penalties are a crapshoot.
You simply never know. Great players miss them. England fans still wince over the misses of Stuart Pearce and Chris Waddle in the 1990 World Cup Semifinal vs. Germany, Gareth Southgate getting stopped by
Germany's

Andreas Köpke

in the Euro 1996
Semifinal, and Paul Ince and David Batty missing against Argentina in the 1998 World Cup Quarterfinal. In the 2006 Quarterfinal, Portugal's goalie Ricardo had stopped England's Frank Lampard, Steven Gerrard and Jamie Carragher.
Roberto Baggio was one of Juventus' and Italy's greatest players, and was known as a great penalty-taker. Yet his miss, over the crossbar, in the 1994 Final cost Italy the World Cup. Just the other day, Lionel Messi had a miss nearly identical to Baggio's, which helped cost Argentina the 2016 Copa America.
If "the Divine Ponytail" and "the Greatest Player of All Time" (which Messi most certainly is not) missed such important shots, maybe Zidane, if available, would have missed his, and France would have lost anyway.
VERDICT: Not Guilty.
While Zidane bears some responsibility for France losing the 2006 World Cup Final, there were plenty of other factors at work. He is not solely, or even primarily, responsible for the defeat.