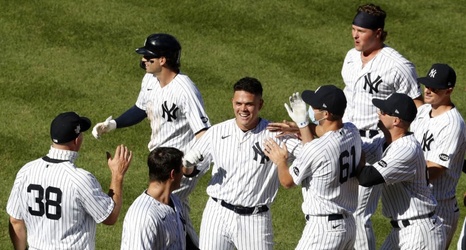 UPDATE and Spoiler Alert: No, they didn't.
The COVID-19 pandemic forced postponements in Major League Baseball to the point where the Yankees had to play 5 games against the Mets in 2 days -- or, as it turned out, 39 innings in a span of 48 hours, with the doubleheader games limited to 7 innings.
The Friday games turned into utter disasters for the Pinstripes. Jordan Montgomery pitched 5 strong innings in the opener, and was given a 4-0 lead after just 2 innings, including a home run by Clint Frazier.
But Montgomery got shaky in the 6th, and then Chad Green finished blowing the lead. The Mets scored 5 runs, and won it, 6-4. WP: Walter Lockett (1-0, and, no, I'd never heard of him, either). SV: Edwin Diaz (2, and you know you've had a bad game when you let Edwin Diaz nail down a save). LP: Green (2-2).
*
The nightcap was even worse. Because this was the rescheduling of a game that was meant to be played at Citi Field, the Yankees were officially the visiting team: Still wearing their home Pinstripes, but batting in the top halves of the innings.
Jonathan Loaisiga was, in effect, an "opener," and allowed just 1 run over 3 innings. But, because Brian Cashman is the operational manager of the Yankees, and Aaron Boone is just his press secretary, taking the hard questions so that the coward Cashman doesn't have to, Boone had to pull Loaisiga.
At first, this worked, as Adam Ottavino pitched a scoreless 4th. So, leave him in, right? Wrong: Cashman told Boone to pull him, and bring in Nick Nelson, to protect a 3-1 lead. He allowed a run. Then Cashman told Boone to bring in another relief pitcher, in this case the known unreliable Luis Cessa. He was okay in the 6th.
But for the 7th and last inning, Cashman told Boone to bring in another relief pitcher. Seriously: How many pitchers does it take to pitch 7 innings? It should only take one.
This time, which pitcher was being brought in was understandable: Aroldis Chapman, the closer. Except...
Cliche Alert: Walks can kill you, especially the leadoff variety. Chapman walked the leadoff man, Jeff McNeil. Then he gave up a home run to Amed Rosario. Game over. Mets 4, Yankees 3. WP: Jared Hughes (1-1). No save. LP: Chapman (0-1).
A walkoff home run for the Mets, over the Yankees, at Yankee Stadium. That had never happened before, in either Yankee Stadium.
The preceding Monday, the Yankees were 16-6, and led the American League Eastern Division by 2 1/2 games over the Tampa Bay Rays. Now, they were 16-13, and 4 games behind the Rays.
Seven straight losses. Including 2, at home, in ghastly fashion, to the Mets.
The season was looking over. It looked like, for all their complaints about their own general manager, Brodie Van Wagenen was the best GM in New York baseball.
And the thought of firing Brian Cashman has still never crossed Hal Steinbrenner's mind. Maybe he was adopted.
*
The Saturday game would be the only game intended as 9 innings. And it looked like the Yankees would lose their 8th straight game. Every team in Major League Baseball has had at least one losing streak of at least 8 games since 2007 -- except the Yankees, who hadn't had one since 1995.
But DJ LeMahieu and Gio Urshela were back, off the Injured List. This would turn out to be huge. Huger still: J.A. Happ, the Yankees' worst starter so far this season, pitched beautifully, going into the 8th inning (but only 90 pitches, so maybe Cashman didn't feel like he was having a stroke), allowing no runs on 3 hits and no walks, striking out 5.
And then Boone, probably on Cashman's orders, took Happ out after getting the 1st out in the 8th. Worse, he brought in Ottavino. As Papa Bear would say in the Berenstain Bears stories, "That is what you should not do. Now. let that be a lesson to you." The score was only 1-0, thanks to an early Luke Voit home run. Ottavino gave up a homer to Wilson Ramos. Tie ballgame.
It was still 1-1 in the bottom of the 9th. Who comes in to pitch for the Mets? Ex-Yankee Dellin Betances. Cliche Alert: Walks can kill you, especially the leadoff variety. He walked Clint Frazier. He struck Brett Gardner out, then allowed a single to Jordy Mercer, a longtime journeyman for the Pittsburgh Pirates that the Yankees had recently signed. Frazier got to 3rd.
And, with backup catcher Erik Kratz at the plate, Betances threw a wild pitch. Frazier came home. Ballgame over, Yankees... You know the rest.
Yankees 2, Mets 1. WP: Chapman (1-1). No save. LP: Betances (0-1).
What a Mets way to win the game. So much so that John Sterling did not turn to Suzyn Waldman and say, "You know, Suzyn, you just can't predict baseball." The Mets will never be a complete surprise with the way they lose games. They will always be a team with its roots in the 40-120 inaugural season of 1962, when former Yankee manager Casey Stengel said, "Come and see my amazing Mets! I been in this game 100 years, but they've shown me ways to lose I never knew existed before."
*
Did that game turn the season around for the Yankees? Mike King started yesterday's opener, and he was a little shaky. Brooks Kriskie came in to relieve, and he was a lot shaky. Between them, Ben Heller and Green pitched 3 scoreless innings.
It didn't seem to matter. Rick Porcello, given up for dead by most baseball fans, allowed only 2 runs over 5 innings, and it looked like the Yankees didn't deserve to win. They went into the bottom of the 7th and last inning trailing 7-2, and it looked hopeless.
But among the things that can cause as much damage as a leadoff walk is a leadoff error, and Andres Giminez mishandled Mike Ford's leadoff grounder to 3rd. Hughes got the next 2 outs, but then, well, here comes that cliche about walks again. He walked Tyler Wade. Then he loaded the bases by hitting Thairo Estrada with a pitch. Voit singled home 2 runs.
Met manager Luis Rojas brought in his closer, Diaz. Estrada scored on a wild pitch. And then Aaron Hicks hit a screamer that just got over the right field fence. Tie ballgame.
It went to the 8th, which, under the current rules, takes the form of the 10th, and it starts with a runner on 2nd base. I don't like this rule, and it should go before next season. This time, though, it helped the Yankees. The runner on 2nd was Mike Tauchman. With 1 out in the 8th, Ford worked Diaz for a walk. Diaz got Gardner to fly out to center, but Urshela singled Tauchman home.
Yankees 8, Mets 7. WP: Green (3-2). No save. LP: Diaz (1-1).
As John Lennon would have said if he were a baseball Met fan, "Nobody told me there'd be Diaz like these. Strange Diaz, indeed. Most peculiar, Mama!"
*
The nightcap, also with the Yankees serving as the visiting team, featured the major league debut of 21-year-old Dominican righthander Deivi

García

, one of Cashman's precious "prospects" he's been building around since the infamous Trade Deadline Surrender of '16.
He didn't allow a baserunner through the 1st 3 innings, and the Yankees gave him a boost through a home run by Tyler Wade leading off the 3rd. But an error by Voit in the 6th led to the Mets tying the game, and denying

García

t
he victory. Jonathan Holder pitched a scoreless 7th.
The game went to the 8th inning, with Gardner as the man starting on 2nd. Drew Smith was on the mound for the Mets, and, well, what do I say about leadoff walks? He walked Frazier. He got Urshela to fly to left, but it was enough to advance the runners. He intentionally walked Tauchman to load the bases and set up an out at any base.
Boone sent Gary Sanchez to pinch-hit for Kratz, and Yankee Fans everywhere lost their minds, because Sanchez has been hitting so poorly. Sanchez crushed a grand slam deep into the left-center Bleachers. Michael Kay said, "Boy, did he need that!"
Holder got a strikeout to start the bottom of the 8th, but walked a batter. Uh-oh... He got a forceout, but then allowed an RBI single, and another single, and Boone had to take him out. And he put in Cessa. There was no reason to do that: Chapman hadn't pitched all day. But Cessa struck Ramos out to end it.
Yankees 5, Mets 2. WP: Holder (1-0). SV: Cessa (1). LP: Smith (0-1).
*
So the Yankees lost the 1st 2 games of this series with the Mets, and won the last 3. They could have lost all 5, but then, they also could have won all 5.
Now, the Rays come in, and the Yankees trail them by 3 1/2 games, but just 2 in the loss column. There are 28 games to play.
If we can just get through today's trading deadline without Cashman trading any established major league players for a bunch of prospects...