Today, the 1st regular-season Major League Baseball game in Europe was played, between the 2 biggest rivals in the sport, the New York Yankees and the Boston Red Sox, at the London Stadium, the main venue for the 2012 Olympic Games, and now the home of East London soccer team West Ham United.
Britain's royal family was represented by the Duke and Duchess of Sussex, a.k.a. Prince Harry, former British Army helicopter pilot and fan of many things American; and Meghan Markle, a former actress who is one of the American things of which he's a fan. They visited each team in their locker rooms, and both teams gave them a baby-onesie version of their uniforms, with the Number 19 (for the year) and the name Archie on the back for their newborn son.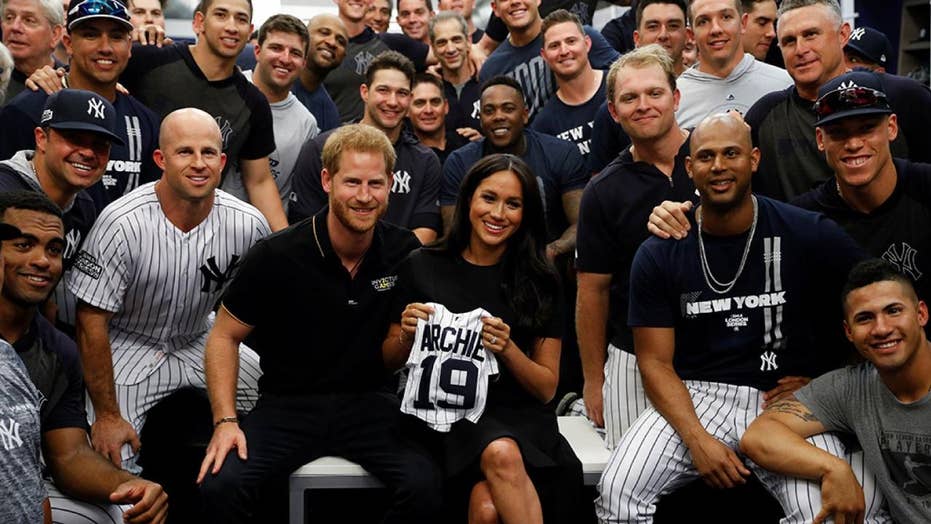 An all-black choir wearing Caribbean style outfits saying "The Star Spangled Banner" and "God Save the Queen," and Harry and Meghan looked on as a group kids representing baseball in Britain threw out ceremonial first balls.
The Red Sox are the official home team for both of these games, having graciously given up 2 Fenway Park home games against the Yankees for the greater good of the sport. But both teams are wearing their home uniforms. The British authorities setting the game up knew that the Yankee Pinstripes are every bit as iconic as the Arsenal cannon or the Liverpool "Liverbird."
Never let it be said that the people who paid to attend did not get their money's worth. But this was a Yankees-Red Sox game, so something unusual (aside from the location, that is) was bound to happen. But I don't think anybody expected this kind of slugfest. The game was crazy -- or, as they say in Britain, "barmy."
The teams packed an entire game's worth of big moments into the 1st inning. The Yankees knocked Sox starter Rick Porcello out of the box with the following: A single by DJ LeMahieu, a fly out by Aaron Judge, a walk by Gary Sanchez, an RBI double by Luke Voit, a 2-RBI double by Didi Geegorius, an RBI double by Edwin Encarnacion, and a home run by Aaron Hicks.
Six to nothing. As they say in England, Yankee Fans were taking the piss.
Then came the bottom of the 1st. Masahiro Tanaka had nothing. He allowed single, RBI double, walk, walk, popup, RBI sacrifice fly, RBI single, 3-run homer by Michael Chavis.
Tie ballgame. As they say in English soccer, Six-nil and we fucked it up! Somebody said it was the 1st major league game in 30 years in which both starting pitchers were knocked out in the 1st inning without being injured.
In that great ballpark in the sky, Phil Rizzuto must have been saying, "Holy cow, what's coming off here?" Every American with a social media account was telling his British followers that this was incredibly unusual, not an everyday occurrence.
Chad Green, who was supposed to be tomorrow's starting pitcher for the Yankees, got out of the inning. Both teams threatened again in the 2nd, but neither scored. With 2 outs in the top of the 3rd, Gleyber Torres singled, and Brett Gardner hit a home run. 8-6 New York.
The top of the 4th turned out to be the decisive inning. Voit led off with a double. Gregorius drew a walk. The Sox got Encarnacion and Hicks out. But Torres singled to load the bases. Gardner drew a walk to force a run home. And LeMahieu cleared the bases with a double into the left field corner. And then, here came Da Judge, and there went da ball, deep to right field. 14-6 New York.
I should note that, of the 6 home runs hit in this game, none was to that too-close (385 feet) center field fence. They would all have been out of either Yankee Stadium II or Fenway Park, or pretty much any other MLB stadium's field.
Voit doubled again in the 5th, but seemed to injure himself rounding 1st. If it's an oblique injury like Judge had for much of the season, he could be out for a while, which would be a bit of a problem. Gio Urshela ran for him. Gregorius singled him home. After Encarnacion struck out, Hicks singled, Torres walked, Gardner struck out, and LeMahieu struck again, singling home 2 runs.
It was now 17-6 Yankees. Thus far, the Yankees' linescore read 60263. I looked it up: That ZIP Code is not currently in use. If it were, it would be in Evanston, Illinois, in Chicago's northern suburbs.
There was a takeoff on the Washington Nationals' "Racing Presidents." No, not racing Prime Ministers, like they have at Ottawa Senators hockey games, although one of the characters was Winston Churchill. No, not racing monarchs, although one of the characters was King Henry VIII.
This did not look promising: Both Sir Winston and King Henry went from being strong, athletic young men, distinguished in battle, to being fat old men known for their excesses (Henry for eating and mistresses, Winston for drinking).
There was a Loch Ness Monster. So far, the geography worked for the United Kingdom: Churchill represented England, "Nessie" represented Scotland, and Henry VIII was from the House of Tudor, which originated in Wales. But there was no Northern Ireland equivalent. It's just as well: Who would they use, George Best? He, at least, was an athlete -- I've compared him to Mickey Mantle, in ways both favorable and not, including the wearing of the Number 7 -- but he drank more than Churchill did.
The 4th racer was a big foam-headed version of Queen lead singer Freddie Mercury, and he won the race. It makes sense: Queen went high on the U.S. music charts in October 1977, when the Yankees were winning the World Series, with one of the last double-sided hit records: "We Will Rock You" (which Freddie said he wanted to sound like a sports anthem) and "We Are the Champions."
The Loch Ness Monster finished last. He was so far back, it was like he didn't even exist.
Jackie Bradley Jr. homered for the Sox in the 6th, but it looked like small consolation. The 7th inning stretch was held, and everyone sang "Take Me Out to the Ballgame," as if they'd been singing it their whole lives. (Surely, many of them were Americans, and had.)
Nelson Cortes Jr. got the 1st 2 outs in the bottom of the 7th, but then the Sox struck back: Single, single, another homer by Chavis, single. 17-10. Aaron Boone, having already used Tanaka, Green, David Hale and Cortes, now brought Tommy Kahnle in. Result: Walk, wild pitch, single, bases-loaded walk. 17-12. Boone brought Adam Ottavino in: Double. 17-13. Finally, the last out was obtained.
The Yankees went down 1-2-3 in the 8th, having previously done so only in the 6th. And Neil Diamond's "Sweet Caroline" rang out over the speakers, as it does at that point in Red Sox home games. It was still a 4-run Yankee lead, but now The Scum had all the momentum. Ottavino allowed 2 runners in the inning, but got out of it.
The Yankees wasted an Urshela double in the top of the 9th. They needed 3 outs, allowing 3 or fewer runs. It sounded simple enough, but this is Yankees vs. Red Sox, where nothing is simple. Boone didn't fool around: He brought in the closer, Aroldis Chapman. He got former Yankee Eduardo Nunez to ground out.
But D.J. Martinez got a hit. Sam Travis was up. The tying run was still 2 more batters away, but in the backs of our minds, there was the thought that the Yankees might score 17 runs against their arch-enemies, and it might not be enough.
Travis hit a shot up the middle. Gregorius snared it, and barehanded the ball to Torres covering 2nd. Torres threw over to LeMahieu, now playing 1st base. Double play.
Whew.
Ballgame over! Yankees win! Theeeeeeeeeeeeeeee Yankees win!
Fireworks were set off, and Frank Sinatra's recording of "Theme From
New York, New York
" was played, as if we were at Yankee Stadium.
Final score: Yankees 17, Red Sox 13. Specifically: For the Yankees, 17 runs on 19 hits and no errors, and a whopping 20 men left on base. For the Red Sox, 13 runs on 18 hits, they also played errorless baseball (incredibly, this wild game had no errors in it), and they also left 20 men on.
The winning pitcher: Chad Green, 2-2. Aroldis Chapman entered with a 4-run lead, so he was not credited with a save. The losing pitcher: Steven Wright, 0-1, as he was the pitcher whose knuckleball to Gardner was turned into a home run, making a 6-6 tie an 8-6 Yankee lead.
If this were a soccer game, a "Man of the Match" would have been selected. My choice for MOTM: DJ LeMahieu, 4-for-6, with 5 RBIs. Luke Voit also had 4 hits before he had to leave. Didi Gregorius and Brett Gardner each had 3 RBIs.
The attendance was 59,659. And the time of the game, a highly unmanageable, but very entertaining, 4 hours and 42 minutes.
And tomorrow, at 3:10 PM London time -- 10:10 AM New York and Boston time -- they get to do it all over again.
Concern for the Red Sox: Pitching. They used 8 pitchers, and their bullpen, their big weakness all season, is going to be exhausted.
Concerns for the Yankees: Also pitching, as they also used 8 pitchers, including Green, whom they intended as the starter for the 2nd game. And Voit, as they don't yet know how long he's going to be out injured.
Think about this: Take out that incredible 1st inning, and it still would have been a slugfest: 11-7 Yankees.
With the win, the Yankees are now 10 games ahead of the Red Sox in the American League Eastern Division, 11 in the loss column. The Tampa Bay Rays won, so they remain 7 games, 8 in the loss column, behind the Yankees.
It was perfect baseball weather by our standards, but hot by London standards. The weather is expected to be the same tomorrow, so the infamous British Isles rain won't be a factor. Boone has already announced that the Yankee starter will be Stephen Tarpley, who did not pitch today. Eduardo Rodriguez is scheduled to be the Red Sox starter.
Let's do it again -- the win, that is, not necessary the method thereof. Come on you Pinstripes! Beat The Scum!