The 2017-18 NHL season saw the debut of the League's 31st franchise, the Vegas Golden Knights. They did shockingly well, winning the Pacific Division and the Western Conference, before being defeated in the Stanley Cup Finals by the Washington Capitals.
This coming Tuesday night, the New Jersey Devils will face them at the T-Mobile Arena.
Before You Go.
Las Vegas may have mountains in the distance, but it's the desert. It can get warm in the Winter, and brutally hot in the Summer. This being early January, you probably won't have to worry about the heat. But c
heck the weather forecast on the Las Vegas Review-Journal's
website before you, so you'll know what to bring.
When I visited Las Vegas, a taxi driver told me it only rains about 2 days out of the year. Next Tuesday will not be one of those days. Temperatures will be in the high 60s in daylight and the low 40s at night, so you will need a jacket.
Although the State of Nevada is not on the Pacific Coast, most of it, including Las Vegas and environs, is in the Pacific Time Zone, which is 3 hours behind New York. Adjust your timepieces accordingly.
Tickets.
Capacity for Knights games is listed as 17,500, and they're averaging 18,286 per game this season, over a sellout. That would be understandable even if they were a typically awful expansion team, because of the novelty. So tickets will be hard to come by.
Seats in the lower level, Sections 1 to 20, are $163 between the goals and $138 behind them. In the upper deck, the 200 level, they're $111 between and $83 behind.
Getting There.
It's 2,524 miles from Times Square in New York to downtown Las Vegas, and 2,518 miles from the Prudential Center in Newark to the T-Mobile Arena. In other words, if you're going, you're flying.
If -- pardon the gambling metaphor -- you play your cards right, you can get a round-trip nonstop ticket from Newark Liberty International Airport to McCarran International Airport in Las Vegas for a little under $200. More likely, it'll be around $400, and you'd have to change planes in Denver.
(Pat McCarran was a U.S. Senator from Nevada from 1933 until his death in 1954, and, despite his Democratic affiliation, he was one of the reckless Communist-hunters in Congress at the time.)
Amtrak doesn't go to Las Vegas anymore. Greyhound does, and round-trip fare is $875, but can drop to as low as $399 with advanced purchase -- and even that might turn out to be more expensive than flying.
The former Amtrak station is now the Greyhound station, and, as with another great party city, New Orleans, it might be the least interesting building in a city full of gaudy ones. 200 S. Main Street, downtown.
Driving is a bad idea -- even if it's not the late Dr. Hunter S. Thompson or one of his friends offering to drive you to Las Vegas. After all, even if you get someone to go with you, and you take turns, one drives while the other one sleeps, and you pack 2 days' worth of food, and you use the side of the Interstate as a toilet, and you don't get pulled over for speeding, you'll still need over 2 full days. Each way.
But, if you really, really want to drive, take Interstate 80 West, nearly to the Nebraska-Colorado line, then Interstate 76 West to Denver, then Interstate 70 West into Utah, to Interstate 15 South, which goes into Las Vegas.
Given an average speed of 60 miles an hour, you'll be in New Jersey for an hour and a half, Pennsylvania for 5:15, Ohio for 4 hours, Indiana for 2:30, Illinois for 2:45, Iowa for 5:15, Nebraska for 6 hours, Colorado for 7:15, Utah for 6 hours, Arizona for half an hour, and Nevada for 2 hours
; for a total of 43 hours. Factor in rest stops, you'll need nearly 3 full days. And, remember, that's just one way.
Once In the City.
The name Nevada comes from a Spanish word meaning "snow-covered," and Las Vegas means "the stars," perhaps prophetic given the role the city would eventually have in the entertainment industry.
Nevada gained Statehood on October 31, 1864, and mentions of its transition from Territory to State, in the midst of the American Civil War (hence the motto "Battle Born"), were occasionally dropped on the TV show
Bonanza
, set at the other end of the State, in Virginia City, near Reno and the State capital, Carson City.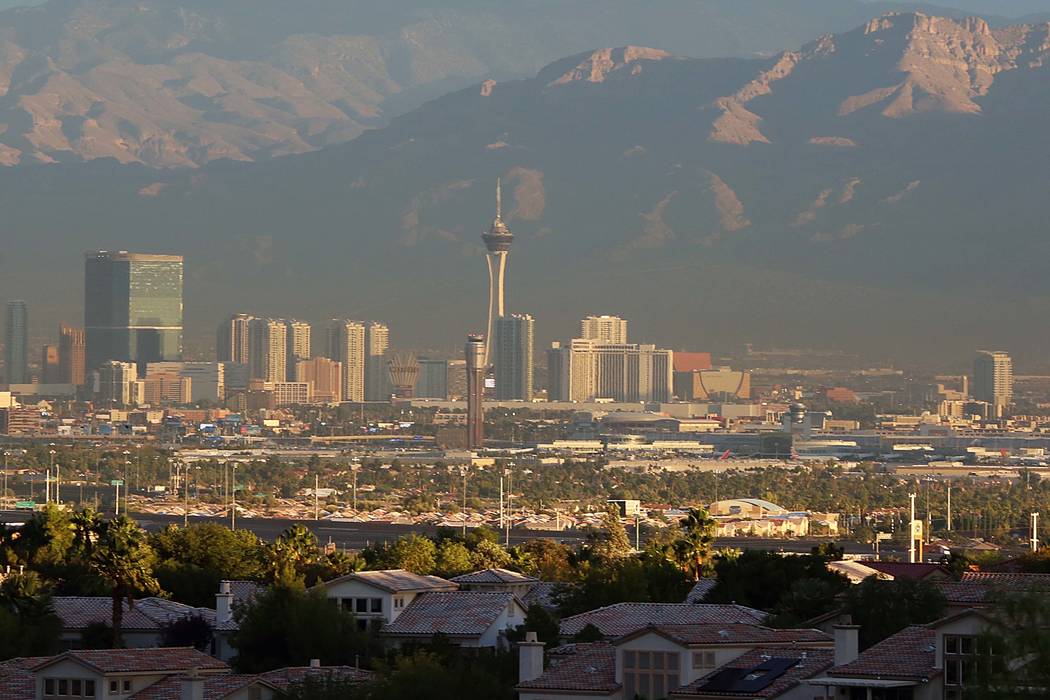 Founded in 1905, the arrival of the Golden Knights has allowed Las Vegas to surpass Edmonton as the newest city in North American major league sports, and Oklahoma City as the newest in the U.S. The fastest-growing American metro area in the 1980s and 1990s, it got hammered by the 2007-11 recession, possibly worse than any other city, but has recovered somewhat. It is home to about 630,000 people, and its metro area around 2.3 million. The city is about 48 percent white, 32 percent Hispanic, 12 percent black, 7 percent Asian, and 1 percent Native American.
The "centerpoint" of the city, where east-west and north-south addresses begin, is Main Street and Ogden Avenue. The city has no beltway. It's important to remember that, as with Princeton, New Jersey, a lot of the major sights in "Las Vegas" are actually outside the city limits, south of them. Most of these are in the city of Paradise, including the airport, Caesars Palace, and the UNLV campus.
The Las Vegas Strip runs from Sahara Avenue to Russell Road -- from about 2500 to about 4700 South Las Vegas Boulevard. Northward to Flamingo Road -- with Caesars, the Flamingo, Bally's and the Bellagio on its corners -- in pretty much parallels I-15, the Las Vegas Freeway. Then it curves slightly to the east, toward downtown, separated from Main Street by 5 blocks.
If we accept downtown Las Vegas as "downtown Las Vegas," and Caesars as "downtown" for the casinos, then these are actually 4 miles apart -- not walking distance, especially in the usual Vegas heat.
The city has 2 major newspapers, the
Las Vegas Review-Journal
and the
Las Vegas Sun
. Knowing that it wouldn't exist without Los Angeles and Hollywood, most of the casino-hotels also carry the
Los Angeles Times
. Knowing that they get visitors from the East Coast, they also carry the
New York Times
and the
Washington Post
. (At least, they did when I first visited in 1991. With the Age of the Internet, that may no longer be practical.)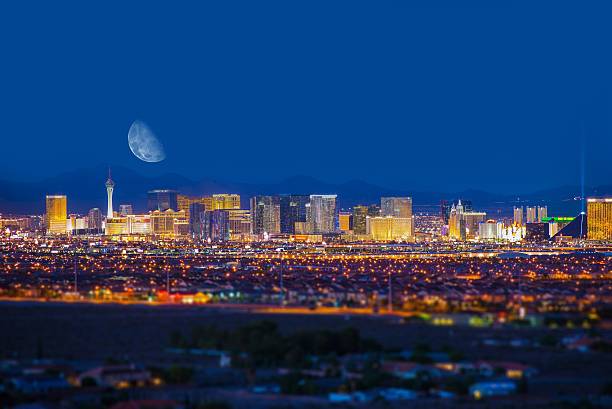 "Bright light city, gonna set my soul, gonna set my soul on fire!"
-- "Viva Las Vegas," lyrics by Doc Pomus,
melody by Mort Shuman, sung by Elvis Presley
The sales tax in the State of Nevada is 6.85 percent, and in Clark County, including Las Vegas, it's 8.1 percent. ZIP Codes in the Las Vegas area begin with the digits 889, 890, 891 and 893. The Area Code is 702, with 775 overlaid. NV Energy provides all that electricity.
The State House, the Nevada State Legislative Building,
in Carson City
The Deuce and the Strip & Downtown Express (SDX) provide premium frequent service approximately every 15 minutes along the Strip and in downtown. Visitors are required to purchase Strip & All Access passes which includes both Strip routes and all other residential routes. A 2-hour pass is $6.00, a 24-hour pass is $8.00, and a 3-day pass is $20.
The Las Vegas Monorail opened in 2004. It runs from SLS Station at Sahara Avenue south to the MGM Grand. A single ride is $5.00, a day pass is $12, and a 3-day pass is $28.
The Monorail, at the Westgate,
formerly the International and the Hilton,
Elvis' old stomping grounds
Going In.
Anschutz Entertainment Group and Harrah's Entertainment built the T-Mobile Arena, naming rights bought by the mobile-phone company, and opened it on April 6, 2016, with Las Vegas natives The Killers and Shamir opening for Mr. Las Vegas himself, Wayne Newton.
"The Fortress" (it doesn't look like one, but the nickname ties in with the Knights theme) has a mailing address is 3780 S. Las Vegas Blvd., about 3 1/2 miles south of downtown. It is accessible by MGM Grand Station on the Monorail, and it's a 2-block walk west. If you drive in, parking can be had at the MGM Grand for $20.
The court and rink are laid out east-to-west -- or, more precisely, southwest-to-northeast. The Knights shoot twice toward the northeast end, Sections 10 and 11.
Since it opened for the 2016-17 season, the Arena has hosted Frozen Fury, an annual NHL preseason game. That 1st season, the home team was the Los Angeles Kings, but, from this season onward, it's the Golden Knights. The arena has also hosted the Pac-12 Conference Basketball Tournament, the Floyd Mayweather vs. Conor McGregor prizefight, the Miss USA pageant, and the Latin Grammys.
Food.
Las Vegas brings in people from all over the world, and knows that these people expect to be catered to. So there's lots of good food at T-Mobile Arena, run by Levy Restaurants:
* Pizza Forte: At Sections 1 and 11.
* Pink's Hotdogs (for some reason, spelled as one word): 3, 18 and 213.
* Cool Intentions Ice Cream: 6.
* Rollin Smoke Barbecue: 10.
* Tail and Fin (seafood): 19 and 219.
* Shake Shack: 20.
* Chronic Tacos: 20 and 209.
Team History Displays.
Very quickly, they dispensed with the question, "What history?" At their home opener, they raised separate banners for their 2017-18 Western Conference and Pacific Division Championships.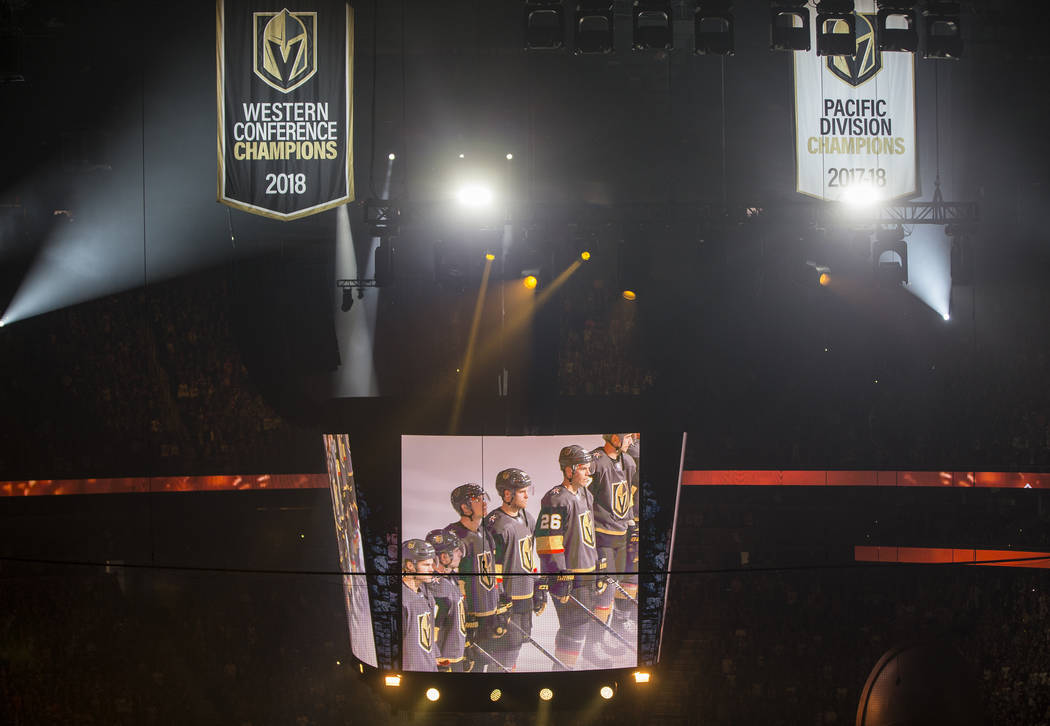 The team's name is, sort of, a nod to history: Owner Bill Foley is a graduate of the United States Military Academy at West Point, New York, and he wanted to name the team the Black Knights, which is the name of the Academy's teams. The Academy had no issue with that, but the NHL turned the request down, saying the name would be too close to the Chicago team's name, the Blackhawks.
But, noting that "Knights" were, in his words, "the epitome of the warrior class," Foley looked for an alternative name, and found it. The helmet logo's exposed facial area seems to form a V, for "Vegas."
(Foley actually owns 85 percent of the team. The other 15 percent is owned by the Maloof family, formerly owners of the NBA's Sacramento Kings.)
They also have a wraparound banner suggesting a window onto the city's skyline, banners of the other NHL teams, and a banner in memory of the 58 people killed in the gun massacre at the Route 91 Harvest Music Festival on October 1, 2017, during the team's 1st preseason. It has 58 points of light, rather than the number 58, although they have retired that as a uniform number.
It's a number rarely worn in the NHL, anyway.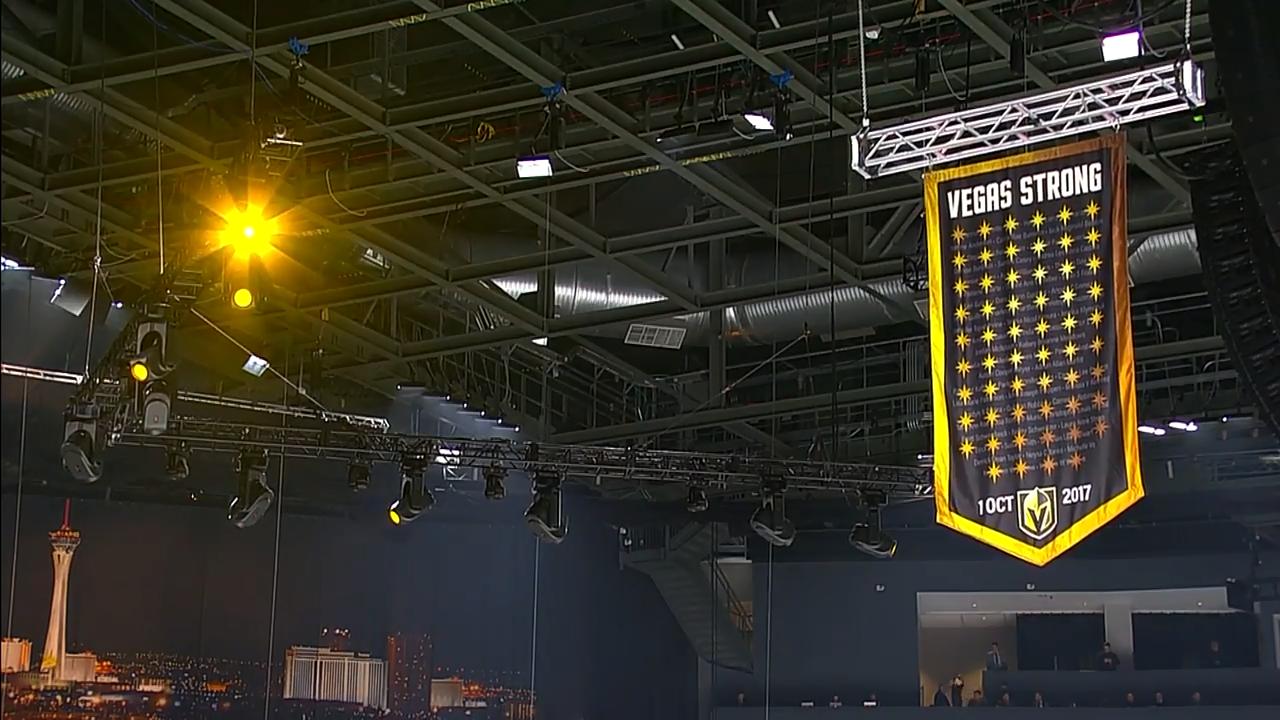 It's hard to say that they have an arch-rival yet. Geographically, their rivals would be the Los Angeles area teams, the Los Angeles Kings and the Anaheim Ducks; the Phoenix-based Arizona Coyotes; and, I suppose, the San Francisco Bay Area's San Jose Sharks and Denver's Colorado Avalanche.
They beat the Kings and Sharks in the 2018 Playoffs, before beating the Winnipeg Jets in the Western Conference Finals and then losing the Stanley Cup Finals to the Winnipeg Jets. In 2019, they lost to the Sharks in the 1st Round. But I don't see a real rivalry forming yet.
Stuff.
The Armory is to the right of the main arena entrance at the east end, and supplies the usual gear available at a team store.
In July 2018, the sports department of the Las Vegas Sun released Born to Glory: The Vegas Golden Knights' Historical Inaugural Season. In September, Joe Pane and Deke Castleman published Vegas Golden Knights: How a First-Year Expansion Team Healed Las Vegas and Shocked the Hockey World. As yet, there are no DVDs about the team, although, if they had won the Cup, there surely would be a DVD set.
During the Game.
It's hard to tell who the Knights' rivals will turn out to be, but their fans have yet to prove themselves to be rough. They don't even seem to think about playing up Vegas' Mob image. As usual, your best bet for staying safe is to not antagonize anyone.
The Knights-Devils game will not feature a promotion. They hold auditions for National Anthem singers, instead of having a regular. The Knights' goal song is "Vegas Lights" by Panic! At the Disco. They also sing Neil Diamond's "Sweet Caroline" as "Sweet Golden Knights, bomp, bomp, bomp."
Their mascot is a Gila monster with a gambling-themed name, Chance. They opted against using a knight for a mascot, having seen that other knight mascots (such as Rutgers' Scarlet Knight) didn't seem very child-friendly.
As if an ugly regional lizard is.
At least this Ice Girl seems to like her.
After the Game.
As I said, while VGK fans already have a Stanley Cup Finals appearance under their belts, they have not yet proven to be arrogant or mean. Just keep to yourself on the way out, and you should by fine.
Between the Arena and the strip is the New York New York Hotel & Casino. I don't know if it caters to New Yorkers (and New Jerseyans), but you should feel a little at home there. It has a Shake Shack and a Starbucks. And if you can't find a good place to drink in Vegas, then maybe that's one thing that happens in Vegas that should stay in Vegas.
If your visit to Las Vegas is during the European soccer season (which we are now in), the best soccer bar in the area is McMullan's Irish Pub, at
4650 W. Tropicana Avenue. Bus 201 to Cameron Street. Manchester United fans gather at the Crown & Anchor British Pub, 1350 E. Tropicana Avenue. Bus 201 to Maryland Parkway.
Sidelights.
O
n November 30, 2018,
Thrillist
published a list of "
America's 25 Most Fun Cities
," and, as you might expect given its reputation as a city designed as a resort, Las Vegas came in 5th.
With 2 brief exceptions, the Golden Knights are the 1st major league sports team to call the Las Vegas area, or anywhere in the State of Nevada, home. Until now, it's been relatively isolated.
The closest other major league cities are as follows: Anaheim, MLB, 260 miles away; Los Angeles, all 5 big sports, 267; Phoenix, everything but MLS, 298; San Diego, MLB, 328; Salt Lake City, NBA and MLS, 425; San Jose, NHL and MLS, 521; Santa Clara, NFL, 528; Oakland, MLB, 546; Sacramento, NBA, 558; San Francisco, MLB and NBA, 562.
Because of the transient nature of Las Vegas -- a large percentage of area residents aren't natives, and people tend to stick with their home teams until they're raising children in their new area and then accept the local teams as their kids do -- prior to the Knights, no one sports team was particularly dominant in Southern Nevada.
The most popular baseball teams, as you might guess, are the Los Angeles Dodgers (with about 18 percent of the fandom, according to an April 23, 2014 article in The New York Times), the Yankees (15 percent) and the Boston Red Sox (9 percent)
.
In each case, that's mostly media-driven -- in the Dodgers' case, due as much to that as to geography. After all, the Angels are slightly closer to Vegas than the Dodgers, and the Padres (not a whole lot further away) were the longest-running parent club of the Triple-A team. But they don't show up on the area's radar these days. Nor do the Diamondbacks, even though Hoover Dam and the Colorado River, the Arizona State Line, are less than an hour's drive away, which is no big deal at all in the Western U.S.
As for the Northern California sports teams, they don't gain any popularity in Nevada until you get to the Reno/Carson City/Lake Tahoe area, 450 miles from Vegas. They're 130 miles from Sacramento, 220 miles from Oakland and San Francisco, and 250 miles from San Jose. In the other direction, they're 515 miles from Salt Lake City and its NBA and MLS teams.
In NFL fandom, according to an article in the September 2014 issue of The Atlantic, Western Nevada, the Reno part, is dominated by San Francisco 49ers fans. Eastern Nevada, very sparsely populated, is Denver Broncos country. But Southern Nevada, the Vegas area, the leader there is the Dallas Cowboys -- a whopping 1,200 miles away.
Of course, Oakland Raiders owner Mark Davis is in the process of carrying out his threat to move the team to Vegas, and he wants to make Nevada, the Silver State, "the Silver & Black State." So the Cowboys may be out as the area's top NFL team.
There was no encroachment on Los Angeles' domination of the NBA and NHL market in Vegas. A May 12, 2014 article in The New York Times showed the Lakers as by far the most popular basketball team, and that does have as much to do with geography as winning and media blitzes.
The same held true for the Kings:
A
January 2016 article on BusinessInsider.com
showed that, before anyone knew that the NHL was coming to Vegas, the 2-time recent Stanley Cup winners were the most popular team in Nevada.
The Utah Jazz played 11 "home games" at the Thomas & Mack Center in the 1983-84 season, and 2 more in 1984-85, going 6-8 overall. The 17,923-seat arena, named for prominent area bankers E. Parry Thomas and Jerome D. Mack, has been home court to the basketball teams at the University of Nevada at Las Vegas (UNLV) since it opened in 1983, with head coach Jerry Tarkanian, a.k.a. "Tark the Shark" (hence the arena's nickname, the Shark Tank), leading them to the NCAA Final Four in 1977, 1987, 1990 (winning the National Championship) and 1991, before falling victim to the NCAA's punishment of his excesses.
4505 S. Maryland Parkway, in Paradise, about 2 miles east of the Strip. And be warned: The UNLV campus is
so
tacky! (How tacky
is
it?) It's so tacky, it makes Rutgers' Busch Campus look like the College Avenue Campus.
UNLV's stadium is not on campus. It was built in 1971 as Las Vegas Stadium, became the Silver Bowl (in honor of Vegas' bowl game, now named the Las Vegas Bowl) in 1978, and renamed Sam Boyd Stadium in 1984, for a major figure in the casino industry.
In addition to the Rebels, it was home to the Las Vegas Quicksilvers of the original North American Soccer League in 1977 (featuring the aging Portuguese star
Eusébio
), the Las Vegas Posse in the Canadian Football League's brief U.S. experiemnt in 1994, and the Las Vegas Outlaws of the ill-fated, ill-advised XFL in 2001. Real Madrid defeated Mexican team Santos Laguna there in 2012.
The north-pointing horseshoe seats just 35,500, and is expandable to 40,000. That's still a lot less than the Oakland Coliseum, but the Raiders decided not to use it as a stopgap facility, instead staying in Oakland for one last season in 2019. 7000 E. Russell Road, in Whitney, about 10 miles east of the Strip. The BHX Bus (Boulder Highway Express) takes 40 minutes to get there.
Allegiant Stadium, planned to open for the Raiders and UNLV this coming July 31, is at 2000 (or thereabouts) W. Hacienda Avenue and Dean Martin Drive, across I-15 from the Mandalay Bay Casino, and about 4 blocks south of the T-Mobile Arena. Its official address has been established as 3333 Al Davis Way. It will have a permanent, but clear, roof, and seat 65,000, expandable to 72,000 for Super Bowls and the NCAA Final Four.
Artist's depiction
Las Vegas now has a WNBA team, formerly the Utah Starzz and the San Antonio Silver Stars. The Las Vegas Aces play at the 12,000-seat Mandalay Bay Events Center, at the Mandalay Bay Resort and Casino.
That arena has already hosted 3 fights for the Heavyweight Championship of the World: Lennox Lewis beating David on November 11, 2000; Lewis beating Hasim Rahman on November 17, 2001; and Vitali Klitschko beating Danny Williams (not the
Hawaii Five-O
character) on December 11, 2004. 3950 S. Las Vegas Blvd., about a mile south of the T-Mobile Arena and 5 miles south of downtown.
The old Cashman Field wasn't much to look at.
They became the Las Vegas Pirates in 1958, but that was their last season. The city was then without professional baseball until a new 9,334-seat Cashman Field opened on the same site in 1983, when the Spokane Indians moved, and became the Las Vegas Stars, a farm team of the San Diego Padres. They won the Pacific Coast League Pennant in 1986 and 1988, giving Las Vegas 3 league titles.
In 1996, because renovations at the Oakland Coliseum would not be finished by Opening Day, and groundsharing with the San Francisco Giants meant playing at Candlestick Park, the Oakland Athletics moved their 1st 6 home games to Cashman Field, making it the smallest stadium to host a regular-season Major League Baseball game in the 20th Century.
The Las Vegas Lights
of the United Soccer League, American soccer's 2nd division, began play at Cashman Field in 2018, and have developed a cross-State rivalry Reno 1868 FC.
850 N. Las Vegas Blvd., at the northern edge of downtown. Bus 113 will get you to within half a mile.
For the 2019 season, as the top farm team of the Oakland Athletics, the 51st became the Las Vegas Aviators, and moved into the brand-new 10,000-seat Las Vegas Ballpark. This new place has
one major advantage over Cashman Field: Shade. Cashman has very little cover for the fans, and, as I mentioned, Las Vegas can get hot.
1650 S. Pavilion Center Drive, at Sahara Avenue, in Summerlin, about 10 miles west of the Strip.
Monorail to SLS Station, then Bus SX, which will take about 45 minutes, but will still involve less walking than the considerably closer Cashman Field does now.
By the late 1970s, Las Vegas had overtaken Madison Square Garden as the boxing capital of the world. The 15,356-seat arena at Caesars Palace has hosted 12 fights for the Heavyweight Championship of the World, with Larry Holmes winning the 1st 9.
It was Holmes taking the WBC version of the title from Ken Norton on June 9, 1978; knocking Alfredo Evangelista out on November 10, 1978; knocking Earnie Shavers out on September 28, 1979; knocking Lorenzo Zanon out on February 3, 1980; knocking Leroy Jones out on March 31, 1980; showing everyone just how far Muhammad Ali had fallen on October 1980; defeating Trevor Berbick on April 11, 1981; his thrilling fight with Gerry Cooney that ended with a 13th round knockout on June 11, 1982; and his 1st round demolition of Marvis Frazier (Joe's son) on November 25, 1983.
On June 19, 1992, Holmes had his own You-shoulda-hung-the-gloves-up-years-ago moment at Caesars, getting beat by Evander Holyfield. Holyfield regained the title from Riddick Bowe there on November 6, 1993; but then lost it there to Michael Moorer on April 22, 1994.
Other notable fights there have included George Foreman's knockout of Ron Lyle in 1976, and Sugar Ray Leonard's win over Marvelous Marvin Hagler in 1987.
Beyond those fights, Caesars is the best-known casino in the Las Vegas area. 3570 S. Las Vegas Blvd. It has its own stop on the Monorail.
The MGM Grand Las Vegas opened in 1993, including the MGM Grand Garden Arena, an obvious nod to Madison Square Garden. The 17,157-seat arena hosted the NHL's Frozen Fury preseason game from 1997 until 2015, with the Los Angeles Kings as the home team.
The MGM Grand Garden Arena, next to the MGM Grand
But it's better known for boxing. In 1994, 45-year-old George Foreman regained the Heavyweight Championship of the World there by knocking Moorer out, and then beat Axel Schulz there on April 22, 1995. In 1996, Mike Tyson needed less than 2 minutes to knock Bruce Seldon out there; shortly after the fight let out, one of the spectators, rapper Tupac Shakur, was shot, and died 6 days later.
It was Tyson's last fight before he "Finally" faced Evander Holyfield. Both of their fights were at the MGM Grand, Holyfield's stunning upset in the 1st and Tyson's disqualification for biting Holyfield's ears in the 2nd. (The headline was obvious: "Heavyweight Chomp." I couldn't figure out why they didn't call it "Tyson's Midnight Snack," until I realized that the time difference meant that it was in the 9:00 PM hour, not the midnight hour as it was here in the East.)
More recently, on January 17, 2015, Deontay Wilder took the WBC title there in a decision over Bermane Stiverne.
The Grand Garden has also featured Oscar De La Hoya, Floyd Mayweather and Manny Pacquiao fighting each other, and was just the site of Tyson Fury winning the Heavyweight Championship of the World from Deontay Wilder.
3799 S. Las Vegas Blvd. It is the southern terminus of the Monorail.
The T-Mobile Arena was built on the site of The Dunes Hotel, which hosted the title fight between Holmes and Tim Witherspoon on May 20, 1983. Witherspoon may have been hosed in a split decision, coming closer to beating Holmes than anyone did until Michael Spinks 2 years later.
Also gone is The Riviera, which hosted 3 title fights: Holmes beating James "Bonecrusher" Smith on November 9, 1984; beating David Bey on March 15, 1985; and, after building a 48-0 record, finally losing to Michael Spinks on September 21, 1985. 2901 S. Las Vegas Blvd.
The Mirage hosted 1 Heavyweight Championship fight, Holyfield taking the title from James "Buster" Douglas on October 25, 1990. It's still in business, at 3400 S. Las Vegas Blvd.
The Las Vegas metropolitan area currently ranks 24th out of 31 NHL markets in population. Presuming the Raiders do make the move, they'll rank 29th out of 32 in the NFL. If it had teams in the other Leagues, it would rank 30th in MLB (ahead of only Milwaukee), 27th out of 31 in the NBA, and 29th out of 31 in MLS.
Las Vegas is also known for music. Notable is Wayne Newton, in residence since 1958, when the future "Midnight Idol" was just 16. Howard Hughes' Sands Hotel was headquarters for "The Rat Pack": Frank Sinatra, Dean Martin, Sammy Davis Jr., Peter Lawford, Joey Bishop -- who filmed
Ocean's Eleven
there in 1960 -- and whoever the 5 of them thought was worthy at any given time.
Women were auxiliary members at best, but they included Judy Garland (and, later, by extension, her daughter Liza Minnelli), Shirley MacLaine and Angie Dickinson. Shirley, Angie and Liza are now the closest thing we have to living members. (Frank Jr., Nancy and Tina were never considered members.)
The Sands opened in 1952, with a show by Danny Thomas, and closed in 1996, and was soon demolished. The film
Con Air
ends with a plane crashing into it, and the building was demolished soon thereafter. In 1999, The Venetian Resort and Casino opened on the site. 3355 S. Las Vegas Blvd.
Liberace is another name associated with the city, with his splashy performances and his museum a couple of miles east of the Strip, now closed. When he was onstage, he didn't need the city's light bulbs, neon and spotlights. He just had to smile.
And then there was Elvis Presley. On April 23, 1956, he began a 3-week stand at the New Frontier Hotel. With the nearby nuclear tests in mind, he was billed not as either of his usual nicknames at that point, "The Memphis Flash" or "Elvis the Pelvis," but as "The Atomic-Powered Singer."
But he was only 21 years old -- barely legally old enough to be in a casino. His fans were that age and younger, and couldn't get in to see him no matter how rich they were. The ones who were a little older usually couldn't afford it. And grownups were not ready to understand him at that point. So, after 2 weeks of 8:00 PM and midnight shows, the hotel cut its losses, paid him for the full 3 weeks, and sent him home a week early.
The New Frontier Hotel was demolished in 2007, and the land is currently vacant -- probably because it's owned by Steve Wynn, who's in legal trouble. 3120 S. Las Vegas Blvd.
His Sun Records labelmate Carl Perkins, then climbing the charts with "Blue Suede Shoes" (which Elvis, of course, would cover), remembers that when Elvis got back to Memphis, he said, "Someday, I'll be the highest-paid guy on that Strip."
On July 31, 1969, that prediction came true. The International Hotel put the 34-year-old King of Rock and Roll onstage, doing 4 weeks of dinner and midnight shows, selling out 2,200 seats every single time. In the last 8 years of his life, he would play 750 shows at the International -- renamed the Las Vegas Hilton in early 1972.
The 375-foot Y-shaped white marble structure stood in for the Whyte House in the 1971 James Bond film
Diamonds Are Forever
. From 1998 to 2008, it hosted Star Trek: The Experience. In 2014, the Hilton was renamed the Westgate Las Vegas Resort. 3000 Paradise Road, separated from the Strip by a street with the same name as Graceland's in Memphis: Elvis Presley Boulevard. It has its own stop on the Monorail.
After his death, his record for highest-paid Vegas performer would be broken, first by Liberace, and then by many others, including Elton John, Celine Dion and Britney Spears.
The Beatles played the Las Vegas Convention Center on August 20, 1964. This 6,300-seat arena also hosted Sonny Liston when he defended the Heavyweight Championship against Floyd Patterson on July 22, 1963; Muhammad Ali when he defended it against Patterson on November 22, 1965; and Ali when he defended it against Ron Lyle on May 16, 1975.
The Convention Center as it appeared in 1964
* Reno. Elsewhere in Nevada,
Reno -- 437 miles to the northwest -- has 2 professional sports teams: The Reno Aces are the 51s' rivals in the PCL, and since 2009 have played at the 9,013-seat Greater Nevada Field. The Arizona Diamondbacks farm team won the Pennant in 2012, having previously won in 2006 as the Tucson Sidewinders. Also playing at this stadium is Reno 1868 FC of the United Soccer League. 250 Evans Avenue.
They play basketball at the 11,784-seat Lawlor Events Center, which opened in 1983. 1500 N. Virginia Street. They've won their conference 22 times in the regular season (including 2017 and 2018), and 5 times in the tournament (each time also winning the regular season title, including in 2017), but the closest they've gotten to a National Championship is the NCAA Tournament Sweet Sixteen in 2004. While they are the more successful school in football, UNLV is way ahead of them in basketball.
The Reno area has hosted other Heavyweight Championship fights. The only other recent one was Lennox Lewis defeating Henry Akinwande at Caesars Tahoe on July 12, 1997. Before that, it was a common boxing site, because of its lax laws. Bob Fitzsimmons took the title from Gentleman Jim Corbett at the Race Track Arena in Carson City on March 17, 1897. Marvin Hart and Jack Root fought for the vacancy in the title caused by the retirement of Jim Jeffries, with Hart winning on July 3, 1905.
But in 1908, Jack Jackson had become the 1st black Heavyweight Champion of the World, and fans searched for a "Great White Hope" who could take it back from him. Finally, after other fighters proved not good enough, Jeffries answered the constant call of, "Jeff, it's up to you!" He was well past it, and well out of shape. He lost a lot of weight, but in the brutal Northern Nevada heat on July 4, 1910, Johnson knocked him out in the 15th round. Jeffries admitted to reporters, "I could never have whipped Johnson at my best. I couldn't have hit him. No, I couldn't have reached him in a thousand years." Johnson lasted 5 more years as champ.
The site of this 1st "Fight of the Century," the 1st big fight promoted by George "Tex" Rickard -- later to build what we now call "the old Madison Square Garden" and the original Boston Garden -- and also of the Hart-Root fight was built at what was then the eastern edge of the city, where Reno Salvage now stands. 301 Montello Street, at E. 4th Street.
* Museums. Las Vegas doesn't want you to go to museums. They want you to gamble, and to drink, so that you can gamble some more. That's why the casino floors don't have clocks or windows: So you won't know how long you've been gambling. As Doc Pomus wrote for Elvis: "Turning day into nighttime, turning night into daytime." Or, as Bernie Taupin wrote for Elton, although he was talking about New York, "Unless they see the sky -- but they can't, and that is why they know not if it's dark outside or light."
(Atlantic City's casinos also don't have clocks, and while they have back entrances to the Boardwalk, there's space between them and the casino floors, and the door windows are tinted, so you can't tell if it's day or night.)
But Vegas does have museums. Alas, the best-known is The Mob Museum, dedicated to the city's organized crime, begun in 1946 when Benjamin Siegel (he hated being called "Bugsy") opened the Flamingo at 3555 S. Las Vegas Blvd. The Mob Museum is at 300 Stewart Avenue, downtown. A few blocks away, between The Mob Museum and Cashman Field, are the Neon Museum and the Las Vegas Natural History Museum, and 770 and 900 N. Las Vegas Blvd., respectively.
The most significant historic site anywhere near Las Vegas isn't that near. It's Hoover Dam, straddling, and using for electrical power, the Colorado River, at Boulder City, Nevada and Willow Beach, Arizona. Both Southern Nevada and Southern California as we have come to know them could not exist without it.
It was named Boulder Dam when it opened in 1936, it was renamed in 1947 for former President Herbert Hoover, who authorized its construction. The renaming was done by a Republican Congress, but Democratic President Harry Truman, who had become friends with Hoover and admired what he did when he wasn't President, and had no problem with signing it into law.
U.S. Route 93 used to run atop the Dam, but it was just a 2-lane road, so a bypass bridge was built. The Mike O'Callaghan-Pat Tillman Memorial Bridge opened in 2010, named for a figure from each State: Governor Callaghan of Nevada, and Tillman, the Arizona State and Arizona Cardinals football player who left the NFL to enlist in the U.S. Army after the 9/11 attacks and was killed in action in Afghanistan (by, as it turned out, "friendly fire").
The Dam is about 30 miles southeast of Vegas. There's no public transportation, but most of the hotels run a private bus or van service there.
No President has ever come from Nevada. Nor has any Vice President. Nor has any Nevada-based politician come particularly close. The highest-ranking one, as far as I know, is the recently-retired Senate Majority Leader Harry Reid.
Nor has any President had a vacation home, a "Western White House," in Nevada, although Jack Kennedy liked to hang out with Sinatra and his pals at the Sands. He had to stop doing so while President, for fear of being connected with organized crime -- which ultimately led to the split between the President and the Chairman of the Board.
(This also led to Peter Lawford, who married JFK's sister Pat, being excommunicated from the Rat Pack. Frank's switch from Democrat to Nixon- and Reagan-supporting Republican came later, and had little to do with the Kennedy family.)
The most famous TV show set in Nevada, and one of the greatest shows set anywhere, was the Western
Bonanza
, which aired on NBC from 1959 to 1973. The title comes from the 1859 discovery of the Comstock Lode, a silver vein, in Storey County near Lake Tahoe. In real life, the city of Virginia City was built nearby, and, on the show, Benjamin Cartwright (played by Lorne Greene) built his Ponderosa Ranch there ("Ponderosa" was the Spanish name for the area's tall pine trees), where he lived with his sons Adam (Pernell Roberts), Eric, a.k.a. Hoss (Dan Blocker), and Joseph, a.k.a. Little Joe (Michael Landon).
At Virginia City's peak, in the mid-1870s, it had about 25,000 people, and rivaled San Francisco for financial and cultural influence in the Western U.S. But the glory days only lasted about 20 years: A "Great Fire" burned much of the city in 1875, and by the time of the Gunfight at the O.K. Corral in Tombstone, Arizona in 1881, Virginia City was all over as a boomtown. By the 20th Century, the Wild West was done, and the place was already a period piece. In the 2010 Census, there were 855 permanent residents, and only 4,000 in the entire County.
But people still go there as tourists, to see remnants of the Wild West, and to take in the atmosphere of
Bonanza
, still seen in reruns on nostalgia-TV channels. It's 425 miles northwest of Las Vegas, 26 miles southeast of Reno, 16 miles northeast of Carson City.
But don't go looking for the actual show set: That was at RKO Forty Acres in Hollywood. A Ponderosa Ranch theme park opened in Incline Village in 1967, with a mockup of the Cartwright house. It was closed in 2004. It was adjacent to the Hyatt Regency Lake Tahoe Resort and Diamond Peak Ski Resort, about 30 miles west of the real Virginia City, and 30 miles southwest of Reno, from which the Blue Bus makes the trip -- $49 each way.
Other TV shows set in Nevada include
Reno 911!
; and these, all in Las Vegas: The 1978-81 ABC crime drama
Vega$
,
Crime Story
(a 1980s NBC period piece set in early 1960s Chicago and Las Vegas), the 2003-08 NBC drama
Las Vegas
, the 2005 poker-themed ESPN series
Tilt
, and the original version of CBS'
CSI: Crime Scene Investigation
.
And lots of TV shows have done a trip-to-Vegas episode, including
Perfect Strangers
(Balki wins a trip, and is thrilled, because he loves Wayne Newton, but Cousin Larry develops a gambling problem),
Full House
(Uncle Joey opens for Wayne Newton),
Roseanne
(Roseanne mistakes the real Wayne for an impersonator and heckles him), and
Friends
(Joey's film shoot there is canceled, and Monica and Chandler's plan to get married in Vegas falls apart when Ross and Rachel, drunkenly, actually do).
Movies set in Las Vegas include
Ocean's Eleven
(both versions, Frank Sinatra's of 1960 and George Clooney's of 2001),
Viva Las Vegas
(Elvis Presley sings, races cars, and romances Ann-Margret),
The Godfathe
r (Michael Corleone vs. Moe Green),
Over the Top
(Sylvester Stallone in an arm-wrestling tournament),
Midnight Run
(Robert De Niro as a bounty hunter vs.
Crime Story
's Dennis Farina as a Mob boss in McCarran Airport),
Rain Man
(Tom Cruise teaches Dustin Hoffman how to count cards),
Bugsy
(Warren Beatty plays Ben Siegel and meets Annette Bening),
Cool World, Indecent Proposal
,
Casino
(De Niro again),
Showgirls, National Lampoon's Vegas Vacation, Fools Rush In
, a film version of Hunter S. Thompson's
Fear and Loathing In Las Vegas, Pay It Forward, Rush Hour 2, The Cooler, Resident Evil: Extinction, 21, The Hangover
and
Last Vegas
.
James Bond went there in 1971 for
Diamonds Are Forever
. Sean Connery's Bond seeks revenge on Ernst Stavro Blofeld for the death of his wife, and gets help from Jimmy Dean (the country singer and sausage magnate plays a Howard Hughes analogue) Lana Wood (Natalie's sister), and Jill St. John. In 1997, Mike Myers parodied Bond with
Austin Powers: International Man of Mystery
, playing both the Bond type (Powers) and the Blofeld type (Dr. Evil), whose Number Two was played by Robert Wagner -- who, in real life, married Natalie Wood and Jill St. John.
Nicolas Cage made a hobby of Vegas:
Honeymoon In Vegas, Leaving Las Vegas
and
Con Air
. The documentary Elvis: That's the Way It Is showed Elvis rehearsing for, and then playing, his Vegas show in August 1970. Vegas movies with an Elvis tie-in include the aforementioned
Honeymoon In Vegas
and
3000 Miles to Graceland
.
The 38 tallest buildings in Nevada are in and around Las Vegas. You have to get to the 39th-tallest to find one in Reno or anywhere else. The Stratosphere Tower, at 2000 S. Las Vegas Blvd., is 1,150 feet high, but by the definition set out by the governing body for such things, it's not a "building." (Although the much-shorter casino-hotel attached to it is.)
Therefore, the "tallest building" in Nevada is The Palazzo, 642 feet, 3325 S. Las Vegas Blvd. It will be replaced by the 735-foot The Drew Las Vegas, currently under construction at 2755 S. Las Vegas Blvd., with an intended opening of late 2020.
You may have heard that prostitution is legal in Nevada. This is partly true. However, it is illegal in Clark County, which includes Las Vegas and the adjoining suburbs, including every casino-hotel; Lincoln County, to the north of Clark; Washoe County, which includes Reno; Douglas County, also near Reno, which includes Stateline, which is on Lake Tahoe (there is no city named Lake Tahoe); and the independent city of Carson City, the State capital.
As for getting married in Nevada, no blood test or waiting period is required. And Las Vegas makes it even easier: Once a short form is completed, and it and $77 are submitted to the marriage license bureau, you can get a marriage license within minutes, the ceremony can be performed, and it's legal in all 50 States. But don't do this. Anyone worth marrying is worth a real wedding.
Did I forget anything important? Oh yeah, Southern California's original tourist destination, outside of the Hollywood studios. Most people I've talked to who have been to both Disneyland in Anaheim and Walt Disney World outside Orlando, Florida have said that the Florida one is a LOT better. Anyway, the address is 1313 S. Harbor Blvd. in Anaheim, and if you're staying in Los Angeles, just drive down I-5. Public transportation is possible, but it's a mile and a half from the closest bus stop to Disneyland's gates.
*
So, if you can afford it, go on out and join your fellow Devils fans in going to see the new NHL team. And remember: If "What happens in Vegas" is a Devils win," don't let it stay in Vegas!