Just 26 days ago, needing a milestone tweet for October 30, I wrote a post for the 60th Birthday of Diego Maradona. Shortly thereafter, he had heart trouble and brain surgery, and it looked like he might die. Then, it looked like he might recover.
But now, I have to re-post this, with a sad addendum.
Diego Armando Maradona Franco was born on October 30, 1960, in Lanus, Buenos Aires state, Argentina. He is regarded as one of the greatest soccer players of all time. So why did he have to cheat?
El Pibe de Oro (The Golden Boy) played for Buenos Aires (city) team Argentinos Juniors from 1976 to 1981; Buenos Aires giants Boca Juniors from the middle of the 1980-81 season, winning the league title with them, until the end of 1981-82; F.C. Barcelona in Spain until 1984, winning the 1983 Copa del Rey; S.S.C. Napoli of Naples, Italy until 1991; Sevilla F.C.in Spain in 1992-93; back in Argentina with Rosario team Newell's Old Boys in 1993-94 and back to Boca Juniors from 1995 to 1997.
He played for Argentina in the 1982 World Cup, but it would be the 1986 World Cup for which he would be most remembered. He practically singlehandedly dragged La Albiceleste (The Sky Blues) to the title, with the key moment being his
2-goal game against England in the Quarterfinal.
The 2nd goal has been regarded as one of the greatest goals ever scored. But the 1st goal was scored when he punched it into the net, an obvious handball -- or, as he called it, "The Hand of God."



This came just 4 years after Britain had clobbered Argentina in the Falkland Islands War, so it was a huge boost for the Argentine people. But it made the English really mad, and it infuriated everybody else who hates Argentina, which includes most of South America.
He won league titles with Napoli in 1987 and 1990, the only 2 Serie A titles that team has ever won. They also won the Coppa Italia in 1987, for a Double; and the 1989 UEFA Cup (now known as the UEFA Europa League).
Despite having Spanish as its official language, Argentina's largest ethnic group is Italians, so many of its great players have done well in Italy. Besides Maradona, these include Luis Monti (Juventus of Turin in the 1930s), Raimundo Orsi (ditto), Enrique Guaita (Roma in the 1930s), Omar

Sívori

(Juventus and Napoli in the 1960s), Daniel Passarella (Fiorentina of Florence in the 1980s), Daniel Bertoni (ditto),

Hernán

Crespo (several teams in the 1990s and 2000s), Javier Zanetti (Internazionale Milano in the 1990s and 2000s), Esteban Cambiasso (Inter in the 2000s) and Diego Milito (Genoa and Inter in the 2000s).

(Under the rules of the time, Monti, Orsi and Guaita were allowed to play on Italy's 1934 World Cup winners.)
Maradona took to Naples, and they took to him. "Naples was a crazy city," he said. "They were as crazy as me. Soccer was life itself."
However, Napoli narrowly missed winning Serie A in 1989, and for over 30 years, rumors have been floated that Maradona, already addicted to cocaine, was, shall we say, enticed to throw some matches. A photograph taken of Maradona in a hot tub with 2 men later identified as being with the Naples Mafia, the
Camorro
, didn't help.
The 1990 World Cup was played in Italy, and the Semifinal between Argentina and Italy was set for Naples. Maradona publicly asked the people of Naples to cheer for Argentina, so they would be cheering for him.
Instead, a banner was hung in the Stadio San Paolo, reading, "MARADONA WE LOVE YOU BUT ITALY IS OUR HOME." The game ended 1-1, and Maradona took the last penalty, to send Argentina to the Final. In a reverse of the 1986 Final, Argentina were beaten by West Germany.
It was his last hurrah as a player. He was suspended for the 1991-92 season for a positive drug test, ending his tenure in Italy. After Argentina's 1st 2 games of the 1994 World Cup, he was suspended for a year for another positive drug test, ending Argentina's chances for that tournament. He never played for the national side again.
After years of dealing with drug addiction, his weight, and debt from unpaid taxes during the Italian phase of his playing career, Maradona managed of the Argentina team in the 2010 World Cup, just barely qualifying. He got them to the Quarterfinals before losing, and was fired.
He has managed in Argentina, the United Arab Emirates and Mexico, and was managing Gimnasia in La Plata, Argentina before his health went downhill one last time.
He was married once, and ivorced. He had 2 sons, one of whom, who goes by Diego Sinagra, plays in Italy for A.S.D. San Giorgio. He also had 2 daughters, Dalma and Giannina. Giannina married
Sergio

Agüero

, the Argentine striker whose last-minute-of-the-season goal won the 2012 Premier League title for Manchester City. They have a 11-year-old son, Benjamin. However, they have separated.
Maradona was a political leftist. He became friends with Cuban dictator Fidel Castro and Venezuelan dictator Hugo

Chávez

, and had tattoos of both Castro and his former partner in revolution, Maradona's fellow Argentine Che Guevara.
And, in 2014, Maradona was caught on tape hitting his girlfriend and latest baby-mama, who then left him. "El Diez" was treated like a god for nearly 40 years. Gods do not like to not get their way.
Nevertheless, like fellow soccer legend, and fellow Number 10 of South America, Brazil's
Pelé
, he used his combination of a poor upbringing and athletic skill to produce a man-of-the-people image, and become the most popular person his country has ever produced.
In the leadup to the 2010 World Cup, Ken Bensinger wrote in the Houston Chronicle:
To understand the gargantuan shadow Maradona casts over his football-mad homeland, one has to conjure up the athleticism of Michael Jordan,
the power of Babe Ruth
– and the human fallibility of Mike Tyson.
Lump them together in a single barrel-chested man with shaggy black hair and you have
El Diego
, idol to the millions who call him D10S, a mashup of his playing number and the Spanish word for God.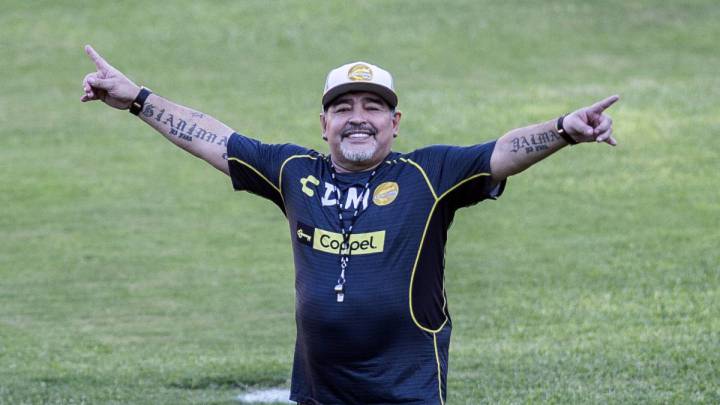 But God does not have to cheat. Diego Maradona will forever go down as the most famous cheater in the history of sports.
On November 3, 2020, 4 days after his 60th birthday, he underweight emergency brain surgery in La Plata, to treat a subdural hematoma. He was released on November 12. But, today, November 25, just 13 days after that, he died of a heart attack in Tigre, Buenos Aires Province.
Just as with Kobe Bryant and his 2003 Colorado rape case, the crimes and cheating of Maradona are being glossed over in the wake of his death:
Eric Cantona, Manchester United star of the 1990s: "Some say Pele was the greatest player of all time, but not me.
Maradona
will always be the greatest."
Jürgen Klinsmann, German star of the 1990s, and manager of the U.S. team in the 2014 World Cup: "

Diego, we will miss you! You were an artist, we all admired you! RIP!"
Francesco Totti, who starred at AS Roma from 1992 to 2017: "You wrote the story of football
... Ciao Diego."
Jürgen Klopp, manager of Liverpool: "Diego was a sensational guy and
Maradona
had some struggles, let me say it like this. I will miss them both."
Lionel
Messi, Barcelona star who played under him for Argentina at the 2010 World Cup
: "A very sad day for all Argentines and for football. He leaves us but does not leave, because Diego is eternal.
Cristiano Ronaldo, Portuguese star currently with Juventus: "Today I'm saying goodbye to a friend, and the world says goodbye to an eternal genius."
Pel

é:

"I have lost a dear friend, and the world has lost a legend. One day, I hope, we will play soccer together in the sky."
There are no drugs in Heaven, and no drug tests. But there may be referees, with yellow and red cards. I guess we'll find out how good Diego Maradona really was.