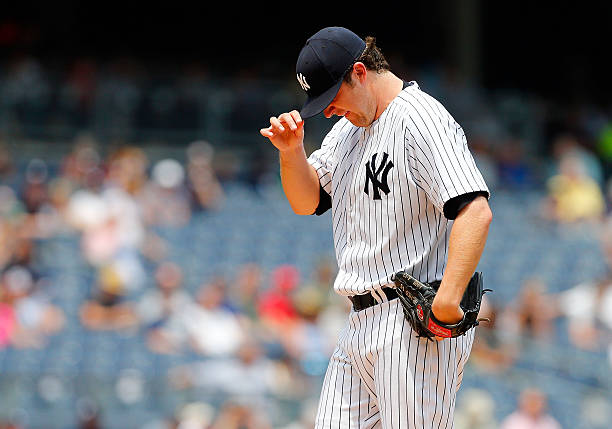 Phil Hughes pitched 8 innings against the Texas Rangers last night. Just 2 runs, 5 hits, 1 walk, 5 strikeouts. 106 pitches, 72 of them strikes. Very nice performance, from a guy who really could have used one.
And how did his Yankee teammates back him up?
* 1st inning: Ichiro Suzuki leads off with a single. Jayson Nix flies out, and Robinson Cano grounds into a double play.
* 3rd: Austin Romine singles with 2 out. Ichiro grounds into a force play.
* 4th: Nix leads off with a walk, and steals 2nd. Cano and Vernon Wells strike out. Zoilo Almonte grounds out -- has the bubble burst?
* 7th: Cano leads off with a walk. He tries to steal 2nd and is thrown out. Wells strikes out. Almonte flies out.
That's it. Two hits, none after the 3rd. Four baserunners. Derek Holland (6-4) outpitched Hughes (3-7). Rangers 2, Yankees 0.
You can't even give credit to the opposition here, because the Yankees just aren't hitting. Nix, Wells, Almonte, Lyle Overbay, David Adams, Alberto Gonzalez? All 0-for-3. Ichiro is the only one who even got 4 at-bats.
Almonte .318 (and he just came up)
Gardner .286 (pinch-hit late in the game)
Suzuki .277
Cano .276
Nix .241
Overbay .236
Wells .223
Gonzalez .205
Adams .179 (and some of us were fine with him taking A-Rod's place)
Romine .150
The way we're hitting, do we even need the DH? Hughes could have batted for himself and done no worse.
Our pitchers have to be wondering, "What does a guy have to do?"
Maybe this weekend's 3-game set in the Baltimore bandbox is just what we need.
But it's supposed to rain all 3 days. Who knows if we'll even get 3 games in.
Oy...
Presuming we get the games in, here's the pitching matchups:
Tonight, 7:05: David Phelps vs. T.J. McFarland. Rookie lefthanded from Chicago suburbs, just turned 24, has made a grand total of 18 big-league appearances, all this season, and this is his 1st big-league start. He's not quite the proverbial pitcher the Yankees have never seen before: He threw 2 relief innings against us in The Bronx on April 14, and didn't allow a run. But this could be trouble.
Tomorrow night, 7:15: CC Sabathia vs. Zach Britton. A more established pitcher, 25, from the Dallas suburbs, struggling at the moment.
Sunday night, the ESPN game, 8:05: Hiroki Kuroda vs. Chris Tillman. 26, from Anaheim, 9-3 2.93 last year, 9-2 but with a much higher 3.72 ERA this year.