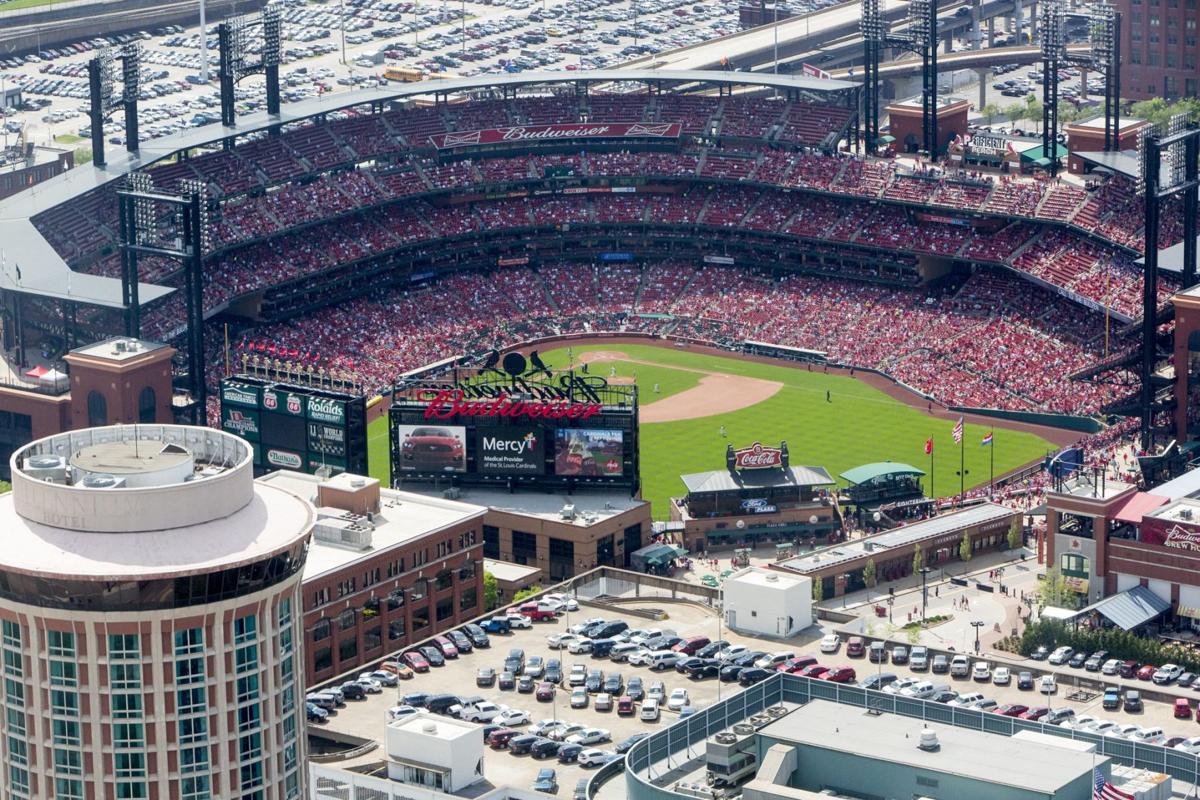 Why am I still doing this for the Mets? Why was I ever doing this for the Mets? Because all 30 teams must be done. Even for the Mets themselves, which was done this past June 22.
Anyway, on Monday the Mets go to St. Louis to face the Cardinals. These teams had fights for the National League Eastern Division title in 1973, 1985 and 1987, and faced each other in the 2006 NL Championship Series. As the great college football broadcaster Keith Jackson would say, "These two teams just don't like each other." Or, more accurately, their sets of fans don't.
*
Before You Go.
The Monday game will be an afternoon game, because it's Labor Day. So that'll be really hot. The Tuesday game will be at night, and Wednesday will be a "getaway day" afternoon game.
StlToday.com, the website of the
St. Louis Post-Dispatch
, is predicting high 80s for Monday and Tuesday. Not surprising, as St. Louis gets hot. Really hot. The new Busch Stadium is open, unlike the previous one, which, as Casey Stengel put it, really held the heat well. But it's still going to be hot. For Wednesday, the
P-D
is predicting late thunderstorms, which means the day game will probably be done in time.
Getting There.
Busch Stadium is 961 miles from Citi Field. Knowing this, your first reaction is going to be to fly out there. Round-trip, while changing planes in Chicago, is about $850 round-trip. MetroLink, St. Louis' light rail system, will get you directly from Lambert International Airport to the ballpark. Of course, if you're going for the whole series, you should get a hotel.
Bus? Not a good idea. Greyhound runs 8 buses a day between Port Authority and St. Louis, and only 4 of them are without changes. The total time is 22 hours and 25 minutes, and costs $325 round-trip. The Greyhound terminal is at Union Station, downtown at 430 S. 15th Street.
Speaking of Union Station, if you want to go by train, Amtrak will make you change trains in Chicago, from that city's Union Station to St. Lou on the Texas Eagle. It's $376 round-trip. You'd have to leave Penn Station at 3:45 PM, arrive in Chicago at 9:45 AM (you'll now be on Central Time), leave Chicago at 1:45 PM, and arrive in St. Louis at 7:21. That's 26 hours and 36 minutes.
If you decide to drive, it's far enough that it will help to get someone to go with you and split the duties, and to trade off driving and sleeping. You'll need to get on the New Jersey Turnpike, and take Interstate 78 West across New Jersey, and at Harrisburg get on the Pennsylvania Turnpike, which at this point will be both I-70 and I-76. When the two Interstates split outside Pittsburgh, stay on I-70 west. You'll cross the northern tip of West Virginia, and go all the way accross Ohio (through Columbus), Indiana (through Indianapolis) and Illinois. When you cross into Missouri, Exit 9 will be for the Sports Complex.
If you do it right, you should spend about an hour and 15 minutes in New Jersey, 5 hours in Pennsylvania, 15 minutes in West Virginia, 3 hours and 45 minutes in Ohio, 2 hours and 30 minutes in Indiana, 2 hours and 30 minutes in Illinois, and 15 minutes in Missouri before you reach the exit for your hotel. That's going to be nearly 17 and a half hours. Counting rest stops, preferably 6 of them, and accounting for traffic in both New York and Kansas City, it should be about 24 hours.
Metrolink light rail has a $2.25 base fare, and the Metro buses are $2.00. A Day Pass for the entire system is $7.50. If you're staying for the entire series, a Weekly Pass is $25.
Tickets.
The Cardinals, coming off a World Championship, are averaging 41,041 fans per game at the new Busch Stadium. That's nearly a sellout ever game. Tickets may be hard to come by.
If they are available, Infield Boxes will be $86, Field Boxes $46, and Corner Boxes $40. The Upper Deck is a lot cheaper:Infield Pavilion $33, Infield Terrace $16, Bleachers $10.
Going In.
The old Busch Stadium was bounded by Broadway (left field), Walnut Street (3rd base), 7th Street (1st base) and Spruce Street (right field). The new stadium was built next-door, and is bounded by Poplar Street and Interstate 64 (1st base), 8th Street (3rd base), Clark Street (left field, extended through the site of the old stadium) and Broadway (right field).
The Metrolink station for the stadium is on 8th, between Clark and Spruce, putting you outside the left field gate.
Busch Stadium has real grass. Its predecessor started out that way in 1966, but had artificial turf from 1970 to 1995, and switched back in 1996. The turf was designed to help the traditional Cardinal game of pitching, defense and speed, as exemplified in the Sportsman's Park era by the likes of Pepper Martin and Enos Slaughter, and in the turf era by Lou Brock, Ozzie Smith and Vince Coleman.
When August Anheuser Busch Jr. -- a.k.a. Gussie Busch -- whose grandfathers were Adolphus Busch and August Anheuser, founders of Anheuser-Busch breweries, bought the Cardinals in 1953, he wanted to rename Sportsman's Park "Budweiser Stadium," so he could advertise his flagship beer. Commissioner Ford Frick told him no, it would be too commercial. Imagine that: A Commissioner of Baseball prohibiting a team owner from giving his stadium's name to a corporation! Gussie protested: Chewing-gum magnate Philip K. Wrigley let the Cards' ostensible arch-rivals, the Chicago Cubs, play at Wrigley Field. Frick responded that Wrigley was the man's name, and that he didn't rename the ballpark Doublemint Stadium. So Gussie accepted that as a hint to take, renamed the old yard Busch Stadium, and introduced the Busch brand of beer. Regardless, Busch -- and especially the man then the voice of the Cardinals, Harry Caray -- used to team to sell Budweiser. Harry was the greatest salesman any brand has ever known in the history of American capitalism -- unless you count the way Coca-Cola used Santa Claus.
All 3 Busch Stadiums have been heavy on Bud advertising. Gussie had the Sportsman's Park/original Busch Stadium scoreboard replaced with one topped by the Anheuser-Bush logo, the giant A with the eagle flying through it. When a Cardinal hit a home run, the scoreboard operator would push a button, and the eagle's mechanical wings would flap. This was in 1953, 7 years before Bill Veeck ordered the fireworks-shooting "exploding scoreboard" for Comiskey Park in Chicago. When Busch Memorial Stadium opened in 1966, the mechanical one was replaced by an electronic one. On special occasions, such as Opening Day or World Series home games, Gussie himself, weaving a big hat with a peacock feather in it, would ride in the cab of a Budweiser carriage pulled by the company's iconic Clydesdales. You think horse manure looks bad on real grass? Imagine that on the pale green of artificial turf.
Gussie died in 1989, leaving the brewery and the team to his son, August Anheuser Busch III, a.k.a. Augie Busch. Augie sold controlling interest in the team in 1996, and the family sold controlling interest in the brewery in 2006, but the Busch family and the brewery still own pieces of the ballclub. The new Busch Stadium, opening in 2006, still has A-B brand names all over the place.
Busch Stadium I (Sportsman's Park) was well north of downtown. Busch Stadium II (Busch Memorial Stadium) was right downtown, and St. Louis' greatest icon, the Gateway Arch, built right before the stadium, could be seen over its left-field fence, and the idea was incorporated into the park's design, with an arched roof that gave the stadium a very distinctive look that separated it from the other multipurpose stadiums of the 1960s and '70s.
Busch Stadium III has a brick look on the outside that suggests an old factory -- or perhaps a brewery. And the Arch is visible beyond straightaway center field, much more so than it was in the preceding stadium due to the new one's open outfield. Other than that, though, the view isn't especially impressive: St. Louis has never exactly been known as a city of impressive skyscrapers, unlike such other Midwestern cities as Chicago, Detroit, Cleveland and, if you want to count Western Pennsylvania as "Midwestern" instead of "Northeastern," Pittsburgh. Besides which, the stadium is 5 blocks from the Mississippi River, so there's not a lot of room to build anything especially impressive -- aside from the Arch, which is one block from the river.
But there is one other notable structure that can be seen from the park: The Old Courthouse can be seen beyond the left field fence. This was where two of the most infamous court cases in American history began, both later settled unfairly by the U.S. Supreme Court in decisions that were overturned by Constitutional Amendments:
Dred Scott v. Sanford
, in which a slave sued in 1846 to be declared free after his master took him into a State where slavery had already been abolished; and
Minor v. Happersett
, in which a woman sued in 1872 to be allowed to vote.
Seating capacity is officially listed as 43,975, but can be boosted with standing room. For Game 7 of last year's World Series, they shoehorned 47,399 into the place. The park's outfield distances are 336 feet to the left field pole, 375 to left-center, 400 to straightaway center, 375 to right-center, and 335 to the right field pole. Like its predecessor, the new Busch Stadium is usually regarded as a pitcher's park.
Food.
St. Louis has a reputation for great barbecue, and Busch Stadium has a stand called Broadway BBQ in Section 509, near the Bleachers.
They also have stands named for Cardinal legends: Dizzy's Diner, for Dizzy Dean, Sections 139, 161 and 446; Gashouse Grill, for the 1934 World Champions known as the Gashouse Gang, Sections 132, 146, 150, 154, 233 and 450; and El Birdos Cantina, for the Latino-influenced 1967 World Champions (if you'll excuse the fact that it should have been "Los Pájaros" or "Los Cardinales"), Sections 141 and 148. They also have Hardee's stands at 135 and 358.
Keeping with the Midwest's rural image -- St. Louis may be a big city, but there may not be a team with a more countrified fan base than the Cards, even the Royals or the Braves -- they have a Farmer's Market at 136, across from Hardee's; and the Prairie Farms Family Pavilion at 507.
Team History Displays.
The Cardinals have their retired numbers on the outfield wall: 1, Ozzie Smith, shortstop 1982-96; 2, Albert "Red" Schoendienst, 2nd base 1945-56, and at least a coach almost continuously since 1961, including stints as manager 1966-76 and briefly in 1980 and 1990, now 89 years old and "special assistant coach," essentially the Cards' Yogi Berra or Johnny Pesky; 6, Stan Musial, 1st base and left field 1941-63; 9, Enos Slaughter, right field 1938-53; 10, Tony LaRussa, manager 1996-2011; 14, Ken Boyer, 3rd base 1955-65, manager 1978-80; 17, Jay "Dizzy" Dean, pitcher 1930-37; 20, Lou Brock, left field 1964-79; 24, Dorrel "Whitey" Herzog, manager and general manager 1980-90; 42, universally retired for Jackie Robinson but also retired here for Bruce Sutter, pitcher, 1981-84; 45, Bob Gibson, pitcher 1959-75; 85, Gussie Busch, owner 1953-89. The Cards' board decided to honor Gussie on his 85th birthday, hence the number; he did not retire it for himself.
Aside from LaRussa, whose number was just retired this season, following his retirement after last year's World Series, each of these honorees has a statue outside the stadium. Musial actually has 2 statues, the 2nd being added along with the other retired number honorees. The first one was unveiled outside the old Busch Stadium in 1968, and was moved to the new stadium. It shows him in his famed "corkscrew" batting stance, and the base includes a quote from Commissioner Frick:
"Here stands baseball's perfect warrior. Here stands baseball's perfect knight."
Aside from Gussie, all of the Cards' retired number honorees are in the Baseball Hall of Fame. The late broadcaster Jack Buck has an image of a microphone with the retired numbers, and Rogers Hornsby has a Cardinal "STL" logo there. The slugging 2nd baseman played with the Cardinals 1915-26, also managing them to the 1926 World Championship, and briefly returned in the 1933 season before going to the other St. Louis team, the Browns. In that 1933 season, he wore Number 4, but since he only wore it for 46 games, the Cards used the cap logo instead. Hornsby and Buck also have statues outside the stadium.
The Cardinals do not have a team Hall of Fame, but they have a large number of Baseball Hall of Fame members: From their 1880s American Association Pennant winners, 1st baseman and manager Charles Comiskey (later the Chicago White Sox owner) and pitcher James "Pud" Galvin; between their 1888 and 1926 Pennants, 1st baseman Jake Beckley and left fielder Jesse Burkett; from their 1926, '28 and '31 Pennants, Hornsby, pitchers Grover Cleveland Alexander, Jesse Haines and Burleigh Grimes, 1st baseman "Sunny Jim" Bottomley, left fielder Charles "Chick" Hafey; from their 1934 "Gashouse Gang" World Champions, Dean, 2nd baseman and manager Frankie Frisch, shortstop Leo Durocher (who's mainly in the Hall for what he did as manager for other teams), left fielder Joe "Ducky" Medwick, and general manager Branch Rickey; between their 1934 and 1942 Pennants, 1st baseman Johnny Mize; from their 1942, '43, '44 and '46 Pennant winners, Musial, Slaughter, Schoendienst and manager Billy Southworth; from their 1964, '67 and '68 Pennant winners, Brock, Gibson, 1st baseman Orlando Cepeda and pitcher Steve Carlton; and from their 1982, '85 and '87 Pennant winners, Hezrog, Smith and Sutter. Broadcasters Caray and Buck have also been honored by the Hall of Fame.
It is strange for fans of my generation and later to think of Caray, whose broadcasts and outsized personality symbolized the Chicago Cubs, as being the voice of the Cubs' arch-rivals, the Cardinals. After all, his statue is outside Wrigley Field, not Busch Stadium Yet he broadcast for the Cards from 1945 to 1969, along with Schoendienst bridging the gap between the Musial and Brock-Gibson Pennants. He was fired after allegedly having an affair with Augie Busch's wife -- which he never denied. The Chicago White Sox picked him up, and, when his contract with them ran out, he had offers from both Chicago teams, but saw the Cubs signed up with WGN's "Superstation" project, and the White Sox hadn't. He later said that if he'd stayed with the White Sox, he'd soon by "Harry Who?" The rest is history.
There is a St. Louis Sports Hall of Fame, but it was moved from the old Busch Stadium to the new Blues arena, now known as the ScotTrade Center. Cardinals elected are, in chronological order: Hornsby, Frisch, Dean, Medwick, Musial, 1940s shortstop Marty Marion, Schoendienst, Boyer, Gibson, Brock, 1970s catcher Ted Simmons, Herzog, Smith, Sutter, 1990s-2000s center fielder Jim Edmonds, and current owner Bill DeWitt Jr. Also elected are Browns George Sisler and Roy Sievers, St. Louis native Yogi Berra, and Emma Bergman, who played for a St. Louis team in the women's league that played during World War II.
Stuff.
Team Stores are located on Level 1, behind the left field and right field corners. The usual items that can be found at a souvenir store can be found there.
Books about the Cardinals are not exactly well-known outside the St. Louis area. Peter Golenbock did his oral-history thing, which he'd previously done for the Yankees, Cubs and Brooklyn Dodgers, with
The Spirit of St. Louis
, which also included the Browns.
The legendary 1930s club was nicknamed for the Gashouse District, an area of gas tanks and slums which was torn down in the 1940s to make way for Stuyvesant Town. John Heidenry has the best account of that club:
The Gashouse Gang: How Dizzy Dean, Leo Durocher, Branch Rickey, Pepper Martin, and Their Colorful, Come-from-Behind Ball Club Won the World Series -- and America's Heart -- During the Great Depression
.
It was Brooklyn Dodger fans who gave the great Stan Musial his nickname: He hit so well at Ebbets Field, in that era from 1941 to 1949 when the Dodgers and the Cardinals had the NL's best rivalry outside of Dodgers vs. Giants, that when the Cards would return, fans would say, "Uh-oh, here comes dat man again. Dat man is back in town!" Just as they nicknamed Pittsburgh Pirate sluggers Paul and Lloyd Waner "Big Poison and Little Poison" -- "big person and little person," although Lloyd was actually taller -- Brooklynites nicknamed Musial "Stan the Man." Many baseball observers have suggested that, due to his playing away from the media centers of New York, Chicago and Los Angeles, he is one of the most under-appreciated great players ever. But, now that he is past the age of 90, there have been a few books to boost his historial reputation. The latest is
Stan Musial: An American Life
, by the legendary
New York Times
sportswriter George Vescey. It should be as good a guide as any into the 1942-46 Cardinal champions.
David Halberstam's
October 1964
does a good job of showing how the Cardinal champions of the 1960s came together, and also how the Yankee dynasty of the 1950s and early '60s began to fall apart, with civil rights and the Cold War as backdrops. Doug Feldmann continues the story with (again, grammatically incorrect but that's the name that was used at the time)
El Birdos: The 1967 and 1968 St. Louis Cardinals
, which was really the first team to succeed using a well-balanced mixture of white, black
and
Hispanic players. (The early San Francisco Giants had the mix, but not quite the success, winning just 1 Pennant.)
Whitey Herzog got together with Rob Rains and Alvin Reid to write
Whitey's Boys: A Celebration of the '82 Cards World Championship
. James Rygelski and Robert Tiemann wrote
10 Rings: Stories of the St. Louis Cardinals World Championship
, which became out of date at the end of the season. Rains tells how
that
happened in
Wild Cards: The St. Louis Cardinals' Stunning 2011 Championship Season
.
There are three World Series highlight films collections for the Cardinals. Since the official highlight films only started with the Yanks-Cards matchup of 1943, the previous year's Cards win over the Yanks is not included. But the 1943, '44 and '46 Series are packaged together, as are the Series of 1964, '67 and '68, and the Series of 1982, '85 and '87 -- even though the Cards lost 4 of those 9. The 1982, 2006 and 2011 Series are packaged separately as well.
There is, as yet, no
Essential Games of the St. Louis Cardinals
DVD collection, but there is
The St. Louis Cardinals - Greatest Games of Busch Stadium
. The games are: 1968 World Series Game 1 (Gibson strikes out 17 Tigers to set a Series record), 1982 World Series Game 7, 1985 NLCS Game 5 (Ozzie Smith, of all people, hits a walkoff homer), 1987 World Series Game 3, September 8, 1998 (Mark McGwire's record-breaking 62nd homer), and 2004 NLCS Game 7.
During the Game.
Because of their Great Plains/Heartland image, Cardinals fans like a "family atmosphere." They don't much like New York, but they won't bother Met fans just for being Met fans. But I wouldn't go onto the streets of St. Louis or into Busch Stadium wearing Chicago Cubs gear. Barring that, they will not directly antagonize you. At least, they won't initiate it. But don't call them rednecks, hicks or sheep-shaggers.
Cardinal fans wear red. Bright red. Cardinal red. Nearly all of them. This seems to be a requirement. The entire stadium seems to be covered in it, and not just because the seats at Busch are red.
The Cards have a mascot, with perhaps the dumbest name of any mascot in the big four major league sports: Fredbird the Redbird. He's no Phillie Phanatic, or even Mr. Met.
The Cardinals don't play a song after "Take Me Out to the Ballgame" during the 7th stretch, but in the middle of the 8th inning they play the old Budweiser TV commercial jingle "Here Comes the King," as in "Budweiser, King of Beers." "When you say Budweiser... you've said it all!" After the game, win or lose, they play "Meet Me in St. Louis," the theme from the 1944 Judy Garland film about the 1904 St. Louis World's Fair. (So, even that long ago, it was already a nostalgia piece.)
After the Game.
Since the stadium is right downtown, any crime problem St. Louis has will probably not affect you. As I said, leave the home fans alone, and they'll probably leave you alone.
A "Ballpark Village" is being built around the stadium, with retail outlets and restaurants. A similar project, with the same name, has been planned for the area around Yankee Stadium since the renovation project for the old Stadium 40 years ago, but has never happened. Hopefully, the Cardinals will have more luck.
Mike Shannon's Steaks and Seafood, owned by the 1960s Cardinal right fielder and longtime broadcaster, is at 620 Market Street at 7th Street, 2 blocks north of Busch Stadium.
If you want to be around other New Yorkers, I'm sorry to say that I can find no listings for where they tend to gather. Even those sites that show where expatriate NFL fans watch games in cities other than their own came up short.
Sidelights.
Busch Memorial Stadium, home of the Cardinals from 1966 to 2005, the NFL Cardinals from 1966 until 1987 when they moved to Arizona, and the Rams for 3 games in 1995 because the new dome wasn't ready, was across the street. While it was never a major venue for football -- unless you count those "Bud Bowl" commercials during Super Bowls, where the arched roof of old Busch was easily recognizable -- there were 6 World Series played there, with the Cardinals winning in 1967 and 1982. But only in 1982 did they clinch there; the Detroit Tigers clinched there in 1968, and the Boston Red Sox did so in 2004, with Drew Barrymore and Jimmy Fallon filmed by the Farrelly Brothers in their improvised rewritten ending to the U.S. version of
Fever Pitch
, with Major League Baseball giving them permission to film on the field after the game.
* Edward Jones Dome. Home to the NFL's Rams since 1995, it's at 6th Street & Broadway, 9 blocks north of Busch Stadium. Metrolink to Convention Center.
* Site of Sportsman's Park. From 1866 onward, several ballparks stood on this site, including the one used by the Cardinals, then known as the St. Louis Browns, when they won 4 straight Pennants in the old American Association from 1885 to 1888.
Those Browns were owned by Chris von der Ahe, a German immigrant (as were thousands of people in St. Louis at the time), and he was an outsized personality owning a baseball team decades before George Steinbrenner or Gussie Busch were born. "Der boss president of der Browns," as he called himself in his accent, built one of the first amusement parks, adjacent to the ground, and a beer garden which could be called the first sports bar -- though this is disputed by Bostonians stumping for Michael "Nuf Ced" McGreevy's Third Base Saloon, which also opened in the 1880s. But the ballpark burned down in 1898, and von der Ahe was ruined. The new owners moved the team to Robison Field.
The team's name became the Cardinals with a change in uniform color in 1900, and the American League's Browns arrived in 1902, after spending the AL's first season in Milwaukee. The AL Browns set up shop at the existing Sportsman's Park, and built a new one on the site, the last one, in 1909.
Those Browns remained until 1953, when Bill Veeck realized that Gussie Busch's purchase of the Cards meant the Browns simply couldn't compete. The Cards had moved back to the site in 1920 and by 1926 had set the tone: The Browns were the landlords but legendary losers, while the Cardinals were the tenants but wildly successful. Ten World Series were played in that ballpark, from 1926 to 1964, including the all-St. Louis "Trolley Series" of 1944, when the Browns led the Cards 2 games to 1 but the Cards won the next 3 straight to take it, ruining the Browns' best (and perhaps last) chance to take the city away.
Gussie knew that his Cards -- and the NFL's Cardinals, who played there after moving from Chicago in 1960 -- couldn't stay in a 30,804-seat bandbox tucked away on the North Side with no parking and no freeway access, so he got the city to build him the downtown stadium. Sportsman's Park, the first Busch Stadium, the home of George Sisler, the Gashouse Gang and Stan the Man, was demolished shortly after the Cards left in 1966. The Herbert Hoover Boys Club is now on the site, and, unlike most long-gone ballpark sites, there is a baseball field there.
Oddly, the two teams had different addresses for their offices: The Cards at 3623 Dodier Street, the Browns at 2911 North Grand Blvd. Metrolink to Grand station, transfer to Number 70 bus. Definitely to be visited only in daylight.
* Site of Robison Field. Home of the Cardinals from 1898 to 1920, it was the last mostly-wooden ballpark in the major leagues. Moving out was the best thing the Cards could have done, as -- hard to believe, considering what happened to them over the next quarter-century -- they were the town's joke club, while the Browns were the more-regarded team. It was torn down in 1926 to make way for Beaumont High School, which still stands on the site. 3836 Natural Bridge Avenue, at Vandeventer Avenue. Six blocks north and two blocks west of the site of Sportsman's Park. Again: Do not visit at night.
* Scottrade Center, site of Kiel Auditorium, and St. Louis Sports Hall of Fame. The NHL's Blues moved into this new arena in 1994, after 27 years at the old Arena. Originally, it was known as the Kiel Center in honor of the previous building on the site, and then the Savvis Center, after a company that would go bust in the tech bubble. They've only reached the Conference Finals once since moving in, but at least they're stable and not in danger of being moved. The building also hosts the Missouri Valley Conference tournament, known as "Arch Madness" instead of "March Madness."
The previous building was built in 1934, as the Municipal Auditorium, and in 1943 was renamed for the late Mayor Henry Kiel, who got it built. St. Louis University played its home basketball games there for its entire existence, 1934 to 1991, before moving temporarily to the Arena and then to the Scottrade Center, before opening its new on-campus Chaifetz Arena in 2008. The NBA's Hawks played there from their 1955 move from Milwaukee until their 1968 move to Atlanta, winning the Western Conference title in 1957, '58, '60 and '61 and the NBA Title in 1958. 1401 Clark Avenue (known on that block as Brett Hull Way in honor of the Blues legend) at 14th Street, 5 blocks west of Busch Stadium. Metrolink to Civic Center.
* Site of 1904 World's Fair and St. Louis Arena. The Louisiana Purchase Exposition was held at Forest Park in honor of the centennial of the start of Meriwether Lewis and William Clark heading out from St. Louis to explore the Louisiana Purchase. It is remembered as the birthplace of the hamburger, the hot dog, iced tea, peanut butter, cotton candy and Cracker Jacks. While they may have all been nationally popularized at that place and at that time, all of these claims of
origin
are dubious at best, except for Cracker Jacks, which are definitely a St. Louis creation. Equally dubious was the 1904 Olympics, which were essentially a sideshow of the World's Fair; it wasn't until London in 1908 that they became an institution in and of themselves. Very little of the Fair remains. The Administration Building is now Brookings Hall, a major building of Washington University. The Palace of Fine Art is now the St. Louis Art Museum.
The Arena opened in 1929 across Oakland Avenue from Forest Park. At 14,200 seats, it was then one of the largest arenas outside the Northeast Corridor, and in terms of floor space only the recently-built "old" Madison Square Garden was larger.
It was the home of several minor league hockey teams until the NHL expansion of 1967 brought in the Blues. At first, the NHL purposely put all the new teams in the same division, thus giving them an equal chance of reaching the Stanley Cup Finals. The Blues reached the Finals in their first 3 seasons, 1968, '69 and '70, due to having signed some legends at the end of their careers, such as Jacques Plante, Doug Harvey, Dickie Moore and Glenn Hall. They haven't reached the Finals since, and only reached the NHL's round of 4, under whatever name, twice in the last 42 years.
In 1977, the Arena had been expanded to 17,188 seats, and with Ralston Purina then being majority owners of the Blues, their "Checkerboard Square" logo was plastered everywhere and the building was renamed the Checkerdome until 1983. It hosted the NCAA Final Four in 1973 (Bill Walton hitting 21 of 22 shots for UCLA over Memphis State) and 1978 (Jack Givens' Kentucky defeating Mike Gminski's Duke). But it was seen as being inadequate for a modern sports team, and the Blues moved out in 1994. The Arena was demolished in 1999, and apartments and a Hampton Inn are on the site today. 5700 Oakland Avenue at Parkview Place. Metrolink to Central West End, then Number 59 bus.
* St. Louis Walk of Fame. Honoring famous people from the St. Louis area, including from across the river in southern Illinois, these plaques run from 6150 to 6699 Delmar Blvd. Of the 129 current honorees, 25 are connected to sports: Cardinals figures Branch Rickey, Rogers Hornsby, Dizzy Dean, Stan Musial, Red Schoendienst, Bob Gibson, Lou Brock, Ozzie Smith, Harry Caray, Joe Garagiola, Jack Buck and Bob Costas; the Browns' George Sisler; Negro League legend James "Cool Papa" Bell; St. Louis native and New York baseball legend Yogi Berra; football Cardinals Dan Dierdorf and Jackie Smith (as yet, no Rams); Hawks Bob Pettit and Ed Macauley (as yet, no Blues); boxers Henry Armstrong and Archie Moore; tennis stars Dwight Davis and Jimmy Connors; and track legend Jackie Joyner-Kersee. Metrolink to Delmar station.
At 6504 Delmar is Blueberry Hill, the rock-and-roll-themed restaurant owned by St. Louis' own Chuck Berry -- who, of course, has a plaque on the Walk of Fame, as does his pianist Johnnie Johnson. They are 2 of the 15 musical personalities on the Walk, including both Ike and Tina Turner, ragtime inventor Scott Joplin, jazz superstars Josephine Baker and Miles Davis, and opera singer Robert McFerrin, father of "Don't Worry Be Happy" singer Bobby McFerrin.
* Gateway Arch. Built on the traditional founding site of the city, on the Mississippi River, on February 14, 1764, the arch, 630 feet high with its legs 630 feet apart at ground level, is surprisingly not an especially old landmark, opening to the public in 1967. An underground visitors' center leads to a tram that takes you to the top, which is higher than any actual building in town, and serves as St. Louis' "observation deck." Like the Empire State Building, it has lights cast on it at night in honor of various occasions. Admission is $10. 200 Washington Avenue at Market Street, access via Walnut Street.
* Brewery. The world's second-largest brewery is the Anheuser-Busch plant on U.S. Routes 1 & 9, across from Newark Liberty International Airport. The largest is A-B's corporate headquarters, south of downtown. Public tours of the brewery are available. 1 Busch Place, Broadway and Arsenal Street. Number 30 or 73 bus.
* Museum of Transportation. A rail spur of the old Missouri Pacific Railroad (or "Mopac," later absorbed by the Union Pacific) enabled this museum to open in 1944. It houses trains, cars, boats, and even planes. From a New York Tri-State Area perspective it has one of the last 2 surviving New York Central steam locomotives, one of the last 2 surviving Delaware, Lackawanna & Western steam locomotives, an Erie Lackawanna diesel locomotive, and the 1960 DiDia 150, a.k.a. the "Dream Car" made famous by New York singing legend Bobby Darin. 3015 Barrett Station Road in Keyes Summit (though St. Louis is still the mailing address), west of downtown. Bus 58X to Big Bend & Barrett Station Roads, then a 15-minute walk north on Barrett Station.
* Ulysses S. Grant National Historic Site. The closest the St. Louis area comes to having a Presidential Library, this park was built on land owned by the family of Julia Dent, the wife of the Union General and 18th President who is on the $50 bill. 7400 Grant Road, Grantwood Village, St. Louis County, southwest of downtown. Tough to reach by public transportation: You'd have to take Metrolink to Shrewsbury station, transfer to the Number 21 bus, ride it to Walton and Grant Roads, and walk a little over a mile down Grant Road.
*
St. Louis has a history out of proportion to its size -- 318,000 within the city limits, 2.8 million in the metropolitan area -- and Cardinal fans like to think of their town as the best baseball town in America. You are under no obligation to agree, but it is one of the best baseball cities, and every fan who can get out there should.