"Coach here!"
(How Hayden always answered his phone.)
February 28, 1929, 90 years ago: John Hayden Fry is born in Eastland, Texas. Dropping his first name, Hayden Fry was a quarterback at Baylor University in nearby Waco, then served in the U.S. Marine Corps, during and after the Korean War, playing on its football team.
He coached high school ball in Texas, then returned to Baylor as an assistant coach, then at the University of Arkansas. In 1962, he got his 1st head coaching job, at Southern Methodist University in Dallas. He led them to the 1966 Southwest Conference Championship. In 1973, after being fired at SMU, he was hired at North Texas State University, and won that season's Missouri Valley Conference Championship.
In 1979, the University of Iowa hired him away, and he led them to the Big Ten Conference Championship in 1981 (winning national Coach of the Year), 1985 and 1990. He retired after the 1998 season, with a record of 232-178-10.
Hayden Fry
He was elected to the College Football Hall of Fame, and a statue of him stands outside Kinnick Stadium at Iowa. His "coaching tree" includes his Iowa successor Kirk Ferentz, Wisconsin coaches Barry Alvare and Bret Bielema, Bill Snyder at Kansas State, and the Stoops brothers, Bob of Oklahoma, Mark of Kentucky and Mike of Arizona.
Hayden Fry is still alive. But his most noticeable legacy -- though certainly not his most important one -- was a fictional character named for him, debuting on his 60th birthday.
*
February 28, 1989, 30 years ago:
Coach
premieres on ABC. In this situation comedy, Craig T. Nelson plays Hayden Fox, head football coach at Minnesota State University, whose teams are called the Screaming Eagles. He tries to balance his work life and his family life. Until then, Nelson was best known as Steven Freeling, the father in the
Poltergeist
movies.
At the time the show began, Hayden was trying to lead Minnesota State out of a long period of losing, helped by his defensive coordinator, Luther Van Dam, played by Jerry Van Dyke. Jerry had previously been known as the star of the much-maligned 1965-66 sitcom
My Mother the Car
. (His more famous brother Dick would eventually play a cameo role on an episode of
Coach
.)
The backstory: In 1968, Luther had been defensive coordinator at Chattanooga University in Tennessee, when Hayden, from Spokane, Washington, was a senior. Hayden wasn't good enough to play in the pros, but Luther convinced the head coach, Jake "the Snake" Connelly, to put him on the staff as a graduate assistant. (Robert Prosky would later play Connelly, as his new team, South Texas, played Hayden's Minnesota State in a bowl game.)
After Connelly "taught me everything I know," including sneaky stuff, Hayden became the head coach at Chattanooga, and made them one of the top teams in NCAA Division I-AA. In 1984, he was hired at Minnesota State. One of his players was Michael Dybinski, a.k.a. Dauber, played by Bill Fagerbakke, who made up for not being very bright by being enthusiastic and talented, and rose to become Hayden's special teams coach.
Among the people Hayden had to deal with at MSU were the athletic director, Howard Burleigh, played by Kenneth Kimmins; Howard's wife and the team's lead tutor, Shirley Burleigh, played by Georgia Engel; band director Riley Pringle, played by Raye Birk; and women's basketball coach (and Dauber's girlfriend for a time) Judy Watkins, played by Pam Stone, a standup comedian.
All the while, Hayden was coming to the realization that he had to be a better person. He had been married to Beth, played by Lenore Kasdorf, but the marriage failed because Hayden had focused on football first and his family second (if that). But in the show's pilot episode, their daughter Kelly, played by Clare Carey, decided to enroll at Minnesota State, and moves in with him in his lakeside log cabin.
While this is going on, Hayden has been dating Christine Armstrong, a Minneapolis news anchor, played by Shelley Fabares. Their romance was paralleled by Kelly's with a fellow drama student, Stuart Rosebrock, played by Kris Kamm. By the time Hayden and Christine finally got married in late 1992, Kelly and Stuart had already been married and divorced, as Kelly followed her mother's path: As her husband's career skyrocketed, he neglected his wife.
Slowly, but surely, Hayden got both his career and his personal life together. In 1991, he led Minnesota State to an 11-1 record, including beating South Texas in the Pineapple Bowl in Honolulu. The 1992 season was a bit of a disappointment, as they got slaughtered by Iowa in the Patriot Bowl in blizzard-stricken Valley Forge, Pennsylvania. Finally, in 1993, Hayden led the Screaming Eagles to an undefeated season, beating West Texas in the Pioneer Bowl in San Antonio, taking the National Championship. (In real life, Florida State won the National Championship that season.)
He and Christine went to New York to accept a Coach of the Year award, and saw Kelly rebuilding her life as an advertising agent. In one of the funniest lines in TV history, she told him that her company was pitching a brand of bottled water, and her boss figured Hayden was an "average American," so he asked, "What would make you buy this bottle?" Hayden was honest: "Put beer in it."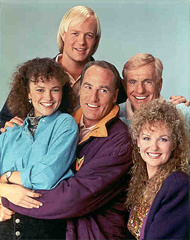 Left to right: Clare Carey, Bill Fagerbakke,
Craig T. Nelson, Jerry Van Dyke, Shelley Fabares
But the 1994 season was a step back, as he began to do things less to make his team win, and more to make himself a more attractive prospect for NFL teams looking for a good replacement for their head coach. Minnesota State ended up going to the Popcorn Bowl in Los Angeles, sponsored by the movie industry, but he had fired his agent, who had turned the season into a circus, and he coached the game with only his team in mind, not himself or his future job prospects. They lost, but he told Christine that it was the only game he had enjoyed all season.
The 1995 season was an expansion year for the NFL, admitting the Carolina Panthers and the Jacksonville Jaguars in real life. On the show, the Orlando Breakers stood in place of the Jags, and Katherine Helmond played Doris Sherman, their owner, who hired Hayden. ABC had moved filming of the show to their new studio in Orlando, so location shots were used.
Hayden's 1st NFL season was rough: The Breakers lost their 1st 15 games in 1995, before shocking the Dallas Cowboys on
Monday Night Football
on Christmas. (In real life, the Arizona Cardinals played the Cowboys on that broadcast, and lost.) But in 1996, just as the real-life Panthers and Jags rebounded from difficult premiere seasons, Hayden got the Breakers into the Playoffs.
But it just wasn't as much fun as he thought it would be. Christine wanted a child, and Fabares had turned 50, so it's reasonable to presume that Christine wasn't appreciably younger. In the end, they decided to adopt. One fan wrote to a newspaper, suggesting that their son be named "Owen," so it would sound like "0 and 16." But another fan suggested Timothy David -- "T.D.," as in "touchdown" -- and that's what they chose.
So Hayden decided that he could no longer balance family and football, and, in the show's last episode, airing on May 14, 1997, he resigned as Breakers coach, and took his family back to the famed Minnesota lakefront cabin. The show had run for 9 seasons. (Well, 8 1/2.)
A recent photo of Craig T. Nelson
In addition to the preceding, notable guest stars included Drew Carey and Kathy Kinney (as their
Drew Carey Show
characters Drew Carey and Mimi Bobek), football star turned radio talk show host Mike Golic as one of Hayden's former players, and basketball star Vlade Divac as a deliveryman, to highlight a sequence in which Luther was afraid that people were getting bigger.
Also: Nanette Fabray (Fabrares' real-life aunt) as Christine's mother, Mike Farrell (Fabares' real-life husband) in a brief role, the aforementioned Dick Van Dyke in a brief role, and Noah Nelson (Craig's real-life son) as the biological father of his newborn stand-in, T.D. And such stars, old and relatively new, as the aforementioned Robert Prosky, Alan Young, Dick Martin, Tom Poston, Robin Strasser, Andrea Parker, Rob Schneider, Lisa Kudrow, Lucy Liu and Terrence Howard.
Playing themselves were football legends Frank Gifford (and his wife Kathie Lee), Johnny Unitas, Mike Ditka, Dick Butkus, Bubba Smith, Hank Stram, Bob Griese, George Allen, Barry Switzer, Joe Theismann, Lou Holtz, Jimmy Johnson, Jerry Jones, Troy Aikman, Keyshawn Johnson and Eddie George; sportscasting legends Keith Jackson and Al Michaels; basketball legend and sportscaster Rick Barry, actor Kirk Douglas, singer Bobby Vinton, and
Entertainment Tonight
host Mary Hart.
*
Coach
was created by Barry Kemp, who also created
Newhart
, Bob Newhart's 1980s CBS sitcom, which is probably how he got Tom Poston to appear as jeweler and dentist Art Hibke. The other 2 guys behind the show were John Peaslee and Judd Pillot -- which makes me think that they were the reasons why all 4 bowl games we saw the Screaming Eagles go to started with P: Pineapple, Patriot, Pioneer and Popcorn.
Kemp was a graduate of the University of Iowa, coached from 1979 to 1998 (including 3 Big Ten Conference Championships) by Hayden Fry, for whom Hayden Fox was obviously named. Fox was not, however, made to look like Fry.
Since the show was set at fictional Minnesota State, Camp wanted to use location shots and game footage from the University of Minnesota, but UM wouldn't let him. So, he went to the publicity people at Iowa, and they said yes. This may have been due to Kemp's connection with the school, or it may have had something to do with the fact that Iowa and Minnesota are big rivals in the Big Ten.
In the meantime, whenever game footage was needed, Kemp went into the ABC Sports vault, and used footage of Minnesota playing one of their other big rivals, the University of Wisconsin. That's why nearly every moment of Minnesota state footage shows the maroon and gold of the Minnesota Golden Gophers against the white uniforms with red trim of the Wisconsin Badgers. The colors actually used for Minnesota State were purple and gold, like the Los Angeles Lakers. Who started out as the Minneapolis Lakers.
When an exterior shot of the stadium was needed, it was Kinnick Stadium in Iowa City. And the building used for exterior shots of the athletic complex that included Hayden's office was the Iowa Memorial Union. But in a bit of irony, Iowa's other main rival, Iowa State, won the right to have its marching band play the show's theme song, essentially Minnesota State's fight song.
At the time, there was no real life school called Minnesota State University. But in 1998, the State legislature renamed Mankato State University "Minnesota State University, Mankato." In 2000, the legislature renamed Moorhead State University "Minnesota State University, Moorhead." Both schools are now in NCAA Division II.
Blakeslee Stadium, the 7,500-seat football field
of the real Minnesota State University, Mankato
While no precise location was given for the show's MSU, it was said to be an hour's drive from downtown Minneapolis. Mankato is about 80 miles southwest, so that's an hour and a half if you're lucky. St. Cloud is about 65 miles northwest, which could, conceivably, be done in an hour.
Of course, it was all fiction. But what if it was real? What if you could go to a Minnesota State Screaming Eagles game?
The following is based partly on things said in the show, and partly on speculation on what's happened in the 22 years since the show left the air.
*
Before You Go. It's Minnesota. It's going to be Autumn. It's going to be cool in September and cold thereafter. Wear warm clothing.
Minnesota is in the Central Time Zone, an hour behind New York. Adjust accordingly.
Tickets. It's never been officially said whether Minnesota State is in a league -- there were a lot more independents then, and their opponents were apparently all over the map -- but, if they're not a Big Ten school, then we can imagine them being a Big Ten type.
So we're looking at a stadium of around 70,000 to 80,000, selling well even in bad seasons. And ticket prices probably around $75 in the lower level, and $60 in the upper deck, and $40 in the end zone.
A T-shirt ordered by ABC to promote the show
Getting There. Since we don't know precisely where in Minnesota the school is, we'll have to make some slightly educated guesses. We know it's about an hour's drive from Minneapolis. So, if we're flying in, it's to Minneapolis, and then hoping we can rent a car the rest of the way.
Flying from Newark to Minneapolis-St. Paul International Airport can be done, nonstop and round-trip, for as little as $800. When you get there, the Number 55 light rail takes you from the airport to downtown in under an hour, so at least
that
is convenient.
Bus? Not a good idea. Greyhound runs 3 buses a day between Port Authority and Minneapolis, all with at least one transfer, in Chicago and possibly elsewhere as well. The total time, depending on the number of stops, is between 26 and 31 hours, and costs $608 round-trip, but can drop to $384 with advanced purchase. The Greyhound terminal is at 950 Hawthorne Avenue, at 9th Street North, just 3 blocks from Nicollet Mall, 2 from the Target Center arena, and from there just across the 7th Street overpass over Interstate 394 from Target Field.
Train? An even worse idea. Amtrak will make you leave Penn Station on the
Lake Shore Limited
at 3:40 PM Eastern Time, arrive at Union Station in Chicago at 9:50 AM Central Time, and then the
Empire Builder,
their Chicago-to-Seattle run, will leave at 2:15 PM and arrive at Union Depot in St. Paul (not Minneapolis) at 10:03 PM. And it's $382 round-trip. And you'd have to spent not one but two nights in a hotel.
If you decide to drive, it's far enough that it will help to get someone to go with you and split the duties, and to trade off driving and sleeping. You'll need to get into New Jersey, and take Interstate 80 West. You'll be on I-80 for the vast majority of the trip, through New Jersey, Pennsylvania and Ohio. In Ohio, in the western suburbs of Cleveland, I-80 will merge with Interstate 90. From this point onward, you won't need to think about I-80 until you head home; I-90 is now the key, through the rest of Ohio and Indiana.
Just outside Chicago, I-80 will split off from I-90, which you will keep, until it merges with Interstate 94. For the moment, though, you will ignore I-94. Stay on I-90 through Illinois, until reaching Madison, Wisconsin, where you will once again merge with I-94. Now, I-94
is
what you want, taking it into Minnesota and the Twin Cities, with Exit 242D being your exit for downtown St. Paul, and Exit 233A for downtown Minneapolis.
If you do it right, you should spend about an hour and a half in New Jersey, 5 hours and 15 minutes in Pennsylvania, 4 hours in Ohio, 2 and a half hours in Indiana, an hour and a half in Illinois, 2 and a half hours in Wisconsin, and half an hour in Minnesota. That's 17 hours and 45 minutes. Counting rest stops, preferably halfway through Pennsylvania and just after you enter both Ohio and Indiana, outside Chicago and halfway across Wisconsin, and accounting for traffic in New York, the Chicago suburbs and the Twin Cities, it should be no more than 23 hours, which would save you time on both Greyhound and Amtrak, if not on flying.
And, again, all that is just to get to downtown Minneapolis, and we don't know exactly where Minnesota State was supposed to be on the show.
Downtown Minneapolis
Once In the City.
Not knowing where Minnesota State was supposed to be makes this one hard as well. As a whole, Minnesota has about 5.7 million people: About 83 percent white, 6 percent black, 5 percent Hispanic, 5 percent Asian, and 1 percent Native American.
The average population of the 14 "Big Ten" schools' cities is 178,641, but that is skewed by Columbus, Ohio having 879,170, and Minneapolis having 422,331. It's also thrown off by Ann Arbor, Michigan being part of the large Detroit metropolitan area; Evanston, Illinois being next-door to Chicago; College Park, Maryland being inside Washington, D.C.'s Capital Beltway; and Rutgers' New Brunswick, New Jersey being between New York and Philadelphia.
But if we take Columbus and Minneapolis out of the equation, the average drops to 99,956. So if we presume that Minnesota State is in a fictional city, within an hour's drive of Minneapolis as stated on the show, it probably has about 100,000 permanent residents, not counting students living there.
The sales tax in the State of Minnesota is 6.875 percent. Bus and Light Rail service in Minneapolis is $2.25 per ride during rush hours, $1.75 otherwise. It is reasonable to presume that bus service in Minnesota State's city is around the same.
ZIP Codes in Minnesota start with the digits 54 and 55. The Area Codes are 612 for Minneapolis, 507 for its suburbs, and 651 for St. Paul. Interstates 494 and 694 are the Twin Cities' "beltway." Xcel Energy supplies electricity, and CenterPoint Energy supplies gas.
We don't know of any (fictional) famous people who gradated from Minnesota State. Even the main characters, Kelly and Dauber aside, seem to have graduated from other schools.
I looked for a photo of Hayden's lakeside log cabin, but it doesn't seem to be available online.
Going In.
On a 1989 episode, Hayden is interviewed by Keith Jackson, ABC's great college football announcer. Jackson refers to Minnesota State's football venue as "Blenheim Stadium."
Blenheim is the English name of Blindheim, a German city that was the site of a battle in the War of the Spanish Succession in 1704. The winning commander was the Duke of Marlborough, whose real name was John Churchill. He established a country home in Oxfordshire, England as Blenheim Palace. His descendant, Winston Churchill, was born there in 1874, and later became Britain's most honored Prime Minister.
So why did Kemp, Pillot, Peaslee, or whoever it was name Minnesota State's stadium after Blenheim? It may have just been a throwaway line, sounding good, like it might have been the name of an early coach at the school. Or maybe, given the Upper Midwest's large population of German ancestry (as well as Scandinavian, hence Minnesota's NFL team is called the Vikings), they wanted a German-sounding, but also English-sounding, name. Hence, "Blenheim" instead of "Blindheim."
Iowa's Kinnick Stadium, used on the show for exterior shots
of Minnesota State's Blenheim Stadium
The average of the official seating capacities of Big Ten stadiums is 71,519 -- slightly over Iowa's 70,585. The average date of construction for a Big Ten stadium is 1942, but that's skewed by the building of Rutgers' HighPoint.com Stadium in 1994 and TCF Bank Stadium in Minnesota in 2009. Replace those with their precedessors -- Rutgers Stadium in 1938 and Memorial Stadium in in 1924 -- and you get an average opening year of 1932.
Since few major building projects would have been undertaken at the depth of the Great Depression, let's say, 1929. So both the capacity and the age of Blenheim Stadium would match its visual model, Kinnick Stadium.
Most football stadiums have fields that are aligned north-to-south, so that the Sun isn't in the players' eyes at any time. Only 4 out of 14 schools in the Big Ten still have natural grass, and when the show debuted in 1989, it was worse: Only 1 out of 10 had the real thing, Purdue. Some switched back to grass, but most of them, including Michigan and Ohio State, switched back to turf, albeit a better kind than the rock-hard AstroTurf carpets of the 1960s and '70s. So it is reasonable to presume that Blenheim Stadium then has AstroTurf, and now has FieldTurf or something similar.
As with most colleges with a Division I football program, the campus is probably a mile or two from downtown, with a campus bus system that includes a stop at the stadium. Parking at such stadiums is usually around $20 or $25. This being Big Ten Country, if not necessarily a Big Ten school, tailgate parties are probably all over the lots.
Given that there's an NFL stadium in Minnesota, Blenheim Stadium probably doesn't host the State high school championships. Given that stadium, and major arenas in both Minneapolis (the NBA Timberwolves' Target Center) and St. Paul (the NHL Wild's Xcel Energy Center), it's highly unlikely that the stadium hosts major concerts.
But if it is over an hour from downtown Minneapolis, it's possible that Minnesota State's basketball arena hosts the occasional concert. Perhaps not the Beatles in the mid-1960s, but maybe Elvis Presley in the 1970s.
Food. There's probably a few concession stands under the stands on both sidelines, and possibly a food court under the stands at each end zone.
Team History Displays. There's no way to know about this. Until Hayden led the Screaming Eagles to the (fictional) 1993 National Championship, there was never a mention of any title of any kind won by the school. We don't even know for sure if Minnesota State was in a conference. Until Hayden led them to victory in the 1991 Pineapple Bowl, the only clue we have as to their bowl game history is that this trip to Honolulu was their 1st bowl game under Hayden's tenure.
Nor was there any mention of a retired uniform number for any player, or a statue for an old coach, although there was a Curly O'Brien Award, given out by the local media to a figure at the school who'd done good things during the year, named for a former Minnesota State coach. Hayden received it one year, but noted that Curly got fired after a losing season. This implies, but doesn't necessarily mean, that Curly was Hayden's immediate predecessor at MSU.
So let's speculate. Let's presume that Minnesota State is in the Big Ten -- and that, perhaps, they took the place of Northwestern, a small private school that doesn't really fit the profile of those big State schools.
On 15 occasions, the Big Ten football title has been won by a team with more than 1 loss in Conference play -- either 2 or more losses, or a loss and a tie, or no losses but 2 or more ties. One of those was in 1993, when we know Minnesota State was an undefeated National Champion. Two others were in 1990 and 1992, when it was not said onscreen that Minnesota State were Conference Champions. Another was in 1984, but that's when Hayden was hired: We are led to believe that Minnesota State was in a long period of losing when Hayden arrived.
That leaves 11 seasons, 6 titles that were won, or shared, by the 2 teams that have dominated the Big Ten, Michigan or Ohio State (or both). This includes 1933, shared by Michigan and Minnesota; 1981, shared by Ohio State and Iowa; and 2000, shared by Michigan, Northwestern and Purdue. I don't want to take any titles away from any team other than the Wolverines and the Buckeyes.
So now, we're down to 3 Big Ten Conference Championships won by Minnesota State: 1949, 1950 and 1993. Maybe that's less than fair. But we have nothing else to go on. And we have no idea how well the Screaming Eagles have done since Hayden left. Hell, we don't even know if Hayden is still alive. Nelson is, but that doesn't mean his character is. Although he did seem to be in good shape for his age. (He once asked Christine to go skinny-dipping in the swim team's pool: "Christine, I'm not ashamed of my body, and I'm very proud of yours!")
As for retired numbers, maybe Minnesota State lost one of its football greats in World War II. Maybe their star running back from 1949 and 1950 had his number retired. Maybe Bo Whitley, the quarterback who launched Minnesota State's best recent era in the early 1990s, got his Number 14 retired. And maybe whoever succeeded him as their big star, on the 1993 National Champions, got his number retired.
On one episode, Luther asked Hayden why they don't play on Thanksgiving Day. Hayden says it's because Minnesota State doesn't have an arch-rival. That's ridiculous. Surely, the real-life University of Minnesota is a rival.
Maybe, just as Minnesota has a rivalry with Iowa, Minnesota State could have a rivalry with Iowa State. Minnesota has a rivalry with Wisconsin. There's no Wisconsin State University in real life, but maybe there is in the show's world, so maybe that's the Screaming Eagles' big rival. But no such rivalry was mentioned in the script, so I can't tell you their record against such a school, or mention the weird trophy they might play for (The Old Block of Cheese?), or mention any legendary games in their series.
There may be an equivalent to Billy Cannon's Halloween Run, or "Punt, 'Bama, Punt," or "The Choke at Doak," There may be "The Kick," or "The Catch," or "The Fumble." But we just don't know. There was Hayden keeping Whitley hidden with a fake injury during the 1991 Pineapple Bowl, and "The Interception" in the 1993 Pioneer Bowl once Luther finally told Hayden how West Texas was tipping their plays. But that's all we've got.
Stuff. Given the university's stinginess on facilities, there almost certainly isn't a big team store inside the stadium. So if Minnesota State actually existed, you might have to go to little stands inside the stadium, or to the University Bookstore, to get souvenirs. There are Coach-themed items available for sale on Amazon.com.
During the Game. If Minnesota State fans are anything like Twins, Timberwolves, Wild or Golden Gophers fans, your safety will not be an issue. If they're anything like Vikings fans, the danger will be slightly higher, but almost certainly nothing to worry about, unless you express appreciation for the Green Bay Packers.
A running gag on the show was that nobody, not even Hayden, knows more than the first two lines of the fight song: "When the Screaming Eagles fight, they fight with all their might, da da da dah da da da dah... " Something tells me that even that much may not be correct.
After the Game. Several scenes from the show were filmed on a studio's soundstage, set up as The Touchdown Club. This would presumably be the most popular go-to place for fans after the game. But, as with most college towns, there are probably chain restaurants within a 10-minute walk of the stadium.
Sidelights. Since we don't know anything about the city that Minnesota State is in, we can guess that there may be historic sites, museums (possibly university-sponsored), or other tourist attractions. But we can only guess.
This is Minnesota. The locals will be Twins, Vikings, Timberwolves, Wild, and (in soccer) Minnesota United fans.
*
The TV show Coach made Minnesota State University sound like a fun place to go to college, and (sometimes) a fun place to watch a college football game.
And where are they now?
* Craig T. Nelson (Hayden Fox) is about to turn 75, and is the voice of Robert Parr, a.k.a. Mr. Incredible, in the Incredibles cartoon series.
* Shelley Fabares (Christine Armstrong) just turned 75, and the former teen idol has mostly retired from acting, though she has also gone into superhero cartoons, doing voices for the DC Animated Universe.
* Bill Fagerbakke (Michael "Dauber" Dybinski) is 61. He played Marvin Eriksen, Marshall's father, on How I Met Your Mother. He is also the voice of Patrick Star on SpongeBob SquarePants.
* Clare Carey (Kelly Fox) is 51, and has become "one of those actors who's on every show." She was a regular on the drama series Point Pleasant, Jericho and Crash. She has appeared once on every show in the NCIS franchise, including in a fantasy sequence as Ann Gibbs, Leroy Jethro Gibbs' mother (and perhaps the source of his redhead fixation).
* Kris Kamm (Stuart Rosebrock) is 54, and has had just 1 acting role since 2000, mostly producing since then.
* Kenneth Kimmins (Howard Burleigh) is 77, and played the Mayor on Desperate Housewives in 2007, but has only acted once since.
* Georgia Engel (Shirley Burleigh) is 70. Formerly Georgette Franklin, eventually Mrs. Ted Baxter, on The Mary Tyler Moore Show, she reunited with her co-star on that show, Betty White, as a supporting player on Hot in Cleveland. She was also a semi-regular on Everybody Loves Raymond, and has appeared on the new version of One Day at a Time.
* Katherine Helmond is 89, and the former Soap and Who's the Boss? star hasn't acted since 2011, except for cartoon voiceovers. She is the voice of Lizzie, a Ford Model T (perhaps as a nod to her age, and that car, produced between 1908 and 1927, was nicknamed "the Tin Lizzie") in the Cars cartoons.
* And Jerry Van Dyke (Luther Van Dam) died in 2018, at the age of 86. Between Coach and his death, he had played grandpa roles on the sitcoms Yes, Dear; The Middle and The Millers.
UPDATE: The day after I posted this, it was revealed that Helmond had died the preceding Saturday, from complications of Alzheimer's disease.