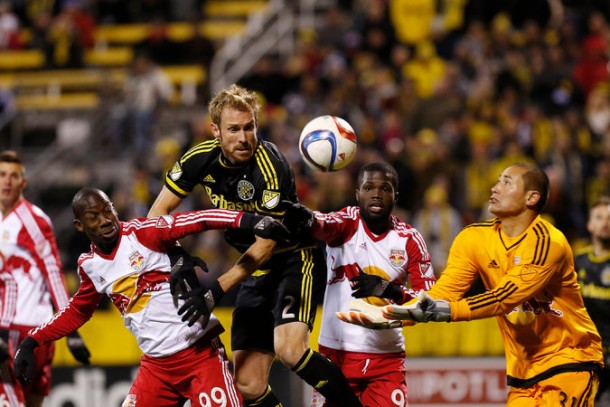 The New York Red Bulls almost pulled off a miracle last night. But you know what they say: "'Almost' only counts in horseshoes and hand grenades."
For the 2nd time in 3 seasons, they won Major League Soccer's Supporters' Shield, for having the best overall record in the regular season. In any other soccer league on the planet, this would have made them League Champions.
Not in MLS. Because it's a North American league, they have Playoffs. And, just as in 2013, the Red Bulls went out in the Conference Finals.
They let the Columbus Crew score on them 9 seconds -- not minutes -- into the 1st Leg, and allowed another in stoppage time, and failed to score a vital away goal, and went into last night's 2nd Leg at Red Bull Arena in Harrison, New Jersey trailing 2-0.
In other words, they had to win 2-0 just to send the game to extra time. A 3-1 win would have been no good: That would have made it 3-3 on aggregate, and 1-0 to Columbus on away goals.
It took until the 3rd minute of a 4-minute stoppage time for Metro to get a goal, from Anatole Abang. For a moment, the fans -- the ones who hadn't left early, that is -- had reason to hope for a miracle.
But in the 95th minute, a minute now necessary because of the goal, Bradley Wright-Phillips hit the post, and that was it.
How much woodwork would a Red Bull work, if a Red Bull could work woodwork?
The game ended 1-0 to the Jersey Boys, but 2-1 to the Ohioans on aggregate. The Crew advance to next Sunday's MLS Cup Final, where they will host the Portland Timbers.
The Red Bulls, founded as the New York/New Jersey MetroStars, have ended their 20th season, and have still never won the MLS Cup.
They will always let you down.
*
It's been a while since I did a countdown, so here goes:
Days until the Devils next play a local rival: 4, this Friday night, against the Philadelphia Flyers, a.k.a. The Philth, at home, at the Prudential Center in Newark. The Devils next play the New York Islanders on Sunday afternoon, December 13, at the Barclays Center in Brooklyn; and the New York Rangers, a.k.a. The Scum, on Tuesday night, February 2, at home.
Days until Arsenal play again: 5, this Saturday morning (our time), home to North-East club Sunderland. Arsenal played a lousy 0-0 draw with Norfolk club Norwich City yesterday, setting the tone for the Red Bulls match.
Days until the next North London Derby: 96, on Saturday, March 5, 2016, at White Hart Lane. Depending on British TV coverage, this game may be moved to the following day.
Days until the Red Bulls play again: As yet unknown, but they usually open the season on the 3rd Sunday in March, which would be March 20, 2016, which would be 111 days.
Days until the Red Bulls play another derby: Unknown when they will again play New York City F.C., the Philadelphia Union, D.C. United or the New England Revolution.
Days until the U.S. national soccer team plays again: 116, on Friday, March 25, 2016, away to Guatemala in a World Cup Qualifier.
Days until the Yankees play again: 126, on Monday, April 4, 2016. A little over 4 months.
Days until the next Yankees-Red Sox series: 144, on Friday, April 22, 2016.
Days until the
Copa América Centenario
kicks off: 187, on June 3, 2016.
Days until Euro 2016 in France kicks off: 194, on Friday, June 10, 2016.
Days until the next Yankees-Mets series: 247, on Monday, August 1, 2016. It will be played over 4 days, 2 at Citi Field, then 2 at Yankee Stadium II.
Days until the 2016 Olympics in Rio de Janeiro, Brazil: 251, on Friday, August 5, 2016.
Days until Rutgers plays football again: 278, on Saturday, September 3, 2016, away to the University of Washington.
Days until East Brunswick High School plays football again: 284, on Friday, September 9, 2016, opponent to be determined. Yes, we lost the Thanksgiving game against the Purple Bastards, again, this time 20-7 at home.
Days until the next World Cup of Hockey begins: 292, on Saturday, September 17, 2016. All games will be played at the Air Canada Centre in Toronto.
Days until the next East Brunswick-Old Bridge Thanksgiving game: 359, on November 24, 2016, at the Shithole.
Days until Alex Rodriguez' contract runs out: 702, on October 31, 2017. Seriously: 1 World Championship in 12 seasons is better than many teams have done, but it is not acceptable for the New York Yankees, and he has failed us and embarrassed us too many times. If Brian Cashman grows a pair and buys him out before then, it will be the best thing for the Yankees.
Days until the 2018 World Cup in Russia: 928, on June 14, 2018. Hopefully, the U.S. national team will have fired Jurgen Klinsmann and hired a real manager by that point.