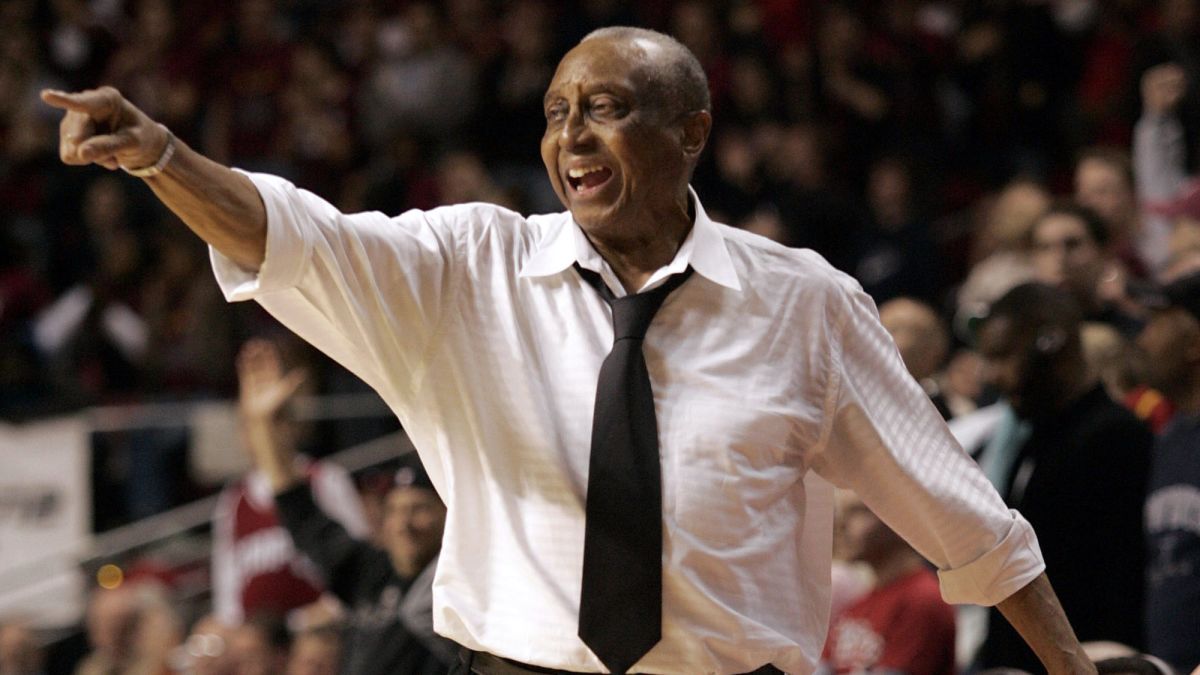 If you only know Bob Knight as a raving lunatic who happened to be a great college basketball coach, then you need to know more.
The same was true for John Chaney, who may have changed even more lives for the better. Certainly, he changed lives more than Knight did.
John Chaney (no middle name) was born on January 21, 1932 in Jacksonville, Florida. Like pretty much any black man in the South who wanted to go to college, he had to go to one of the South's "historically black colleges and universities" (HBCUs). In his case, it would be Bethune-Cookman University in Daytona Beach, Florida, from which he graduated in 1955.
At this point, the NBA had black players, but not many. And Chaney was not drafted. So he played in the next-highest league, the Eastern Professional Basketball League, for the Sunbury Mercuries from 1955 to 1963, and the Williamsport Billies until 1966. Both of those teams were in Pennsylvania. That got the attention of basketball people in that State, particularly in its largest city, Philadelphia.
Philadelphia was already a great basketball city. Its "Big Five" (or "Big 5," if you prefer) schools are Temple University, which had won the 1st NIT in 1938, and had already been to what we now call the NCAA Final Four in 1956 and 1958; La Salle University, which won the National Championship in 1954 and got back to the Final in 1955; Villanova University, which made the 1st Final Four in 1939; St. Joseph's University, which had made the Final Four in 1961; and the University of Pennsylvania, one of the earliest great programs, and whose 1927-built arena, The Palestra, hosted many Big 5 games, many of them not even featuring Penn, and became known as "The Cathedral of Basketball."
In addition, the South Philadelphia Hebrew Association, a.k.a. the Philadelphia SPHAs, were one of the earliest great professional teams, and evolved into the Philadelphia Warriors, the 1st NBA Champions in 1947, won the title again in 1956, and moved in 1962, eventually becoming the Golden State Warriors. In 1963, they were replaced by the Philadelphia 76ers.
In 1963, while still playing for Williamsport, John Chaney got his 1st coaching job, at Sayre Junior High School in Sayre, Bradford County, in Northeast Pennsylvania. In 1966, he hung up his sneakers to take the job at Simon Gratz High School in North Philadelphia.
Simon Gratz was a longtime member of the Philadelphia Board of Education. By the time Chaney got there, the school had already produced Baseball Hall-of-Famer Roy Campanella, Pro Football Hall-of-Famer Leroy Kelly, longtime Warriors and 76ers statistician Harvey Pollack, singer Eddie Fisher, songwriter Artie Singer (who had co-written "At the Hop" and "Rock and Roll Is Here to Stay" for South Philly doo-wop group Danny & The Juniors), and future Congressman Bill Gray. It has since produced boxing champion Meldrick Taylor and 2 NBA stars: Rasheed Wallace and a player Chaney would coach, Aaron McKie.
When Chaney got to Gratz, they were coming off a season in which they won exactly one game. He took them to a 63-23 record in 6 seasons. He couldn't get Gratz to win the Public League Championship, but the school has since done so in 1973 under coach Lionel Hoye; 1990, 1991, 1993, 1994, 1997 and 2001 under Bill Ellerbee; and in 2004 and 2006 under Leonard Poole.
In 1972, Chaney reached the college ranks, Cheyney State College, now Cheyney University, an HBCU in Cheyney, Chester County, southwest of Philadelphia. In 10 seasons, offering chances to kids whose only way out of Philly's ghettos seemed to be basketball, he guided the school, now in NCAA Division I, to a 232-56 record, including the NCAA Division II Championship in 1978. Surely, some people thought the school was named for him, not noticing the difference in spelling.
In 1982, he was hired at Temple University. Sitting on the area where Center City begins to fade out, and the North Philly ghetto begins, it has always been an inclusive school, and a lifelong for poor youth in the city. This has included its basketball program, a haven first for Jewish kids, then for black ones.
(This confused me, as I heard the name "Temple" and thought it had started as a Jewish school. In fact, it was founded in 1884 by Russell Conwell, a Bostonian, a lawyer, and an ordained Baptist minister. Its 1st lecture hall was in the basement of Conwell's Grace Baptist Temple, and that's where the name comes from.)
Temple's motto is "Perseverantia Vincit," Latin for "Perseverance Conquers." Chaney already knew that, and he showed it at McGonigle Hall. He became known for early-morning practices, yelling in a raspy voice when he perceived insufficient effort, his tie getting looser and looser as games went on, a fine match-up zone defense, and scheduling the Temple Owls against the toughest teams in the country. He was a firm believer in the old line of, "If you want to be the best, you've got to beat the best."
In 1985, he guided them to the Atlantic 10 Conference regular-season title, and also to the A-10 Tournament title. He repeated this feat in 1987, and again in 1988, and again in 1990. In 1988, he got a team led by Tim Perry and Macon Macon to the pre-NCAA Tournament Number 1 ranking. In the Tournament, they beat Lehigh, Georgetown and the University of Richmond to reach the Elite Eight, with a record of 31-1. But they were beaten by Duke in the Regional Final. Chaney swept the various National Coach of the Year awards, one of which he had already won in 1987.
Chaney became an icon in Philadelphia, and beyond. But 1988 would be the closest he ever got to a Division I National Championship. And as time went on, he began to be seen as a quirky character, an irascible old man. I saw a newspaper cartoon comparing him to the Star Wars character Yoda. (A bit taller, he was, hm?)
In 1994, Temple went 23-8, finished 2nd in the A-10, and was ranked 12th in the last national poll. By Chaney's standards, it was about average. But on February 13, they went up to Amherst, Massachusetts to play the University of Massachusetts, then coached by John Calipari, and lost 56-55.
During Calipari's postgame press conference, Chaney, 62, barged in, and accused Coach Cal, 35 and already with the kind of reputation that would get him called a "preening schmo," of "manipulating the referees." Calipari tried to respond, but Chaney wouldn't let him, yelling, "Shut up, goddammit!" He then charged the podium, and security officers stopped him before he could get close. But not before he could yell,
"I'll kill you!"
and, "When I see you, I'm gonna kick your ass!" and, "I'll tell my players to knock your fucking kids in the mouth!"
Calipari, a native of a small town outside Pittsburgh, stood his ground, and said, "Nothing ceases to amaze me." He has gone on to great success in the game, but also to great controversy. Chaney was suspended for 1 game over the incident, apologized, and, years later, publicly defended Calipari during one of his scandals.
Chaney would lead Temple to the A-10 regular season title in 1998, sweep the regular-season and Tournament titles in 2000, win the Tournament again in 2001, and win the regular-season title again in 2002. In 2001, meeting the eligibility requirement -- active coaches can be elected with 25 years of service -- he was elected to the Basketball Hall of Fame.
But after getting Temple back to the Elite Eight in 2001, he never got them into the NCAA Tournament again. Despite 3 straight 2nd-place finishes in the league, overall, he went 18-16 in 2003, 15-14 in 2004, and 16-14 in 2005. The A-10 then went to a single division, due to changes in affiliations, and in 2006, he went 8-8, good enough for only 7th, and went 17-16 overall.
At the age of 73, he hung up his whistle. He was 741-312 for his career, including 516-253 at Temple. He had won 8 regular-season Conference Championships, and 6 Conference Tournaments. But despite making the Elite Eight in 1988, 1991, 1993, 1999 and 2001, he never made the Final Four.
He was succeeded by Fran Dunphy, who came over from fellow Big 5 school Penn. Despite a losing record in his 1st season -- something Chaney had also done at Temple, and it would be the only losing season he ever had as a coach -- he led Temple to A-10 titles in 2010 and 2012, and to the Championship of the American Athletic Conference in 2016.
In 2019, "Mr. Big 5" stepped aside, having surpassed Chaney as the all-time wins leader among Big 5 coaches, and handed the reigns to Aaron McKie, who had been his assistant, had won A-10 Player of the Year under Chaney in 1993, and had starred in Philly for the 76ers.
John Chaney died today, January 29, 2021, after a brief illness. He had just reached his 89th birthday, and leaves behind his wife Jeanne, their daughter Pamela, dozens of men whose lives received a boost thanks to his tutelage, the love of the people of Philadelphia, and the respect of basketball fans everywhere.