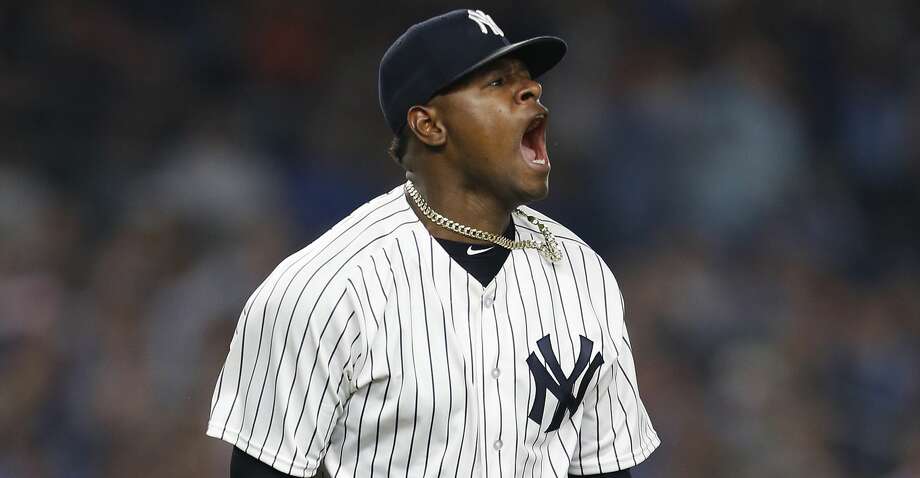 The Yankees allowed Justin Verlander to make them look like fools on Memorial Day. Clearly, they needed to send a message. To themselves, as much as to the Astros.
There is unfinished business, and it is time to start taking care of it.
Brett Gardner hit a home run in the bottom of the 1st last night, but CC Sabathia gave it right back in the top of the 2nd. But with 2 outs in the bottom of the 2nd, the Baby Bombers struck. Miguel Andujar doubled, and Gleyber Torres singled him home. 2-1 Yankees.
But the Astros took a 3-2 lead in the top of the 4th, and a 5-2 lead in the 5th. Aaron Judge led off the bottom of the 5th with a home run, to cut it to 5-3. That was the score heading into the bottom of the 9th.
Cliche alert: As John Sterling taught us, a 2-run deficit, "That's just a bloop and a blast." Or a walk and a wallop. Speaking of which...
Cliche alert: Walks can kill you, especially the leadoff variety.
Chris Devenski walked Andjuar to start the bottom of the 9th. He struck Gleyber Torres out. Then came Gardner. He hit a home run, and we went to extra innings.
Brad Peacock got the 1st 2 outs in the bottom of the 10th, but, again, it would be Andujar with a double, and Torres with a single. This time, a walkoff.
Yankees 6, Astros 5. WP: Aroldis Chapman (2-0). No save. LP: Peacock (1-3).
*
Tonight's game was another Luis Severino masterwork. He went 7 innings, allowing 2 runs on 4 hits and just 1 walk, striking out 11. No Yankee hit a home run, and only Judge had more than 1 hit, but the runs came when needed: A Giancarlo Stanton sacrifice fly in the 1st, a 2-run single by Gary Sanchez in the 5th, and, in the 6th, an RBI single by Didi Gregorius and an RBI double by Aaron Hicks.
This was the best game the Yankees have ever had against Dallas Keuchel, who shut them out in the 2015 American League Wild Card Game. He's having an awful year, but the Yankees still had to take advantage of it. They did.
David Robertson pitched a scoreless 8th. Chapman, as he so often does, made the 9th inning a bit interesting before he stopped fooling around and ended it.
Yankees 5, Astros 3. WP: Severino (8-1). SV: Chapman (12). LP: Keuchel (3-7).
There's a little finishing of the unfinished business. As Johnny Carson's
Tonight Show
title cards used to say, "More to Come."