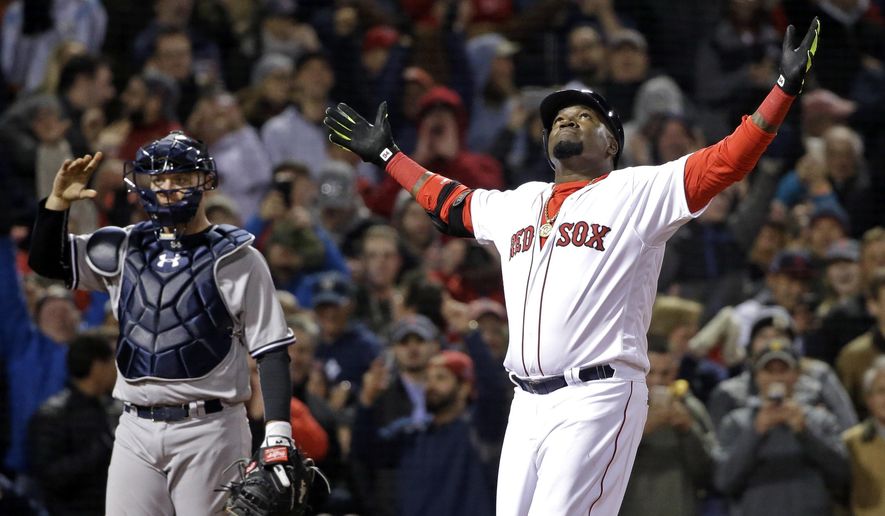 Nothing in sports angers me more than the media's knowledge that David Ortiz was caught cheating and still denies it, and their acting like it was all okay, and then their castigation of the Yankees for what they've admitted to.
It's called "cognitive dissonance."
Ortiz should have been banned from baseball for life years ago.
If the price for that had also been the same punishment for Alex Rodriguez? I would have gladly lived with that.
Anyway, last night, in the opener of the 1st Yankees vs. Red Sox game of the season, at Fenway Park, things were going so well. Masahiro Tanaka had a 3-hit shutout going for 6 innings, and the Yankees had a 2-0 lead, thanks to a home run by A-Rod in the 2nd inning (his 4th of the season) and an RBI single by Brett Gardner in the 5th.
But, for once, Joe Girardi made a mistake not by taking out a pitcher going strong after 6, but leaving him in for the 7th. Tanaka allowed a pair of 1-out singles, then got a strikeout, and then allowed a double by Jackie Bradley, tying the game.
Then Girardi brought Dellin Betances in to pitch the 8th. Suffice it to say, he has not turned out to be the new Mariano Rivera of 1997 to 2013 -- or even the new Mariano Rivera of 1996 (unbeatable 8th inning guy).
It wasn't all Betances' fault: Xander Bogaerts lined a shot that deflected off Starlin Castro's glove, not really a makeable play, so I don't blame Castro, either. But, of course, Ortiz was the next batter; and, of course, he hit a home run.
If you're not going to plunk him in that situation, at least walk him intentionally. True, it puts the potential winning run on 2nd base with only 1 out. But it sends a message: No, you big fat lying cheating bastard, we are not letting you beat us this time.
Red Sox 4, Yankees 2. WP: Koji Uehara (1-1). SV: Craig Kimbrel (7). LP: Betances (0-2).
The series continues tonight. Michael Pineda starts against Rick Porcello.