The World Cup is underway, and the United States of America is, well, not playing in it. We didn't win the games we needed to win in order to be 1 of the 3 teams from the CONCACAF region to qualify. Those 3 turned out to be Mexico, Costa Rica and Panama.
Of course, this saves Donald Trump the trouble of having to decide between his favorite country, the host country, and the country he was "elected" to lead, ours.
America has never truly embraced soccer. There have been 9 occasions when we could have, but didn't:
1. 1874: Harvard vs McGill.
Essentially, McGill University, in Montreal, is
Canada's answer to Harvard University, right down to the Crimson color.
Both Harvard's men and McGill's men believed themselves to be sporting gentlemen, in the tradition of the Victorian Era that was pretty much at its peak in the 1870s.
As citizens of the British Empire, McGill's men believed themselves to be honest, brave, and examples for the youth of the world to follow. The University's motto is
Grandescunt Aucta Labore
, Latin for "By work, all things increase and grow."
As citizens of the United States of America, Harvard's men believed the same things of themselves, with the added touch of being the inheritors of the American Revolution. The University's motto is
Veritas
, Latin for "Truth."
Having heard that Harvard had one the best football teams in America, McGill invited Harvard to come up and play "football." It would be the 1st-ever "football" games between American and Canadian teams. Wishing to maintain their appearance as honorable sportsmen, Harvard happily accepted.
But when they got to McGill's Jarvis Field on May 15, 1874, they discovered that the game they'd been invited to play was rugby. They'd expected that they would be playing association football -- which got shortened to "assoc." and eventually to "soccer." (Rugby has frequently been called "rugger.")
Being "sportsmen" and "gentlemen," the team captains met to discuss the discrepancy with civility. There may have been tea involved, or perhaps a stronger beverage.
They came up with a compromise: They would play a game under Harvard's "Boston game" rules, and another game under the "code" of "rugby union," the version of football most familiar to Canada at the time. (Indeed, the predecessor to the CFL, the Canadian Football league, was the CRU, the Canadian Rugby Union.) Harvard won the soccer game 3-0. The rugby match ended 0-0.
The Harvard men liked the rugby version, including the "try." When they returned to the U.S., their officials met with officials from other schools, and the rules were combined with those of the soccer generally considered "football" in America, and carrying the ball was officially allowed, and the "try" became the "touchdown."
So if you want to know why America plays the gridiron game instead of "football," blame Harvard and McGill.
You could also blame another Harvard man, the Rough Rider himself:
2. 1905: Theodore Roosevelt.
On October 7, 1905, the University of Pennsylvania hosted nearby Swarthmore College in a football game at the original Franklin Field. (Built in 1895, it was replaced by the current structure in 1923.) Penn won the game, 11-4.
Swarthmore guard Robert Maxwell, known as Tiny for being so big and fat, got his nose broken, but played both ways the whole game. It was the only game Swarthmore lost all season, and it would probably be forgotten today, especially since Swarthmore is now a Division III school.
Except a photograph was taken of Maxwell's bloody face, and the wire services put it on the front pages of newspapers all over the country. One of them made its way to President Theodore Roosevelt. A former athlete himself -- he had been on the Harvard boxing team in 1880, and played tennis even while President -- he requested figures, and found out that 18 young men had died playing college football in 1904.
So the Rough Rider hauled the presidents of Harvard, Yale and Princeton -- then the nation's leading football-playing universities -- into the White House, and, in a meeting on October 9, told them point-blank: Either you do something to make football safer, or I will take action.
You want to tell him he's bluffing? I don't.
TR -- he did not like the nickname "Teddy" -- didn't have to actually threaten to ban the sport. Given his reputation as a man who got things done and didn't let anything stand in his way, just the possibility that he would be taking over their sport, taking their power away, was enough to spur them into action. The safety measures they took over the next year are now considered the founding of the National Collegiate Athletic Association (NCAA).
Had the gridiron game been stopped at this time, in the Progressive Era, the world's game might have caught on, and, like so many other things that began elsewhere, been given an American touch, so it wouldn't have carried the "foreign" label.
One of the rule changes that the proto-NCAA recommended was widening the field. This might have made a football field, 160 feet (53 1/3rd yards) wide, as wide as a soccer field, usually around 222 feet (74 yards).
But, again, Harvard is involved. Harvard Stadium was built in 1903, and it was the first modern football stadium. The field could not be widened without tearing down half the stadium and essentially starting over. Harvard was not willing to do that and, at the time, the influence of Harvard was roughly the same as the influence of Notre Dame, Michigan, Alabama, Texas, and USC combined. In other words, if Harvard wanted something, it usually got it. So the field was not widened. Instead, the forward pass was legalized, which made the game considerably safer.
3. 1918: World War I.
There are many stories of
impromptu soccer games being played between teams of British and German soldiers
in the "No Man's Land" stretches between the trenches in France and Belgium during the Christmas Truce on December 25, 1914.
A re-enactment
Then known as The Great War, The World War, and, erroneously, The War To End All Wars, this conflict was the first chance for many Americans to not merely see a foreign land, but to meet foreigners, not merely immigrants from those places, and to get to know them and their ways.
A popular song of 1918 expressed the question many had on the effects of the boys they sent off to battle: "
How ya gonna keep 'em down on the farm after they've seen Paree?
" (Paris.)
Well, the American authorities of a century ago had 2 answers, 1 they thought of, and 1 that they stumbled onto. They one they came up with themselves was to point out that America won the war, whipping the Germans after a combined force of British, French and Russians hadn't.
This was the real beginning of the concept of "American exceptionalism," and the dismissiveness of everything foreign: Why should we give a damn about what the Limeys and the Frogs like, when we're better? American stuff should be good for our boys. Be a "100 percent American," and ignore foreign things. In other words, ignore British and French clothing styles, art, music... and sports. Baseball and football are your games, not cricket and soccer.
And so, despite the foundation in 1913 of the United States Soccer Federation (USSF) and the establishment of teams on what we would call the minor-league level, most Americans chose to ignore the sport as "foreign," and not "100 percent American." This was among the things that led the Irish writer George Bernard Shaw to say, "The 100 Percent American is a 99 percent idiot."
Yes, Shaw was Irish, not English. And there was the solution that dropped into the laps of the the hyper-patriots. A lot of the boys who went overseas were of Irish descent, and identified with the people trying to separate from the United Kingdom and found the Republic of Ireland. And so, they wanted nothing to do with English things, like soccer.
This was true not just of the Irish-Anericans, but of the natives of the Emerald Isle themselves. To this day, the most popular sports in Ireland are rugby, Gaelic football (which closer to rugby than to soccer, and remains all-amateur), and hurling (sort of a cross between field hockey and lacrosse, and not to be confused with the iceborne sport of curling).
There had always been a few Irish players in England's Football League, but it was the growth of television that led to Irish boys overruling their adults in large numbers and saying, "We want to beat the English at their own game, just like we do in rugby."
So while American soldiers, Irish and otherwise, coming home were ready to help start and play in a new football league, it was going to be "American football." On September 17, 1920, the American Professional Football Association was founded in Canton, Ohio. It was renamed the National Football League in 1922.
4. 1929: The Great Depression.
There were 12 teams in the NFL at the start of the 1929 season. In late October, the stock market crashed. There were 10 teams in 1933 -- but only 4 of them were in the League just 4 years earlier: The Chicago Bears and Cardinals, the Green Bay Packers and the New York Giants.
The Depression killed off teams in the smaller markets, except for the Packers, who were saved due to the friendship between their boss Earl "Curly" Lambeau and Bears owner-coach-GM and former end George Halas.
Oddly, American soccer survived. But it's possible the NFL might not have. If it hadn't, then it wouldn't have still been there from September through December. And, with hockey not yet big business in America, and pro basketball still very much minor-league, something else could have stepped in for October through April, to fill in the gap between baseball seasons.
5. 1945: World War II.
American troops were in Britain, France, Belgium, the Netherlands, Germany and Italy, all soccer-mad countries. They could have absorbed the culture and taken it back, just as they could have after World War I.
But, just as after World War I, they didn't. By this point, the problem wasn't a disdain for foreign things. We now values our alliances too much for that.
No, this time, the issue was that there were too many big sports: Baseball, college football, pro football, college basketball, hockey, boxing and horse racing. On June 6, 1946, pro basketball joined them, with the founding of the Basketball Association of America. In 1949, the Eastern-based BAA merged with the Midwestern-based National Basketball League to form the NBA. There was no place for soccer in America. Yet.
6. The 1950 World Cup.
America stunned England 1-0 at Belo Horizonte, Brazil. The whole world was shocked. Except us: There was only 1 American reporter covering it. It should have shaken us up, and we didn't even know it happened.
Even as late as 2002, when the famous "Dos a Cero" win over Mexico happened, Jay Leno could joke on
The Tonight Show
, "Half of California went into mourning! And the other half said, 'There was a game?'"
7. The 1966 World Cup. This was the 1st one to be broadcast on worldwide satellite TV. And it was in England, a country America knew and liked.
And there were heroes that America could have embraced. England's Bobby Moore, Bobby Charlton and Geoff Hurst. Brazil's

Pelé. Portugal's

Eusébio. Spain's

Luis Suárez (not related to the current Uruguay star of the same name). West Germany's Uwe Seeler. Italy's Gianni Rivera and Sandro Mazzola. Even the political arch-nemesis, the Soviet Union, had the charismatic goalkeeper Lev Yashin.
But only 16 teams qualified for the World Cup at the time. In qualification from CONCACAF, the region covering North America, Central America, and the Caribbean, only the winners of the 3 groups advanced to a round-robin, and only the winner of that went to the World Cup.
The U.S. was placed in a group with Mexico and Honduras. We got a 1-0 win and a 1-1 draw with Honduras, but only a 2-2 draw and a 2-0 loss with Mexico. Had that 2-2 draw with Mexico in Los Angeles on March 7, 1965 -- which was also "Bloody Sunday" in Selma, Alabama -- been a 3-2 win, we would have advanced to the round-robin with Costa Rica and Jamaica. Could we have won that? We'll never know.
Here's what Mexico did: Drew 1-1 with France, lost 2-0 to England, and drew 0-0 with Uruguay, playing all 3 of their Group Stage games at the old Wembley Stadium in London. They did not advance to the knockout round. If the U.S. had matched that, the difference would have been the draw with Uruguay: A 1-0 win would have put us in the Quarterfinal with -- West Germany, which ended up taking England to extra time of the Final, before losing on the controversial goal by Geoff Hurst. (I've seen the replay many times, and I think it was legit.)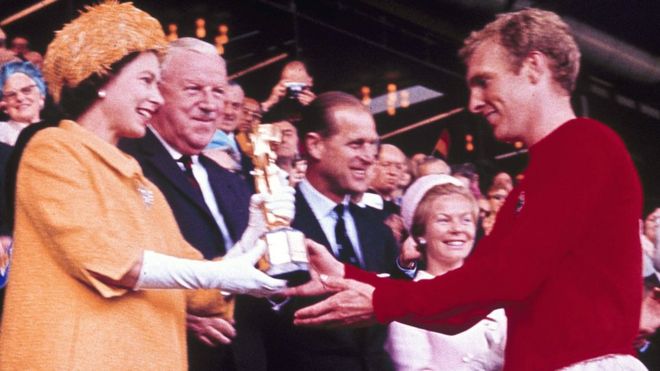 Queen Elizabeth II -- with Prime Minister Harold Wilson,

Prince Philip, and Katharine, Duchess of Kent, a big "football" fan --

awards the Jules Rimet Trophy to England Captain Bobby Moore,

at the old Wembley Stadium in London, July 30, 1966.

8. The 1970 World Cup.

The world got turned on by the 1966 World Cup -- and by the 1970 edition, the 1st to be broadcast worldwide in color, with Brazil's bright yellow shirts standing out against the green of the field.

America didn't qualify for that one, either, despite the fact that Mexico was the host meant that they qualified automatically, and a 2nd CONCACAF place was opened.

The U.S. won its group in the Autumn of 1968, thanks to a 1-0 win over Canada (but also a 4-2 loss to them), and 6-2 and 2-0 wins over Bermuda. But we lost both legs of the Semifinal to Haiti, 2-0 in Port-au-Prince on April 20, 1969 and 1-0 in San Diego on May 11, and that was that. After a series that literally resulted in a 2-day war between El Salvador and Honduras, El Salvador beat Haiti in the Final to qualify.

If we had beaten Haiti, and then El Salvador? We would have been put in a group with the host nation, Mexico; and with the Soviet Union, each a major rival in a different way; and Belgium. If we had matched El Salvador's results, that would have been a 3-0 loss to Belgium, a 4-0 loss to Mexico, and a 2-0 loss to the Soviets, all at the Estadio Azteca in Mexico City. And there would have been no one-goal loss, or draw, that altering by 1 goal that would have made a difference.

That might have being a depressing set of results, especially the last one, that could have set American soccer back so much that we didn't make the World Cup again until... 1990, which is exactly what happened.

9. 1977:

Pelé

.

For a brief time,

O Rei do Brasil

was filling American football stadiums with people who wanted to watch the greatest player in the history of

futebol

. Even after he retired, the original North American Soccer League did fairly well.
But his successor as the leading player of the New York Cosmos, Giorgio Chinaglia, had an even bigger ego than
Pelé, and saw himself as the man who could make soccer's destiny as America's next great sport come true. When he found out one of the Cosmos' owners was ready to sell his share, Chinaglia bought it. Soon, he was, while still a player, essentially controlling everything.
And he ran the team into the ground. They lost gobs of money, and began to lose. Attendance had been 47,856 per game at Giants Stadium in 1978, the year after
Pelé retired. Even in 1983, it was still 27,242. In 1984, it was 12,817. The team had to fold. Without its New York team, so did the League.
This did incalculable damage to American soccer. Somehow, we were still awarded the 1994 World Cup. But we had to establish a new top division. To do that, we had to find people willing to ignore how badly the NASL was run, and commit their money and their time. That wasn't easy.
Surely, the World Cup was going to help. Right?
10. The 1994 World Cup.
At first, it looked like it would. It remains the World Cup with the highest per-game attendance, 68,991. And what an array of talent, not dampened in the slightest by England failing to qualify for the 1st time since 1978.
From finalists Brazil:

Romário, Ronaldo, Cafu,

Bebeto, Dunga, Leonardo, and Claudio Taffarel. From finalists Italy: Franco Baresi, Paolo Maldini, Gianfranco Zola, Mauro Tassotti, Roberto Donadoni, Antonio Conte, and Roberto and Dino Baggio (not related). From semifinalists Sweden: Henrik Larsson and Tomas Brolin. From semifinalists Bulgaria: Hristo Stoichkov.
From quarterfinalists the Netherlands: Frank Rijkaard, Ronald Koeman, Dennis Bergkamp, Marc Overmars, Danny Blind, Edwin van der Sar, and the twins Frank and Ronald de Boer. (Marco van Basten had already had to retire due to injury.) From quarterfinalists Germany: Lothar

Matthäus,

Jürgen Klinsmann,

Jürgen Kohler, Rudi

Völler, Thomas

Häßler,

Andreas Brehme, Matthias Sammer and Oliver Kahn. From quarterfinalists Romania: Gheorghe Hagi and Gheorghe Popsecu. From quarterfinalists Spain: Pep Guardiola and Luis Enrique.
From the Round of 16: From Argentina: Diego Maradona (who ended up getting suspended for drugs), Gabriel Batistuta and Claudio Caniggia. From Ireland: Roy Keane, Paul McGrath, Ray Houghton, John Aldridge, Steve Staunton, Ronnie Whelan, Tony Cascarino and Packie Bonner. From Nigeria: Jay-Jay Okocha.
From teams that didn't make it to the knockout round: Roger Milla from Cameroon, and Carlos Valderrama and his hair from Colombia.
And from our own team, which did make it past the group stage for the 1st time since 1930: Alexi Lalas, Eric Wynalda, Cobi Jones, Marcelo Balboa, Paul Caligiuri and Jersey Boys Tony Meola, John Harkes, Tab Ramos and Claudio Reyna. True, we got knocked out by Brazil, on home soil, on the 4th of July no less, and we wore horrid uniforms. But it was still a big boost for American soccer, just what the upcoming founding of Major League Soccer (MLS) needed going into 1996.
Yes, we actually wore these things.
Certainly, we got the pageantry right. Having America play on the 4th of July worked out well, despite the loss. And the New York market got lucky, as 2 of the country's, and particularly the Tri-State Area's, biggest ethnic groups ended up having their ancestral homelands playing at the Meadowlands: The Republic of Ireland and Italy.
Ireland vs. Italy, Giants Stadium, June 18, 1994. Attendance: 75,338.
Ireland pulled the upset, winning 1-0.
But the 2 worst things that could have happened did happen. Someone got killed. Not in the stadium, or in the streets; it wasn't a fight between hooligans. Not even in the country. After his own goal sent Colombia down to defeat against us, Andres Escobar went back home, and was shot and killed.
The other was that the Final ended scoreless. There were the 2 best teams in the world, Brazil and Italy, and, after a full 90 minutes, plus extra time making it 120 minutes, the final score was 0-0. Nil-nil. Nothing to nothing. Americans like scoring, and any American watching this Final, not knowing all that goes into a soccer game, would have found it boring as hell. It probably set interest in the sport back several years.
The Rose Bowl, Pasadena, California, July 17, 1994. Attendance: 94,194.
Roberto Baggio blasted a penalty kick over the crossbar, and Brazil won. And Americans not already into soccer shrugged their shoulders, and either went back to watching baseball or began preparing for a new NFL season.