The decade from January 1, 2000 to December 31, 2009. We still don't really know what to call it. Some call it "The 2000s," pronounced like "The Two Thousands." Some say "The Aughts." Some say "The Aughties." "The Oh-Ohs," as in "00's," never seemed to catch on with anyone.
Time magazine, noting the 9/11 attacks, the Iraq War, Hurricane Katrina, the Crash of 2008 and the ensuing recession, called it "The Decade From Hell." Their editors did not foresee what would happen from 2016 to 2019 -- or, so far, in the 2020s.
Top 10 Myths About the 2000s
1. George W. Bush wasn't so bad. Compared to Donald Trump, sure, anybody wouldn't seem so bad. And, now, Dubya, who served as the 43rd President of the United States from January 20, 2001 to January 20, 2009, has the reputation of being a nice enough guy who wasn't very smart and was in over his head. Well, in this case, two out of three would have been bad enough.
Giving the 2002 State of the Union Address,
in front of Vice President Dick Cheney and
Speaker of the House Dennis Hastert.
Now THAT was an axis of evil.
But he wasn't a nice enough guy. He lied, cheated and stole to gain the Presidency. And he smeared anyone who got in his way, even after he got into office. He was a draft dodger who called people who opposed his war of choice unpatriotic. He presided over the release of the name of an undercover CIA agent, just because her husband had blown the whistle on one of his lies about that war.
2. The period after the 9/11 attacks was a time of great national unity. It was not. Sure, we were all united behind our troops. But there was no great unity behind the President and his team. Yes, Dubya had a 90 percent approval rating. But most Democrats knew that this guy was not going to be able to get the job done, we were just afraid to say so, and hoping we were wrong.
But the Republicans were already saying that former President Bill Clinton had let bin Laden get away, that he "let him slip through his fingers," or even that a foreign government "handed him bin Laden on a silver platter, and he refused it."
This was a lie.
As is usually the case when Republicans tell lies and get caught, they didn't care, and kept on lying.
Suppose Al Gore had been President at the time, and had been unable to stop the attacks. Think there would have been any national unity? Yeah, surrrre: The Republicans, in control of the House of Representatives, would have impeached him for not stopping them. They wouldn't have been able to get enough votes in the Senate to remove him, but it would have poisoned the rest of his term.
Even if he had gotten Osama bin Laden before Election Day 2002, that election would have been a bloodbath for the Democrats, and he would have been doomed for 2004.
3. Saddam Hussein was a dictator who had to be stopped at all costs. How many dictators have the Republicans refused to stop? And how many of them killed more people in fewer years than Saddam did?
We will never know if the people of Iraq would have toppled him before he died of natural causes, because we'll never know when that would have been. What we do know is that it wasn't worth it for our country to topple him.
4. The Republicans were patriotic, the Democrats were not. This has been the conservative argument since 1948, and it has been a big fat lie the whole time.
Case in point: The U.S. Senate race in Georgia in 2002. Max Cleland came out of the Vietnam War with his left arm, but not his right, and neither of his legs. He was elected to the U.S. Senate from Georgia in 1996. He was defeated for re-election by Saxby Chambliss, a Congressman who hadn't served in Vietnam, and questioned Cleland's patriotism because Cleland wasn't sufficiently supportive of Bush's proposed war in Iraq.
Bush never wanted to win the war. He only wanted to have the war, to use as a club over his opponents' patriotism. He still believes that his father's biggest mistake in the 1990-91 Persian Gulf War was ending it too soon, and not securing the patriotic vote for himself in his bid for re-election. Bush the son didn't just want the threat of war and terrorism for the Republicans to win in 2002, and the actual war and the threat of terrorism to win in 2004. He wanted it for 2006 and 2008, even though he would no longer be on the ballot.
Give John McCain credit: When he ran in 2008, he did say he wanted to end the war, by winning it. Whether he knew how, we'll never know. But at least he knew that it had to end, one way or another.
And speaking of the 2008 election:
5. Barack Obama was under-qualified for the Presidency. That argument has been completely shot to hell by the Republicans falling all over themselves to nominate Donald Trump. Obama also had more years in public service than the man the Republicans nominated to beat him in 2012, Mitt Romney, despite Romney being 14 years older.
Furthermore, length of experience isn't necessarily an indication of a good Presidency. George H.W. Bush probably had the most varied experience of any Presidential nominee ever, and he was not a good President. Better than his son, though. And, given the power of the Governor of Texas compared with most other Governors, George W. was less qualified in 2000 than was Obama in 2008.
When John McCain was the Republican nominee in 2008, he had a big edge over Obama on experience. The problem was, his experience was mostly in foreign policy and national security. He had hoped that the most important issues would have been those.
Instead, the economy went into the tank, and, having lived most of his life on the federal government's dime -- a son of a naval officer, then a Naval Academy midshipman, then a naval officer himself, then a Congressman, then a Senator, indeed the most time he'd ever spent away from the federal government taking care of him was while he was a prisoner of war -- his biggest experience in regard to the civilian economy and its difficulties was getting caught as one of the "Keating Five," in a banking scandal.
In contrast, Obama did have experience in dealing with the real civilian economy. He and his wife Michelle were still paying off their student debts. They understood the struggles of Americans who weren't rich. McCain, whatever his other virtues, didn't understand, because of, yes, his experience. When it came to handling the economy, Obama was qualified, and McCain was not -- and that's before we get into economic ideology.
6. Kids who grew up then were deprived when it came to technology. There were already smartphones and Game Boys. At home, there were already laptops and Xboxes. Social media only started to blossom in 2006, but more than half of the things that kids can do with their phones in 2022, they could do in 2000.
The Xbox, introduced by Microsoft on November 15, 2001
7. It was a barren time for music. Yes, a lot of it was bad. Some of it was very, very bad. Most of that was the computerized stuff, like the monotonous Sean Paul; or attempts at being soulful that ended up sounding like whining, like James Blunt's "You're Beautiful" and Daniel Powter's "Bad Day." (Sad to say, those 2 songs and Sean Paul's "Temperature" were all big hits at the same time in early 2006. Talk about some bad days.)
But it was also the decade in which Eminem, Jay-Z and his eventual wife
Beyoncé, Christina Aguilera, OutKast and Pharrell Williams released their best work; Mariah Carey and Mary J. Blige each fell off both commercially and in their private lives, but each made a fantastic comeback on both fronts; the Dixie Chicks (as The Chicks were then known) pissed off conservatives, faced an ugly backlash, and received awards that proved they won that battle; and Pink, Alicia Keys, Norah Jones, Avril Lavigne, Kelly Clarkson and Amy Winehouse debuted, producing epic albums and stunning performances. So there was plenty of good music to go along with the crap that the music industry threw at us.
He's rich, he's accomplished, he's immensely respected in his field,
he gets to live in New York, and he gets to sleep with
Beyoncé.
So why is it so hard to find a picture of Jay-Z looking happy?
8. The Sopranos was the greatest TV show of all time. The 1990s began the format of "prestige television." The format really took off in the 2000s, led by The Sopranos, which ran from 1999 to 2007.
Look, as much as I would like a show set in my native North Jersey and in nearby New York City to be the greatest TV show of all time, The Sopranos ain't it. Yes, it was a very well-written drama. YYes, it could also be funny at times. es, the acting was great. Yes, it had some classic moments. And, yes, it also made the point, very well, that the kind of lives that these "men of honor" were leading was dishonorable, often horrible, how their real families suffered because of their activities in "the family," and should not be emulated.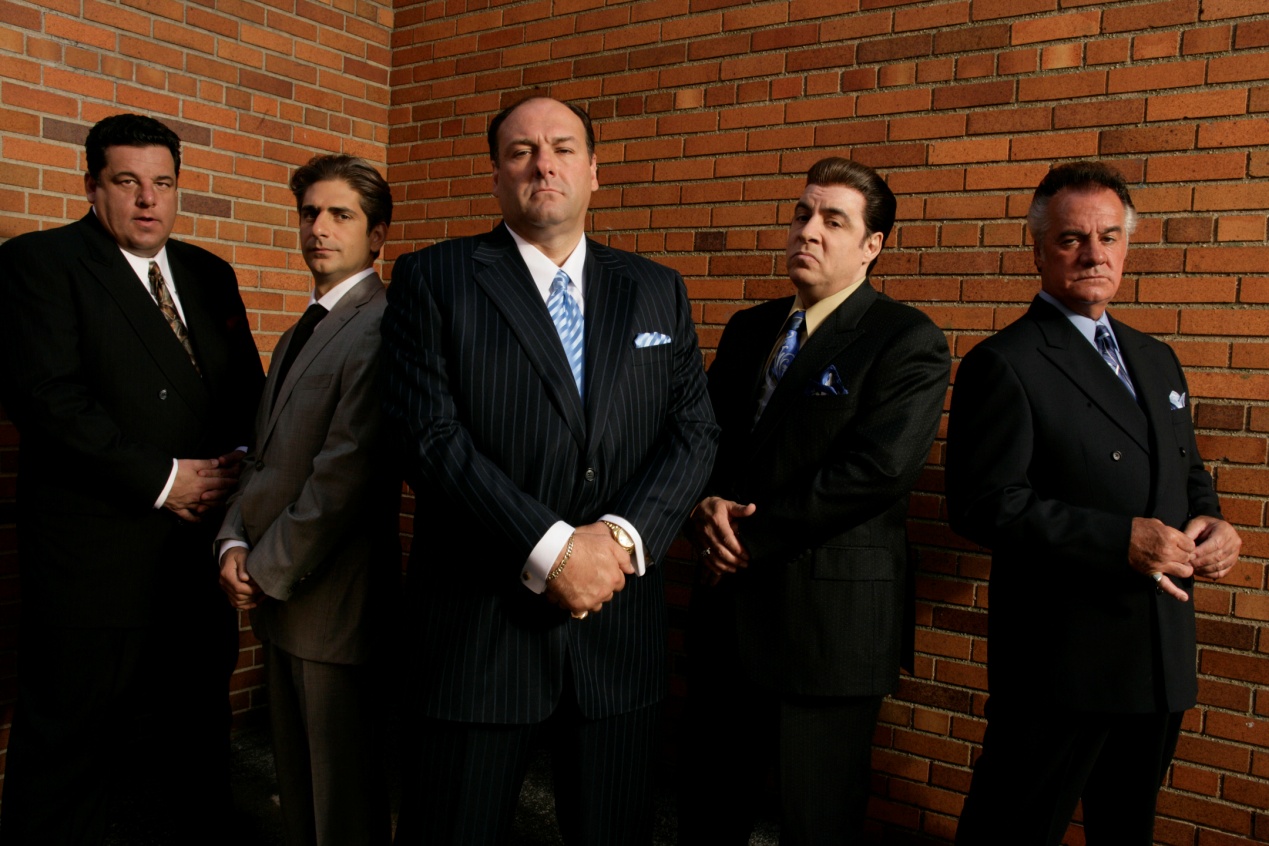 Left to right: Steve Schirippa, Michael Imperioli,
James Gandolfini, Steven Van Zandt and Tony Sirico
But I can name at least one show in every decade of the TV era that did those things better:
* 1950s: Bonanza. (Barely: It premiered on September 12, 1959.)
* 1960s: Star Trek. (The original series.)
* 1970s: M*A*S*H.
* 1980s: Hill Street Blues.
* 1990s: ER.
* 2000s: The West Wing.
* 2010s: Mad Men.
* 2020s: So far, I can't name one, but I'm sure there will be one premiering by December 31, 2029.
9. The Kardashian-Jenner sisters were talentless "heirheads." No. They started out in their father Robert Kardashian's music agency, then built their respective fashion empires. Unlike a lot of rich people who claim it, they actually have been "job creators." Because of her makeup line, youngest sister Kylie Jenner became American's 1st billionaire under the age of 21.
Left to right: Kris, Kylie, Kourtney, Kim,

Khloé and Kendall
Are they publicity-hungry? Yes. Are their love-lives complicated? Sure. Do they bring some of the vast criticism they receive on themselves? You bet. But they do have talent.
10. The Yankees were as guilty as any other team when it came to steroids. This accusation is not merely false, it is really, really stupid. The Yankees most often cited are:
* Roger Clemens. Men tried to prove him guilty in court. They couldn't.
* Alex Rodriguez. The evidence that he used them as a Yankee is flimsy.
* Jason Giambi and
* Gary Sheffield. Neither helped the Yankees win a World Series. Giambi only helped the Yankees win one Pennant, they lost the World Series, and he was hardly among the team's most consequential players.
* Andy Pettitte. He used one time to come back from an injury. Hardly the same as gaining an unfair advantage. And the Yankees didn't win the Pennant that season.
In contrast, look at the Yankees' postseason opponents in the years from 1996 to 2007, which corresponds to Joe Torre's seasons as manager and also, roughly, to "The Steroid Era." In chronological order:
* The Texas Rangers, in the 1996, '98 and '99 American League Division Series.

Iván Rodríguez

. It didn't work.
* The Baltimore Orioles, in the 1996 AL Championship Series. Rafael Palmeiro, Brady Anderson, and possibly others. It didn't work. It did, however, work well enough for the Orioles to beat the Yankees out for the 1997 AL Eastern Division title.
* The Atlanta Braves, in the 1996 and 1999 World Series. As far as I know, they were clean. If they did use, it didn't work.
* The Cleveland Indians, in the 1997 ALDS and the 1998 ALCS. As far as I know, they were clean, although there has always been suspicion, if not evidence, against Jim Thome. If they did use, it worked in '97, but not in '98.
* The San Diego Padres, in the 1998 World Series. Ken Caminiti. Presuming he was their only steroid user, it didn't work, as he went 2-for-14 with 1 RBI.
* The Boston Red Sox, in the 1999 ALCS. as far as I know, this edition of the Sox was clean. The most prominent Sox player of the 1990s who got caught, Mo Vaughn, was already gone by this point. If they did use, it didn't work -- this time.
* The Oakland Athletics, in the 2000 and 2001 ALDS. Both Jason and Jeremy Giambi, and Miguel Tejada. It didn't work.
* The Seattle Mariners, in the 2000 and 2001 ALCS. As far as I know, they were clean, but I'm always going to have doubts about Jay Buhner. He went bald early, and his plate appearances went way down due to injuries after 1997. Suffice it to say, even as good as he was, the production he gave the Mariners at right field from 1988 to his retirement after the 2001 season did not match the production the Yankees got at that position over the same period, first from Jesse Barfield, then, starting in 1993, from Paul O'Neill. So let's stop pretending that trading Buhner away was a mistake. The Yankees were better without him than the Mariners were with him.
* The New York Mets, in the 2000 World Series: Mike Piazza. Come on, admit it: Piazza lost a lot more of his cool than Roger Clemens did. If anybody was in "roid rage," it was Piazza. And it didn't work.
* The Arizona Diamondbacks, in the 2001 World Series: Matt Williams confessed. Luis Gonzalez had a Brady Anderson-type career, with his 2001 season being his version of Anderson's 1996, so don't tell me he wasn't using. And can we really be sure that Curt Schilling wasn't using? He's certainly arrogant enough to believe he could use and get away with it.
* The team now known as the Los Angeles Angels, in the 2002 and 2005 ALDS. As far as I know, they were clean.
* The Minnesota Twins, in the 2003 and 2004 ALDS. As far as I know, they were clean. If they did use, it didn't work.
* The Boston Red Sox, in the 2003 and 2004 ALCS. David Ortiz got caught. Manny Ramirez got caught. Take those two off the Sox, and they don't even make the Playoffs, and they franchise is, most likely, still looking for their 1st World Championship since 1918. And they couldn't have been the only ones. Trot Nixon? Mark Bellhorn? Bill Mueller? Kevin Millar? Kevin Youkilis? And Schilling was on that team. I want the blood on that sock tested!
* The Florida Marlins, in the 2003 World Series.

Iván Rodríguez

again.
* The Detroit Tigers, in the 2006 ALDS.

Iván Rodríguez

again.
* The Cleveland Indians, in the 2007 ALDS. As far as I know, they were clean.
So, as you can see, no team has been hurt more by steroid use than the Yankees -- other teams', and, as little as there was, their own. If any team's titles -- Division, Pennant, World Series -- from that period are invalid, the Yankees are far from 1st on that list.
The 2000 to 2009 decade was full of myths, some of them exaggerations of the truth, and some of them outright lies, that have persisted to this day. It is time to accept the truth.