Who's overreacting? Is Rutgers University overreacting to a bad start to the 2019 football season?
They opened the season by beating the University of Massachusetts, an FCS (formerly Division I-AA) team, 48-21 in front of 12,000 empty seats at SHI Stadium. I guess they didn't realize that giving Rutgers Stadium that name could have led people to call it "Shit Stadium," the way some people call Citi Field, the Mets' new ballpark, "Shitty Field."
Then RU went to Iowa, for the 1st Big 10 Conference game of the season, and lost 30-0. Then they came home to face Boston College, a former Big East foe now in the Atlantic Coast Conference, and lost 30-16, in front of 20,000 empty seats.
There were no empty seats at Michigan Stadium this Saturday. The official attendance was 110,662 -- not quite the 111,213 for the 2017 game in Ann Arbor that Michigan won 35-14, but the 2nd-largest crowd RU has played in front of in its 150-year history. And Michigan, not up to its usual standards these last few years, played up to them, and beat Rutgers 52-0.
Within 24 hours, Chris Ash, 4 games into his 4th season at RU, with a record of 8-32, 3-26 in Big 10 play, was fired. Athletic director Pat Hobbs also fired offensive coordinator John McNulty. Defensive coordinator Andy Buh was kept, but, given that the average score of a Rutgers game this season is Other Guys 33, Scarlet Knights 16 -- against FBS (formerly Division I-A) teams, it's Other Guys 37, Scarlet Knights 15 -- maybe the defense is just as much of a problem as the offense.
Other than for legal reasons, it's hard to imagine a major college football team being willing to fire its head coach in September.
On the other hand, it's better to get rid of the guy not getting the job done too soon than too late. So... Ash to Ashes.
For the rest of the season, the head coach will be Nunzio Campanile. He was elevated from the position of tight ends coach, and, for the moment, he will also be his own offensive coordinator. His pedigree is mostly high school, but damn good high school football, including 2 of the most storied programs in the State -- both Catholic schools in Bergen County, and a rough rivalry. From 2000 to 2009, he was the defensive coordinator at Don Bosco Prep in Ramsey. From 2010 to 2017, he was head coach at Bergen Catholic in Oradell. Last season, he was RU's running backs coach.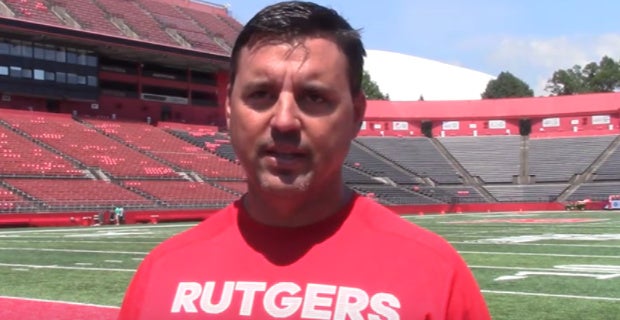 "Coach Nunz"
Among the names supposedly being considered to be the next "permanent" head coach, a decision unlikely to be made before this season ends: Campanile himself, Princeton University's Bob Surace, the University of Buffalo's Lance Leipold, the University of Pittsburgh's Pat Narduzzi, Mississippi State University's Joe Moorhead, and... Greg Schiano.
*
Greg Schiano was Rutgers football's great Scarlet hope. A former assistant to Joe Paterno at Penn State and Butch Davis at the University of Miami, he became RU's head coach in 2001, and declared, "It's time." (It was long past time.) He said he would turn not just New Jersey, but the New York and Philadelphia metropolitan areas, into "The State of Rutgers." (NYC doesn't have an FBS team, and Philly's only FBS teams are Temple and Villanova.)
At first, there wasn't much improvement: He went 2-9 and 1-11 in his 1st 2 seasons. Then came minor progress, going 5-7 and 4-7. In 2005, it was turned around: 7-5, and the 1st "real" bowl bid in school history, a minor bowl that RU lost. But in 2006, RU went 11-2, including a stunning nationally-televised win over then-Number 3 Louisville, and won a bowl game for the 1st time.
Records of 8-5, 8-5 and 9-4 followed, with minor bowls won each season. RU fell to 4-8 in 2010, but jumped back to 9-4 in 2011, winning the Pinstripe Bowl over Iowa State at Yankee Stadium.
That turned out to be the last game Schiano coached at Rutgers -- so far. He had turned down the chance to become head coach at Miami, and lots of people thought he was waiting for Paterno to retire, so he could become the next head coach at Penn State.
Finally, he was made an offer he couldn't refuse: A pro job, and he jumped at it. The right decision? By the end of the 2012 season, Penn State's image as a university was shattered, the football program badly stained, and Paterno fired and dying of cancer. Did Schiano luck out of taking a poisoned chalice?
No, he just took another one: The NFL job he took was as head coach of the Tampa Bay Buccaneers, a job that had already frustrated John McKay, Ray Perkins, Sam Wyche and Tony Dungy; and has since frustrated Lovie Smith and Dirk Koetter. Schiano went 7-9 in 2012, and 4-12 in 2013, finishing last in the NFC South Division both times, and was fired.
It seemed to serve him right. He had taken Rutgers to the cusp of being a great program, and then he left. He went from being Rutgers' Daddy to being Rutgers' Deadbeat Dad. He left us in the lurch, and a lot of us haven't forgiven him for it.
Is that fair? RU went 9-4 and reached a bowl game under new head coach Kyle Flood in 2012. But they fell to 6-7 in 2013. They got back to 8-5 and won a bowl game in 2014, but fell to 4-8 in 2015, a season that saw Flood suspended for 4 games, and RU placed on probation for the 1st time in its history (lasting 2 years), for violations I won't get into here. Flood was fired, and replaced by Ash: 2-10, 4-8, 1-11, and now 1-3.
Schiano landed on his feet after his Tampa Bay debacle. Urban Meyer made him defensive coordinator and assistant head coach at Ohio State. When Meyer had to leave after last season, it looked like Schiano might get his next head job, at an even better program than Penn State (which, at least historically, is also a better one than Miami).
But Schiano didn't take the head job in Columbus. Instead, the New England Patriots offered him the job as their defensive coordinator. That was on February 6. On March 28, before there could even be a mini-camp, he resigned, saying:
I have informed Mr. Kraft and Coach Belichick that I am stepping down from my position at the Patriots. This is not the result of any one event, but rather a realization that I need to spend more time on my faith and family. I don't want to look back years from now and wish I had done things differently. Therefore, I am taking time away from the game to recalibrate my priorities.
If Schiano takes the RU job back before this season is up, that would make him look like a hypocrite. But it could be that he's taking the time to evaluate the team from afar. The fact that he has coached in the Big 10 recently might help.
Still, it wouldn't feel right cheering him on. After all, he left us for (it seemed) greener pastures once before. Would Deadbeat Dad walk out on Rutgers again? We don't know that he will. We do know that he has.
Ash has gone to ashes. Is Schiano going to return to Rutgers' dust? And should Rutgers fans be happy about this?
Whoever is chosen, I'm going to need to see some results before I decide.
And, of course, Schiano might not be the next coach. For all we now, Campanile -- or "Coach Nunz," as he likes to be called -- or someone else could turn out to be the man for the job.
*
Days until Arsenal play again: 2, this Thursday, 3:00 PM New York time, home to Belgian team Standard Liege, in UEFA Europa League play. This afternoon, they played poorly away to Manchester United, falling behind 1-0 at the end of the 1st half, drawing even at 1-1, and surviving the inevitable phony penalty that Man U always seem to get at Old Trafford, but goalkeeper Bernd Leno saved it.
Days until the New Jersey Devils play again: 4, on Friday night, at the Prudential Center, against the Winnipeg Jets.
Days until East Brunswick High School plays football again: 4, Friday night at 7:00 PM, home to Somerset County school Montgomery, in a Greater Middlesex Conference/Skylands Conference "crossover" game. Da Bears are now 1-2, having lost to Old Bridge and South Brunswick, and beaten Monroe in between.
D
ays until Rutgers University plays football again: 5, Saturday at noon, home to the University of Maryland.
Days until the New York Red Bulls play again: 6, on Sunday at 4:00 PM, away to the Montreal Impact. It will be the regular season finale.
Days until the New Jersey Devils next play a local rival: 19, on Wednesday night, October 9, against the Philadelphia Flyers, a.k.a. The Philth, at the Wells Fargo Center in Philadelphia.
The season's 1st game against the New York Rangers, a.k.a. The Scum, will be on Thursday, October 17, at the Prudential Center. The 1st game against the New York Islanders will be on Thursday, January 2, 2020, at the Barclays Center.
Days until the U.S. national soccer team plays again: 11, on Friday, October 11, at 7:00, against Cuba, part of the CONCACAF Nations League, at Audi Field in Washington. They will play Canada at BMO Field in Toronto the following Tuesday night.
Days until the Red Bulls next play a "derby": Unclear. They have made the Playoffs, but the seedings are not yet established. Each of their 4 regional rivals have qualified for the Playoffs: New York City FC, the Philadelphia Union, D.C. United and the New England Revolution. Most likely, the Red Bulls and DCU will get the 5th and 4th seeds in the Eastern Conference, although not necessarily in that order. The 1st Round will be played on October 19 or 20, which would be in 19 or 20 days.
Days until the next Rutgers-Penn State football game: 61
, on Saturday, November 30, at Beaver Stadium in State College, Pennsylvania. Just 2 months.
Days until my 50th Birthday, at which point I can join AARP and get discounts for travel and game tickets: 79
, on December 18, 2019. A little over 11 weeks.
Days until the premiere of the final Star Wars film, Episode IX: The Rise of Skywalker: 81, on December 20, 2019.
Days until the Baseball Hall of Fame vote is announced, electing Derek Jeter: 113
,
on January 21, 2020. Under 4 months.
Days until the 1st Presidential voting of 2020, the Iowa Caucuses: 126, on Monday, February 3. A little over 4 months. The New Hampshire Primary will be 8 days later.
Days until the next North London Derby: 208,
on Saturday, April 25, Arsenal's 1st visit to the new Tottenham Stadium, adjacent to the site of the previous White Hart Lane. Under 7 months. It is currently scheduled to be on the 16th Anniversary of the 2nd time that Arsenal won the League at White Hart Lane -- but also the last time Arsenal won the League anywhere. Of course, for TV reasons, the game could be moved to another date, probably the next day.
Days until the next Yankees-Red Sox series (after this current one) begins: 221, on May 8, 2020, at Yankee Stadium II. Yes, the 2020 MLB schedule has already been released.
Days until Euro 2020 begins, a tournament being held all over Europe instead of in a single host nation: 256, on Friday, June 12, 2020. Under 9
months.
Days until the next Summer Olympics begins in Tokyo, Japan: 298, on July 24, 2020. Under 10 months.
Days until the next East Brunswick-Old Bridge football game: Presumably, given the 2019 schedule, 347, on Friday night, September 11, 2020, away at the purple shit pit on Route 9.
Days until the next Presidential election, when we can dump the Trump-Pence regime and elect a real Administration: 400
,
on November 3, 2020. A little over a year, or a little over 13 months.
Days until a fully-Democratic-controlled Congress can convene, and the Republicans can do nothing about it: 461, on January 3, 2021. Under a year and a half, or a little over 15 months.
Days until Liberation Day: 478
,
at noon on January 20, 2021. Under a year and a half, or under 16 months. Note that this is liberation from the Republican Party, not just from Donald Trump. Having Mike Pence as President wouldn't be better, just differently bad, mixing theocracy with plutocracy, rather than mixing kleptocracy with plutocracy.
Days until the next Winter Olympics begins in Beijing, China: 858, on February 4, 2022. Under 2 1/2 years, or a little over 28 months.
Days until the next World Cup is scheduled to kick off:
1,148
, on November 21, 2022, in Qatar. A little over 3 years, or under 38 months. The charges of corruption against Qatar may yet mean that they will lose the tournament, in which case it will be moved to a nation where it would not be too hot to play it in June and July.
Days until the next Women's World Cup is scheduled to kick off: As yet unknown, but probably on the 2nd Friday in June 2023, which would be June 9. That would be 1,348 days, a little under 4 years, or a little over 44 months.
A host nation is expected to be chosen on March 20, 2020. Since 2 of the last 3 host nations have been in Europe, North America (Canada) hosted in 2015, and Asia (China) hosted in 2007, my guess is that it will be in either Asia (Japan, possibly Korea, but not China) or Oceania (Australia, possibly a joint bid with New Zealand).