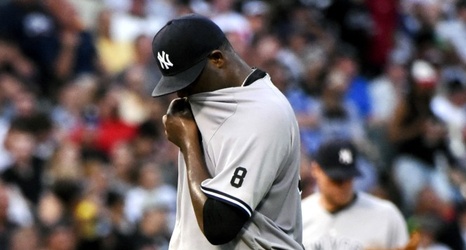 Yeah, Pineda, you'd better hide your face
after that horrid start.
The Yankees played the Chicago White Sox in a 3-game series at U.S. Cellular Field. In the middle game, they got great reception. In the bookend games, there was not enough of a charge.
CC Sabathia started on Monday, the 4th of July, and he didn't have much. He went 6 innings and allowed 5 runs. The Yankees gave him a 2-0 lead in the top of the 2nd, thanks to a home run by Chase Headley (his 6th of the season), but it was all South Siders from then on.
White Sox 8, Yankees 2. WP: James Shields (4-9). No save. LP: Sabathia (5-6).
*
Tuesday was a good time to get an ace-type performance. Fortunately, the best starting pitcher in New York, Masahiro Tanaka, was going for the Yankees, and he was brilliant, going 7 2/3rds innings, allowing 6 hits and 1 walk. Chasen Shreve, trusted with a huge lead, completed the shutout.
Brett Gardner went 4-for-6. Carlos Beltran went 3-for-5 with an RBI. Headley went 3-for-5 with another homer (his 7th) and 2 RBIs. Mark Teixeira, Starlin Castro, Rob Refsnyder and Austin Romine each had 2 hits. One of Romine's was a home run (his 3rd).
Yankees 9, White Sox 0. WP: Tanaka (6-2). No save. LP: Carlos Rodon (2-7).
*
Then on Wednesday, the Pale Hose struck back. Which is not hard to do when Michael Pineda doesn't have it. He allowed 4 runs in the 2nd innings, and, essentially, that was all she wrote.
Nathan Eovaldi, struggling lately, and sent to the bullpen as a result, pitched 2 innings. He allowed 2 walks, but no hits, and no runs. Gee, maybe they should've kept Nasty Nate in the rotation, and relegated Big Mike (definitely not to be confused with Uncle Mike) to the bullpen!
In other words, Yet another game that Joe Girardi fucked up with his idiotic pitching management.
White Sox 5, Yankees 0. WP: Miguel Gonzalez (2-4). No save. LP: Pineda (3-8).
*
The season is now, at least numerically, more than half-over. The trading deadline is 24 days away.
But as long as Joe Girardi is the field manager, and Brian Cashman is the general manager, is there any point? As Michael Wilbon of ESPN would say, they are both in a gots to go situation.
The Yankees begin a 4-game series with the Indians in Cleveland tonight, then come home for the All-Star Break. Beltran, Dellin Betances and Andrew Miller were named to the American League All-Star Team that will take on the National League All-Stars next Tuesday night at Petco Park in San Diego.
*
Days until the New York Red Bulls play again: 3, Sunday night at 6:00, home to the Portland Timbers. After 4 wins, they finally lost to expansion New York City FC in their previous game, 2-0 at Yankee Stadium. Those dopey "Third Fail" fans think that means anything, especially after the 7-0 spanking in The Bronx earlier in the season.
Days until the next Yankees-Red Sox series: 8, a week from tomorrow, the 1st series after the All-Star Break, at Yankee Stadium II.
Days until the Red Bulls next play a "derby": 10, a week from Sunday night, against the Philadelphia Union at Talen Energy Stadium (formerly PPL Park) in Chester, Pennsylvania. The next game against NYCFC is a week later, on Sunday, July 24, at Red Bull Arena in Harrison, New Jersey. The next game against D.C. United is on Sunday night, August 21, at Robert F. Kennedy Stadium in Washington. The next game against the New England Revolution is on Sunday night, August 28, at Red Bull Arena.
Days until The Arsenal play as the opponents in the 2016 Major League Soccer All-Star Game: 21, on Thursday night, July 28, at Avaya Stadium in San Jose, California, home of the San Jose Earthquakes. Just 3 weeks. Three days later, The Arsenal will play C.D. Guadalajara (a.k.a. Chivas), one of the biggest clubs in Mexico, at the StubHub Center, home of the Los Angeles Galaxy, in suburban Carson, California. This will be just 2 years after The Arsenal came to America to play the Red Bulls in New Jersey. I was lucky enough to get a ticket and attend that match. I will not be going this time. And, because of the timing of these games, The Arsenal will not host the preseason Emirates Cup this year. (They'd held it every year since 2007, except for 2012, canceling it due to the Olympics causing havoc with London's infrastructure.)
Days until the 2016 Olympics begin in Rio de Janeiro, Brazil: 29, on Friday, August 5. Just 4 weeks.
Days until The Arsenal play another competitive match: 38, on Sunday, August 14, home to Liverpool. A little over 5 weeks. This game was originally scheduled for Saturday the 13th, but was moved due to the whims of British television executives trying to get big ratings.
Days until the U.S. national soccer team plays again: 57, on Friday, September 2, in a CONCACAF Qualifying Match for the 2018 World Cup, away to St. Vincent & the Grenadines. A little over 8 weeks. They should win, especially since they took on the best that Latin America had to offer in the Copa America, and reached the Semifinals before being knocked out by Argentina. This will be followed 4 days later by another Qualifier, at EverBank Field, home of the NFL's Jacksonville Jaguars.
Days until Rutgers University plays football again: 58, on Saturday, September 3, away to the University of Washington, in Seattle.
Days until East Brunswick High School plays football again: 64, on Friday, September 9, probably away, since, while the 2016 schedule hasn't been released yet, the Big Green opened last season at home. A little over 9 weeks.
Days until the New Jersey Devils play again: 98, on Thursday night, October 13, away to the Florida Panthers in the Miami suburb of Sunrise. Just 14 weeks. The home opener is 5 days later, on Tuesday night, October 18, against the Anaheim Ducks.
Days until the 2016 Presidential election: 124, on Tuesday, November 8. That's just 4 months. Make sure you are registered to vote, and then make sure you vote!
Days until the next East Brunswick-Old Bridge Thanksgiving game: 140, on Thursday morning, November 24, at the purple shit pit on Route 9. Under 5 months.
Days until the New Jersey Devils lay another local rival: 157. Their 1st game this season with the New York Rangers will be on Sunday night, December 11, at Madison Square Garden. Their 1st game this season with the Philadelphia Flyers will be on Thursday night, December 22, at the Prudential Center. By a quirk in the schedule, the New York Islanders, a team they usually play several times a season, don't show up on the slate until Saturday night, February 18, 2017, at the Prudential Center.
Days until The Contract From Hell runs out, and Alex Rodriguez' alleged retirement becomes official as far as the Yankees are concerned: 481, on October 31, 2017 -- or at the conclusion of the 2017 World Series, if the Yankees make it, whichever comes last. A little under 16 months.
Days until the next World Cup kicks off in Russia: 707, on June 14, 2018. A little over 23 months. The U.S. team will probably qualify for it, but with Jurgen Klinsmann as manager, particularly in competitive matches such as World Cup Qualifiers, rather than in friendlies, you never know.