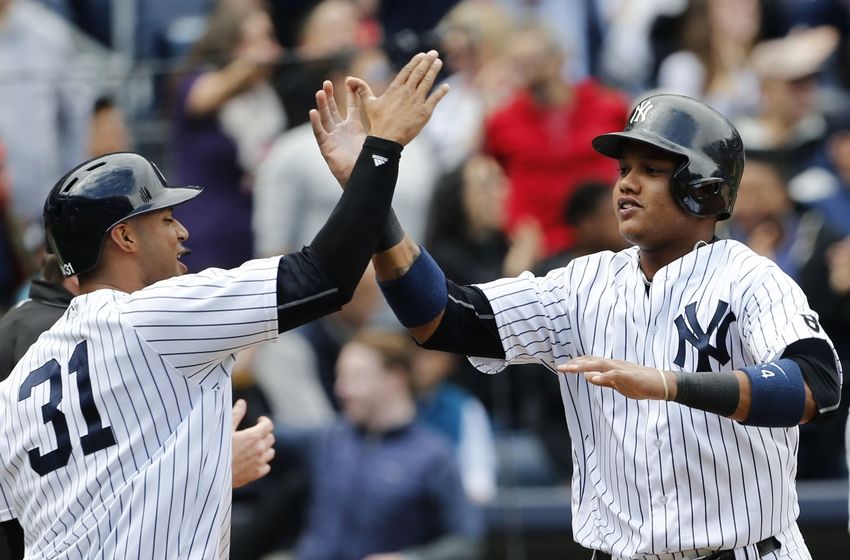 About time the Yankees got a little something going. They made it back-to-back wins over the old enemy yesterday afternoon, and, for the first time all season, look like the team we hoped they'd be.
Nathan Eovaldi was fantastic -- so good that Joe Girardi actually let him pitch 8 innings. Actually, it really is all about the pitch count with Girardi: It wasn't until the 8th that Nasty Nate crossed the 100-pitch barrier, finishing with 107. He allowed 2 runs on 6 hits and no walks, striking out 6 Red Sox.
No, David Ortiz did not hit a home run. The only big fat old steroid cheater who hit a home run last night was Bartolo Colon.
He actually fell behind 1-0 in the 2nd inning, but the Yankees tied it in the 3rd on an RBI double by Austin Romine. Didi Gregorius hit a bases-loaded double in the 4th, making it 4-1. The Sox got a run back in top of the the 5th on a Jackie Bradley home run, but Carlos Beltran drove in 2 with a double in the bottom half, Aaron Hicks added another on a sacrifice fly in the 6th, and yet another double, Romine's 2nd of the game, brought home another run in the 8th.
Nick Goody mopped up with a 1-2-3 9th. Those 4 doubles allowed the Yankees to double their win total over Boston this season: We're now 2-3 against them.
Yankees 8, Red Sox 2. WP: Eovaldi (2-2). No save. LP: David Price (4-1).
8-2! We beat The Scum, 8-2! We beat The Scum, 8-2! We beat The Scum, 8-2!
I'd 8-2 be a Red Sox fan right now.
The Yankees go for the sweep tonight, in the Sunday night ESPN game. Luis Severino starts against Steven Wright. I don't know if it "sends a message" if we complete the sweep, but you always want to win, especially against The Scum. Come on you Pinstripes!