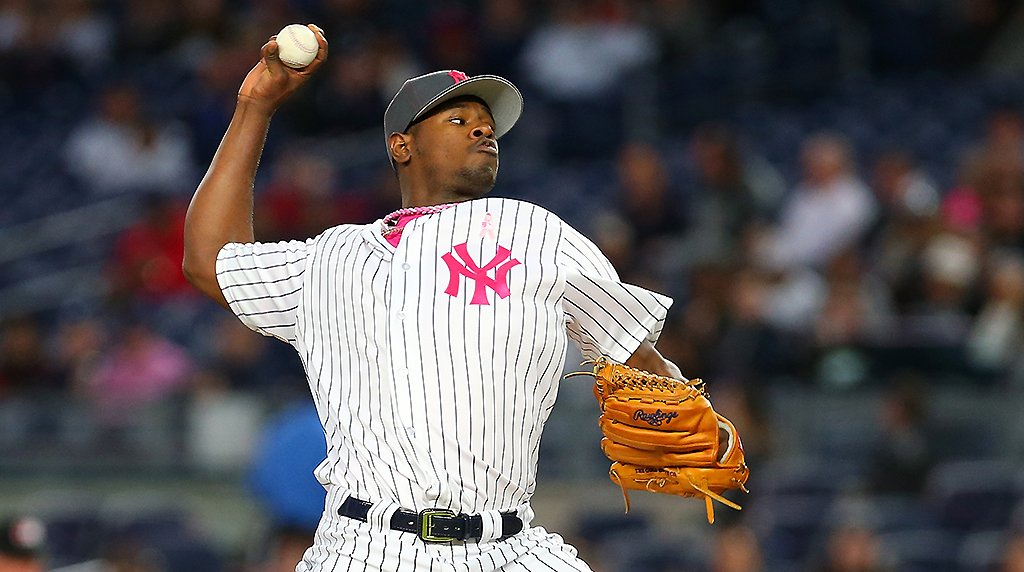 The Yankees should never wear pink on their uniforms again. I don't care that it was Mother's Day: You do not mess with the Yankee uniform.
Wearing star-spangled interlocking N-Y's on the caps on Memorial Day, the 4th of July and September 11 is one thing. But a pink N-Y on the chest? Never again. Pink bats, gloves, wristbands, fine; logos on the jersey, no.
We didn't get the sweep last night. Playing on
ESPN Sunday Night Baseball
, especially against The Scum, usually doesn't work in our favor.
Luis Severino started against the Red Sox, and fell behind 2-0 in the 1st inning, before allowing 4 runs over 6 2/3rds innings, although he only walked 1 batter and struck out 9. He's now 0-5, and just not getting the job done. He needs some serious coaching.
In contrast, Steven Wright -- not to be confused with the existentialist comedian of the same name, who is a Red Sox fan from Massachusetts -- went the distance for Boston. He allowed only 4 baserunners: A walk to Dustin Ackley, a single to Brian McCann, a double to Starlin Castro and a pointless 9th inning home run by Brett Gardner (his 3rd of the season). Wright advanced to 3-3. There was no save, naturally.
Red Sox 5, Yankees 1.
The Yankees still aren't hitting enough. The pitching has been better, but hardly good enough. It's 5 weeks into a 26-week season, the Yankees are 11-18, and 6 1/2 games behind The Scum.
And now, just what we didn't need: The defending World Champions, the Kansas City Royals, come to town. Here are the pitching matchups:
* Tonight: Ivan Nova vs. Chris Young.
* Tomorrow night: Masahiro Tanaka vs. Kris Medlen.
* Wednesday night: Michael Pineda vs. Yordano Ventura.
Aroldis Chapman's suspension -- for suspicion of domestic abuse, which he still denies, and for which he hasn't yet had his day in court to defend himself -- is up. He is eligible to pitch tonight.
Of course, the last thing Joe Girardi needs is another relief pitcher. Another excuse to pull a starter who's cruising.
Remember Jose Reyes? The guy who was going to lead the Mets to glory and to "take back New York"? Well, he's going to be suspended for 60 games under MLB's domestic violence guidelines, just as Chapman was.
Met fans thought he was a hero. Yet few ballplayers have proven themselves so overrated, both on the field and off.