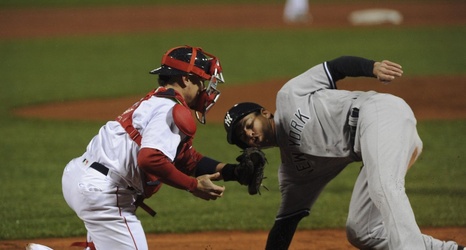 Going into this series with The Scum, I was concerned that we might lose on an aggregate score of 30-5, because we weren't hitting and we were going into the little green pinball machine in the Back Bay.
It was 20-9. That was bad enough.
Last night at Fenway Park, neither starter had his good stuff. Nathan Eovaldi pitched 5 innings, David Price 7, and each allowed 6 runs.
The Yankees fell behind 1-0 in the bottom of the 1st inning, but took a 3-1 lead in the top of the 3rd, thanks to Alex Rodriguez hitting his 5th home run of the year. Then we gave it right back, to trail 4-3.
With 1 out in the top of the 5th, Jacoby Ellsbury was hit by a pitch. The Red Sox fans loved that. But not for long: Price walked Brett Gardner. At the rate that Ellsbury and Gardner are getting on base, putting them on without the benefit of a hit is bad news. A-Rod doubled them home, and Mark Teixeira doubled him home. 6-4 Yankees.
But in the bottom of the 5th, Eovaldi gave the cushion right back, surrendering a leadoff single to the big fat lying cheating bastard, David Ortiz, and a home run to Travis Shaw. 6-6.
Eovaldi walked Jackie Bradley to start the 6th, and Joe Girardi removed him for Ivan Nova. Unlike a lot of Girardi's bullpen moves, this one was totally understandable, and I can't fault him for it: If Eovaldi had pitched as well as he had in his last start, taking a no-hitter into the 7th inning, the Yankees would have won this game easily.
Nova deepened the jam, then got out of it, then let Shaw single in the 7th. Now, Girardi blew it: He brought in Dellin Betances, who really has disappointed. Maybe we shouldn't have expected him to be the new 1997-2013 version of Mariano Rivera, but we thought he could become the 1996 version, the unbeatable 7th & 8th inning guy. Instead, he blew it again, giving up a home run to Christian Vazquez that made the final score.
Red Sox 8, Yankees 7. The one game in this series that looked like a 2003-13 Yanks-Sox game at Fenway. For the 1st time this season, the Yankees had scored at least 4 runs in a game and lost. WP: Price (4-0). SV: Craig Kimbrel (8). LP: Nova (1-1).
Games Girardi has blown for the Yankees this season with bad bullpen management: 3.
*
So, 4 weeks into the 26-week MLB season, here's what the American League Eastern Division looks like:
Boston Red Sox - 15-10
Baltimore Orioles - 14-10, 1/2 game back
Tampa Bay Rays - 11-13, 3 1/2 back
Toronto Blue Jays - 12-14, 3 1/2 back
New York Yankees - 8-15, 6 back
Not good.
The Yankees have today off. Then they have 3 in Baltimore. Luis Severino starts against Chris Tillman tomorrow night, but the projected starting pitchers for both sides have yet to be decided for Wednesday and Thursday.
They couldn't use Fenway as a bandbox to work their hitting woes out. Maybe Camden Yards is just what the doctor ordered.