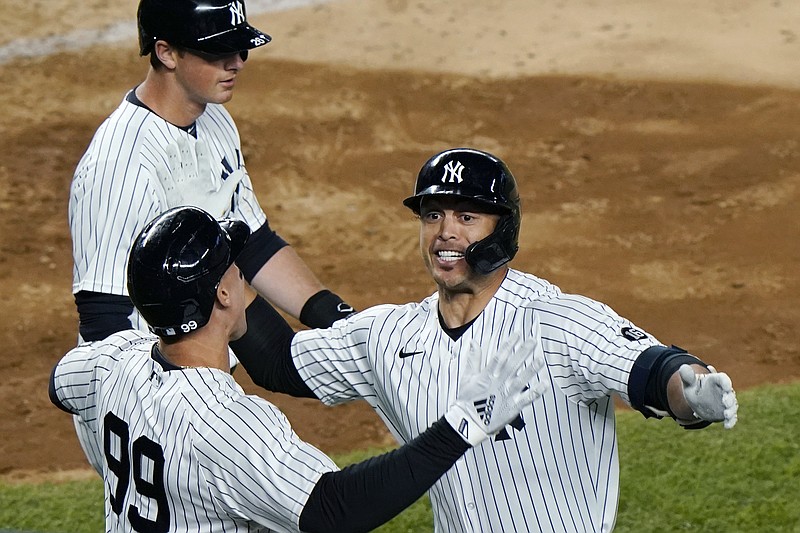 Make the biggest bucks, and people expect you to provide the biggest results.
Yankee Fans let Babe Ruth know that, booing him when he had off-years in 1922 and 1925.
They let Joe DiMaggio know it, when he held out at the start of the 1938 season, in the middle of a downturn during the recovery from the Great Depression.
They let Reggie Jackson know it, in 1977, before he provided the results they were looking for. They let Dave Winfield know it, after the 1981 World Series, when team owner George Steinbrenner called him "Mr. May" in response to Reggie's nickname "Mr. October."
They let Alex Rodriguez know it, as the Yankees traded for the $252 Million Man, and it took him until 2009 to provide the result they wanted.
They have let Giancarlo Stanton know it. Aside from a neat little burst in last season's Playoffs, which turned out to be for naught, he has not delivered. Yankee Fans would love it if he delivered, but he really hasn't.
In the season's opening game, he went 0-for-5 with 3 strikeouts. He got booed. In the 2nd game, he went 0-for-3, although he did draw 2 walks and score a run, and didn't strike out. Still, he got booed. Manager Aaron Boone gave him the 3rd game off.
Last night, at Yankee Stadium II, the Yankees opened a series against the Baltimore Orioles, who had won their 1st 3 games of the season. Stanton struck out in the bottom of the 1st inning, and got booed. He grounded weakly back to the mount in the 4th, and got booed. So he had started the season 0-for-10.
He has plenty of detractors on #YankeesTwitter, but he also has plenty of defenders. There seem to be as many people convinced that his talent means he will come good as there are people who think the Stanton experiment has failed. Thus far, I have been inclined to step into the "failed" camp.
Then came the bottom of the 5th. But I'm getting ahead of myself. Let me tell you about Jordan Montgomery.
Felix Unger of The Odd Couple would hate Montgomery, because he had filthy stuff last night. He put on the kind of start that begs for a big offensive output in support. He got through the 1st 2 innings without a baserunner, and looked great doing it.
He allowed a leadoff single to Freddy Galvis in the 3rd, and then struck out the side. His changeup was so sick (How sick was it?), Anthony Fauci would be stumped for a cure. Then he got the O's out 1-2-3 in the 4th.
This was the kind of pitching that Yankee Fans were hoping to get from ace Gerrit Cole, the returned-from-injury Corey Kluber, and the returned-from suspension Domingo German. Each of those has made his 1st start of the season: Cole looked pretty good, Kluber showed signs of recovery but was inconsistent, and German looked really rusty.
But in the 1st 3 innings, he didn't get any support, much less what he deserved. Jorge Lopez was pitching equally well for Baltimore, allowing only a single by Aaron Judge with 1 out in the 1st, and he was stranded. Judge put an end to that in his 2nd at-bat, hitting an opposite-field short-porch home run to put the Yankees on the board.
Montgomery got into trouble in the 5th, allowing a single, a forceout, a long fly out, and a line-drive single that put men on 1st & 3rd. But he got the force play he needed to end the inning. Through this jam, he was cool, composed, poised, had good command, whatever terms you want to use. He didn't "settle down," he was settled throughout. He threw the pitches he needed to protect the lead he was given.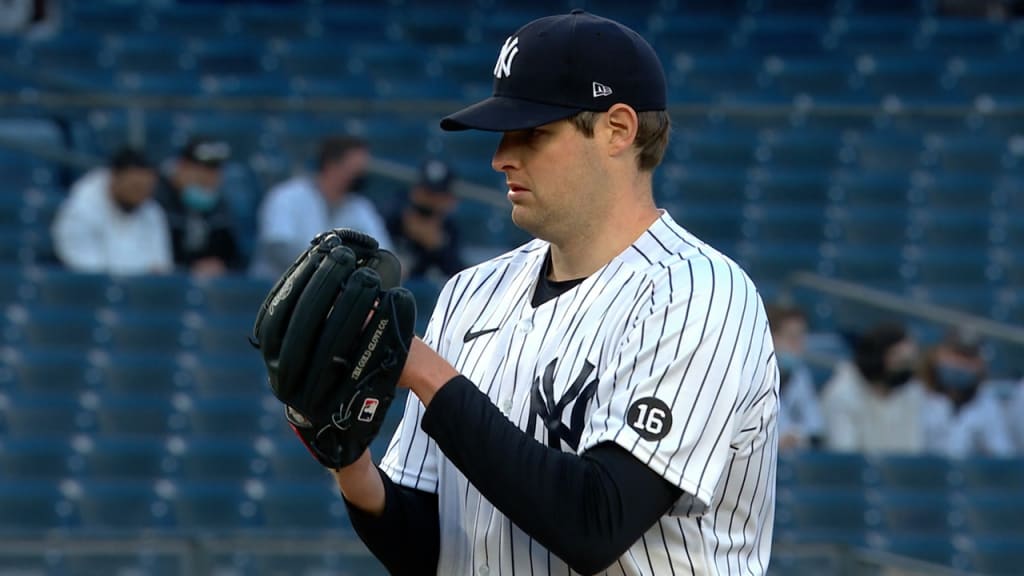 Much like the late Whitey Ford, whom the Yankees
are honoring with those sleeve patches.
I was as impressed by this inning as I was by any of his 1st 4. That inning deserved an offensive breakout, and, boy, did he get it.
Cliche Alert: Walks can kill you, especially the leadoff variety. Jay Bruce drew a leadoff walk. Gio Urshela grounded into a force play that eliminated Bruce. Clint Frazier grounded out, moving Urshela to 2nd. Unlike Montgomery, Lopez did get flustered: Already having 2 outs, he walked DJ LeMahieu and then Judge to load the bases.
Oriole manager Brandon Hyde had seen enough: He took Lopez out, and brought in Shawn Armstrong. It made no difference: Aaron Hicks drew the 3rd straight walk, to force home Urshela. And then Stanton came up. He got cheers instead of boos. He must have liked that: He launched a tremendous drive to left center. Even he was amazed: No one could blame him for standing there to watch it. It was measured at 471 feet. Grand slam. 6-0 Yankees.
Montgomery was allowed to pitch the 6th inning. He allowed a leadoff single, but that was it. The Yankees "kicked the extra point" in the bottom of the inning: Bruce drew a 1-out walk, then came 3 straight singles, by Urshela, Frazier and LeMahieu.
Montgomery had thrown 73 pitches. But with a 7-run lead, there was no reason to risk him further. This was the time to experiment with the shaky Luis Cessa. He pitched a perfect 7th and (with a walk) a hitless 8th. Another good sign. Having not pitched in the 1st 3 games -- suspended for the 1st 2, and then the Yankees lost the 3rd -- Aroldis Chapman made his 2021 debut. He issued a 2-out walk, but otherwise struck out the side. All tolled, Yankee pitchers allowed 4 hits, 2 walks, and struck out 13.
Yankees 7, Orioles 0. WP: Montgomery (1-0). No save. LP: Lopez (0-1).
Stanton, the other hitters, and the bullpen all followed the old advice of country music legend Tammy Wynette, to "Stand By Your Man." They stood by Montgomery, and he stood by them. In spite of Stanton's grand salami, the YES Network announcers -- Michael Kay and former Yankee stars David Cone and Paul O'Neill -- had no problem selecting Montgomery as the player of the game. (Or, as would be said in English "football," Man of the Match.)
The series continues tonight. Cole starts against Dean Kremer. Hopefully, the Yankees can continue with good pitching and the hitting to back it up.