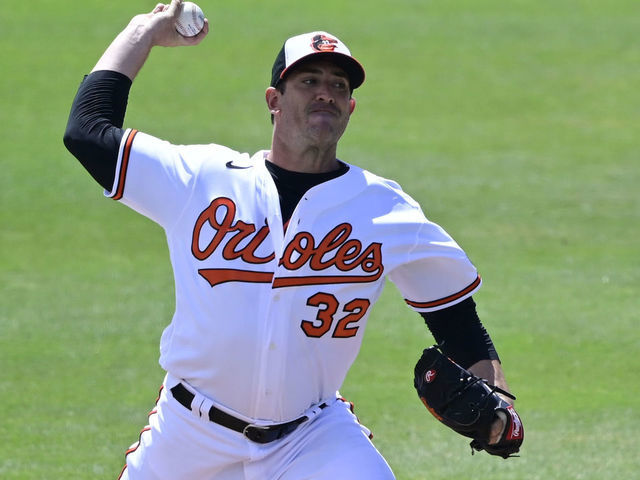 In 2015, the Yankees struggled just to make the Playoffs, and lost the American League Wild Card Game, because they only got 3 hits and didn't score.
Meanwhile, across town, Matt Harvey was the ace of the Mets, and helped them win the Pennant, and was the toast of the town. He was 26, and although he had been part of the reason the team lost the World Series, he seemed to have a limitless future.
Harvey has battled injury ever since. He has pitched for 5 different teams in the last 4 seasons. And his control has been atrocious. As Yogi Berra might have said, Even when he can pitch, he can't pitch.
So his start, in the opener of a 4-game series between the Yankees and the Baltimore Orioles, at Oriole Park at Camden Yards, perhaps the best hitter's park in the AL, should have been just the kind of occasion to let the Yankees have a very nice evening.
It wasn't. Aaron Judge, on his birthday -- the former "next great Yankee" is only 29 -- grounded into a double play to end a threat in the 1st inning. And Deivi Garcia, on only his 2nd pitch of the game, gave up a home run to Cedric Mullins. It was only one-nil to the Baltimore, and yet the game already felt lost, because of the Yankees' troubles with hitting.
Cruz didn't pitch badly after that, giving up only 1 more run, in the 3rd. But he was limited to 4 innings -- just 65 pitches -- and was sent down to the Yankees' "alternate site" after the game. Way to mess with a kid's confidence, especially after you've been bigging him up as one of the team's great "prospects." God, Brian Cashman ruins everything he touches.
The Yankees wasted 1st and 2nd with 1 out in the 2nd, and then Harvey didn't allow another baserunner until Clint Frazier walked to lead off the top of the 6th. This time, a leadoff walk didn't kill anybody, because DJ LeMahieu grounded into a double play. Then came back-to-back doubles by Giancarlo Stanton and Aaron Judge. If LeMahieu had simply struck out, the doubles would have made the score 2-2. Instead, it was 2-1 Orioles, and that was as close as the Yankees got.
Knowing Cashman, and his love of once-great, injury-riddled players, this was Harvey passing an audition to be a Yankee. And he knows the Yankees need better starting pitching. He'll probably trade a good player to get Harvey.
What good player? With our luck, Judge. Certainly, it won't be Stanton, or his golden boy, Gleyber Torres.
Lucas Luetge pitched the 5th without allowing a run, so the smart thing to do would have been to leave him in for the 6th. The smart thing was not done: Darren O'Day was brought in. Hit by pitch, single getting runner to 3rd, strikeout, balk. 3-1 Baltimore. Justin Wilson was brought in for the 7th. As with Cruz, the 1st batter he faced was Mullins. As with Cruz, he let Mullins hit a home run. 4-1 Baltimore.
Then came the top of the 8th. Frazier and LeMahieu started it with walks. The next 2 batters were Stanton and Judge. If they were the 2017 versions of Stanton and Judge, you would like your chances. Of course, the Yankees didn't have Stanton in 2017. Stanton flew out. But Judge drew a walk to load the bases. But Rougned Odor struck out.
The batter was Gio Urshela. He hit a line drive single to left. Frazier scored. LeMahieu made 3rd easily, and thought he could score. So did Oriole left fielder Austin Hays. But Hays did think he had a chance to throw Judge out at 3rd to end the inning. It was close, but Judge was out.
The real question was, did Frazier touch home plate before Judge was tagged out. If so, then that's another run that should count, making the score 4-3 instead of 4-2. The umpires ruled that the tag came first.
Aaron Boone was enraged, and demanded an instant replay to check to see if Frazier scored before the tag. Umpire Greg Gibson was told he'd taken too long to ask, and wouldn't get it.
In his book Planet of the Umps, former umpire Ken Kaiset said that there is one word you must never use to an umpire. Despite what the film Bull Durham suggested, that word is not "cocksucker." It's "you."
You can tell an umpire, "That was a bad call!' and stay in the game. But if you say, "You blew that call!" you get thrown out of the game. You can say, "That was a dumb call!" You can't say, "You're an idiot!"
Boone was told he didn't ask for a replay fast enough. He yelled, "You didn't give me a chance!" He used the Y-word (not the one used by fans of London soccer team Tottenham Hotspur), and he was tossed.
The replay shown on YES showed that Frazier did touch home plate before Judge was tagged out, so the run should have counted.
This afternoon, on his ESPN radio show, simulcast on YES, Michael Kay dropped the objectivity he had to show on the previous night's TV broadcast, and ripped everybody. He ripped Gibson for not granting the replay. He ripped Boone for taking too long. He ripped Judge (who did this on his birthday, mind you) for trying to take 3rd base, going against one of those classic "unwritten rules of baseball": Never make the last out of an inning at 3rd base. And he ripped the Yankees for not hitting.
And that last point should be the story of the game, more than the argument. Did the Yankees get robbed? You bet your sweet bippy. Did that make the difference in the game? We'll never know. Given the way this team has hit this season, it might not have. The Yankees went down quietly in the 9th, so if they didn't follow a successful replay challenge with hits, they still would have lost.
No, the fault for losing this game belongs to the hitters for not hitting enough, and Cashman for his horrible pitching strategy.
Orioles 4, Yankees 2. WP: Harvey (2-1). SV: Cesar Valdez (5). LP: Cruz (0-1).
The series continues tonight. Corey Kluber starts against Bruce Zimmermann.