There haven't been many people in sports who get to be called "Mr. (Name of Team)." Bobby Leonard was Mr. Pacer.
William Robert Leonard was born on July 17, 1932 in Terre Haute, Indiana. He attended Gerstmeyer High School, which is now known as Terre Haute North. Some of its other notable alumni are Basketball Hall-of-Famers Clyde Lovellette and Terry Dischinger, former Yankees Tommy John and Brian Dorsett, Indiana All-American running back Anthony Thompson, and Steve Weatherford of the New York Giants' Super Bowl XLVI winners.
Bobby Leonard played basketball and tennis at Gertsmeyer, and got a basketball scholarship to Indiana University. This was before Bobby Knight became the face of Hoosier basketball: Branch McCracken was the head coach, leading them to the 1940 National Championship. With Leonard, they won the title in 1953, defeating the previous year's champions, Kansas, which had Lovellette the year before. A guard, Leonard was a 3rd team All-American in 1953 and a 2nd team All-American in 1954.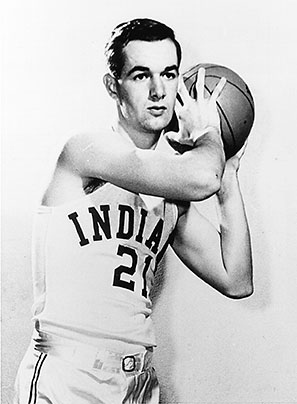 At IU, the poor kid from Terre Haute met a rich kid from South Bend, named Nancy. The day after graduation, they got married, staying together for the next 60 years, having 5 children and 12 grandchildren.
From 1956 to 1961, he played for the Lakers, including their 1959 NBA Western Conference title, and their 1960 move from Minneapolis to Los Angeles. At the beginning, former Lakers star George Mikan was their coach, and he gave Leonard his nickname, "Slick."
He then became a charter member of the franchise then known as the Chicago Packers, playing the 1961-62 season under that name; then, because football fans knew that "Chicago Packers" was a dumb name, the 1962-63 season as the Chicago Zephyrs, with Leonard as player-coach. Then they moved, becoming the Baltimore Bullets, and he was head coach only in 1963-64. In 1973, they became the Washington Bullets; in 1997, the Washington Wizards.
In 1968, the 2nd season of the American Basketball Association, he became the head coach of the Indiana Pacers. He would tell his players -- including forwards George McGinnis and Roger Brown, and centers Gus Johnson and Mel Daniels -- "No tears, no fears. Walk out like you own the place."
The Indianapolis-based team did end up owning the place: He led them to the ABA Championship in 1970, 1972 and 1973. People began to call the Pacers "the Boston Celtics of the ABA," and "Slick" Leonard, for a time also the team's general manager was being compared to Celtics boss Arnold "Red" Auerbach. That may not have been to his liking: After the 1976 ABA-NBA merger, he threatened to fight Auerbach during a game.
"Wasn't afraid of nobody," McGinnis said. "And that rubbed off on us." Daniels added, "
When it came down to it, he loved us. We went to war for him."
But, as with the New York Nets, who lost the 1972 ABA Finals to the Pacers and then won the title in 1974 and 1976, they had to sell off big names to pay for their 1976 entry into the NBA. Leonard actually ran a telethon for them in 1977, and it saved the team from being moved. But he couldn't make them competitive on the court again, and left in 1980.
His record as an NBA and ABA head coach was 573-534. Of his 573 wins, 529 came with the Pacers, and they eventually hung a banner with that number on it, representing a "retired number" for him. He had worn 21 throughout his career as a player.
In 1985, Leonard came back to the Pacers as a broadcaster. His catchphrase was yelling, "Boom, baby!" after a 3-point field goal. He held the post until a heart attack in 2011. In 2014, he was elected to the Basketball Hall of Fame.
"I've had a love affair with the fans and the people in the state of Indiana," he said in his induction speech. "We call ourselves Hoosiers. And they've been very supportive. It's a love affair that has gone on for years, since I was at Indiana University. And I wish it could last forever."
It lasted until d
ied today, April 13, 2021, when he died at the age of 88.
Derek Schultz, an Indianapolis broadcaster, said today, "

Slick Leonard is the most important sports figure in Indianapolis history. More than Peyton (Manning) and Reggie (Miller), because without Slick, there's a strong chance neither would've had professional careers in this city.

It's impossible to overstate his impact. R.I.P. to an Indiana legend."
Local weatherman Sean Ash went further than that: "

Without him there's no Pacers

...and arguably no Colts. The city of Indianapolis and state of Indiana are forever indebted to the Leonard Family for their wide-ranging impacts. RIP, Slick."
That's how important Bobby Leonard was to Indiana sports.
Mark Boyle, his former broadcast partner, said, "The fans love him, I love him, and he's done everything there is to do.
"
He is Mr. Pacer. There's just no one else."