The 1980s was the last real glory period for boxing, especially in the lower divisions. In the Middleweight and Welterweight divisions alone, there was Roberto
Durán
, Ray Leonard, Thomas Hearns and Marvin Hagler.
Hands of Stone. Sugar Ray. The Hit man. And Marvelous Marvin.
Marvin Nathaniel Hagler was born on May 23, 1954 in Newark, New Jersey, growing up in its Central Ward. But after the riot of 1967, the family moved Brockton, Massachusetts -- also the hometown of the man who was the Heavyweight Champion of the World at the time that Marvin was born, Rocky Marciano.
Things were no better, and in 1969, Marvin was beaten up by a local boxer while his friends watched. The next day, he walked into a gym, lied about his age -- the minimum age to enter amateur tournaments in Massachusetts was then 16 -- and he was trained, and he won fight after fight, including beating the boxer who had dealt him the earlier humiliation. In 1973, he won the Amateur Athletic Union's 165-pound title.
His final record as an amateur: 55-1. His only defeat was a decision to Dale Grant in the 1973 National Golden Gloves tournament. But upon turning professional, it was difficult for him to find opponents willing to face him. Former Heavyweight Champion Joe Frazier told him, "You have three strikes against you: You're black, you're a southpaw, and you're good." Frazier was all 3 of those things as well, and, unlike Frazier, Hagler did not have an Olympic Gold Medal. (He didn't make the 1972 U.S. boxing team, and had already turned pro by 1976.)
As it turned out, it was Frazier who gave Hagler his big break. He was managing a fighter named Willie "the Worm" Monroe. Monroe won by decision, but it was close enough that Monroe offered Hagler a rematch, and Hagler knocked him out in the 12th round. There was a 3rd fight, and this time, Hagler knocked him out in the 2nd round.
Years before fighting Ray Leonard, Hagler fought another Sugar Ray. No, not Robinson: He was long retired by this point. Sugar Ray Seales was the only U.S. boxer to win a Gold Medal at the 1972 Olympics in Munich, but he couldn't beat Hagler in 3 tries: The 1st was a decision for Hagler, the 2nd a draw, and the 3rd a knockout for Hagler.
Hagler moved on, knocking out Mike Colbert, the Number 1 contender for the Middleweight Championship of the World. He lost to Bobby "Boogaloo" Watts, but knocked him out in the 2nd round of a rematch. Promoter Bob Arum signed Hagler after that rematch.
On November 30, 1979, Hagler got his 1st shot at the title, at Caesars Palce outside Las Vegas, agaisnt the Champion, Italian boxer Vito Antuofermo. As a pro, Hagler was 46-2-1; Antuofermo, a similar 45-3-1. The fight went the distance, 15 rounds. Most ringside observers thought Hagler had won.
One judge gave the fight to Hagler, 145-141. Another gave it to Autofermo, 144-142. The other scored it a draw, 143-143. If they had simply totaled up the points, it would have been Hagler 430-428. But it didn't work that way: With one judge giving it to each, and the other calling it a draw, the tiebreaker was a tiemaker, and Antuofermo kept the title.
Four months later, also at Caesars, Antuofermo lost the title, losing to Englishman Alan Minter on a split decision. Three months later, a rematch was held at the Empire Pool in London (a.k.a. the Wembley Arena), and Minter knocked Antuofermo out.
Hagler went up to Portland, Maine for his next 2 fights, both 2nd-round knockouts, first over Algerian fighter Loucif Hamani, then the aforementioned rematch against Watts. Then he went back to Caesars, and won an easy decision over Mexican fighter Marcos Geraldo. The title bout was set: Marvin Hagler would challenge Alan Minter for the Middleweight Championship of the World, at the Wembley Arena, on September 27, 1980.
Minter was quoted as saying, "No black man is going to take my title." He was both racist and wrong: Hagler beat the hell out of him, inflicting 4 cuts on his face. Referee Carlos Berrocal stopped the fight in the 3rd round.
The London crowd was furious that the fight was stopped, apparently preferring that their man die than give up. Hagler and his cornermen needed a police escort back to the locker room, as bottles and glasses were thrown at them. Clive Gammon, covering the fight for Sports Illustrated, titled his article, "It Was Blood, Sweat and Beers."
Minter only fought 3 more times, losing 2, both to men who would later fail to take the title from Hagler, and closed his career at 39-9. He died of cancer in 2020.
*
Hagler's 1st defense was on home ground, knocking out Fulgencio Obelmejias in the 8th round at the Boston Garden. A Venezuelan, Obelmejias would win the Super Middleweight title in 1988, and hold it for a year.
Then, on June 13, 1981, also at the Boston Garden, came the fight that people wanted to see: Hagler-Antuofermo II. It was a bloodbath, almost literally: Hagler shredded Antuofermo's face, and after 4 rounds, Vito's handlers threw in the towel.
The Sports Illustrated writeup included a picture of Antufermo with a massive welt over his right eye. The caption read, "Antuofermo leaves the ring. Would he fight again. His only answer was a grotesque smile." He did fight again, winning 4 fights against nobodies, before getting pounded by future Junior Middleweight Champion Matthew Hilton, at Hilton's home building, the Montreal Forum.
Antuofermo finished his career at 50-7-2. Like Hagler, he became an actor, best known for playing Anthony Squigliaro, the ill-fated bodyguard to Joe Mantegna's Joey Zasa, in The Godfather Part III. He is still alive, having just turned 68.
His fights at the Gahden made Hagler possibly the 1st black athlete truly beloved by Boston area sports fans. They admired Bill Russell of the Celtics, Jim Nance of the Patriots, and Jim Rice of the Red Sox, but never really loved them. Hagler became New England's favorite boxer since Marciano. His fights drew big ratings on HBO. However, their announcers refused to call him by his nickname, Marvelous Marvin. So, in 1982, he had his name legally changed to "Marvelous Marvin Hagler."
He beat Mustafa Hamsho and Tony Sibson, both of whom had beaten Minter. He won a rematch with Obelmejias. Then came another one of those fights that everyone wanted to see: Hagler would fight Roberto

Durán

. The Panamanian known as "Hands of Stone" had been Lightweight Champion from 1972 to 1979, took the Welterweight Championship away from Sugar Ray Leonard in 1980, lost it back to him later that year, and had won the Superr Welterweight title.
On November 10, 1983, they went at each other at Caesars. For once, it was Hagler who got cut, and after 13 rounds,

Durán was leading on points. But Hagler found something in reserve, and won the last 2 rounds. The scoring was 144-142, 144-143 and 146-145 -- all slightly in Hagler's favor. He kept the Middleweight title.
Durán's next fight was against Thomas Hearns, and he got knocked out in the 2nd round. He kept on fighting, including losing a rubber match with Leonard in 1989. He wouldn't stop fighting, finally giving up in 2001 after losing to
Héctor
Camacho Sr. After starting his career 72-1 before losing his 2nd fight with Leonard, his final record was 103-16. He is now 69 years old, and survived COVID-19 last June.
Hagler
won 2 more fights, and then, on April 15, 1985, got back into the ring at Caesars, this time to face Hearns. Known as The Hit Man, the Detroit native had held the WBA version of the Welterweight title, before losing a tough unification fight with Leonard in 1981. He now held the Light Middleweight title, and was moving up in class. He was 40-1, Leonard being the only man to beat him thus far. It was advertised as "The War."
It lived up to the billing.
The 1st round was one of the best rounds any fight fan had ever seen, with each man landing some great blows. But it took too much out of Hearns, and despite opening a cut on Hagler's famously bald head, he was wobbly.
Referee Richard Steele stopped the fight for a moment to look at the cut, and determined that it wasn't interfering with Hagler's vision. Knowing that another stoppage would end the fight with a TKO in Hearns' favor, Hagler unloaded, and crashed a right hand into Hearns' chin. Hearns got up at the count of 9, but Steele wisely stopped the fight.
"His awkwardness messed me up, but I can't take anything away from him," Hearns said yesterday. "He fought his heart out, and we put on a great show for all time."
Hearns kept fighting even longer than
Durán did, all the way until 2006. His career closed with a 61-5-1 record. He is now 62 years old.
On March 10, 1986, Hagler knocked out John "The Beast" Mugabi at Caesars. Finally, the last of the fights that everyone wanted to see was set up: Marvelous Marvin Hagler vs. Sugar Ray Leonard, at Caesars, on April 6, 1987. Leonard was 33-1, his only loss his 1st fight against
Durán
. Due to an eye injury sustained in the fight with Hearns, he had fought just once in the last 5 years, but he thought he was ready to take on the Marvelous One.
Hagler wanted more money. Leonard had conditions for that: A larger ring, 22 feet square instead of the usual 20; 10-ounce gloves, instead of the usual 8-ounce; and 12 rounds instead of 15. Nevertheless, Hagler was favored.
Leonard came out quickly, and won the 1st 2 rounds. Hagler changed tactics, and by the 5th round, Leonard was tiring. The round ended with Leonard on the ropes.
Steele was referee again, and gave Leonard 30 warnings for holding, but never deducted any points. The fight was more even, but Hagler couldn't put Leonard back in serious danger. When it was over, Hagler celebrated, thinking he'd won. He later said that Leonard told him, "You beat me, man."
The judges told a different story. And all 3 of them stood by their stories.
Lou Filippo scored the fight 115-113 for Hagler: "
Hagler was doing all the work. The referee, Richard Steele, warned Leonard at least once every round about holding. Leonard fought in spurts. Leonard would run in and grab and hold. He did what he had to do. But I can't see a guy holding that much and getting points for it."
Dave Moretti scored it 115-113 for Leonard: "
Obviously, Hagler was the aggressor, but he was not the effective aggressor. You can't chase and get hit and chase and get hit, and get credit for it. Besides, the hardest punching was by Leonard."
And JoJo Guerra scored it... 118-110 for Leonard, his card having given Hagler only 2 rounds. He later said he should have given Hagler 2 more rounds. But that would still have given the fight to Leonard. Guerra said, "
Leonard outpunched Hagler, outsmarted him, outboxed him...
He made Marvin Hagler come to him. He dictated the fight."
Feeling robbed of his title, Hagler wanted a rematch. But Leonard chose to retire. A year later, Hagler retired. In 1990, Leonard finally offered Hagler a rematch. This time, it was Hagler who turned it down. He had moved to Italy, and gone into acting in its film capital of Milan.
"After I had nothing to prove to myself, it was the best thing to walk away," he said.
He was one of the few boxers who stayed retired the first time. His record: 62-3-2.
The Ring magazine named him Fighter of the Year in 1983 and 1985. Boxing Illustrated named him Fighter of the Decade for the 1980s. He was elected to the International Boxing Hall of Fame in 1993. With his 1st wife, Bertha, he had 5 children: Charelle, Celeste, James, Marvin Jr. and Gentry. In 2000, he married for the 2nd time, to an Italian woman, Kay Guarrera.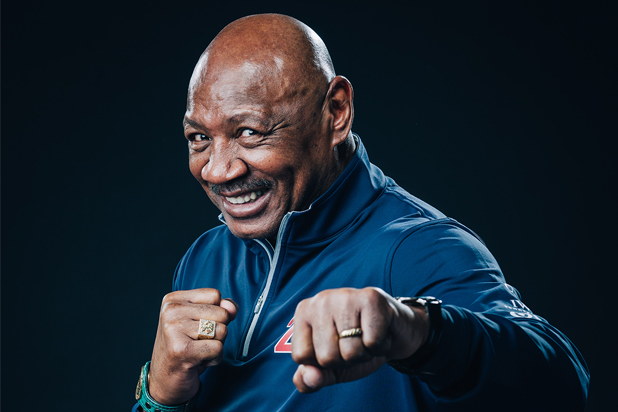 Marvin and Kay Hagler divided their time between her home in Milan, and Bartlett, New Hampshire, near his hometown of Boston. Yesterday, March 13, 2021, Kay announced that Marvelous Marvin Hagler had unexpectedly died at the age of 66.
No cause has been announced, but conspiracy theorists are already saying it was a result of one of the COVID vaccines. He had recently gotten the 1st of 2 doses.
* Former Heavyweight Champion Lennox Lewis: "
Not only was he a living legend, but I was proud to call him my friend. He was so full of life, energy and positivity in our conversations that you would never guess what a wrecking machine he was in the ring."
* Max Kellerman, boxing analyst on ESPN: "

Hard to explain what a big deal Marvelous Marvin Hagler

was in the 1980s. He was Mike Tyson before there was a Mike Tyson. The best AND the baddest. For people in my generation, this one hits hard. RIP champ."
* Sugar Ray Leonard: "I was really in shock yesterday after hearing the news of Hagler, it hit me hard. We had just the utmost respect for each other! Marvin Hagler had every ingredient that it takes to be a great champion. Marvin, you are definitely gone too soon, but you will forever live on as one of the greats! Thoughts and prayers to the entire Hagler family."
* Thomas Hearns: "A real true warrior."
No question. Marvelous Marvin Hagler was one of the truest and the greatest.