Last year, for the 1st time since 1965, the season before the Miami Dolphins began play, the New York Jets did not visit Miami, as the 'Phins gave up a home game in order to be the "home" team against the Jets at the new Wembley Stadium in London.
Next Sunday, the Jets play the Dolphins in the Miami suburbs for the 1st time since December 28, 2014. (The Jets won, 37-24.) They haven't actually played each other in the City of Miami since November 24, 1986, in the Dolphins' last season in the Orange Bowl. (The Dolphins won, 45-3, revenge for the 51-45 overtime thriller at the Meadowlands 2 months earlier.)
Before You Go.
Miami is in Florida. It's frequently hot, even during the Christmas season. And it's frequently rainy. At least now, the stadium has a roof to provide protection from the rain, if not from the heat, at your seat. So dress lightly, wear a hat, keep hydrated, and you should probably bring an umbrella to the city, although it won't be allowed inside the stadium.
The Miami Herald website
is predicting that Sunday afternoon will be in the low 80s, while the nighttime temperature will be in the low 70s. They are predicting no rain at all for the weekend, which is unusual for Miami, at any time of the year.
Florida is a former Confederate State, and parts of Miami sure seem like a foreign country. But you won't need to bring your passport or change your money. And it's in the Eastern Time Zone, so you won't have to fool with your timepieces.
Tickets.
The Dolphins averaged 67,193 fans per home game last season, not including the "home game" in London. With 10,000 seats having been sacrificed in a recent renovation, this is close to a sellout. So getting tickets may be hard, although this being the Giants, rather than AFC East rivals the Jets, may help.
Dolphins tickets are freakin' expensive. In the Lower Level, the 100 sections, seats go for $335 on the sidelines and $295 in the end zone. In the Upper Level, the 300 sections, they're $165 on the sidelines and $95 in the end zone. The 200 sections are Club Level, and are truly prohibitively expensive, so don't even consider them.
Before you order online, or (if you are so foolhardy as to not have your tickets before you take off from Newark/JFK/LaGuardia) pay at the ticket window, be advised that the northeast sideline gets the full brunt of the sun during day games, although that won't be a problem this time, as it's a Monday night game.
Getting There.
It's 1,283 miles from Times Square in New York to downtown Miami, and 1,267 miles from MetLife Stadium in East Rutherford, New Jersey to Hard Rock Stadium in Miami Gardens, Florida.
Knowing this distance, your first reaction is going to be to fly down there. This is not a horrible idea, but you'll still have to get from the airport to wherever your hotel is. If you're trying to get from the airport to downtown, you'll need to change buses – or change from a bus to Miami's Tri-Rail rapid transit service. And it is possible, if you order quickly, to find nonstop flights, lasting 3 hours, for under $400 round-trip.
The train is not a very good idea, because you'll have to leave Penn Station on Amtrak's
Silver Star
at 11:02 AM and arrive in Miami at 5:58 the next day's evening, a 31-hour ride. The return trip will leave at 8:10 AM and return to New York at 11:00 AM, "only" 27 hours – no, there's no time-zone change involved. Round-trip, it'll cost $236. And the station isn't all that close, at 8303 NW 37th Avenue. Fortunately, there's a Tri-Rail station there that will take you downtown.
How about Greyhound? There are 5 buses leaving Port Authority every day with connections to Miami, only one of them nonstop, the 10:45 PM to 7:30 AM (2 days later) version. The rest require you to change buses in Richmond and Orlando. (This is not fun, but, since New York to Miami should be straight down and back up I-95, it's also pointless. Resting the passengers, changing the driver and refueling the bus all make sense; making passengers change buses, twice, doesn't.)
The ride, including the changeovers, takes about 33 hours. Round-trip fare is $218, but it can be cut by more than half to $158 with advanced purchase. The station is at 4111 NW 27th Street and, ironically, is right across 42nd Avenue from the airport. It's worth the fact that it'll cost twice as much to simply fly down. Plus, going from New York to Miami on Greyhound, you might be reminded of the end of the movie
Midnight Cowboy
, and nobody wants to be reminded of that.
If you want to drive, it'll help to get someone to go down with you, and take turns driving. You'll be going down Interstate 95 (or its New Jersey equivalent, the Turnpike) almost the whole way. It'll be about 2 hours from the Lincoln Tunnel to the Delaware Memorial Bridge, 20 minutes in Delaware, and an hour and a half in Maryland, before crossing the Woodrow Wilson Bridge, at the southern tip of the District of Columbia, into Virginia. Then it will be 3 hours or so in Virginia, another 3 hours in North Carolina, about 3 hours and 15 minutes in South Carolina, a little under 2 hours in Georgia, and about 6 hours and 15 minutes in Florida before you reach downtown Miami – maybe a little under 6 hours if you get a hotel near the stadium.
Given rest stops, preferably in one in each State from Maryland to Georgia and 2 in Florida, you're talking about a 28-hour trip.
Once In the City.
A lot of people don't realize it, because Miami is Florida's most famous city, but the most populous city in the State is Jacksonville. However, while Miami has about 453,000 people within the city limits, there are 6.4 million living in the metro area, making it far and away the largest in the South, not counting Texas.
Because Florida is so hot, and air-conditioning didn't become common until the mid-20th Century, Miami was founded rather late by the standards of the East coast, in 1825, and wasn't incorporated as a city until 1896. The name is derived from the Mayaimi tribe of Native Americans. Miami Avenue is the east-west divider, Flagler Street the north-south.
The
Herald
is the only major newspaper left in the city, but the
Sun-Sentinel
of Fort Lauderdale should also be available. And, considering how many ex-New Yorkers are around, you might also be able to get the
Times
, the
Daily News
, or, if you're really desperate (or really conservative), the
Post
.
The sales tax in Florida is 6 percent, but it's 7 percent within Miami-Dade County. ZIP Codes in Miami start with the digits 330, 331 and 332; in the Fort Lauderdale area, 333; and in the Palm Beach area, 334 and 349.
Since 1984, Miami has had a rapid-transit rail service, Metrorail, and a downtown-only smaller service, Metromover. Both above-ground, sort of like Chicago's El and the Detroit People Mover, if they were in the same city. The fare for the Metrorail and the Metrobus is $2.25.
Metrorail above, and the smaller Metromover below
Tri-Rail has run commuter rail service since 1989, linking 3 Counties: Dade (Miami), Broward (Fort Lauderdale) and Palm Beach.
A Tri-Rail train
Going In.
When the Dolphins' stadium opened on August 16, 1987, it was named Joe Robbie Stadium, for the Dolphins' owner, who had it built for them and for a hypothetical MLB team that became the Marlins.
Since then, it's been named Pro Player Park (briefly in 1996), Pro Player Stadium (1996 to 2005, including both of the then-Florida Marlins' World Series wins), Dolphins Stadium (2005 to 2006), Dolphin Stadium (no more S on the end, 2006 to 2009), Land Shark Stadium (2009 to 2010), Sun Life Stadium (2010 until this past August 17), and now Hard Rock Stadium (with the Hard Rock Cafe franchise buying the naming rights). If you're keeping track, that's 8 names in 29 years, or a new name every 3 years, 7 1/2 months.
It's 15 miles north of downtown Miami, in a location that's been called, at various times, Miami, Miami Lakes, Miami Gardens, Carol City and Opa-Locka. Sounds like a bad variety show sketch.
The best way to get there from downtown is to take I-95 North to the Florida Turnpike (renamed the Ronald Reagan Turnpike, and, contrary to "conservative principles," the Gipper did believe in good roads), to Exit 2X for Northwest 199th Street. NW 199th is also known as Dan Marino Boulevard, named after some guy who never won a championship, college or pro. The Stadium is between 199th and 203rd, and between the Turnpike and 27th Avenue, across 203rd and Snake Creek from Calder Race Course. The exact address is 347 Don Shula Drive, for the coach who won the Dolphins' 2 titles and the record number of NFL coaching wins he has.
Like tickets, parking is expensive: $40. Tailgating is permitted.
Before the renovation, with the seats in Dolphin aqua & orange
Public transportation there is a bit trickier. You'd have to take Metrorail from downtown to M.L. King Rail Station, then transfer to the Number 27 bus, riding that to NW 199th Street & NW 27th Court. And then you'd have to walk down 199th for about 15 minutes and turn into the parking lot. Not exactly ideal. (Somehow, I don't think a situation like this, especially with a transit station with his name on it, was part of Martin Luther King's dream. But he certainly would have approved of a racially mixed crowd watching racially mixed teams playing each other.)
In spite of South Florida's climate – the stadium probably gets more rain than any other in the NFL, including Seattle – umbrellas are not permitted inside. "Safety concerns," No, I'm not making that up, it's on the Dolphins' website. The field runs northwest-to-southeast, and is natural grass.
The stadium recently underwent a major renovation, including a roof to protect the fans from the elements (but not the players -- shades of the Dallas Cowboys' last 2 stadiums), new video boards, and wider seats. This renovation reduced seating capacity from 75,540 to 65,326.
Post-renovation
It has been home to the Dolphins since 1987; the Orange Bowl game in 1996, 1997, 1998 and since 2000; the University of Miami football team since 2008 (their games were the last thing the Orange Bowl stadium hosted before its demolition to make way for Marlins Park); the Marlins from 1993 to 2011; and the Champs Sports Bowl from 1990 to 2000.
It's hosted 5 Super Bowls: XXIII (1989, San Francisco over Cincinnati), XXIX (1995, San Francisco over San Diego), XXXIII (1999, Denver over Atlanta), XLI (2007, Indianapolis over Chicago, and the only Super Bowl that's yet been rained on) and XLIV (2011, Green Bay over Pittsburgh). Hard Rock Stadium has been awarded Super Bowl LIV, for February 2, 2020.
It's also hosted 2 World Series: 1997, Marlins over Cleveland; and 2003, Marlins over, uh, let's move on. It hosted 4 BCS National Championship Games: 2001 (Oklahoma over Florida State), 2005 (USC over Oklahoma), 2009 (Florida over Oklahoma) and 2013 (Alabama over Notre Dame).
The stadium is also a premier U.S. soccer venue. On August 6, 1989, North London giants Arsenal played Argentine club Independiente, each team coming off winning its national league title. Arsenal won, 2-1, but only 10,042 fans came out to see it in the oppressive Summer Florida heat. (Perhaps this is why Arsenal did not play in North America again for 25 years, coming to Red Bull Arena in 2014.) Other major club teams to play there include Mexico's Chivas of Guadalajara; England's Chelsea of London, Everton of Liverpool and Manchester United; Spain's Real Madrid, Barcelona and Valencia; and Italy's AC Milan, Internazionale and Juventus.
The U.S. national team has played there 4 times: A 1-0 loss to Colombia on April 22, 1990; a 1-1 draw with Bolivia on February 18, 1994; a 3-1 loss to Sweden on February 20, 1994; and a 1-0 win over Honduras on October 8, 2011.
Food.
With a great Hispanic, and especially Cuban, heritage, and also being in Southeastern Conference country (hello, tailgating), you would expect the football team in Miami to have great food at their stadium. Centerplate runs their concessions, and the stadium renovations include better options.
From the Miami Herald
:
* Sloppy Joe's (based on the famous Key West bar) at Sections 106, 144 and 317.
* Kosher Central (Hey, a lot of ex-New Yorker Jews in South Florida) at 111.
* BurgerFi at 114, 124 and 350.
* Craft Beer Tap Room at 117 and 147.
* Versailles (A French theme?) at 119 and 317.
* Sushi Maki at 126.
* Bodega Taqueria at 142, 329 and 345.
* Paradise Cups at 155.
Team History Displays.
The Dolphins are celebrating their 50th season (their 50th Anniversary would be next year), and while it's been over 40 years since their last title, they have lots of history. The Dolphins Honor Roll currently honors the undefeated 1972 team and 26 individuals:
* From the 1972 team that went undefeated and won Super Bowl VII, and the 1973 team that won Super Bowl VIII: Founding owner Joe Robbie, head coach Don Shula, defensive coordinator Bill Arnsparger, quarterback Bob Griese, running back Larry Csonka, receiver Paul Warfield, tight end Jim Mandich, center Jim Langer, guards Larry Little and Bob Kuechenberg, defensive end Bill Stanfill, defensive tackle Manny Fernandez, linebacker Nick Buoniconti, and safeties Jake Scott and Dick Anderson.
* From the 1982 team that reached Super Bowl XVII: Robbie, Shula, Arnsparger, center Dwight Stephenson, receivers Nat Moore and Mark Duper, defensive end Doug Betters and defensive tackle Bob Baumhower.
* From the 1984 team that reached Super Bowl XIX, the team's most recent appearance: Robbie, Shula, Moore, Duper, Betters, Baumhower, quarterback Dan Marino and receiver Mark Clayton.
* From the 1992 team that reached and hosted the AFC Championship Game, the team's most recent appearance: Shula, Marino, Duper, Clayton, offensive tackle Richmond Webb and linebacker John Offerdahl.
* From the 2000 team that won the AFC Eastern Division, a year after Marino retired: Webb, defensive end Jason Taylor and linebacker Zach Thomas.
As yet, no players have been inducted from the 2008 AFC East title, which remains the Dolphins' most recent Playoff appearance, although Taylor had left before that season, and would return.
Jim "Mad Dog" Mandich's notation
on the Dolphins Honor Roll revealed in 2012
Little, Warfield, Marino and Stephenson were named to
The Sporting News
' 100 Greatest Football Players in 1999. Warfield and Marino were named to the NFL Network's 100 Greatest Players in 2010.
The Dolphins have retired 3 numbers: Griese's 12, Marino's 13 and Csonka's 39. Prior to the renovation, those numbers were flown on flags on the stadium's rim.
There's also a statue of Marino. Contrary to popular belief, he is not shown shaking a closed fist to show you how many Super Bowl rings he has won.
The Florida Sports Hall of Fame is located at Lake Myrtle Sports Park in Auburndale, 232 miles northwest of downtown Miami, and 220 miles northwest of Hard Rock Stadium. Aside from the colleges (Florida, Florida State and Miami), the Dolphins have more honorees than any other team: Robbie, Shula, Griese, Csonka, Warfield, Little, Buoniconti, Anderson, Marino, Moore, 1970s placekicker Garo Yepremian, Griese's 1972-73 backup Earl Morrall (who was the losing Colts quarterback under Shula in the Jets' Super Bowl III win), coach Jimmy Johnson (who's probably in there mainly for his coaching at the University of Miami) and owner Wayne Huizenga.
Stuff.
The Dolphins' Team Store is located on the ground level, in the Grand Plaza, south entrance. For non-event days, it's open Monday to Friday, 8:30 AM to 5:30 PM, and on Saturday from 10 to 2. I'm trying to imagine what it might sell to put on your head, like Green Bay does with cheese wedges, Chicago with a deep dish pizza slice, or Philadelphia with a cheesesteak. A Cuban sandwich? Or maybe a Dolphin dorsal fin?
As Florida's oldest major league sports team, there are a few books written about the Dolphins. In 2002, on the 30th Anniversary of the undefeated season, Shula collaborated with Dave Hyde on
Still Perfect! The Untold Story of the 1972 Miami Dolphins
. Interestingly enough, Hyde, a columnist for the
Sun-Sentinel
, is a graduate of Miami University... of Ohio, and published a book about Miami graduate Woody Hayes and his Ohio State National Champions of 1968. (Shula is also from Ohio, but went to John Carroll University, not The... Ohio State University, or Miami, a.k.a. "the Cradle of Coaches.")
In August 2012, on the 40th Anniversary, Griese came out with
Perfection: The Inside Story of the 1972 Miami Dolphins' Perfect Season
, followed that same month by
Undefeated: Inside the 1972 Miami Dolphins' Perfect Season
, by Mike Freeman of
Bleacher Report
, who also wrote biographies of Jim Brown and Bobby Bowden, and a book that was critical of ESPN. Newly published is Douglas Todt's story of the Miami teams that couldn't go all the way:
Deflated Dreams: The Miami Dolphins in the Dan Marino Era
.
DVDs about the Dolphins available on Amazon.com include an official team history produced in 2010, a 40th Anniversary tribute to the undefeated 1972 team including a disc of the entire broadcast of Super Bowl VII, and another such tribute to the 1973 team including a disc of the entire broadcast of Super Bowl VIII.
During the Game.
South Florida is loaded with people who came from elsewhere, including ex-New Yorkers. The stereotype is that, when a New Yorker gets old, if he has enough money to do so, he moves to Miami. Especially if he's Jewish. Or Italian. As a result, you may see a lot of Jet fans, few of whom switched to the Dolphins.
However, despite Dolphin fans' hatred of the Jets (and, to a lesser extent, the New England Patriots, the Oakland Raiders and the Pittsburgh Steelers), your safety should not be an issue. Hard Rock Stadium is an island in a sea of parking, nowhere near any high crime area.
After years of having a live dolphin mascot, named Flipper after the TV dolphin, in 1997 the Dolphins debuted a man in a costume, T.D. (standing for either "The Dolphin" or "Touchdown").
Denny Sym, a.k.a. Dolfan Denny, cheered
the t
eam on for its 1st 33 years as a one-man sideline show, often leading the
crowd in cheers and chants from each corner of the field. He usually wore glittering orange and aqua hats. In 1976, the Dolphins began paying him $50 per game (about $209 in today's money) to cheer from the sideline, after being impressed by his spirit and passion. He got sick in 2000, and retired his act, dying in 2007 at age 72.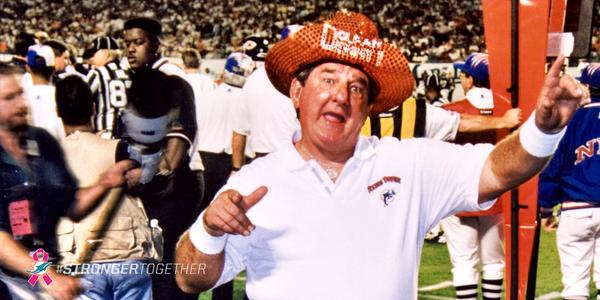 He looked a bit like Buddy Hackett.
The Dolphins hold auditions for National Anthem singers, instead of having a regular singer. "
The Dolphins Fight Song
" goes back to the Super Bowl years (and was ripped off by the Houston Oilers), but recently got an update by rapper T-Pain. And there's not much in the way of fan chants, aside from "Let's go, Dolphins!"
After the Game.
Miami has some rough areas, but you're starting out in the suburbs, so you should be safe. As for where to go after the game, I can't be sure. I checked for area bars where New Yorkers gather, and found one for each of the city's NFL teams.
J.C. Wahoo's Sports Bar and Grill is supposedly the home of the South Florida fan club of the Giants. But it's at 3128 N. Federal Highway (yes, the same U.S. Route 1 that goes through The Bronx and New Jersey), between Northeast 31st and 32nd Streets, 40 miles north of downtown -- further north than Fort Lauderdale, or even Pompano Beach, almost up to Boca Raton. It's not even all that close to the stadium.
The South Florida Jets Fan Club meets at Hammerjack's, at 5325 S. University Drive in Davie, a bit closer to the stadium, but still 24 miles north of downtown.
Don't bother looking for Dan Marino's restaurants: They've all closed. He's had financial setbacks, partly due to paying his extramarital baby mama millions of dollars in hush money.
If you visit Miami during the European soccer season (now drawing to a close but starting again in mid-August), the Fado Irish Pub chain has an outlet downtown, at 900 S. Miami Avenue. Brickell on Metrorail, Tenth Street Promenade on Metromover. Another possibility, especially if you're a Liverpool fan, is Churchill's Pub, at 5501 NE 2nd Avenue, 4 miles north of downtown, in Little Haiti. Bus 9.
Sidelights.
Miami's sports history is long, but aside from football, it's not all that involved.
UPDATE:
On February 3, 2017, Thrillist made a list ranking the 30 NFL cities
(New York and Los Angeles each having 2 teams), and
Miami came in 17th, in the bottom half. They called it, "That one guy in your freshman dorm that wears excessive hair product, owns myriad button-down shirts in primary colors purchased online from European clothiers, and is weirdly good at Jet Skiing, but a city."
* Marlins Park and site of Orange Bowl. The home of the team that became known as the Miami Marlins when they moved in for the 2012 season was built at the site of the stadium known as the Miami Orange Bowl. It will be a long time before it builds up anything of history, but it will never match the history of the classic horseshoe with the palm trees at the open east end.
Opening in 1937, and known as Burdine Stadium until 1959, it hosted the Orange Bowl game on (or close to) every New Year's Day from 1938 to 1995, and once more in 1999 when the Dolphins made the Playoffs to make their new stadium unavailable; the University of Miami football team from 1937 to 2007 (famed for its fake-smoke entrances out of the tunnel); the Miami Seahawks of the All-America Football Conference in 1946 (they moved to become the Baltimore Colts after just 1 season, but this was arguably the 1st "major league" team in any of the former Confederate States); the Bert Bell Benefit Bowl (a game involving the 2nd-place teams in each of the NFL's divisions from 1960 to 1969, also known as the Playoff Bowl, a game so lame that Vince Lombardi once called it "the only game I never want to win" – and he didn't); the Dolphins from 1966 to 1986; the Miami Toros of the North American Soccer League from 1972 to 1976; and 5 Super Bowls, most notably (from a New York perspective) Super Bowl III, when the Jets beat the Colts in one of the greatest upsets in sports history, on January 12, 1969. Super Bowl XIII, in 1979, was the last Super Bowl to be held here.
The Orange Bowl was where the Dolphins put together what remains the NFL's only true undefeated season, in 1972. The Canton Bulldogs had gone undefeated and untied in 1922, but there was no NFL Championship Game in those days. The Chicago Bears lost NFL Championship Games after going undefeated and untied in the regular seasons of 1932 and 1942. And the Cleveland Browns went undefeated and untied in the 1948 AAFC season, but that's not the NFL.
The Dolphins capped their perfect season by winning Super Bowl VII, and then Super Bowl VIII. And yet, despite having reached the Super Bowl 5 times, and Miami having hosted 10 of them, the Dolphins have never played in a Super Bowl in their home region. (They've done so in Los Angeles twice, and once each in New Orleans, Houston and San Francisco.) They also haven't been to one in 30 seasons, or all of their history in their new stadium. "The Curse of Joe Robbie," anyone?
The Orange Bowl also hosted Arsenal's 1st game in North America. Due to the length of the English soccer season, it was again the wrong time of year to host a soccer game in Miami. Only 4,725 fans saw the Gunners beat the Miami Gatos 3-2.
1501 NW 3rd Street, between 7th Street, 14th and 16th Avenues. Number 11 Bus west on Flagler Street from downtown, then 3 blocks north on 15th Avenue. Be careful, this is in Little Havana.
* Comfort Inn. This hotel, across 36th Street from the airport, was the site of the Playhouse, once considered one of South Florida's finest banquet halls. It was here, on January 9, 3 days before the Super Bowl, at a dinner organized by the Miami Touchdown Club, that Joe Namath of the Jets was speaking, and some drunken Colts fan yelled out, "Hey, Namath! We're gonna kick your ass on Sunday!" And Joe said, "Let me tell you something: We got a good team. And we're gonna win. I guarantee it!" He was right.
NW 36th Street between Curtiss Parkway and Deer Run. MetroRail toward Palmetto, to Allapattah Station, then transfer to the 36 Bus.
* Site of Miami Stadium. Also known as Bobby Maduro Stadium, this was the home of the original Miami Marlins, of the Florida State League. Seating 13,000, it was known for its Art Deco entrance and a roof that shielded nearly the entire seating area, to protect fans from the intense Miami weather. The FSL team that played here was known as the Sun Sox from 1949 to 1954, the Marlins from 1956 to 1960, the Marlins again 1962 to 1970, the Miami Orioles 1971 to 1981, and the Marlins again from 1982 to 1988. These teams won FSL Pennants in 1969, 1970, 1971, 1972 and 1978 -- giving Miami 7 Pennants, counting those won by the NL Marlins.
Miami Stadium was the spring training home of the Brooklyn Dodgers from 1950 to 1957, the Dodgers in their first season in Los Angeles in 1958 (it can be said that "the Los Angeles Dodgers" played their 1st game here, not in California), and the Baltimore Orioles from 1959 to 1990.
It was demolished in 2001, and The Miami Stadium Apartments were built on the site. 2301 NW 10th Avenue, off 23rd Street. It's just off I-95, and 8 blocks north and east from the Santa Clara MetroRail station.
* American Airlines Arena. The "Triple-A" has been the home of the NBA's Miami Heat since 2000, including their 2006, 2012 and 2013 NBA Championship seasons. The Miami Sol of the WNBA also played here, from 2000 to 2002. 601 Biscayne Blvd. (U.S. Routes 1 & 41), between NE 6th and 8th Streets, across Port Blvd. from the Bayside Marketplace shopping center (not exactly their version of the South Street Seaport) and the Miami outlets of Hooters, the Hard Rock Café and Bubba Gump Shrimp. Freedom Tower station on Metromover.
* Site of Miami Arena. This was the home of the Heat from 1988 to 1999, the NHL's Florida Panthers from 1993 to 1998, and the University of Miami basketball team from 1988 to 2003. When the Overtown race riot happened in January 16 to 18, 1989, in the week before Super Bowl XXIII, area residents took great pains to protect this arena from damage, and succeeded.
This building was demolished in 2008. Only 20 years? Apparently, like the multipurpose stadiums of the 1960s and '70s, and the Meadowlands Arena and the Nassau Coliseum, it served its purpose – getting teams to come in – and then quickly became inadequate. Grand Central Park, a public park, was built on the site. 701 Arena Blvd., between Miami Avenue, NW 1st Avenue, and 6th and 8th Streets. Overtown/Arena rail station.
* BB&T Center. This has been the home of the NHL's Florida Panthers since 1998, and there's a reason the team is called "Florida" instead of "Miami": The arena is 34 miles northwest of downtown Miami, and 14 miles west of downtown Fort Lauderdale, in a town called Sunrise. 1 Panther Parkway, at NW 136th . If you don't have a car, you'd have to take the 195 Bus to Fort Lauderdale, and then the 22 Bus out to the arena.
* Fort Lauderdale Stadium and Lockhart Stadium. Built in 1962, the Yankees moved their spring training headquarters to the 8,340-seat Fort Lauderdale Stadium after being assured that, unlike their spring home of St. Petersburg at the time, their black players could stay in the same hotel as their white players. The Yankees remained there until 1995, by which point Tampa was not only long since integrated, but was willing to pretty much anything city resident George Steinbrenner wanted, including build him a new spring home for the Yankees.
The Yankees' Class A team in the Florida State League also used it as a home field. After the Yankees left, the Orioles used it from 1996 to 2009. Although it no longer has a permanent tenant, or even a spring training tenant, it still stands, and the Fort Lauderdale Strikers use it as a practice facility. 1401 NW 55th Street.
Built in 1959, Lockhart is a 17,417-seat high school football stadium, across 55th Street from Fort Lauderdale Stadium. It's been home to 4 different teams called the Fort Lauderdale Strikers, including the original NASL's version from 1977 to 1983, and the new NASL's version from 2011 until 2016, and MLS' Miami Fusion from 1998 to 2001.
It's hosted 3 games of the U.S. national soccer team, including the November 23, 1980 2-1 victory that was the 1st time the U.S. ever defeated Mexico on home soil, the 1st time anywhere since the countries' 1st meeting, in the 1934 World Cup. It also hosted Florida Atlantic University's football team from 2003 to 2010, after which their on-campus stadium opened. 1350 NW 55th Street, at 12th Avenue.
For both stadiums, take MetroRail to Tri-Rail, then Tri-Rail to northbound to Cypress Creek. From there, it's about a 10-minute walk.
The current plan for the Major League Soccer team that retired English soccer star David Beckham wants to bring to Miami is for a 25,000-seat stadium in the Overtown section, bordered by 6th and 8th Streets and 6th and 7th Avenues, all NW. That's about a mile northwest of downtown. Bus 77. They still have to clear land-purchase and rezoning hurdles, but it looks like they have the proper ownership lined up. It looks like they will begin play in 2019, although it may take until 2020 for the stadium to open, in which case they may have to play their 1st (or even 2nd) season at Marlins Park.
* Miami Beach Convention Center. Opened in 1957, it seats 15,000 people. The American Basketball Association's Miami Floridians played here from 1968 to 1972. The 1968 Republican Convention, and both major parties' Conventions in 1972, were held here. (Both Republican Conventions nominated Richard Nixon, the Democrats' nominated George McGovern.) Why? Simple, they wanted to be away from any city's downtown, putting water between themselves and wherever the hippies and another antiwar demonstrators were staying.
This building hosted the heavyweight title fights of 1961 (Floyd Patterson-Ingemar Johansson III, Floyd won) and 1964 (Cassius Clay-Sonny Liston I, Clay winning and then changing his name to Muhammad Ali). Just 9 days before Ali forced his "total eclipse of the Sonny," on February 16, 1964, the Beatles played their 2nd full-length U.S. concert here. They visited Ali at his Miami training center, and a famous photo was taken. Elvis Presley gave a pair of concerts here on September 12, 1970.
Convention Center Drive between 17th Street and Dade Blvd. The Jackie Gleason Theater, where "The Great One" taped his 1960s version of
The Jackie Gleason Show
(including a now rarely-seen revival of
The Honeymooners)
is next-door. This, and any other Miami Beach location, can be reached via the 103, 113 or 119 Bus, or a car, over the MacArthur Causeway.
* Site of the Coconut Grove Convention Center. This former Pan Am hangar, attached to the Dinner Key Marina in 1930, was used as a Naval Air Station, a convention center, a concert hall, a 6,900-seat sports arena (the Floridians played a few home games here), and as the indoor-scenes studio for the USA Network show
Burn Notice
.
It's also been known as the Dinner Key Auditorium. Under that name, on March 1, 1969, The Doors gave a concert here, and lead singer Jim Morrison supposedly committed an indecent act there. (Yeah, he told the crowd, "I'm from Florida! I went to Florida State! Then I got smart and moved to California!")
It was demolished in 2013, and a park is being built on the site. 2700 S. Bayshore Drive, at Pan American Drive & 27th Avenue, in the Coconut Grove section of town. Number 102 Bus to Number 48.
* Gusman Center for the Performing Arts. Formerly the Olympic Theater, Elvis sang here on August 3 and 4, 1956. 174 E. Flagler Street, downtown.
On March 26, 1960, Elvis taped a segment for The Frank Sinatra Timex Show, subtitled Welcome Home Elvis, in the ballroom of the Fontainebleau Hotel. It was his 1st TV appearance since his discharge from the Army 3 weeks earlier.
Frank was not initially a fan of Elvis, but his 2-year peacetime-but-Cold-War hitch for Uncle Sam -- further emphasized by the fact that an ear condition left Frank himself 4-F, meaning he didn't serve in World War II -- convinced a lot of grownups that he was all right after all, and Frank and his fellow Rat Packers were now happy to go along -- down to Frank's daughter, 15-year-old Nancy (6 years from becoming a star in her own right), being the first "name" he saw when he got off the plane.
Elvis sang both sides of his 1st post-service single, "Fame and Fortune" and the soon-to-be-Number 1 hit "Stuck On You." Then he sang Frank's "Witchcraft," and Frank sang his "Love Me Tender," and they closed the latter song together. They remained friends for the rest of Elvis' life.
The Fontainebleau, then as now, was the most famous hotel in Miami, in Florida, indeed in the entire Southern U.S. 4441 Collins Avenue in Miami Beach.
In addition to the preceding, Elvis sang in South Florida in Fort Myers at the City Auditorium on May 9 and July 25, 1955; in West Palm Beach at the Palms Theater on February 20, 1956 and the West Palm Beach Auditorium on February 13, 1977; and in Hollywood at the Sportatorium on February 12, 1977.
Several TV shows have been set in Miami. A restaurant called Jimbo's Place was used to film scenes from
Flipper
and
Miami Vice
, and more recently
CSI: Miami
and the aforementioned
Burn Notice
. It's at 4201 Rickenacker Causeway in Key Biscayne, accessible by the Causeway (by car) and the 102 Bus (by public transportation).
Greenwich Studios has been used to film
Miami Vice, True Lies, There's Something About Mary
and
The Birdcage
. It's at 16th Avenue between 121st and 123rd Streets, in North Miami, and often stands in for Miami Beach for the TV shows and movies for which it's used. 93 Bus.
The penthouse used by the Kardashian Sisters to tape
Kourtney & Khloe Take Miami
is on Ocean Drive between 1st and 2nd Streets in Miami Beach, but I don't think they use it anymore, especially since Kourtney and Kim have now "taken New York."
If you're a fan of
The Golden Girls
, you won't find the house used for the exterior shots. It's actually in Los Angeles. The address mentioned on the show was 6151 Richmond Street, but that address doesn't exist in Miami.
The largest college in the area is, as you might have guessed, the University of Miami. Its new Donna E. Shalala Student Center, named for the former University President and U.S. Secretary of Health and Human Services under President Bill Clinton, is at 1330 Miller Drive, about 7 miles southwest of downtown. University Station on Metrorail.
Florida International University is at 11200 SW 8th Street, 16 miles west of downtown. Its Riccardo Silva Stadium, formerly FIU Stadium, opened in 1995 and seating 23,500, is at 11310 SW 17th Street. Bus 8. Silva Stadium is also home to Miami FC, the largest pro soccer team in South Florida, which it will remain until David Beckham's MLS club takes the field -- if it ever does.
FIU should not be confused with Florida Atlantic University in Boca Raton. Its 29,419-seat FAU Stadium, which opened in 2011, is at 777 Glades Road, or FAU Blvd. & N. University Drive. Tri-Rail to Boca Raton station. On October 14, 2014, the U.S. soccer team had a 1-1 draw with Honduras at FAU Stadium.
No President has ever been born in Florida, or grew up there, or even had his permanent residence there. Two men who served as Governor ran for the Democratic Party's nomination for the office, but neither came particularly close to the nomination: Reubin Askew dropped out after the 1984 New Hampshire Primary, and Bob Graham didn't even make it to calendar year 2004, much less the Iowa Caucuses.
Nevertheless, Miami has a key role in Presidential history. On February 15, 1933, President-elect Franklin Roosevelt and Chicago Mayor Anton Cermak were at a rally in Bayfront Park, when Giuseppe Zangara started shooting. FDR was not hit, but Cermak was, and he died on March 6, just 2 days after FDR was inaugurated. Bayfront Park station on Metromover.
More recently, the building where the votes for Dade County were supposed to be counted in the 2000 election was besieged by protesters, hired by House Majority Leader Tom DeLay, so Miami was ground zero for the theft of the election by the George W. Bush campaign. The Stephen P. Clark Government Center, 111 NW 1st Street, downtown. Government Center station.
The Watsco Center, formerly the University of Miami Convocation Center, hosted a Presidential Debate between Bush and John Kerry in 2004. 1245 Dauer Drive, in Coral Gables. Tri-Rail to University. And Lynn University in Boca Raton hosted a Presidential Debate between Barack Obama and Mitt Romney in 2012. 3601 N. Military Trail. Tri-Rail to Boca Raton, then Bus 2.
The Kennedy family had a compound in Palm Beach, but sold it in 1995. It's still in private hands, and not open to the public. Also in Palm Beach is the Mar-a-Lago Club, a hotel and members-only club built in 1927 by cereal company heiress and socialite Marjorie Merriweather Post. In 1985, it was bought by Donald Trump, and he's turned it into his "Southern White House," disgracing the nation there every other weekend. 1100 S. Ocean Blvd. Bus 1 from downtown West Palm Beach will get you to Dixie Highway & Southern Blvd. (U.S. Routes 1 & 98), but you'd have to walk almost 2 miles over Southern Blvd., across Lake Worth Lagoon and Bingham Island, to get to the sandbar on which Palm Beach sits.
There was a "Little White House" in Key West (111 Front Street), used by Harry Truman (and, to a lesser extent, his immediate successors Dwight D. Eisenhower and Kennedy), and it's open to tours. But that's a long way from Miami: 160 miles, with no public transportation between the 2 cities, and Greyhound charges $110 round-trip for a 4 1/2-hour ride.
Miami's top 2 museums are the Perez Art Museum Miami (PAMM), at 1103 Biscayne Blvd., Museum Park station on Metromover; and the Patricia and Philip Frost Museum of Science, at 3280 S. Miami Avenue, Vizcaya station on Metrorail.
At 789 feet, the tallest building in the State of Florida since 2003 has been the Four Seasons Hotel Miami, at 1435 Brickell Avenue downtown. Financial District station on Metromover. Indeed, Miami has seen a building boom, with the waterfront becoming home to a series of skyscrapers known as the Biscayne Wall. The tallest of Miami's older buildings is the Freedom Tower, built in 1925 as the home of the now-defunct
Miami News
. It now houses Miami-Dade College and a Museum. 600 Biscayne Blvd., downtown, across from the American Airlines Arena. Freedom Tower station on Metromover.
*
You don't have to be old to be a New Yorker in Miami -- but it helps to be a sports fan. Since this is Giants vs. Dolphins, not Jets vs. Dolphins, the intensity of the rivalry won't be there. You should be able to enjoy yourself, even if neither team is all that good at the moment.