You know a year is taking too many great and/or inspiring people when it takes the Captain of the greatest team ever assembled in the history of a sport.
Baseball: The 1998 New York Yankees didn't have an official Captain. Unofficially, it was Paul O'Neill. He's still alive.
Football: Whether you think it was the 1966 Green Bay Packers, the 1979 Pittsburgh Steelers or the 1989 San Francisco 49ers, none of those teams had an official Captain. You could say, unofficially, it was, respectively, Bart Starr, Mean Joe Greene and Joe Montana, all of whom are still alive.
Basketball: The 1992 U.S. Olympic Team didn't have an official Captain. Unofficially, it was Magic Johnson. Despite being HIV-positive then, he is still alive.
Hockey: The best team ever assembled was probably the 1976 Canada Cup team, which had Bobby Orr, Bobby Hull, Guy Lafleur, Bobby Clarke, Darryl Sittler, Gil Perrault, Marcel Dionne, Bob Gainey, Larry Robinson, Denis Potvin, Gerry Cheevers in goal, and, as Captain, Phil Esposito, who is still alive.
Soccer: Carlos Alberto. Period.
*
Carlos Alberto Torres was born on July 17, 1944 in the city of Rio de Janeiro, in the state of Rio de Janeiro, Brazil. In 1963, he joined local club Fluminense, the original big club of Brazil. At the time, it was rare, anywhere in the world, for a right back to be known for attacking skills. But Carlos Alberto (Brazilian players are traditionally known by nicknames, and, in his case, he simply dropped his last name) was noted for his ball control, dribbling and playmaking ability. In 1964, he and "La Flu" won the Campeonato Carioca, the state championship of Rio de Janeiro.
In 1966, he was purchased by Santos, a team in the city of Santos, in the state of

São Paulo. There, he became a teammate of the biggest "futebol" star in the world, Edson Arantes do Nascimento, a.k.a.

Pelé. Together, they won the Campeonato Paulista, the

São Paulo state championship, in 1967, 1968, 1969 and 1973.
*
Carlos Alberto was selected for the Brazil national team, a.k.a. the
Seleção (Selection)
that won the Gold Medal at the 1963 Pan American Games and the
Taça das Nações (Nations' Cup), a 1964 tournament held in honor of the 50th Anniversary of the founding of the Brazilian Football Confederation. But he was not selected for the 1966 World Cup -- the only one from 1954 to 1974 that Brazil did not win. Whether that was due to his absence or Argentina literally kicking
Pelé out of the tournament is open to debate.
When the 1970 World Cup convened in Mexico, Brazil was a nation in trouble, dominated by a military dictatorship. Thus it was ironic that they put together the most creative soccer team ever assembled:
* 1 Goalkeeper:
Félix Miélli Venerando, a.k.a.
Félix, then playing for Rio de Janeiro club Fluminense.
* 2 Centerback:
Hércules de Brito Ruas, a.k.a. Brito, best known for playing for Rio club Vasco da Gama, but then playing for Rio club Flamengo.
* 3 Centerback: Wilson da Silva Piazza, a.k.a. Piazza, Belo Horizonte club Cruzeiro.
* 4 Right back: Carlos Alberto Torres, a.k.a. Carlos Alberto,
São Paulo club
Santos.
* 5 Midfielder:
Clodoaldo Tavares de Santana, a.k.a. Clodoaldo, Santos.
* 6 Left back:
Marco Antônio Feliciano, a.k.a.
Marco Antônio, Fluminense.
* 7 Right winger:
Jair Ventura Filho, a.k.a. Jairzinho, Rio club Botafogo.
* 8 Midfielder:
Gérson de Oliveira Nunes, a.k.a.
Gérson, played for both Flamengo and Botafogo, but by then playing for
São Paulo FC.
* 9 Forward:
Eduardo Gonçalves de Andrade, a.k.a.
Tostão, Cruzeiro.
* 10 Forward: Edson Arantes do Nascimento, a.k.a.
Pelé, Santos.
* 11 Left winger:
Roberto Rivellino, a.k.a. Rivelino (note the single L),
São Paulo club Corinthians.
* 12 Goalkeeper:
Eduardo Roberto Stinghen, a.k.a. Ado, Corinthians.
* 13 Forward:
Roberto Lopes de Miranda, a.k.a. Roberto, Botafogo.
* 14 Centreback:
José Guilherme Baldocchi, a.k.a. Baldocchi,
São Paulo club Palmeiras.
* 15 Centreback:
José de Anchieta Fontana, a.k.a. Fontana, Vasco.
* 16 Left back:
Everaldo Marques da Silva, a.k.a. Everaldo, Porto Alegre club
Grêmio.
* 17 Centreback: Joel Camargo, a.k.a. Joel, Santos.
* 18 Midfielder:
Paulo Cézar Lima, a.k.a. Caju, Botafogo.
* 19 Forward:
Jonas Eduardo Américo, a.k.a. Edu, Santos.
* 20 Forward:
Dario José dos Santos, a.k.a.
Dario, a.k.a.
Dadá Maravilha, Belo Horizonte club
Atlético Mineiro.
* 21 Centerback:
José Maria Rodrigues Alves, a.k.a.
Zé Maria,
São Paulo club
Portuguesa.
* 22 Goalkeeper:
Émerson Leão, a.k.a.
Leão,
Palmeiras.
Manager:
Mário Jorge Lobo Zagallo
. Once a left winger, he had starred for Flamengo and Botafogo, and played with
Pelé and earlier legends Garrincha, Hilderaldo Bellini, Gilmar, Djalma Santos, Didi,
Nílton Santos and
Vavá on Brazil's 1958 and 1962 World Cup winners.
The World Cup had been broadcast on television since 1954, but 1970 was the 1st time it had been broadcast around the world in color. Brazil's yellow shirts with green trim and numbers, and blue shorts, really stood out, especially since England, despite wearing red shirts when they won the 1966 Final, usually wore white shirts. So did West Germany, who lost the '66 Final, and would turn out to be the only team in the '70 edition besides Brazil to make it through the Group Stage with wins in all 3 games. Italy's blue shirts also stood out.
Brazil played all their games in Guadalajara until the Final. In the Group Stage, they came from 1-0 down to beat Czechoslovakia 4-1, on goals by Rivelino,
Pelé, and 2 by Jairzinho; beat England 1-0 on Jairzinho's 59th minute goal, despite Gordon Banks coming up with one of the all-time great saves to deny
Pelé (the famous photo of
Pelé and England Captain Bobby Moore exchanging shirts was taken after this game); and beat Romania 3-2 on 2 goals by
Pelé and 1 by Jairzinho.
A less famous photo of the Captains, before the game:
Carlos Alberto and Bobby Moore
They beat Peru in the Quarterfinal, on 2 goals by
Tostão and 1 each by Rivellino and Jairzinho. They fell behind Uruguay 1-0 in the Semifinal, but a goal each by Clodoaldo, Jairzinho and Rivellino put a stop to that, putting them in the Final at 3-1. That set up a match with Italy, who had beaten West Germany 4-3 in an extra-time thriller that was called "The Game of the Century."
Brazil lined up for the Final, in front of 107,412 paying customers at Estadio Azteca in Mexico City, as follows:
Félix; Carlos Alberto, Brito, Piazza, Everaldo; Jairzinho, Clodoaldo,
Gérson, Rivelino;
Tostão,
Pelé.
Italy was loaded as well, with talents such as Tarcisio Burgnich, Giacinto Facchetti, Roberto Boninsegna and Luigi "Gigi" Riva. However, manager Ferruccio Valcareggi made what could have been a decisive mistake: He never found a way to make AC Milan superstar Gianni Rivera and Internazionale Milano legend Sandro Mazzola play together. As a result, he started Mazzola, and only brought Rivera on as a substitute.
In the 18th minute, Rivelino sent in a cross that
Pelé headed in. But Brazil's defense faltered in the 37th, and Boninsegna scored an equalizer for Italy. In the 2nd half, Italy's famed catenaccio (meaning "padlock") defense was worn down by Brazil's creativity. In the 66th,
Gérson fired a rocket past Enrico Albertosi to give the
Seleção
a lead they would never relinquish. In the 71st,
Gérson sent
a long free kick to Pelé, who headed down into the path of the onrushing Jairzinho.
The win was capped in the 86th, with one of the greatest goals ever scored.
Tostão
was just to the left of Brazil's 18-yard box, with his back to the goal, then
passed to Brito, and the ball went in turn to Clodoaldo,
Pelé,
Gérson, Clodoaldo again, Rivelino on the wing, to Jairzinho, a cross to
Pelé, and finally to Carlos Alberto, who knocked it in.
Here, he describes it himself, in English.

Brazil had the game won, 4-1. Carlos Alberto accepted the Jules Rimet Trophy as Captain of the World Champions. Zagallo thus became the 1st man to both play for and manage a World Cup winner. Franz Beckenbauer of Germany would be the 2nd. As yet, there has not been a 3rd.
*
Carlos Alberto continued to play for Santos until 1974, then returned to Fluminense, winning the Campeonato Carioca again in 1975 and 1976. In 1977, he was reunited with

Pelé on the New York Cosmos, a team that played at Giants Stadium in the New Jersey Meadowlands. That team also had Beckenbauer, Italian striker Giorgio Chinaglia, and former Santos player Nelsi Morais. They won the North American Soccer League championship, the Soccer Bowl, in 1977.
Pelé retired, but Carlos, wearing Number 25 instead of his usual 4 (Cosmos Captain Werner Roth wouldn't give it up), later switching to 5, remained with them, to win the Soccer Bowl again in 1978, reach it but lose in 1979, win it in 1980. He played for the Anaheim-based California Surf in 1981, and the Cosmos only reached the Semifinal in 1981. He went back to the Cosmos in 1982, and they won it all again.
Carlos and Giorgio with the league title trophy
He then retired, and managed many teams, including Brazilian giants Flamengo, Corinthians, Botafogo, Fluminense and
Atlético Mineiro, and the national teams of Oman and Azerbaijan, last doing so in 2005.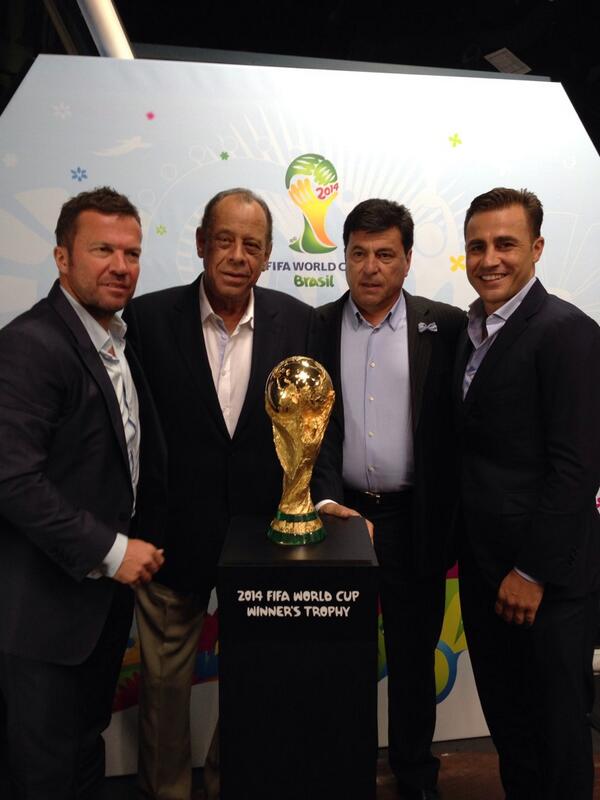 Italy's Fabio Cannavaro, Brazil's Carlos Alberto,
Argentina's Daniel Passarella
and Germany's Lothar
Matthäus
,
during the 2014 World Cup in Brazil
He became a commentator for Brazilian network SporTV, and made appearances on behalf of the reborn Cosmos franchise of the new NASL. He was on SporTV just 2 days before his death this morning, of a heart attack. He was 72.
This leaves 17 of the 22 players from the 1970 Brazil team still alive. 8 of them starters:

Pelé, Brito, Piazza, Clodoaldo, Jairzinho,

Gérson, Tostão and Rivelino. And 9 reserves:

Marco Antônio, Ado, Roberto, Baldocchi, Caju, Edu, Dario,

Zé Maria and

Leão.

Manager Zagallo is also still alive. He and

Pelé are the last remaining survivors from the 1958 Brazil team; they and Amarildo are the last ones from the 1962 Brazil team.
Everaldo was the 1st player from the 1970 Brazil team to die, in a car crash in 1974. Fontana died in 1980. Félix died in 2012. Joel died in 2014. And now, Carlos Alberto in 2016. Descanse em paz, velho amigo.
UPDATE: Carlos Alberto's final resting place is not publicly known.