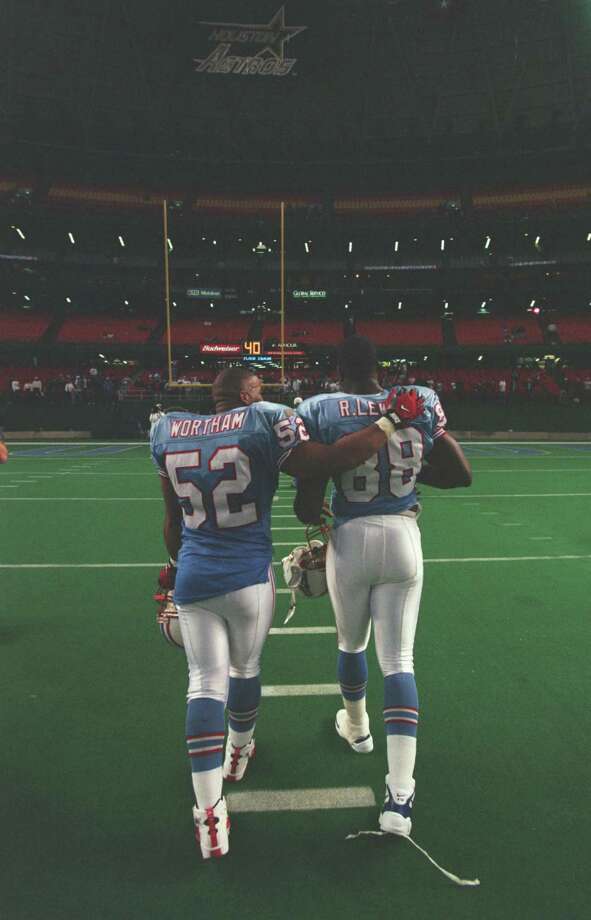 Barron Wortham and Reggie Lewis, after the last game at the Astrodome
December 15, 1996, 20 years ago:
The Cincinnati Bengals defeat the Houston Oilers 21-13 at the Astrodome. It is the last home game the Oilers will ever play. With their move to Tennessee already announced, the attendance is a mere 15,131. I don't have video of this game.
Bud Adams with the 1st 2 AFL Championship trophies,
an Oiler helmet autographed by Warren Moon,
and what appears to be a bust of himself.
Donald Trump and Herschel Walker, 1983.
One of these men is pretending to smile. The other isn't.
A Showboats helmet, with their paddlewheel logo,
autographed by Reggie White
"Come to the Dark Side. We have the Sun Belt.
It's some sort of irony thing."
Tom Landry and Bum Phillips, Thanksgiving Day, November 22, 1979.
Notice which of these native Texans is actually wearing
a cowboy hat. The Oilers beat the Cowboys 30-24.
See? The sideline seats really weren't all that close.
Adams presents Bredesen with a Tennessee Oilers jersey.
The Titans rebranding also changed the uniforms.
Nissan Stadium
Marcus Mariota, quarterbacking the 2016 Tennessee Titans
NRG Stadium, packed to the gills for a Texans game
The Astrodome is now dwarfed by NRG (formerly Reliant) Stadium.
With the Houston skyline behind them.