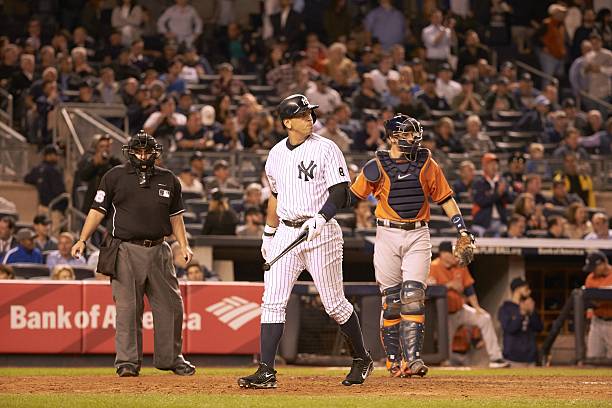 "Showing up is 80 percent of life." -- Woody Allen, New York native
Before the season, I was one of the few people to predict that the Yankees would make the Playoffs. I thought they would win the American League Eastern Division because the Division was weak.
Well, I was partly right. The Division was weak, and the Yankees did make the Playoffs.
But they didn't win the Division. They only got one of the berths in the AL Wild Card game last night.
They had home-field advantage, a strong starting pitcher in Masahiro Tanaka, an opposing starter who wasn't good away from home in Dallas Keuchel of the Houston Astros, and a better bullpen.
All they had to do was have their hitters show up.
The Yankees didn't show up last night.
My big fear was that the Yankees would be clinging to a 1-0 lead when Tanaka tired, manager Joe Girardi would panic at the pitch count, relieve him, see it become 6-1 Astros, and then a comeback would fall just short, and we'd lose 6-5.
That was never going to happen, because the Yankees were never going to score 6 runs last night, or even 1 run.
Here's all their baserunners:
* Chris Young walked in the 1st inning, and advanced to 2nd on a groundout. He was stranded.
* Greg Bird singled in the 2nd. He was stranded.
* Didi Gregorius singled to lead off the 6th. It took that long for the Yankees to get a 2nd hit off Keuchel.
* Young grounded into a forceout, getting to 1st but eliminating Gregorius.
* Carlos Beltran singled, advancing Young to 2nd. They were stranded -- by Alex Rodriguez, who went 0-for-4, apparently having decided to party like it's 2006. "Redemption of A-Rod," my ass.
* Chase Headley walked in the 7th. He was stranded.
That was it. The Yankees chased a lot of pitches they shouldn't have. Also, home plate umpire Eric Cooper was squeezing Tanaka for 6 innings, while he gave the Astros a gigantic strike zone. (And I just discovered that this bastard has the same birthday that I do. Rats!)
Colby Rasmus hit a home run to right field in the 2nd. Carlos Gomez hit one to left-center in the 4th. At 2-0, it's still easy to imagine coming from behind. As John Sterling taught us, "That's just a bloop and a blast." But 3-0 is harder, and the Astros made it 3-0 when Jose Altuve singled home Jonathan Villar in the 7th. Once that happened, it became extremely difficult to imagine
this
Yankee team coming from behind.
And, of course, they didn't. The 1st 2 batters in the bottom of the 9th were Beltran and A-Rod. Two men who, in their careers, between them, have 5,497 hits, including 1,075 home runs. Was it too much to ask to have either of them get a hit in this situation?
Yes, yes it was. Because, instead of the Beltran of October 2004 or the A-Rod of October 2009, I knew we'd get the each of them of October 2006.
Beltran took a strike 1 right over the plate, that he could have launched, and ended up striking out swinging. At least, this time, unlike with the 2006 Mets, he took the bat off his shoulder. Still, as Squawker Lisa showed tonight in
Subway Squawkers
, Squawker Jon (the lesser, Met half of that blog) gave her Yogi Berra's line. Not, "It ain't over 'til it's over," but, "It's deja vu all over again."
(She then said, "It's enough to make me want to root against the Mets!" You know what's enough to make me want to root against the Mets? Met fans. The Flushing Heathen. I hope the L.A. Bums sweep the bastards in 3 straight.)
A-Rod also struck out swinging, going back to his A-Fraud and A-Bum status. And then Brian McCann ended the game, and the Yankees' season, with a weak grounder to short.
Ballgame over. Yankees' season over. Yankees lose. Theeee Yankees lose.
Astros 3, Yankees 0. WP: Keuchel. SV: Gregerson. LP: Tanaka.
Don't blame Tanaka. He pitched well enough to win. Blame the hitters, and blame Girardi. If he hadn't thrown away 20 games on stupid pitching maneuvers, we would have won the Division, and we wouldn't even have been playing last night.
Instead, we were scheduled, but we didn't show up.
Were we lucky to get this far? Maybe. But we still should have run with the opportunity.
We barely took a step.
And so the off-season begins. With it, hopefully, a purge.
Starting with Girardi and general manager Brian Cashman. They have failed for too long. It is time for them to go.
Because what they've give us since November 4, 2009 has been unacceptable.
This season, with the talent that was available -- both already on the roster and at the trading deadline -- was unacceptable.
Using Stephen Drew at 2nd base when Rob Refsnyder was available was unacceptable.
Putting Chris Capuano and Branden Pinder on the mound, ever, was unacceptable.
Trusting Carlos Beltran at this stage of his career was unacceptable.
Continuing with Girardi and Cashman would be unacceptable.
It is time for Hal and Hank Steinbrenner to act.
Will they?
I wouldn't count on it. Neither one of them is their father.
UPDATE: Girardi was allowed to continue as field manager through 2017, when his contract ran out. He was simply not rehired, the lamest of ways of getting rid of him. Cashman was allowed to continue as general manager into the 2019 season.