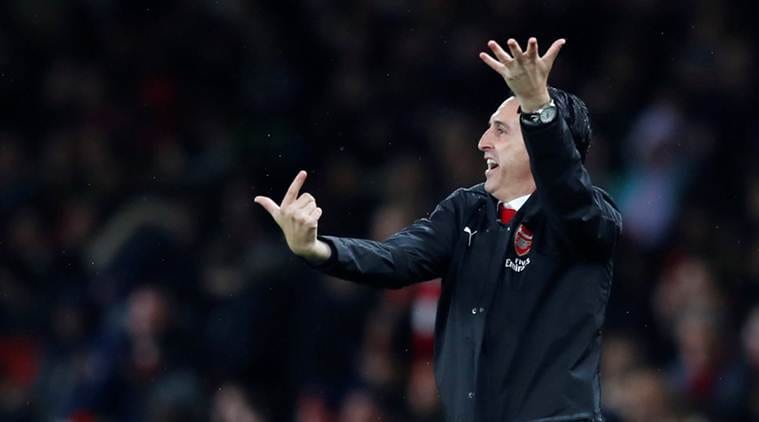 Note: The following is not actually an indictment of Unai Emery, either personally or professionally. He seems like a decent person, who is doing the best he can with what is available to him. He is not the problem, any more than his predecessor was.
(UPDATE: I would later change my mind about that.)
Rather, it is an indictment of those who wanted his predecessor gone. Because they wanted "change," and they got it.
Except they didn't. Not where it matters.
*
Arsenal have now gone 20 consecutive games unbeaten in all competitions. Clearly,
Arsène
Wenger leaving (by whatever means you think that was) and bringing in Unai Emery was the right thing to do.
Or... was it?
The Wenger Out Brigade gave the rest of us who call ourselves Arsenal fans certain rules:
* Failing to win the Premier League title is "failure."
* At least "challenging for the title" is required.
* The FA Cup, the League Cup and the UEFA Europa League are not "real trophies." Only the Premier League title and the UEFA Champions League are.
* No "excuses." In other words, no reason for a defeat, other than the manager's own incompetence, is acceptable.
* If the manager fails, then he must be fired at the end of the season.
Since Wenger has left, that means that Arsenal are now just like any other European "football power": If the manager doesn't meet your demands, he must be fired at the end of the season, if not sooner.
And if these rules apply to one manager, then they
must
apply to all managers.
Based on the preceding, the rules established by the WOB, Unai Emery should be fired at the end of the season.
"What are you on about, Uncle Mike?" you ask. "Hasn't he gone 20 straight games unbeaten?"
Well, yes and no.
Those games include the League Cup and the Europa League. By the rules that have been set, those games don't count.
Since Arsenal are in the Europa League, that means they're not in the Champions League. So only the Premier League matters.
Going into this weekend's games, Arsenal are in 5th place. They are level with Chelsea in 4th place on points, but trail on goal difference. In spite of their win over North London arch-rivals Tottenham Hotspur this past Sunday, they trail "Spurs" by 2 points for 3rd place. They are 8 points behind 2nd place Liverpool, and they are 10 points behind 1st place Manchester City.
10 points behind the leaders, and it's only the 1st week of December. Arsenal are not challenging for the title. Not even close.
Emery has won League games at home to West Ham United, Everton, Watford, Leicester City and Tottenham; and away to Cardiff City, Newcastle United, Fulham and Bournemouth.
But he's also had draws against teams that should easily be beaten, away to Crystal Palace and home to Wolverhampton Wanderers.
More importantly, against the 4 best teams in the League (Arsenal excepted), he lost the 1st 2 games of the season, away to Manchester City and home to Chelsea; drew at home to Liverpool, and, this past Wednesday, drew away to Manchester United.
That's just 2 points out of 12 against League challengers -- the exact same results that Wenger got in those games last season.
If it wasn't good enough for Wenger, it's not good enough for Emery. If Wenger had to go, then Emery has to go.
"Not enough preparation time" is no excuse. Emery had a preseason, just as Wenger had every year. If the preseason was enough time for the manager you hated, then it was enough time for the manager you love.
"It's only his 1st season!" is no excuse. Again: He had a preseason to institute his playing system and style.
"He's only had one transfer window!" is no excuse.
"He has to clean up the mess that Wenger made!" is no excuse. Only an idiot would believe that Wenger left a mess, and only a liar would say so.
Injuries are piling up, but that is also no excuse. Wenger had an "injury crisis" every season, and kept the team in the Top 4 until 2016.
Referees' decisions are no excuse. Wenger had more bad calls against him every year than most managers get in an entire career.
Lack of money is no excuse. The stadium debt is pretty much paid off.
"Bad owner" is no excuse. Stan Kroenke has won before, in this sport and others, and has gotten the Los Angeles Rams further along than anybody could have imagined, despite building another new stadium and not yet having the revenue from a stadium he owns.
Am I being unfair to the new manager? No. I am following the rules set down by the WOB. What's good for the Alsatian Goose is good for the Basque Gander. If a rule is in place for one manager, it must be in place for another.
Emery does not get a grace period. He does not get a free year to put his system in place. Arsenal has to win the League this year. Anything else is failure.
That's the rule.
If it isn't, then what the fuck was your problem with Wenger?
Because, for all your demands for "change," nothing has changed.
Don't tell me the team's style has changed. That doesn't matter. What matters is results, and the results have not changed.
The only thing that's changed is that, now, we have a manager who jumps out of his seat like he's been bitten on the ass, and waves his hands in the air as if he's Kermit the Frog, announcing the next act on
The Muppet Show
.
Now, this makes it sound like I'm not giving Emery a fair chance.
And you're right. I'm
not
giving him a fair chance.
I'm giving him
exactly
the same chance that the WOB gave Wenger.
Which is none. Win
me
the League, or
you
have failed, and you must go.
And when Emery fails, maybe the WOB will finally get it through their thick skulls that Wenger was never the problem.
Nor was Kroenke. Nor was Ivan Gazidis. Nor was anyone else at Arsenal.
Next year, VAR (Video Aided Review) will come into play for the Premier League. When that happens -- obviously, it was never going to happen as long as Wenger was the Arsenal manager -- then it will depend on whether the referees accept that their corrupt decisions have been overruled.
You see, there was always one man responsible for Arsenal's "failures."
It was never

Arsène

Wenger.
It was Mike Riley, who runs the Premier League's referees, after having been the referee who ended Arsenal's 49-game unbeaten run in the League in 2004.
Now
there
was an unbeaten run.
And who made that happen? Not Unai Emery.
Arsène
Wenger.
The greatest manager The Arsenal will ever have.
You people who hated him so much in spite of his doing so well for so long can dish it out, and my manager proved he could take it, until he could take it no longer.
Your turn to take it.
*
Days until Arsenal play again: 1, tomorrow morning, 10:00 AM New York time, home to Yorkshire team Huddersfield Town.
Days until the next North London Derby: 12
, on Wednesday afternoon, December 19, at 2:45 PM New York time, in the Quarterfinal of the League Cup,
at the Emirates Stadium. Beat The Scum!
Days until the Democratic-controlled Congress will convene, and the impeachment process can begin: 27
,
on Thursday, January 3, 2019. A little under 4 weeks.
Days until the New Jersey Devils next play a local rival: 3
6, on Saturday afternoon, January 12, 2019,
against the Philadelphia Flyers, a.k.a. The Philth, at the Prudential Center.
The next game against the New York Islanders will be on Thursday night, January 17, 2019, at the Barclays Center in Brooklyn.
The next game
against the New York Rangers, a.k.a. The Scum, will be on Thursday night, January 31, 2019, at the Prudential Center.
Days until the Baseball Hall of Fame vote is announced, electing Mariano Rivera: 47
, on January 23, 2019. A little under 7 weeks.
Days until the U.S. national soccer team plays again: 5
7,
on February 2, 2019, a friendly against Costa Rica at Avaya Stadium, home of the San Jose Earthquakes.
Days until the New York Red Bulls play again: Unknown, as they were eliminated from the MLS Cup Playoffs by losing to Atlanta United in the Eastern Conference Final. That elusive 1st MLS Cup will have to wait until at least next year, their 24th season of play. The new season will probably begin on the 1st Sunday in March, which would be March 3, which would be
86 days from now.
Days until the Red Bulls next play a "derby": Unknown. The 2019 MLS schedule hasn't been released yet, so we don't know when they will next play New York City FC, the Philadelphia Union, D.C. United or the New England Revolution. But they are unlikely to face such a team in the opening week, so it will be more than 86 days.
Days until the Yankees' 2019 Opening Day: 111, on Thursday, March 28, home to the Baltimore Orioles. About 16 weeks. Sixteen long weeks.
Days until the next Yankees-Red Sox series begins: 130, on Tuesday, April 16, 2019, at Yankee Stadium II. A little over 4 months.
Days until the next Women's World Cup kicks off: 182, on June 7, 2019, in France. Exactly 6 months. The U.S. team is 3-time and defending Champions.
Days until the Yankees and Red Sox play each other in London: 204, on June 29, 2019. Under 7 months.
D
ays until Rutgers University plays football again:
267,
on August 31, 2019, home to the University of Massachusetts. Under 9 months.
Days until East Brunswick High School plays football again: Unknown, because the 2019 schedule hasn't been released yet. Usually, the next season begins on the 1st Friday in September, which would be September 6, 2019, which would be 273 days. The morning of the 10-0 loss to Old Bridge, it was announced that East Brunswick and Old Bridge would no longer play each other on Thanksgiving Day. The game will now be played earlier in the season.
Days until the next Rutgers-Penn State game: 358
, on Saturday, November 30, 2019, at Beaver Stadium in State College, Pennsylvania. A little under a year, or a little under 12 months.
Days until my 50th Birthday, at which point I can join AARP and get discounts for travel and game tickets: 376
, on December 18, 2019. A little over a year, or a little over 12 months.
Days until the Baseball Hall of Fame vote is announced, electing Derek Jeter: 411
,
on January 22, 2020. A little over a year, or under 14 months.
Days until the next Summer Olympics begins in Tokyo, Japan: 595
,
on July 24, 2020. A little over a year and a half,
or under 20 months.
Days until the next Presidential election, when we can dump the Trump-Pence regime and elect a real Administration: 697
,
on November 3, 2020. Now under 2 years, or exactly 23 months.
Days until Liberation Day: 775
,
at noon on January 20, 2021. A little over 2 years, or a little over 25 months. Note that this is liberation from the Republican Party, not just from Donald Trump. Having Mike Pence as President wouldn't be better, just differently bad, mixing theocracy with plutocracy, rather than mixing kleptocracy with plutocracy.
Days until the next Winter Olympics begins in Beijing, China:
1,155
,
on February 4, 2022. A little over 3 years, or a little under 38 months.
Days until the next World Cup is scheduled to kick off:
1,445
, on November 21, 2022, in Qatar. Just under 4 years, or under 48 months. The charges of corruption against Qatar may yet mean that they will lose the tournament, in which case it will be moved to a nation where it would not be too hot to play it in June and July.