Continuing my bid to do trip guides for at least 1 team in each of the 50 States, I turn to the most famous team in our northermost State: The hockey team at the University of Alaska Anchorage (no hyphen or "at" in the name), the Seawolves.
On Friday and Saturday, February 24 and 25, they will be playing their arch-rivals, the University of Alaska Fairbanks, at home at the Sullivan Arena in Anchorage.
Before You Go.
Being so far north, if there's one thing anybody from the Lower 48 States knows about Alaska, it's that it's cold. Anchorage is farther north than the legendarily cold cities of Oslo, Norway; Stockholm, Sweden; Helsinki, Finland; and St. Petersburg, Russia (known as Leningrad in the Soviet era). It's also on the Eagle River, which is rather wide, and conducive to strong, chilling winds. In fact, like Pittsburgh, it's on 2 rivers coming together as 1 at the western end, producing the potential for more of this.
So... How cold
is
it? Actually, according to the State's largest newspaper, the
Anchorage Daily News
, the forecast is for weather not especially cold by New York standards. For Friday, they're predicting the high 30s and early light rain, dropping to the high 20s at night. For Saturday, it should be in the low 30s in daylight and the mid-20s at night, with late flurries. That doesn't sound so bad at all. Just dress like you would for a winter day in New York.
Alaska has its own time zone, 4 hours behind New York. Adjust your timepieces accordingly.
If you're flying from the U.S. mainland to Alaska, you won't need your passport. However, if you're getting there any other way, you will need one, as you'll have to go through Canada. It may also help to exchange a little bit of your money. At the moment, US$1.00 = C$1.31, and C$1.00 = US 76 cents.
Tickets.
The arena seats 6,290 people. Ordinarily, getting tickets wouldn't be tough. But it's the State's 2 most popular teams in any sport facing each other. Definitely order online before you go.
Sideline seats are $14.50. Corner, end, and upper level General Admission seats are $5.95. A bargain -- and, at last check, seats were still available in most sections.
Getting There.
It's 4,368 miles by car from Midtown Manhattan to downtown Anchorage. Amtrak doesn't go there. Greyhound doesn't go there. You're either flying or driving. United Airlines can get you to Ted Stevens Anchorage International Airport -- named for the longtime U.S. Senator from Alaska -- changing planes in Denver each way, taking up most of a day each way, for a little over $1,200.
Don't fancy that? I don't blame you. Here's what driving from New York to Alaska is like:
It's best to get someone to go with you, so you can trade off driving and sleeping. You'll need to get into New Jersey, and take Interstate 80 West. You'll be on I-80 for the vast majority of the trip, through New Jersey, Pennsylvania and Ohio. In Ohio, in the western suburbs of Cleveland, I-80 will merge with Interstate 90. From this point onward, you won't need to think about I-80 until you head home; I-90 is now the key, through the rest of Ohio and Indiana.
Just outside Chicago, I-80 will split off from I-90, which you will keep, until it merges with Interstate 94. For the moment, though, you will ignore I-94. Stay on I-90 through Illinois, until reaching Madison, Wisconsin, where you will once again merge with I-94. Now, I-94
is
what you want, taking it across Minnesota, over the Red River into North Dakota.
At Exit 258, take U.S. Route 52 West, all the way up to the Border at Portal, North Dakota. You'll present your passport, and you'll answer whatever questions the Customs agent has. Presuming you have everything in order, and you don't do anything stupid to make him (or her) keep you out of Canada, the agent will let you pass into North Portal, Saskatchewan.
Route 52 becomes Saskatchewan Route 39, part of the CanAm Highway system. At Estevan, you'll take Route 47 North. At Stoughton, you'll take Route 33 North. At Regina, you'll take Route 11 North. At Saskatoon, you'll switch to Route 16 West, part of the Trans-Canada Highway. You'll take this into Alberta. At Edmonton, you'll switch to Alberta Routes 216 and 28 to get to Alberta Route 37 West. At Onoway (Yes, way), you'll switch to Alberta Route 43 West. You'll take this all the way into British Columbia, but don't let that fool you: You'll be nowhere near Vancouver or, dare I say it, Seattle.
Route 43 becomes BC Route 2. Take that into Dawson Creek (as far as I know, the U.S. TV show
Dawson's Creek
wasn't named for it), where you'll switch to BC Route 97 North. This is the Alaska Highway. You'll take that until you reach the Yukon Territory, where it becomes Route 1. Just past Beaver Creek, you will reach the Border again, and go through Customs again, and you'll be back in the U.S.A., in Alcan Border, Alaska.
Here, the Alaska Highway becomes Alaska Route 2. You'll take it to Tok, and turn left on Alaska Route 1 South. You'll pass Joint Base Elmendorf-Richardson, and, from there, it's less than half an hour to downtown Anchorage.
You got all that?
If you do it right, you should spend about an hour and a half in New Jersey, 5 hours and 15 minutes in Pennsylvania, 4 hours in Ohio, 2 and a half hours in Indiana, an hour and a half in Illinois, 2 and a half hours in Wisconsin, 4 hours and 15 minutes in Minnesota, 6 hours in North Dakota, 8 hours in Saskatchewan, 9 hours and 15 minutes in Alberta, 11 and a half hours in British Columbia, 8 and a half hours in Yukon, and 7 hours and 45 minutes in Alaska.
That's 72 hours. That's 3 full days. Throw in rest stops, and you're talking 4 full days. Then, after doing what you came to do, you do the whole thing all over again, in reverse.
Maybe the arduous flight isn't so bad after all.
Once In the City.
The name Alaska comes from an Aleut word meaning "object to which the action of the sea is directed." The Russian Empire had settlements there from 1733 until 1867, when the U.S. purchased it through the efforts of Secretary of State William H. Seward. (He had previously served the State of New York as Governor and U.S. Senator.) By the time of the Russo-American Treaty of 1824, Russia's financial interest in the place was so weakened, it was simply a matter of when, not if, they would give it up. (This was for the best, given the Cold War, and Donald Trump's devotion to Vladimir Putin.)
Alaska's Seward Peninsula and Russia's Chukchi Peninsula are 53 miles miles apart at their closest point. On a clear day, you actually can see a point in Russia from a point in Alaska. Then-Governor Sarah Palin was telling the truth when she said that during the 2008 Presidential election. She never actually said, "I can see Russia from my house!" That was Tina Fey, impersonating her on
Saturday Night Live
. Of course, the real Palin used Alaska's neighboring of Russia as a foreign policy credential, when it had nothing to do with her, so...
The discovery of gold made Alaska a destination for wealth-seekers in 1897 and '98, a period known as the Klondike Gold Rush. Alaska gained U.S. Statehood on January 3, 1959, making it the 49th State. (Hawaii became the 50th later that year.) By far the largest State by area, it is also, because of its climate, the least densely populated.
The distances are truly vast: The capital of Juneau, on a southeastern peninsula, is 849 miles southeast of downtown Anchorage (and the only real road between them goes through Canada); Fairbanks is 359 miles north; Nome is 538 miles northwest; Point Barrow, the northernmost point in the U.S., is 724 miles north; and the only way to get to the last 2 of these is to fly: There is no highway. "Bush pilots," like Janine Turner's character Maggie O'Connell on
Northern Exposure
, take a lot of risk in that nasty weather, but they can make a fortune doing it.
Believe it or not, this is the State House in Juneau.
Not a factory or an old high school.
ZIP Codes in Alaska start with the digits 995, 996, 997, 998 and 999. The Area Code for the State is 907.
Anchorage was incorporated in 1920, so named because it was a railroad terminus. It is home to about 300,000 people, with a metropolitan area of about 400,000, or more than half of the 738,000 who live in the State as a whole, who are about 78 percent white, 17 percent Native (easily the largest of any State), 3 percent black, 1 percent Asian, and less than 1 percent Hispanic (including the family of former New Jersey Devils star Scott Gomez, whose father moved from Mexico to Alaska because the oil company he worked for transferred him).
Because of Palin, Alaska has a reputation as a conservative State. Actually, it's more libertarian than anything else. It has no sales tax, and the people do loves them some guns. But the current Governor is a Republican-turned-Independent, Bill Walker, and he willingly ran with a Democrat, Byron Mallott, as his Lieutenant Governor. The current Mayor of Anchorage is not only a Democrat, but Jewish: Ethan Berkowitz. And in 2015, they approved Alaska Measure 2, which legalized recreational marijuana, making it only the 3rd State to approve it, following the considerably more liberal Colorado and Washington.
Transportation? According to Wikipedia:
The Alaska Railroad offers year-round freight service along the length of its rail system between
Seward (the southern terminus of the system), Fairbanks (the northern terminus of the system), and Whittier (a deep water, ice-free port). Daily passenger service is available during summer (May 15 – September 15), but is reduced to one round-trip per week between Anchorage and Fairbanks during the winter. Passenger terminals exist at Talkeetna, Denali National Park,
Fairbanks,
and several other locations. These communities are also served by bus line from Anchorage. The Ship Creek Shuttle connects downtown with the Ship Creek area, including stops at the Alaska Railroad depot.
Until then, Anchorage's bus system, called (like Detroit's downtown monorail) People Mover, will have to do. A single ride is $2.00, and a 1-day pass is $5.00. The city has no beltway. Municipal Light & Power (ML&P) provides the electricity.
A Street divides street addresses into East and West. East-west street addresses increase on either side of the river. West of A Street, north-south streets are lettered until reaching U, and then suburban names take over. East of A Street, the streets are named alphabetically, with names relating to Alaska: Barrow, Cordova, Denali, Eagle, Fairbanks, Gambelli, Hyder, Ingra, Juneau, Karluk, Latouche, Medfra, Nelchina and Orca, until, as with the west, suburban names begin.
The native people of Alaska now view "Eskimo" as a pejorative term, and prefer the name "Inuk" (singular) or "Inuit" (plural).
The University of Alaska System was founded in 1917. It includes the flagship, in Fairbanks (UAF); the largest campus in the largest city, Anchorage (UAA), which is the one we are concerned with here; and the University of Alaska Southeast (UAS), in Juneau.
Going In.
The George M. Sullivan Arena, a.k.a. The Sully, is at 1600 Gambell Street, at East 16th Avenue, a mile and a half southeast of downtown. Bus 15 will get you to 15th & Eagle, about 5 blocks away. It is owned by the City of Anchorage, of which Sullivan was Mayor from 1967 to 1981. (His son Dan Sullivan was Mayor from 2009 to 2015.)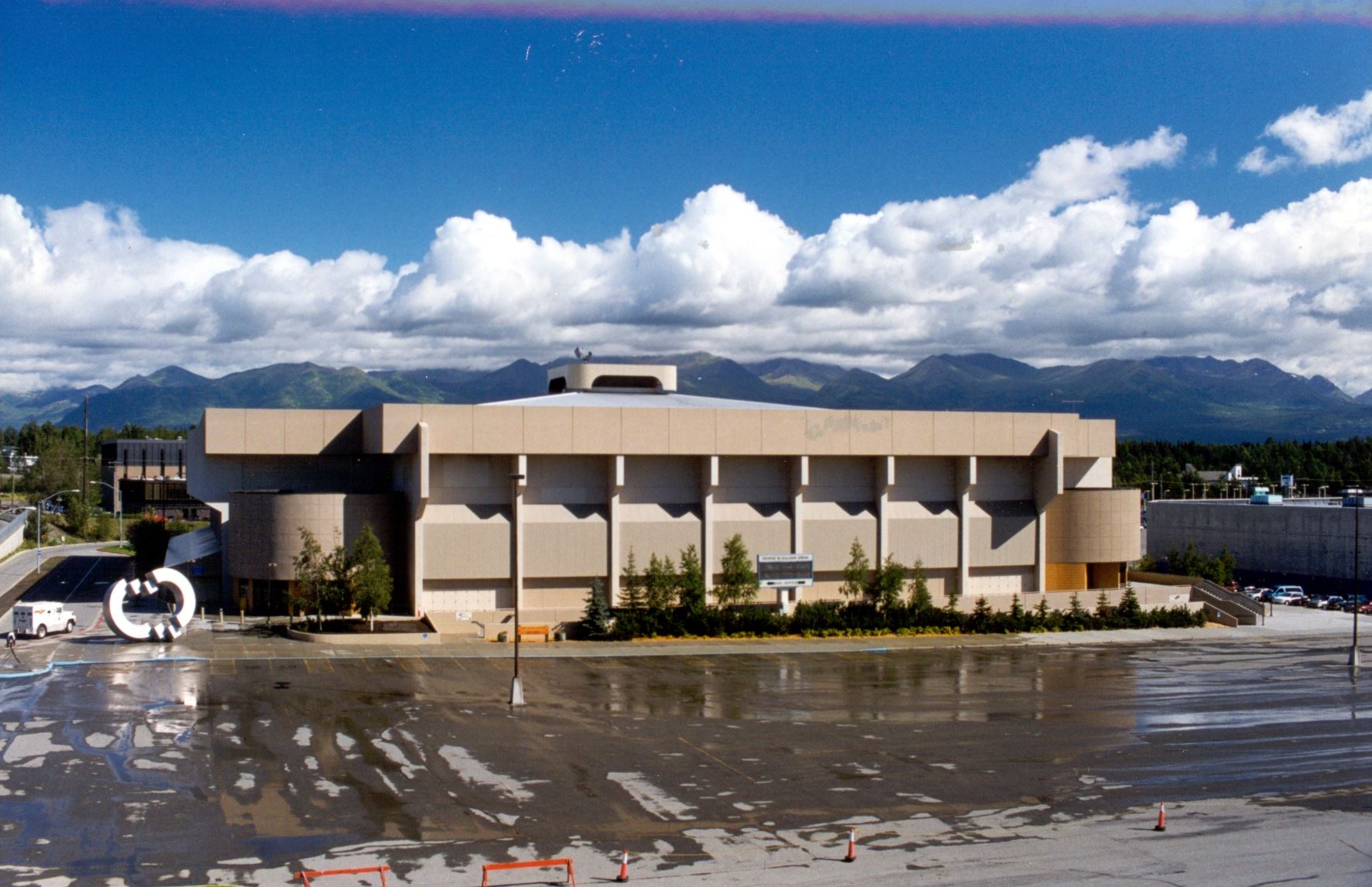 It opened in 1983, seats 6,290, and is part of the Chester Creek Sports Complex, which includes Ben Boeke Ice Rink to the south, and Mulcahy Baseball Stadium and Anchorage Football Stadium to the west.
It is home to the Alaska Aces of the ECHL (which, for geographic reasons, is now named with just the initials, not its old name of "East Coast Hockey League"), and to the University of Alaska Anchorage Seawolves of the Western Collegiate Hockey Association. The rink runs north-to-south. It hosted college basketball's Great Alaska Shootout from 1983 to 2013, and it is also known for hosting mixed martial arts events.
Food.
Not much information is available on the arena website, and it says nothing about concessions. The site
Stadium Journey
points out a lack of "local color": No moose stew, no reindeer dogs, no salmon. Instead, it mentions the usual stadium/arena items, such as burgers, hot dogs, popcorn, nachos, fries and pizza. They also mention caramel apples, shaved ice, corn fritters and candied nuts.
Team History Displays.
The Alaska Aces have won the ECHL titles, the Kelly Cup, in 2006, 2011 and 2014, and their banners hang in the arena. They have 3 retired numbers: 8, center Keith Street, 1991-2001, a graduate of the University of Alaska Fairbanks; 16, right wing Wes Goldie, 2010-12, whose 370 goals (only 81 of them for the Aces) make him the ECHL's all-time leader; and 18, center Dean Larson, 1996-2003 after 2 seasons at the University of Alaska Anchorage. But none of these players played in the NHL.
The Aces are currently coached by former Winnipeg Jet Rob Murray, and previous head coaches include former Ranger Walt Poddubny and former Islander Butch Goring. Former Devil and Ranger Scott Gomez, the 1st Alaska native to play in the NHL, played for the Aces in the lockout season of 2004-05, and again at the start of the 2012-13 season before being called up to the San Jose Sharks.
The Alaska Anchorage Seawolves haven't been as successful, making the NCAA Tournament only 3 times, in succession: 1990, 1991 and 1992. Their most famous player, who played for them before that, was Mike Peluso, later of the Devils' Crash Line and the 1995 Stanley Cup.
There is an Alaska Sports Hall of Fame, at the Airport. It includes Gomez; former Fairbanks Mayor and Lieutenant Governor Red Boucher, who founded the famed Fairbanks Goldpanners baseball team; ESPN analyst Mark Schlereth, winner of 3 Super Bowl rings as an offensive tackle with the Washington Redskins' "Hogs" and Mike Shanahan's Denver Broncos; and basketball stars Wally Leask, Trajan Langdon (the former Duke star is now the assistant general manager of the Nets) and Carlos Boozer.
Stuff. There is no mention of a team shop on the arena website, so it may only have small souvenir stands. Don't expect to find many, if any, books or videos about Alaska hockey, either collegiate or minor-league.
During the Game. There's not much information available. The Alaska Anchorage Seawolves and the Alaska Fairbanks Nanooks, and their fans, don't much like each other, but they will leave visitors alone. Presumably, the National Anthem will be sung, or played by a school pep band.
I can't find much about either school's mascot, only that Anchorage's is named Spirit the Seawolf, and that Fairbanks' is a polar bear named Nanook. Nanook was a character in Inuit religion, "the master of bears," who decided which hunters should be rewarded with a kill, and which should be punished. The 1922 film
Nanook of the North
, often called the first documentary but mostly staged, led to "Nanook" being a common nickname for Eskimos, the way "Mickey" or "Paddy" was for an Irishman, "Pierre" for a Frenchman, "Ivan" for a Russian, and so on.
Nice socks.
After the Game. As I said, your safety should not be an issue. Finding a place to get a postgame meal or snack might be. Twin Dragon Mongolian Bar-BQ is 3 blocks north of the arena, at 612 E. 15th Avenue. A bar called Crossroads Lounge is a block further north, at 1402 Gambell Street.
Sidelights. Alaska doesn't have much of a sports history. As I said, the Chester Creek Sports Complex includes Sullivan Arena, Ben Boeke Ice Rink to the south, and Mulcahy Baseball Stadium and Anchorage Football Stadium to the west. The Rink, named for a longtime City Clerk, went up in 1974, and seats only 1,000 people.
Mulcahy Stadium seats 3,500, and was named for William Mulcahy, a former executive with the Alaska Railroad. It is unusual in that the outfield is natural grass and the infield is FieldTurf -- a combination tried only once in the majors, by the Chicago White Sox as "Sox Sod" at Comiskey Park from 1971 to 1975 -- and only the pitcher's mound has actual dirt.
While it hosts high school and American Legion baseball, it is best known for being home to the Anchorage Glacier Pilots and the Anchorage Bucs, both of the Alaska Baseball League, an amateur collegiate summer league, similar to Massachusetts' Cape Cod League.
This league includes the famed Alaska Goldpanners of Fairbanks (formerly the Fairbanks Goldpanners), whose alumni include Yankee Legends Graig Nettles and Dave Winfield, Met "Franchise" Tom Seaver, Terry Francona, Andy Messersmith, Dave Kingman, Bill Lee, Bob and Bret Boone (but not Aaron), Barry Bonds and Jason Giambi.
The Anchorage teams haven't been as lucky: The Bucs, formerly named the Cook Inlet Bucks, have had Wally Joyner, Jeff Kent, Keith Foulke and Ike Davis; the Pilots have had current Yankees Jacoby Ellsbury and Aaron Judge, former Yankee Eric Hinske, former Met Mike Pelfrey, former Met and now Toronto Blue Jays manager John Gibbons, former single-season saves record holder Boby Thigpen, and Mark McGwire. The Bucs and Pilots play an annual 4th of July doubleheader, attracting crowds of over 4,000.
Mulcahy Stadium opened in 1964, so it has passed the half-century mark, and is older than every stadium to be used by Major League Baseball this year except Fenway Park, Wrigley Field and Dodger Stadium. There has been talk of building a larger replacement, in the hope of attracting an official minor league team. So far, no progress.
An old picture, before the FieldTurf installation
Anchorage Football Stadium seats 4,500, and hosts UAA and high school football, soccer, and track & field events. In 2003, a Cessna 207 Skywagon plane made an emergency landing on the field during a soccer game, while a game between the Anchorage Bucs and the Alaska Goldpanners was going on next door at Mulcahy Stadium. All 4 passengers survived.
As I said, Sullivan Arena hosted college basketball's Great Alaska Shootout every Thanksgiving week from 1983 to 2013. The 3,500-seat Buckner Fieldhouse hosted it from its 1978 inception to 1982. 690 Richardson Drive, at Joint Base Elmendorf-Richardson (formerly Fort Richardson), 10 miles northeast of downtown. Entry to the Base is restricted, and there's no public transit there.
Since 2014, the Shootout has been held at the 5,000-seat Alaska Airlines Center, which is also the home court for the basketball team at the University of Alaska Anchorage. It is between the campuses (campii?) of UAA and Alaska Pacific University. 3550 Providence Drive, 4 1/2 miles southeast of downtown. Bus 3.
There is no professional soccer team in Alaska. If you visit Anchorage during the European soccer season, which we are now in, McGinley's Pub is said to be the premier soccer bar in Alaska. 645 G Street, downtown, around the corner from City Hall.

Since Seattle is the closest major league city to Alaska, the Mariners and the Seahawks tend to be the most popular teams -- but that's 2,351 road miles. Even Vancouver is 2,282 miles away. The Yankees, Red Sox and Lakers, as you might guess, have fan bases there due to TV exposure.
The most famous sporting event in Alaska is the Iditarod Trail Sled Dog Race, run every early March since 1973, over 1,049 miles from Settler's Bay to Nome. The record time was set last year by Dallas Seavey, at 8 days, 11 hours, 20 minutes and 16 seconds.
In 2012, Seavey became the youngest "musher" ever to win it, 25. He has now won it 4 times, as have Lance Mackey, Martin Buser, Doug Swingley and the late veterinarian Dr. Susan Butcher. Rick Swenson, however, leads them all with 5 wins. In 1978, he controversially lost to Mackey: Although Swenson crossed the finish line before Mackey did, Mackey's lead dog crossed 1 second before Swenson's lead dog, and that's what counts.
Neither Elvis Presley nor The Beatles ever performed in Alaska. No Alaskan has ever gotten close to the Presidency. The only one to ever run for President thus far is Mike Gravel, a U.S. Senator in the 1970s who waited until 2008 to run, but won no delegates in the Democratic Primaries, switched to the Libertarian Party, failed to get their nomination, and ended his political career. Since a full 8 years have come and gone since Sarah Palin was nominated for Vice President by the Republicans in 2008, and Presidential nominee John McCain lost that election solidly, and is himself still alive, and that Palin didn't run in 2012 or 2016, it's safe to say that Gravel got closer to the Presidency than Palin has thus far.
The Anchorage Museum at 625 C Street, downtown, includes a planetarium and the kid-friendly Imaginarium Discovery Center. The Alaska Museum of Science & Nature has features on Native culture and dinosaurs. 201 N. Bragaw Street, 3 miles east of downtown. Bus 45. The Alaska Native Heritage Center is at 8800 Heritage Center Drive, 7 1/2 miles east of downtown. Bus 75 will get you to within a mile of it.
Alaska is the site of the only battle of World War II fought on U.S. land. (Pearl Harbor was attacked from the air, and no Japanese troops hit the ground, under their own power or otherwise.) Attu Island, the westernmost point in any U.S. State (or, perhaps, the easternmost, as it's over the International Date Line), was invaded by the Japanese on June 7, 1942, and the 42 inhabitants were taken to a prison camp on the Japanese home island of Hokkaido; only 26 survived. The U.S. took it back on May 29, 1943. In 2010, the U.S. base there was decommissioned, and the 20 people stationed there were transferred. The island's current population is zero. And, since it's owned by the federal government, civilian travel there is not allowed.
The highest point in America is in Alaska, 20,310 feet high. It was named Mount McKinley after the 25th President, but given the Native name Denali (meaning "the high one") in 1975.
Not surprisingly, the tallest building in Alaska has the name of an energy company on it. The Conoco-Phillips Building went up at 700 G Street in downtown Anchorage in 1983, and stands 296 feet high.
The 2 most famous events in Alaska are disasters, 1 natural, 1 man-made. On March 27, 1964, the most powerful earthquake ever recorded in North America, at 9.2 on the Richter scale, struck in Chuagch National Forest, about 78 miles east of Anchorage. Had this happened near a major city, it would have been a tragedy of epic proportions, possibly killing as many people as the 9/11 attacks or Hurricane Katrina, and a lot more than the 1906 and 1989 San Francisco earthquakes. Even so, the resulting tsunami killed most of the 131 people who died as a result.
The man-made disaster was the
Exxon Valdez
oil spill on March 24, 1989, only a few miles away from the earthquake's epicenter, off the coast of Bligh Island in Prince William Sound. (Named by Captain James Cook for a son of King George III, not for the current Duke of Cambridge who is 2nd in line to the British throne.)
While several documentary series --
Ice Road Truckers, Deadliest Catch, Life Below Zero
, and the "reality shows" hosted by various members of the Palin family -- have been taped in Alaska, the only TV series anyone remembers taking place there is the early 1990s CBS sitcom
Northern Exposure
, in which Rob Morrow played a young Jewish doctor in New York, indentured to Alaska as a result of his student loan, and experiencing quite the culture shock. It was probably the first show to depict Eskimos/Inuit as real people rather than as caricatures. The show was set in the fictional town of Cicely, but was filmed in Roslyn, Washington. (Hence, "Roslyn's Cafe.")
Films set in Alaska tend to emphasize the cold weather: The various depictions of the stories of Klondike gold prospector and writer Jack London (
Call of the Wild
and
White Fang
), the 1960 Klondike epic
North to Alaska
(with a hit theme song by Johnny Horton),
Runaway Train, Snow Dogs
, the vampire film
30 Days of Night
, and
The Grey
, where Liam Neeson punches a wolf.
*
Getting to Alaska, and back, is difficult. Living there is difficult. I can't decide for you whether it's worth it... just to see a hockey game. Or, if you prefer, just to cross another State off your list. If you decide to go -- for this occasion, or any other -- I hope it works out for you.