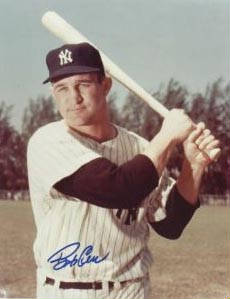 The number of Yankees who won World Series at the original, pre-renovation Yankee Stadium is getting smaller and smaller.
Robert Henry Cerv was born on May 5, 1925, just 1 week before Yogi Berra, in Weston, Nebraska, 44 miles west of Omaha. He served in the U.S. Navy during World War II, and played baseball and basketball at the University of Nebraska -- a school much better known for its football program.
He was scouted by the Yankees, and he signed with them in 1950. He made his major league debut on August 1, 1951, wearing Number 7. As the Yankees tried to rally in the bottom of the 9th inning at The Stadium, manager Casey Stengel sent the power-hitting left fielder up to bat for Jerry Coleman, who was filling in at shortstop for Phil Rizzuto that day. It didn't work out, as Dizzy Trout struck Cerv out for the final out. The Yankees lost 9-8 to the Detroit Tigers, despite home runs by Berra and Gene Woodling.
Woodling was not about to give up his spot as the Yankees' starting left fielder. And that Number 7 was given to outfielder Cliff Mapes, and then to a rookie outfielder just called back up from the Kansas City Blues, who had been wearing 6 earlier in the season: Mickey Mantle.
Cerv was briefly back up in 1952, wearing 34; and 1953, wearing 41. He managed to stick around, in Number 41, through the 1956 season, and was on the World Series rosters in 1955 and '56, winning a World Series ring in 1956.
Legend has it that Stengel sat down next to him in the dugout one day, and said, "There's not many people that know this, but one of us has been traded to Kansas City." By that time, the Philadelphia Athletics had moved to Kansas City, taking the place of the former Yankee farm team. Except the story isn't true: The Yankees sold Cerv to the A's, and only got cash in return.
*
The next 4 seasons would be the only 4 full seasons of Cerv's career. In 1958, he suffered a broken jaw, sustained himself on liquid diet, and still made the American League All-Star Team, beating out Ted Williams for the starting spot in left field. He batted .305, hit 38 home runs, and had 104 RBIs, despite Kansas City Municipal Stadium not being particularly friendly to hitters. He finished 4th in the voting for the AL Most Valuable Player award, behind Jackie Jensen of the Boston Red Sox, Yankee pitcher Bob Turley (who won the Cy Young Award) and Rocky Colavito of the Cleveland Indians. Mantle finished 5th, so Cerv was ahead of him.
Just before Spring Training began in 1960, Cerv was invited to appear on the syndicated TV program
Home Run Derby
. He showed up at Wrigley Field -- the former home of the Pacific Coast League's Los Angeles Angels, a farm team of the Chicago Cubs, thus the stadium had the same name and basic design as the Cubs' home -- wearing his A's uniform, Number 33, he was the challenger in the 17th of the series' 26 episodes, and beat Frank Robinson 8-7, before losing to Bob Allison in the next episode. He won $3,000, at a time when the minimum salary in baseball was only twice that. That $3,000 in 1960 would be worth about $25,000 in today's money.
Cerv with the host of Home Run Derby,
Cincinnati Reds broadcaster Mark Scott,
watching either Frank Robinson or Bob Allison bat
Early in the 1960 season, the Yankees reacquired Cerv, sending the A's 3rd baseman Andy Carey in exchange. He played in the World Series, which the Yankees lost to the Pittsburgh Pirates, and then was left unprotected in the expansion draft. The new major league version of the Angels, also playing that 1st season at L.A.'s Wrigley Field, too him, but in May 1961 they sold him back to the Yankees, where he was given Number 17.
Billy Crystal's film
61*
, in which Cerv is played by Chris Bauer, got a lot of things right. One thing it got wrong was that it had Cerv with the Yankees at the start of the 1961 season. One thing it got right is that Cerv was rooming with Roger Maris in Forest Hills, Queens, and that Maris invited Mantle to stay with them.
Chris Bauer as Bob Cerv, with Barry Pepper as Roger Maris,
at Tiger Stadium in Detroit, which stood in
for the pre-renovation Yankee Stadium
Another thing it got wrong is that Cerv and Mantle watched Maris hit his 61st home run of the season -- not in the Yankee dugout, but together on a hospital room's TV. While they were both injured, they weren't in the same room. The injury cost Cerv a place on the World Series roster, but he did get another World Series ring (and, more importantly, another World Series share). By the time the movie was filmed in 2000, Cerv was the only 1 of the 3 still alive.
In June 1962, the Yankees sold Cerv to another expansion team, the Houston Colt .45's, who became the Astros in 1965. They released him in August, and that was the end of his playing career. He finished with a .276 batting average and 105 home runs -- the fewest of any of the players who appeared on
Home Run Derby.
*
He became a college baseball coach, at Southeast Missouri State College, now Southeast Missouri State University, in Cape Girardeau. He later coached baseball and basketball at John F. Kennedy College in Wahoo, Nebraska, hometown of a Baseball Hall-of-Famer, early 20th Century Detroit Tiger right fielder Sam Crawford, a.k.a. "Wahoo Sam."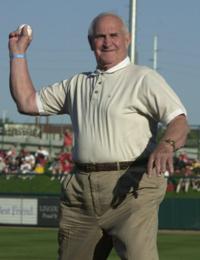 Bob Cerv died this past Thursday, April 6, 2017, in Blair, Nebraska. He was 91 years old.
With his death, there are now 3 surviving members of the Yankees' 1956 World Championship team: Whitey Ford, Don Larsen and Charlie Silvera. And there are 10 living players from their 1961 World Championship team: Ford, Bobby Ricahrdson, Tony Kubek, Hector Lopez, Ralph Terry, Rollie Sheldon, Bud Daley, Jim Coates, Billy Gardner and Jack Reed.
And of the 19 men who appeared on
Home Run Derby
, only 5 are still alive: Hank Aaron, Rocky Colavito, Al Kaline, Willie Mays and Frank Robinson. The others were Bob Allison, Ernie Banks, Ken Boyer, Bob Cerv, Gil Hodges, Jackie Jensen, Harmon Killebrew, Jim Lemon, Mickey Mantle, Eddie Mathews, Wally Post, Duke Snider, Dick Stuart and Gus Triandos.