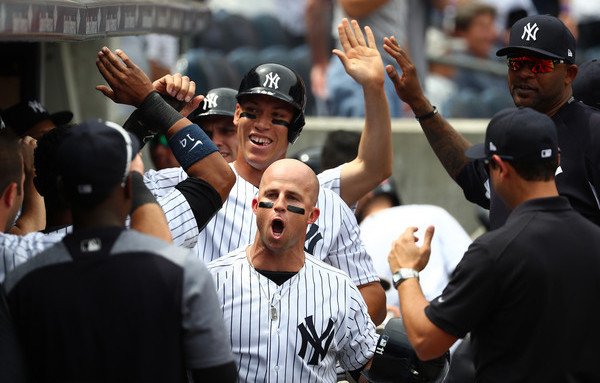 The Yankees started the season losing 4 of their 1st 5, and lots of Yankee Fans were ready to give up on the season. Some were ready to just plain give up, and jump off the George Washington Bridge.
Since then, the Yankees have won 14 out of 17, and are all alone in 1st place.
They were tied with the Baltimore Orioles going into yesterday's game with them. Now, in their last 16 innings with the Orioles, they've scored 26 runs.
Brett Gardner was the 1st Yankee batter against Oriole starter Ubaldo Jimenez, and he hit a home run, his 1st of the season. He hit another homer, part of a 4-run 2nd inning that essentially ended the game in the Yankees' favor.
Austin Romine hit one out off ex-Yankee Vidal Nuno in the 6th (his 2nd), and Aaron Judge hit yet another blast (his 10th, and they all seem to be long ones), 435 feet to right-center (the opposite field), off Jayson Aquino in the 7th.
As Oscar Hammerstein II would have said, "Fish gotta swim, birds gotta fly, Bronx Bombers gotta bomb."
Or, as Kelis Rogers might say (if she were a Yankee Fan, which is possible, since she's from New York), "My Yankees hit the ball from the yard, they're my team, and they're better than yours. Damn right, they're better than yours. They could teach you, but they'd have to charge."
That should have been enough for Michael Pineda. Except Joe Girardi took him out in the top of the 6th, since he'd thrown 104 pitches -- 73 of them for strikes. He'd allowed 2 runs on 5 hits, 1 walk, and 8 strikeouts. Adam Warren was fine, pitching through the 8th with no runs, a hit and a walk. Tommy Layne allowed a home run in the 9th, but it was meaningless.
Yankees 12, Orioles 4. WP: Pineda (3-1). No save. LP: Jimenez (1-1).
The Yankees are now in 1st place by a full game over the O's, 3 1/2 (4 in the loss column) over the Boston Red Sox, 4 1/2 (6) over the Tampa Bay Rays, and 9 (10) over the hapless Toronto Blue Jays, who have the worst record in baseball, 7-17 -- while the Yankees have the best, 15-7. That's a pace for 110 wins.
Gee, maybe this is like 1998 after all. Maybe the Yankees should always lose 4 of their 1st 5.
The series concludes this afternoon at 1:05, with Jordan Montgomery pitching against Wade Miley. At the rate the Yankees are going, a sweep may be in order.