Last night, the Red Bulls clowned their way through a 4-1 loss away to the Houston Dynamo. They must've been blinded by the home team's garish orange shirts. They were so orange (How orange were they?), even the Dutch national team's players were saying, "You're not wearing that, are you?")
Next Sunday, the Red Bulls play Orlando City SC (Soccer Club), featuring Brazilian legend
Kaká
, U.S. national team star Jonathan Spector, and Colombian stars Christian Higuita and Carlos Rivas.
After visiting the expansion team at the Citrus Bowl (a.k.a. Camping World Stadium) in 2015 and '16, this year, Metro make their 1st visit to Major League Soccer's newest venue, the soccer-specific Orlando City Stadium.
Before You Go.
Florida must be where the saying, "It's not the heat that's so bad, it's the humidity" was first used. Indeed, when Miami got its expansion baseball team in 1991, someone joked that, since they already had the Heat, a basketball team that was then so bad, the baseball team should be named the Miami Humidity. (It was named the Florida Marlins instead, and is now the Miami Marlins.)
Orlando isn't as far south as Miami, but I've been there in November, and the place simply doesn't recognize what the calendar says for the Northeast. It can be 85 degrees and 100 percent humidity. It can be unbearable. The
Orlando Sentinel
website currently has projections for next Sunday for the high 70s in the afternoon, and the high 50s at night, so it won't be as bad as it could be.
Orlando is in the Eastern Time Zone, so you won't have to fool with your timepieces. Florida was part of the Confederate States of America, and Central Florida (outside of Disney World itself, which is its own fiefdom under "Uncle Walt," who was very conservative) is still very much Southern, but you won't need to bring your passport or change your money (although Disney World does use "Disney Dollars" as coupons).
Tickets.
Orlando City averaged 31,324 fans per home game last season. By the way they measured soccer capacity at the Citrus Bowl, that was a sellout. They won't be getting that many in the new stadium, since it seats considerably fewer people, 25,500. The women's league team, the Orlando Pride, also sells very well by that league's standard. In Orlando, soccer is in. So getting tickets could be difficult.
But this is one sport where fans of the visiting team have a built-in advantage: You only have to look in one particular section, and it's going to be cheap. It's Section 108, in the southwest corner of the stadium, and it will be $40.
Getting There.
It's 1,080 miles from Times Square to downtown Orlando, and 1,064 miles from Red Bull Arena to Orlando City Stadium. Reading this, your first thought is going to be to fly.
Amazingly, if you order now, you can get a round-trip nonstop flight on United Airlines for $533. This turns out to be a bargain by anyone's standards, especially when you see the Orlando airport and its fantastic monorail. The only problem is, you've got to start at Newark Airport. At least they've finally built
their
monorail.
(Orlando International Airport's airport code of MCO comes from its former status, up until 1975, as McCoy Air Force Base, named for

Colonel Michael Norman Wright McCoy

, a hero pilot of World War II who was killed in a crash at what was then named Pinecastle Air Force Base in 1957.)
Amtrak's
Silver Meteor
leaves New York's Penn Station at 3:15 PM, and arrives in Orlando at 12:49 the following afternoon, a 21-and-a-half hour trip. It's $502 round-trip -- almost as much as flying, and a lot slower. Be advised that the Florida trains, the
Silver Meteor
and the
Silver Star
, are notoriously late on their returns to the Northeast Corridor. So flying is the better option. The Amtrak station is at 1400 Slight Blvd. at Copleand Drive, downtown.
Greyhound runs 5 buses a day from New York's Port Authority Bus Terminal to Orlando, with a round-trip fare of $279. This trip takes 25 hours, with a change of buses and an hour-and-a-half layover in Richmond, which is not fun. So far, flying remains the better option, which is a rarity on these Trip Guides. The Greyhound station is at 555 N. John Young Parkway. 2 miles west of downtown. Number 25 bus.
If you do prefer to drive, see if you can get someone to split the duties with you. Essentially, you'll be taking Interstate 95 almost all the way down. At Exit 260, take Interstate 4 West, and Exit 82B for downtown Orlando.
It should take about 2 hours to get through New Jersey, 20 minutes in Delaware, an hour and a half in Maryland, 3 hours in Virginia, 3 hours in North Carolina, 3 hours in South Carolina, 2 hours in Georgia, and about 2 hours and 45 minutes in Florida. Given proper 45-minute rest stops – I recommend doing one in Delaware, and then, once you're through the Washington, D.C. area, doing one when you enter each new State, and then another around Orlando, for a total of 7 – and taking into account city traffic at each end, your entire trip should take about 23 hours -- faster than Greyhound, but not faster than Amtrak.
Once In the City.
Founded as Jernigan in 1875, and home to about 280,000 people with a metropolitan area of over 3.1 million, Orlando was named for Orlando Reeves, an American soldier who was killed within what is now the city limits during the Second Seminole War in 1835.
There's just one problem with that story: It never happened. There was no fighting in said war in what's now the Orlando area, and the only Orlando Reeves who lived nearby owned a plantation with a sugar mill on it. He carved his name in a tree, and somebody presumed later on that he must have been buried there. How he became a war hero, who knows. Maybe it was Southern pride, something the locals tried to cling to after General Sherman kicked the Confederacy's redneck ass.
The sales tax in Florida is 6 percent, and an additional 6 percent is placed on all hotel rooms. ZIP Codes in the Orlando area start with the digits 321, 327, 328, 329 and 347. The Area Code is 407, with 321 overlaid. Central Blvd. divides city addresses into North and South, and Orange Avenue divides them into East and West.
Lynx is the local bus service. A single ride is $2.00. In 2014, Orlando began their SunRail commuter service, which, later this year, will extend, north-to-south, from DeLand in the north to Poinciana in the south. (For the moment, it runs from DeBary to Sand Lake Road.) They also want to expand to the airport, and to Daytona Beach; the former is expected to open in 2019, but the later remains only a plan.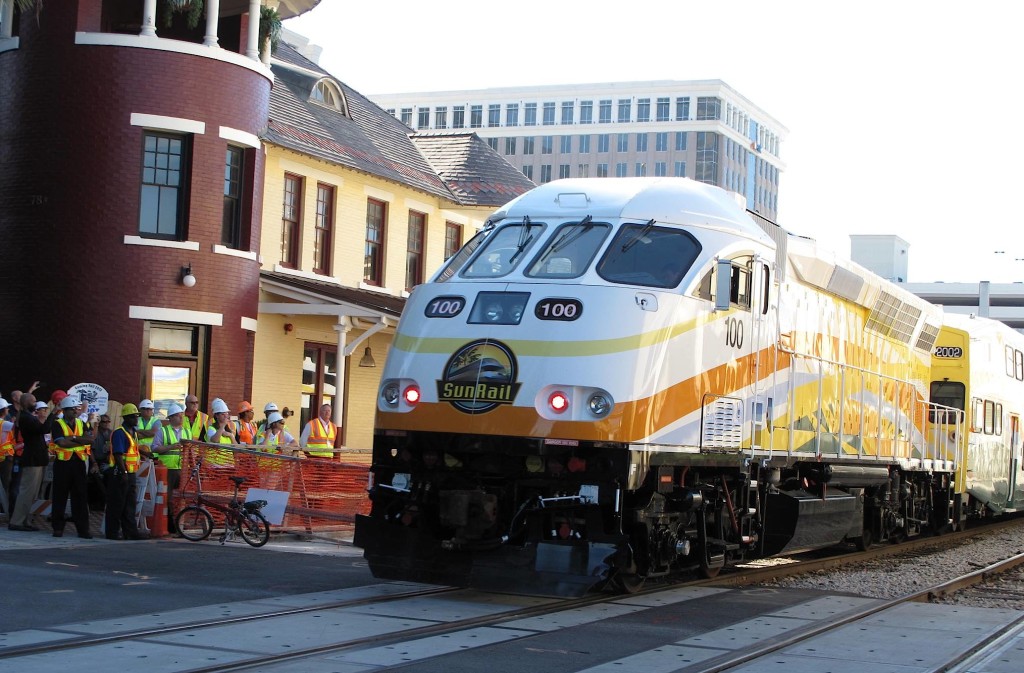 A SunRail train in downtown Orlando
Starting in early 2018, Brightline service will connect Miami with Fort Lauderdale and West Palm Beach, with an extension to Orlando, hoping to open it in 2020.
Going In. Until Atlanta's Mercedes-Benz Stadium opens, currently scheduled for July 30 of this year -- interestingly enough, for a match between Atlanta United and Orlando City, which could be considered a "derby" -- Orlando City Stadium is the newest home ground in Major League Soccer. It was supposed to open last season, but construction delays pushed it back.
"The Lions Den" seats 25,500, making it less than half the size of the Citrus Bowl, but slightly larger than Red Bull Arena. The address is 655 W. Church Street, at Parramore Avenue, about a mile west of downtown, 7 blocks east of the Citrus Bowl, and 3 blocks west of the Amway Arena. SunRail to Church Street station. If you drive in, parking is $8.00.
The field is natural grass, and is aligned north-to-south. The stadium includes 49 rainbow-colored seats in Section 12, along the West Stand, as a memorial to the 49 victims of the June 12, 2016 massacre at the Pulse nightclub. This is, as far as I know, the most notable notation to a local gay community in any North American sports venue.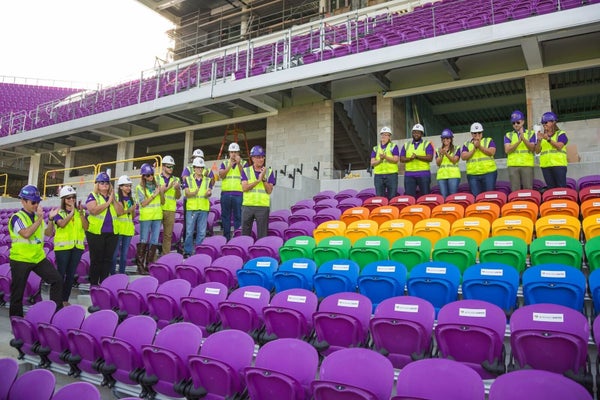 Purple is OCSC's main color. In this case,
it has nothing to do with the gay community,
the way the rainbow pattern in the seats does.
In addition to OCSC, the Orlando Pride of the National Women's Soccer League play at the stadium, and it will host the 2017 NCAA women's soccer Final Four.
Food. Florida is Southeastern Conference territory, where tailgating is a holy rite. And Orlando City do allow tailgating in their parking lot. But they do serve food inside the new stadium. Unfortunately, the club website is a bit thin on specifics, only stating that there are small concession stands all around the stadium, and bigger ones at the north and south ends.
Team History Displays.
They've only played since 2010, and in MLS since 2015, so, as the song goes, "You ain't got no history." So, no display thereof. The closest thing they have to a historical figure is the legendary

Brazilian midfielder

Ricardo Izecson dos Santos Leite

, a.k.a.

Kaká.
The Florida Sports Hall of Fame is located at Lake Myrtle Sports Park in Auburndale, 45 miles southwest of Orlando City Stadium. As yet, there are no soccer players, let alone OCSC players, inducted.
Stuff.
There is a "Merchandise Shop" at each corner of the stadium, with the main Orlando City Club Shop in the southeast corner.
As a new team, there are no videos about Orlando City SC. The sports staff of the Orlando Sentinel put together a book titled Purple Reign: Orlando City's Inaugural 2015 Major League Soccer Season.
During the Game.
This is the South, but it's not football: It's "football." There is no rivalry between the Red Bulls and Orlando City. The fact that OCSC and New York City FC came into the league at the same time has resulted in lots of comparisons (so far, mostly favoring Orlando's operation), but that's not a rivalry, either. You're not going to be in physical danger unless you provoke someone. So don't do that.
Orlando City's badge features a lion, in homage to the Orlando Lions, who played in various minor leagues from 1985 to 1996. The lion's mane has 21 flares, looking like a sun but also paying tribute to the fact that OCSC is the league's 21st team.
They hold auditions for National Anthem singers, instead of having a regular. Their mascot is Kingston the Lion (as in the lion is the king of the jungle), whose mane appears to be in Jamaican-style braids (as in Kingston is the capital of Jamaica).
Since OCSC are, for the moment, the only MLS club in Florida -- the Tampa Bay Mutiny and the Miami Fusion both failed, and David Beckham's new Miami team isn't yet close to being underway -- supporters' groups throughout Florida have taken to them.
The leading group is The Ruckus, and includes the Tallahassee-based Capitol City Ruckus. The Iron Lion Firm separated from The Ruckus shortly after its founding in 2009 (with the hope of getting into MLS), and can be identified by their ILF 407 banners (their initials, and Orlando's Area Code). The ILF, as befitting their Bob Marleyesque name, are more Caribbean and Latin American in style, if not necessarily in ethnic makeup.
These 2 groups sit (and stand) in the North End, and form "The Wall." This massive support gave OCSC the 2nd-highest per-game attendance in the league in 2015 and '16, behind only Seattle.
Like the Red Bulls' ultras, they sing the various on Little Peggy March's "I Will Follow Him": "We love ya (3 times), and where you go we'll follow (3 times)..." Like the Red Bulls, and the D.C. Scum, they sing "Vamos... " ("
Vamos, Vamos Orlando, esta noche, tenenos que ganar...
" Let's go, let's go Orlando, this night, we have to win... ")
To "Seven Nation Army" by The White Stripes, they sing, "Oh, oh, oh, Orlan... do!" They also alter one of the old English footie chants to remove the misogyinistic "shag yer women" line: "The ILF! We are here! Harass your players and drink your beer!"
They also endured some controversy in their 1st MLS season, 2015, when objections were raised to a chant that included the word "retarded." Both the Ruckus and the ILF agreed to replace the offending word in the chant, and have been publicly commended by the advocacy groups that had objected.
After the Game.
Orlando is not known as a high-crime city. You should be safe going out, and, if you drove to the game, you car should be in one piece.
I was not able to find any place to eat or drink that is known to cater to New York teams' fans. And there don't seem to be a lot of bars near the stadium. But there's a New York International Bread Company a few block west, at 1500 W. Church Street, closer to the old stadium.
If you visit Orlando during the European soccer season, unless you're a fan of a very big club, you're probably out of luck. Aces, at 825 Courtland Street, about 6 miles north of downtown, is an Arsenal pub. A possibility for other English clubs is The Harp and Celt, 25 S. Magnolia Avenue, downtown, both known to cater to the Merseyside clubs, Liverpool and Everton, and is also claimed by Manchester United fans. Dewey's Sports Bar also touts its soccer match showings. 7720 Turkey Lake Road, 9 miles southwest of downtown, near Universal Orlando. Hollerbach's hosts Bayern Munich matches, 205 E. 1st Street, in Sanford, but that's 20 miles north of Orlando.
Sidelights.
Orlando doesn't have much of a sports history. And if you're not interesting in going to the nearby theme parks, there's not a whole lot to do there except experience serious humidity all year long.
* Citrus Bowl and site of Tinker Field. The Citrus Bowl complex used to include an old football stadium and an old baseball park. Opened in 1936 as Orlando Stadium, the stadium became the Tangerine Bowl in 1946, and from 1947 onward (with the exception of 1973, when it was held at the University of Florida) hosted the game of the same name, often on New Year's Day, which was renamed the Florida Citrus Bowl in 1983, and Camping World Stadium in 2016. Camping World, as you might guess, sells recreational equipment.
It seated a mere 8,900 people at its opening, and just 15,900 as late as 1975. But a major expansion boosted it to 52,000 the next year, and 65,438 in 1989. A 2014 renovation, complete with wider seats, brought the total to 61,348, which still gives it more seats than 1 current NFL stadium, the Oakland Coliseum. While OCSC limited seating capacity to 33,000 for most games, they did sometimes have to open the upper deck.
The official address is 1 Citrus Bowl Place, at the southwest corner of W. Church Street and Rio Grande Avenue, about 2 miles west of downtown. It hosts 3 bowl games: The Citrus Bowl, the Russell Athletic Bowl, and, starting in 2015, the AutoNation Cure Bowl, raising money for breast cancer research.
Since 1997, it's hosted the Florida Classic, between historically black schools Florida A&M of Tallahassee and Bethune-Cookman of Daytona Beach -- a copy of New Orleans' Bayou Classic between Grambling State and Southern University. And from 1979 to 2006, it hosted games of the University of Central Florida.
Pro teams that have called it home include the Florida Blazers of the World Football League in 1974, the Orlando Renegades of the United States Football League in 1985, the Orlando Thunder of the World League of American Football in 1991 and '92, and the Orlando Rage of the XFL in 2001.
Orlando City Soccer Club played there from 2011 to 2016, and the Orlando Pride of the National Women's Soccer League played their 1st season, 2016, there. It hosted 5 games of the 1994 World Cup, and 8 -- 5 men's, 3 women's -- in the 1996 Olympics (mostly based in Atlanta). It hosted the 1998 MLS All-Star Game, and 3 games of the U.S. national team, most recently in 1998, resulting in a win and 2 draws.
Just to the west of the Citrus Bowl, Tinker Field opened in 1914. It was the longtime spring training home of the Washington Senators/Minnesota Twins franchise, and when the stadium was rebuilt in 1963, seats from Griffith Stadium were added to it, since the Senators had moved to Minnesota and the new Senators had moved into RFK Stadium.
Pennants in the Class A Florida State League were won by the 1919 and 1926 Sanford Celeryfeds; the 1921 Orlando Tigers; the 1923 Orlando Bulldogs; the 1927 Orlando Colts; the 1938 and 1941 Leesburg Anglers; the 1939 Sanford Lookouts; the 1940 Sanford Seminoles; the 1946, 1948 and 1950 Orlando Senators; the 1951 and 1952 DeLand Red Hats; the 1955 Orlando C.B.s; the 1968 Orlando Twins; and the 1999 Kissimmee Cobras.
Pennants in the Class AA Southern League were won by the 1981 Orlando Twins, the 1991 Orlando Sun Rays, and the 1999 Orlando Rays. That's 20 Pennants for Orlando.
The Orlando Rays moved to Alabama after the 2003 season, becoming the Montgomery Biscuits. Despite metropolitan Orlando having a population greater than 7 MLB markets (St. Louis, Tampa Bay, Baltimore, Pittsburgh, Kansas City, Cincinnati and Milwaukee), it has been without professional baseball since the Aaron Boone Game. Rumors of the Tampa Bay Rays moving to Orlando if they can't get a new stadium either in Tampa or St. Petersburg continue to swirl, but if they ever do move, it probably won't be to Orlando, not to the Tinker Field site or to the 9,500-seat Champion Stadium on the Disney World campus.
Unfortunately, the recent renovation of the Citrus Bowl meant that the 100-year-old Tinker Field would have a right field that was much too short, and it was torn down in 2015 It seated 5,100 people at the end. Its address was 1610 W. Church Street, at Rio Grand Avenue.
According to
an April 24, 2014 article in The New York Times
, despite being 106 miles away -- or, perhaps, because they aren't considerably closer than that -- the Rays only get about 10 percent of MLB fandom in the Orlando area. The Boston Red Sox get about 15 percent. And the Yankees average about 30 percent.
Orlando has never had a team in the NFL, unless you count the Orlando Breakers, the fictional team on the sitcom
Coach
in the 1995 and 1996 seasons. Real pro football teams that have played there include the Orlando Broncos of the Southern Football League (1962-63), the Orlando Panthers of the Continental Football League (1966-70), and the aforementioned teams in the WFL, USFL, WLAF and XFL.
According to
the September 2014 issue of The Atlantic
, even though the Tampa Bay Buccaneers are 88 miles from downtown Orlando and the Miami Dolphins are 222 miles away, and the Buccaneers won a Super Bowl 14 years ago while the Dolphins are now 43 seasons without a title, the Dolphins remain the most popular NFL team in the Orlando area. The Tampa Bay Lightning, 85 miles away and coming off a Stanley Cup Finals berth, are the closest and most popular NHL team.
Despite its growing metropolitan area population, Orlando would still rank only 23rd in MLB, and 21st in the NFL.
* Amway Center. Since 2010, the NBA's Orlando Magic have played at this downtown arena. It is also home to the Orlando Solar Bears of minor-league hockey, and the Orlando Predators of arena football. The official address is 400 W. Church Street. It is bordered by Church Street, Hughey Avenue, South Street and Division Avenue.
* Orlando Arena site. "The O-rena" was the Magic's home from their 1989 beginnings until 2010, and also hosted the Solar Bears, the Predators, and, from 1999 to 2002, the Orlando Miracle of the WNBA. (The team moved to become the Connecticut Sun. Funny how they became the Sun after moving from Florida to New England, instead of the other way around.)
The Magic played the 1995 and 2009 NBA Finals at this building, later renamed the TD Waterhouse Center and the Amway Arena (the Magic are owned by Amway chairman Rich DeVos, hence his company's name on arenas old and new). It was a major arena for Arena Football, hosting the ArenaBowl in 1992, 1994 and 2000. The Orlando Predators won the ArenaBowl in 1998 and 2000.
But it opened right before the design of Baltimore's Camden Yards rewrote the rules for sports venues. The skyboxes had the worst sightlines in the arena, and many of them went unleased, denying the Magic precious megarevenues.
As early as 2000, DeVos started whining to the City of Orlando about building him a new arena, even though he's worth $6 billion and could have funded building the $480 million arena he eventually got all by himself -- 12 times over. Never mind that DeVos is one of the richest men in America: He was going to be damned if he was going to let his fellow owners laugh at him for his revenue issues.
(His son Dick is also a former Amway CEO. His wife Betsy is now the anti-qualified U.S. Secretary of Education. Her brother, Erik Prince, founded Blackwater USA, the "black ops" operation that did so much damage in Iraq. The Walton/Kroenke/Glass family, also involved in major league sports, got nothin' on them.)
The O-rena was imploded in 2012, and the site is being redeveloped for both residential and office space. 600 W. Amelia Street at Alexander Place, downtown, about 7 blocks north of its replacement.
* Bright House Networks Stadium. This 44,206-seat stadium opened on the University of Central Florida campus in 2007. It stadium has a flexible seating section that can safely allow students to bounce, similar to the effect of the metal seating in the west end zone at RFK Stadium in Washington, giving it the nicknames the Bounce House and the Trampoline.
4465 Knights Victory Way at Plaza Drive, 16 miles northeast of downtown. Any bus that goes to Lynx Central Station Terminal, then Bus 104.
* Site of Orlando Sports Stadium. Like the Chicago Stadium and the Olympia Stadium in Detroit, this "stadium" was actually an arena, opening in 1967. It was later renamed the Eddie Graham Sports Complex, after a pro wrestler and promoter, since pro wrestling was its main feature. But it was also a major concert venue, hosting Led Zeppelin in 1971, Bob Dylan's Rolling Thunder Revue in 1976, and, on February 15, 1977, Elvis Presley.
The building was not well maintained, and was demolished in 1995. A housing development named Econ River Estates is now on the site.
In addition to the preceding, Elvis sang in the Orlando area at the Orlando Municipal Auditorium on May 11, July 26 and 27, 1955, and August 8, 1956; at the Peabody Auditorium in Daytona Beach on May 7 and July 30, 1955, and August 9, 1956; and at the Southeastern Pavilion in Ocala on May 10, 1955.
* Theme Parks. Disney World is 17 miles southwest of downtown Orlando, and, like its counterpart Disneyland in Anaheim, California, is a bit of a walk from the nearest public transportation. It's definitely a car place, although it does have a monorail on the grounds.
Sea World is 14 miles southwest of downtown, but can be reached by public transit: SunRail from Lynx Central Station Terminal to Bus 50. 7007 Sea World Drive. Universal Orlando Resort (formerly Universal Studios Orlando) can be reached from downtown via Bus 40: 6000 Universal Blvd., 8 miles southwest.
Orlando isn't big on museums, but there are 3 that may be worth a look. The Orange County Regional History Center is at 65 E. Central Blvd. at Court Avenue. The Orlando Science Center and the Mennello Museum of American Art are both in Loch Haven Park, at 777 E. Princeton Street. SunRail to Florida Hospital Health Village.
The Beatles never performed in Orlando, but, as I said, Elvis did, toward the end. Toward the beginning, on May 11, 1955, Elvis did 2 shows at the Municipal Auditorium. He performed there again on July 26 and 27, 1955, and twice on August 8, 1956. The building is now named the Bob Carr Theater, for the Mayor who desegregated the city in the 1960s. 401 W. Livingston Street at Hughey Avenue, downtown, about 5 blocks north of the Amway Center.
The University of Florida is in Gainesville, 113 miles northwest of downtown Orlando. Florida State University is in the State capital of Tallahassee, 258 miles northwest.
No President has ever come from Florida. Two men who served as Governor ran for the Democratic Party's nomination for the office, but neither came particularly close to the nomination: Reubin Askew dropped out after the 1984 New Hampshire Primary, and Bob Graham didn't even make it to calendar year 2004, much less the Iowa Caucuses.
Miami has several skyscrapers. Tampa has a few. Orlando really doesn't. The tallest building in town is the SunTrust Center, 441 feet high, at 200 S. Orange Avenue at Church Street, 3 blocks (counting I-4) east of the Amway Center.
Outside of the Orlando-area theme parks, the biggest tourist attraction in Central Florida is the John F. Kennedy Space Center at Cape Canaveral, 45 miles east of Orlando, on the Atlantic Coast. You'll have to drive: Public transportation simply isn't available.
Aside from
Coach
, which used stock footage of the Citrus Bowl (as it had with the University of Iowa, standing in for the fictional Minnesota State) but was filmed in Southern California, there haven't been many TV shows set in Orlando, aside from sitcoms doing the trope of the family going to Disney World for a two-parter.
A few movies have been set at Disney World, including the recent George Clooney film
Tomorrowland
. The only movie I know of that was filmed and set in Orlando proper, rather than in Mickeystan, is
Ernest Saves Christmas
, part of Jim Varney's Ernest P. Worrell ("Hey, Vern!") franchise. Christmas in Orlando? It could be worse: It could be Christmas in Miami. Or Christmas in L.A. Or Christmas in Vegas.
*
So if you're a Red Bulls fan, or even a New York City FC fan, head down to Orlando to see them take on the local XI. Who knows, you might have a good time, even if you never set foot in "The Happiest Place On Earth."