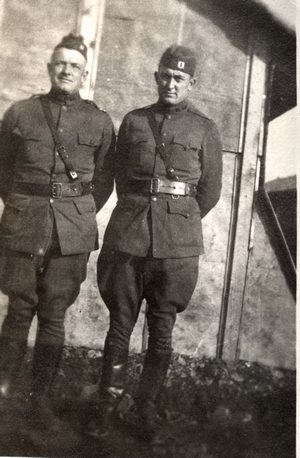 Captain Christopher Mathewson and Captain Tyrus R. Cobb,
U.S. Army, Chemical Warfare Division
April 2, 1917, 100 years ago:
After successfully campaigning for re-election on the slogan "He kept us out of war," President Woodrow Wilson realizes that pacifism is no longer an option, and goes before Congress, and asks them to declare war on Imperial Germany:
We are glad, now that we see the facts with no veil of false pretense about them, to fight thus for the ultimate peace of the world and for the liberation of its peoples, the German peoples included; for the rights of nations great and small and the privilege of men everywhere to choose their way of life and of obedience.
The world must be made safe for democracy. Its peace must be planted upon the tested foundations of political liberty.
We have no selfish ends to serve. We desire no conquest, no dominion. We seek no indemnities for ourselves, no material compensation for the sacrifices we shall freely make. We are but one of the champions of the rights of mankind. We shall be satisfied when those rights have been made as secure as the faith and the freedom of nations can make them.
The world -- Europe and its colonies in Africa and Asia -- had been at war since August 4, 1914 (some countries having already declared within the preceding days), and would remain so until, with American reinforcements assisting Britain and France, who were close to defeat earlier in the year, Germany surrendered on November 11, 1918.
The best-known aspect of sports in what had been known as The Great War was the Christmas Truce. Traditionally, Christmas Day has been a day for troops to leave each other alone. On December 25, 1914, u
pon hearing German soldiers sing Christmas carols in their trench on the Western Front, the British soldiers start to do so in theirs. Soon, the men on both sides come out of their trenches, and stop treating each other as enemies for a few hours, exchanging food, drinks, and trinkets.
Legend has it that there was even a soccer game. Sorry, forgot to "speak English" there: A
football match
. It's not clear which side produced the ball, but according to most accounts that discuss the match, the Germans beat the English, 3-2. No word on whether it actually ended 2-2 and it went to penalties. (Those of you who are British or German, or at least familiar with European football, will get the joke.)
This was the first time, but not the last, that Englishmen would be defeated by Germans at their national game. But, as Sir Alf Ramsey pointed out before the 1966 World Cup Final, twice in the 20th Century, the English (well, the British, and their allies) would beat the Germans at their national game (war), and on their soil no less.
Military historian Andrew Robertshaw (a technical advisor for the film version of the World War I story War Horse) says such a truce would have been unthinkable a year later: "This was before the poison gas, before aerial bombardment. By the end of 1915, both sides were far too bitter for this to happen again."
The belligerent nations did seem to agree on one thing: The war would be over by Christmas 1914. As a result, England did not suspend operations of
The Football League or the FA Cup until the conclusion of the 1914-15 season. After that, it was all over. And since the Armistice was not signed until what would have been early in the 1918-19 season, that season was not played, either. It would be August 30, 1919 before top-flight football (soccer) was played again.
South Africa suspended its cricket season for 1914-15. Australia did not. Only in India would the sport be played again until the end of calendar year 1918. The Tour de France, the World Figure Skating Championships, the British Open golf tournament, tennis tournaments such as the Davis Cup, Wimbledon and the Australian and French Opens, Grand Prix races, and rugby competitions such as the Five Nations Championship (now the Six Nations) were all canceled for the duration.
So were the 1916 Olympic Games, set for, oddly enough, the capital of the aggressor nation: Berlin. Legend has it that, in ancient Greece, the original Olympics meant a military truce. Not in the modern era. Indeed, they'd be suspended for World War II as well -- and those Games were set for the enemy, too. In 1940, Japan was scheduled to host the Winter Games in Sapporo (which would host in 1972) and the Summer Games in Tokyo (which hosted in 1964, and will again in 2020). In 1944, the Winter Games were also set for an Axis nation, for Cortina d'Ampezzo, Italy (which hosted in 1956), while the Summer Games were set for London (which hosted in 1948, and again in 2012).
There was also an influenza epidemic. It became known as the Spanish Flu because countries involved in the war censored news about it, but Spain wasn't involved, and their King Alfonso XIII caught it, and it was reported. He survived, although he would be overthrown in a coup in 1931.
The site of the very first confirmed outbreak was at Fort Riley, in Kansas, USA at a military training facility preparing American troops for involvement in the war. The first victim was diagnosed on March 11, 1918.
Investigative work in 1999 by a British team led by a virologist
identified the major troop staging and hospital camp in
Étaples
, France, as being the epicenter of the pandemic.
It peaked in late October 1918, with Philadelphia reporting 4,600 deaths in one week. That's a "9/11" and a half, at a time when our country had about 1/3rd the population it has now. There was a 2nd wave in late February 1919, after the Armistice. Among those killed by this 2nd wave was Joe Hall, a defenseman for the Montreal Canadiens. "Bad Joe" was one of the dirtiest players of his time, but was mourned as if he was already beloved.
Most of the Canadiens players, including player-head coach Edouard "Newsy" Lalonde, caught the flu during the 1919 Stanley Cup Finals, and general manager George Kennedy (no relation to the actor of the same name) never fully recovered from it. After 5 games, with the Canadiens and the Seattle Metropolitans each having won 2, with 1 tie, the Finals were suspended. Kennedy said he was forfeiting, but, to his credit, Metros coach-GM Pete Muldoon refused to accept the victory.
It is the only time the Stanley Cup Playoffs have been played without reaching a conclusion, and, aside from the canceled season of 2004-05, the only time since the Cup's establishment for the 1893 season that it hasn't been awarded.
We may never know how many people it killed: Estimates range from 50 to 100 million, possibly as much as 5 percent of the world's population. That's right: This disease may have killed 1 out of every 20 people in the world at the time. And the war was one of the causes. And not everybody died: About 500 million got sick from it, which could be 1 out of every 4 people. One out of four.
There were 70 million people serving in the armed forces of one country or another in World War I. About 10 million people died in service, and another 7 million civilians' deaths can be attributed it -- not counting the flu epidemic. So, about 17 million people died as a result of the war. The flu killed at least 3 times as many.
Of the 9 million service deaths, there were 62 men who had played professional baseball. Four of these were Australian, two Canadian. Of the 62, eight had played at least one game in the major leagues. I'll list their names in a moment. Since soccer was already the world's most popular sport, it stands to reason that they lost the most. There's no record of how many professional players died in the war, but Yorkshire team Bradford City lost 9 players. Edinburgh team Heart of Midlothian (a.k.a. "Hearts") lost 7.
The 8 MLB players who died in the service in World War I:
* Seaman Newton S. Halliday, U.S. Navy. Newt Halliday was a 1st baseman from Chicago, who played 1 game in the major leagues, an unsuccessful pinch-hitting appearance for the Pittsburgh Pirates on August 19, 1916. He died of tuberculosis at Great Lakes Naval Training Center in Chicago on April 6, 1918, before he could be deployed. He was 21.
* Corporal Ralph E. Sharman, U.S. Army. Ralph Sharman was an outfielder from Cleveland, a September callup for the Philadelphia Athletics in 1917, getting into 13 games. He might have stuck in the majors had he not enlisted. He drowned in the Alabama River during a break in training at Camp Sheridan, Alabama on May 24, 1918. He was 23.
* Captain Edward L. Grant, U.S. Army. Eddie Grant was easily the best player of the 8, the oldest, and the highest-ranking. A 3rd baseman from the Boston suburb of Franklin, Massachusetts, he graduated from Harvard University, and because of his education, "Harvard Eddie" wouldn't yell, "I got it!" Instead, he would yell, "I have it!"
He played from 1905 to 1915, with the team now known as the Cleveland Indians, the Philadelphia Phillies, the Cincinnati Reds and the New York Giants, winning the National League Pennant with them in 1913.
As a college graduate, he was made an officer, 1 of only 2 of the 8 who was. He was killed by an exploding shell in the Argonne Forest on October 5, 1918. He was 35, and the 1st MLB player to die in combat. (Private Bill Stearns was the only MLB player to die in service before World War I, from illness in the Spanish-American War.)
A monument to him was placed in center field at the Polo Grounds, but the plaque on it was lost after the Giants left following the 1957 season. The San Francisco Giants have replicated it at AT&T Park.
* Sergeant Robert G. Troy, U.S. Army. "Bun" Troy fought against Imperial Germany even though he was born in Germany. His family moved to the Pittsburgh area, and he grew up in McDonald, Pennsylvania. (Save your "Hamburg" joke.) A pitcher, he made 1 appearance, for the Detroit Tigers on September 15, 1912, and got the loss. He was shot in the chest at Petit Majouym, France on October 7, 1918. He was 30.
* Private Harry M. Glenn, U.S. Army Signal Corps. A catcher from Shelburn, Indiana, he played 6 games for the St. Louis Cardinals early in the 1915 season. He was training as an aviation mechanic at St. Paul, Minnesota, when he developed pneumonia and died on October 12, 1918. It may have been as a result of the flu epidemic. He was 28.
* Lieutenant Alexander Thomson Burr, U.S. Army Air Service. Known to his friends as Tom but listed in baseball reference books and websites as Alex, he, like Eddie Grant, was a rich kid. From Chicago, he went East to the Choate School in Connecticut and Williams College in Western Massachusetts.
A pitcher by trade, he played just 1 game in the majors, and that as a center fielder, for the Yankees on April 21, 1914. He played only in the field, and never came to bat -- what we would now call a "Moonlight Graham."
He was killed on October 12, 1918, but not in combat: On a training flight in Cazaux, France, he collided with another pilot. He was 24. He is the only former Yankee ever to die in the service of his country, yet there has never been a mention of him at Yankee Stadium, despite George Steinbrenner's obsession with all things military and also having been a graduate of Williams College.
* Private Harry E. Chapman, U.S. Army. A catcher from Severance, Kansas, he played from 1912 to 1914, including winning the 1914 Federal League Pennant with the St. Louis Terriers. He also played with the Chicago Cubs, the Cincinnati Reds and the St. Louis Browns. He was injured in a camp accident at Nevada, Missouri, and died on October 21, 1918. He was 30.
* Private LaVerne A. Chappell, U.S. Army Medical Corps. An outfielder from the St. Louis suburb of McClusky, Illinois, Larry Chappell played for the Chicago White Sox from 1913 to 1915, then was part of the package sent to the Cleveland Indians to get Shoeless Joe Jackson, played 3 games with the Indians, and then was traded to the Boston Braves, playing with them through April 25, 1917.
He was tending to the flu victims at an Army base in San Francisco when he caught the disease himself, and died on November 8, 1918, just 3 days before the Armistice. He was 28.
Other casualties were not as apparent. The great pitcher Grover Cleveland Alexander was already a heavy drinker, and the heavy shelling damaged his hearing, instigated the epilepsy that would plague him for the rest of his life, and accelerated his alcoholism.
Christy Mathewson, Ty Cobb and George Sisler were made officers -- Captain, Captain and Lieutenant, respectively -- and assigned to the Army's Chemical Warfare Service (now the Chemical Corps), under the command of Major Branch Rickey, not yet the man who invented the farm system and reintegrated the game, but already having served as a major league catcher, head coach at the University of Michigan, and the general manager of both St. Louis teams.
Big Six, the Georgia Peach and Gorgeous George were training soldiers in preparation for the war's notorious chemical attacks by exposing them to gas chambers in a controlled environment. But it wasn't "controlled" well enough: Mathewson got a lungful of gas, and it damaged his lungs. Strike one. Then he got hit with the Spanish Flu. Strike two.
His lungs already weakened twice over, in an age before antibiotics, he contracted tuberculosis. He was treated at the famed Adirondack Cottage Sanitarium at Saranac Lake in upper New York State, tried to return to baseball as a coach with the Giants and an executive with the Braves, but had to go back. After years of "fouling pitches off," it was strike three. He died in 1925, just 45 years old.
Other "casualties" of the war were those who opposed it. A few people who publicly spoke out and said that the U.S. shouldn't have gotten into the war were jailed, including labor leader and frequent Presidential candidate Eugene Debs.
Failure to join up, or resisting the draft, made you a "slacker," and that was worse, at the time, than being called a Communist. Bernie Morris, who had helped the aforementioned Seattle Metropolitans become the 1st U.S.-based Stanley Cup winners in 1917, was arrested on the eve of the 1919 Finals from draft dodging. He was convicted, and sentenced to 2 years in prison. He appealed, and got the charges dropped in time for him to be allowed to play for the Metropolitans in the 1920 Playoffs.
The Provost Marshal of the U.S., General Enoch Crowder, issued what became known as the Work Or Fight Order. If you were a man between 18 and 35, physically able to fight, and you didn't either enlist or get a job in a war-related industry or some other "necessary" service (such as a law-enforcement or medical job), you went to jail.
This led to Crowder saying that baseball had to be suspended for the duration of the war as of September 1, 1918. American League President Ban Johnson and National League President John Heydler talked him into allowing the World Series to be played, and, for the only time, the Series was played entirely in the month of September, with the Boston Red Sox clinching over the Chicago Cubs in Game 6 on September 11, 1918.
(Because he spent much of his career, in the 1920s and '30s, pitching in Washington, Alvin Crowder was nicknamed "General Crowder." He did serve in the Army, but did not make officer.)
No one yet knew that the war would end 2 months later: It was believed in September 1918 that there would be no baseball in 1919. But there was, and the fans flocked back to the game in droves.
Jack Dempsey won the Heavyweight Championship in 1919, but he hadn't served in World War I. In 1920, a photo was produced showing Dempsey working in a shipyard, which should have ended the controversy right there. But someone noticed that he was wearing patent leather shoes in the photo, making some people think the photo was staged to take the curse off him.
Soon, evidence came to light that he had tried to enlist, but, despite being a very strong man for his size (he'd be classified as a cruiserweight today), the Army had classified him "4-F": "Registrant not acceptable for military service." This classification is nearly always applied to a person who fails either the physical or psychological examination upon enlistment or reporting for the draft.
But some people still weren't satisfied. This became especially controversial in 1921, when he defended his title against the Light Heavyweight Champion, Georges Carpentier, a French pilot who had been awarded

the

Croix de Guerre

and the

Médaille Militaire. The contrast between the much-decorated Carpentier and the "slacker" Dempsey was staggering. Dempsey knocked Carpentier out in the 2nd round. It wasn't until Dempsey was "robbed" in the "Long Count" fight of 1927 that he became a near-universal hero.
What about Babe Ruth? He played for the Red Sox all the way through that 1918 World Series. Indeed, the war has been credited with moving him from the position of pitcher to right field, because the manpower drain had taken Sox pitchers. This made him an everyday player and an everyday hitter, setting him up to become the greatest baseball player who ever lived. (Don't you "Say Hey" me: Willie Mays wasn't also a great pitcher.)
But what about Work Or Fight? When the season ended in September 1918, Ruth got a job in a Pennsylvania steel mill, getting him the exemption he needed. And nobody ever called him a slacker. And he was still a Red Sock: The New York media would later protect him against various accusations relating to wine, women and song, but it had no reason to do so then. The Boston media didn't seem to think it necessary, either.
All over the world, there are commemorations of the Centennial of World War I. It was pointless, and it led to suffering previously unimagined. One man I know from a history website summed it up as follows: "What an abortion of a war!"
The last living combat veteran of any nation was Lance Corporal Harry Patch of Bath, Somerset, England, who served in the British Army, and lived until July 25, 2009, age 111. The last surviving U.S. veteran was Corporal Frank Buckles of Bethany, Missouri. He also served in World War II, and was taken as a prisoner of war. He survived that ordeal, and lived until February 27, 2011, age 110.
The last remaining veteran in any way was Florence Green, who, under her birth name of Florence Patterson, served as an officers' mess steward at Royal Air Force Marham in Norfolk, England. She was just short of her 111th birthday when, as the old barracks ballad would say, she "just faded away" on February 4, 2012.
In 1993, on the 75th Anniversary of the Armistice, ABC News did a report from a French military cemetery. An a surviving veteran looked into the camera, raised his index finger, and said something in French. It was translated as, "All should remember to never do this again."