The greatest living former St. Louis Brown has died. So has the greatest living former Washington Senator. That may not sound like much, as the Browns and the Senators were both bad franchises, whose tales of ineptitude are legend. But both of these men were the same man, and the man in question was a great ballplayer.

Roy Edward Sievers was born on November 18, 1926, in St. Louis, Missouri, and graduated from Beaumont High School on the city's North Side, the school built on the site of Robison Field, home of the St. Louis Cardinals from 1893 to 1920.

Other big-league ballplayers who went to Beamount include Brooklyn Dodger star Pete Reiser, New York Giant catcher Bobby Hoffman (according to his neighbor Lawrence Peter Berra, the boy who gave him the nickname "Yogi"), former Toronto Blue Jay manager Bobby Mattick, and Hall of Fame managers Dick Williams and (though he never played in the majors, unlike Dick) Earl Weaver. It was also the alma mater of actress Mary Wickes, and 3 members of the Little Rock Nine, who transferred there: Elizabeth Eckford, Thelma Mothershed and Carlotta Walls LaNier. (Yogi and his neighbor Joe Garagiola would have attended Beaumont, if their parents hadn't sent them to St. Mary's High School.)

Roy Sievers made his major league debut with his hometown Browns on April 21, 1949, leading off the bottom of the 9th inning as a pinch-hitter for pitcher Ray Shore. He was struck out by Steve Gromek, and the Browns lost to the Cleveland Indians, 8-2 at Sportsman's Park in St. Louis.

Sievers would shake it off, though, and batted .306 the rest of the way in 1949, with 16 home runs and 91 RBIs, and was named the American League's 1st Rookie of the Year. Injuries caused him to miss chunks of the 1951 and '52 seasons, led the Browns to move him from left field to 1st base, and probably also kept him from being drafted into the Korean War. He remained with the Browns through 1953, and was traded to the Washington Senators before the Browns could complete their move to become the Baltimore Orioles.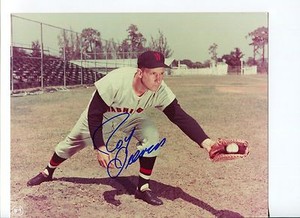 Roy Sievers, in Spring Training with the Washington Senators
Nicknamed "Squirrel," he led the AL with 11 sacrifice flies in 1954, and with 8 intentional walks in 1960. He appeared in 4 All-Star Games, in 1956, 1957, 1959 and 1961; and led the AL in home runs, RBIs and total bases in 1957, despite playing his home games in Griffith Stadium, which had a small capacity but faraway fences. He finished 3rd in the AL Most Valuable Player voting, behind Mickey Mantle and Ted Williams. His 42 home runs in that season and his 180 homers overall were Senators records.
In 1958, a film version of the Broadway musical
Damn Yankees
was made, about a Washington Senators fan who sells his soul to the Devil so that he can play for the Senators and help them win the Pennant. Tab Hunter starred as Joe Boyd (pre-sale) and Shoeless Joe Hardy (post-sale), and, as this was the era before actors in sports movies were expected to at least look like they could actually play the sport in question, Sievers was his stand-in for the game scenes. As a result, Hunter/Hardy wore Sievers' Number 2 Senators uniform.
He was traded to the Chicago White Sox in 1960, and the Senators got catcher Earl Battey and 1st baseman Don Mincher. This was a bad trade for the White Sox, as, once the Senators moved to become the Minnesota Twins, Earl and Minch helped make them contenders, and win the Pennant in 1965. Sievers gave the ChiSox 2 good seasons, but made the initial trade worse by trading him again.
This time, in 1962, it was to the Philadelphia Phillies. He gave them 2 good years, but in 1964, at age 37, he stopped hitting, and he was sold to the new Washington Senators franchise that began in 1961 (and would become the Texas Rangers in 1972). His hitting did not pick up, and it's unlikely having him would have helped the Phils avoid their infamous 10-game losing streak at the end of September.
He finished with the new Senators in 1965, and retired with a lifetime batting average of .267, with 318 home runs. He probably would have had a lot more if he weren't a righthanded hitter in Sportsman's Park (much friendlier to lefthanded hitters), or hitting in Griffith Stadium, Comiskey Park and Connie Mack Stadium.
*
He had the distinction of playing for 3 teams that no longer exist in their current form: The Browns and both versions of the Senators. He was 1 of 9 players to play for the Old Senators and the new Senators. The others were Mincher, Camilo Pascual, Pedro Ramos, Johnny Schaive, Zoilo Versalles, Hal Woodeshick, Rudy Hernandez and Hector Maestri. Pascual, Ramos and Hernandez are still alive.
The Orioles make no reference to their past as the Browns in their historical displays at Camden Yards, and Sievers is not a member of their team Hall of Fame. Nor did they retire the Number 7 he wore in his last 2 years with the Browns. (They do keep it out of circulation, but that's in memory of Cal Ripken Sr.)
Nor do the Twins make any reference to their past as the Senators at Camden Yards. The Number 2 that Sievers wore as a Senator is in circulation. (Versalles wore it, and was the AL MVP in the Twins' 1965 Pennant season. John Castino wore it as AL Rookie of the Year in 1979, and Chris Pittaro wore it in their 1987 World Championship season, but they haven't retired it for any of them, either. No one wore it in their 1991 World Championship season.)
Sievers was hired as a coach by the Cincinnati Reds in 1966, and later served as a minor-league manager in the organizations of the Reds, the Mets and the Oakland Athletics. He returned to St. Louis, became the dock manager for a trucking company, and annually attended the St. Louis Browns Alumni dinner. He was predeceased by his wife, Joan, and a son, David. He was survived by a son, Rob, and a daughter, Shawn.
Roy Sievers died yesterday, April 3, 2017, at the dawn of a new season, at his home in Spanish Lake, Missouri, a few miles from the North Side of St. Louis, where he grew up. He was 90 years old.
This leaves 14 living former St. Louis Browns: Tom Jordan (catcher, 1948), Chuck Stevens (1st base, 1941, '46 and '48), Al Naples (shortstop, 1949), George Elder (left field, 1949), Johnny Hetki (pitcher, 1952), Billy DeMars (shortstop, 1950-51), Frank Saucier (outfield, 1951), Tom Wright (outfield, 1952), Jim Rivera (right field, 1952), Jay Porter (catcher, 1952), Johnny Groth (center field, 1953), Ed Mickelson (right field, 1953), Billy Hunter (shortstop, 1953), and future Yankee World Series hero Don Larsen (pitcher, 1953).