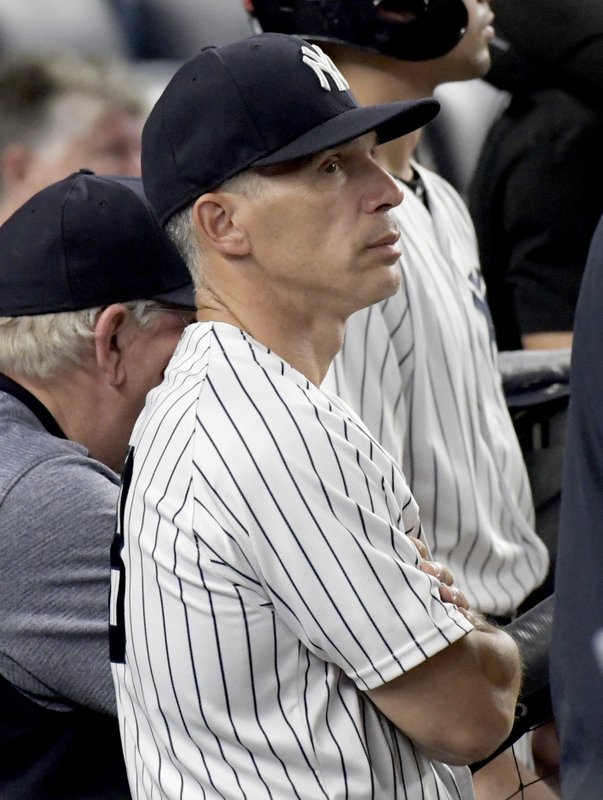 Last night, the Yankees completed a sweep of the Minnesota Twins, the team they will likely end up facing in the American League Wild Card Game. But the Baltimore Orioles once again rolled over and played dead against the Boston Red Sox.
In spite of their hot streak, the Yankees are 3 games behind the Red Sox with 10 games to play. It is looking more and more as if their appearing in the Wild Card Game is an inevitability, rather than winning the AL Eastern Division.
This is the great fear, the nightmare scenario: That we will go into that game with Joe Girardi as our manager.
Can you trust him to manage that game, and not screw it up? After he's already thrown away 22 games, this season alone, with stupid pitching decisions?
You know as well as I do that no matter how well the starter pitches, Joe will take him out no later than at the conclusion of the 6th inning. And then, who will Joe put in there? Chad Green? No, that would make sense. Tommy Kahnle? David Robertson? I could live with those choices. Chasen Shreve? Giovanny Gallegos? Jonathan Holder? Bryan Mitchell? Dellin Betances, a little too soon -- especially if Joe removes the starter in, rather than after, the 6th?
We're not going to get to the closer -- whether that's Robertson, Betances or Aroldis Chapman -- because Joe is going to screw things up. The bullpen is going to throw gasoline all over the place and light a match, because Joe doesn't know how to handle a pitching staff.
We could go into the 9th inning up 5-0, and I wouldn't trust it, because the guy Joe should have saved for that inning would probably have gotten used before that, and the best Yankees season in at least 5 years (we haven't won a postseason round since 2012) will go down the drain, because we couldn't win between 1 and 7 games earlier in the season that we should have, because Joe can't handle a bullpen.
But he
could
have handled it a little better, if he had Andrew Miller available to him, instead of the guy we got for him in that dumb trade with the Cleveland Indians last season, Clint Frazier.
Don't tell me Can't Miss Clint can't miss: He has been found out already, and he can't hit major league pitching yet.
Don't tell me Miller is now injured. A, That doesn't mean he would have gotten hurt if he'd stayed a Yankee. B, Even if he did, he still could have made a difference in 4 games before that, and the Yankees would now be 1 game up on The Scum, instead of 3 games back.
So this failure to have the AL East lead with 10 (and no less than 8) games to go is on Girardi, and it is on Cashman.
Because of them, we are, at best, going into the Wild Card Game, which Girardi is going to futz up. I know it. You know it. He knows it. And his players know it. They may tell you they have faith in him, but they're just covering for him.
We are not going to win the World Series this season.
And that is unacceptable.
We need a new field manager. We need a new general manager. And we need them before Opening Day of next season. We need them as soon as this season is over, which should be sometime between 11:00 PM and midnight on October 3, as the Twins celebrate advancing to the AL Division Series.
Because the Yankees are not going to win that game.
If they do, feel free to tell me I was wrong. I would rather be wrong. I would rather have the Yankees be 11 games from winning the World Series on October 4, 2017, than have them be 90 to 100 games from winning the Division, and 9 years without a Pennant, on March 29, 2018.