Believe it or not, the modern-looking city in this photograph is Mexico City, North America's oldest major city.
On Sunday, June 11, the U.S. Men's National Team (USMNT) -- Soccer -- will play arch-rival Mexico at Estadio Azteca in Mexico City.
Mexico will not need to win this game to qualify for the 2018 World Cup in Russia. America
might
need to win it to qualify.
Before You Go.
My recommendation is that you go in numbers -- in a group, the larger, the better. Find a tour package. Now you know why I'm doing this one 2 months in advance.
Do you have a passport? Good. No? You may not have time to get one, unless you're willing to pay extra to get it done quickly.
If you are going to drive in Mexico, you must first obtain Mexican driving insurance. You should contact
the Mexican consulate in New York
, at 27 East 39th Street.
The exchange rate really favors us, and that was true long before Donald "We're gonna build a wall" Trump took the Presidency: $1.00 = about 18.65 pesos, and 1 peso is a shade over a nickel.
Reserve your hotel before you go. There are plenty of websites that can pick you a good one.
Mexico is dominated by 3 climates: Desert, mountain and jungle. Mexico City is desert, but also mountainous. The high elevation -- 7,350 feet above sea level, or 1.39 miles, making it 39 percent higher than "Mile High" Denver -- and the city's notorious smog may make it difficult to breathe. (It has been reduced significantly since 1990.) However, early projections for mid-June in Mexico City suggest that the notorious Summer heat might not be an issue: For that week, they're saying daytime temperatures should be in the low 80s, and the nighttime temperatures should drop to the mid-50s. That's Fahrenheit: While there, it'll be listed in Celsius, so mid-20s by day, and low 10s by night.
In Spring and Summer, Mexico City is in the same time zone as New York. In Autumn and Winter, they are an hour behind us. So, on this occasion, you won't have to fiddle with your timepieces.
Tickets.
Don't even think about the usual procedure. You're not getting tickets from the stadium website, or the Mexican national team website. Go through
the U.S. national team website
, or through the American Outlaws.
Getting There.
It is 2,636 miles from Times Square in Manhattan to Estadio Azteca. The closest border crossing from Mexico City is at Brownsville, Texas, about 700 miles away. When I describe how to get there without flying, you will want to fly. It's fast: About 5 1/2 hours. And cheap: A nonstop flight from Newark Liberty to
Aeropuerto Internacional Benito Juárez
in Mexico City on United Airlines can currently be had for just over $400. A Metro (subway) ride to the center of town requires 2 transfers, but can be done in a little over half an hour.
There is no passenger rail link between the countries, the way there is between America and Canada. Bus service isn't good: There is 1 Greyhound a day leaving New York's Port Authority Bus Terminal for Mexico City, at 11:00 AM. You would change buses at Richmond at 6:30 that night, Dallas in the middle of the next night, Laredo just before noon on the 3rd day, and over the Border at Nuevo Laredo an hour and a half after that. And you still wouldn't arrive at Mexico City until 5:15 AM on the 4th day. Going back, you'd leave Mexico City at 7:00 PM, and arrive in New York at 3:20 PM 3 days later. Round-trip fare: $482.
Do you want to drive? Did you get the Mexican driving insurance? Okay, now get someone to go with you, so you'll have someone to talk to, and one of you can drive while the other sleeps.
You'll be taking Interstate 78 across New Jersey and into Pennsylvania to Harrisburg, where you'll pick up Interstate 81 and take that through the narrow panhandles of Maryland and West Virginia, down the Appalachian spine of Virginia and into Tennessee, where you'll pick up Interstate 40, stay on that briefly until you reach Interstate 75, and take that until you reach Interstate 59, which will take you into Georgia briefly and then across Alabama and Mississippi, and into Louisiana, where you take Interstate 12 west outside New Orleans. Take that until you reach Interstate 10 outside Baton Rouge.
Keep going into Texas. At Houston, take U.S. Route 59 South. At Victoria, switch to U.S. Route 77 South. Just past Harlingen, turn right onto County Route 509 South, taking that until you reach the Customs station at Los Indios. Do whatever they tell you to do, and if you don't screw up, you'll be allowed onto the Free Trade Bridge, over the Rio Grande, into Matamoros, Mexico.
You'll now be on Mexican Federal Highway 2. Route 53 will split off it, and you'll take that until reaching Route 101. When you reach Ciudad Victoria, take Route 9 around the city, as 101 becomes a dangerously twisty road. (Do not drive on 101 at night: Because of drug cartel activity, it is known as the Highway of Death. Only take it during daylight.) You'll get past this part of 101 and rejoin it, continuing south. At Cerritos, turn right on Route 75D. Turn left on Route 57. At San Luis Potosi, take the beltway, Route 57D, and then rejoin 57. At Santiago de Queretaro, take Route 45 South, until it flows into Route 57D again. This will take you into Mexico City.
If you do it right, we're talking about a 41-hour trip -- the last 12 of them in Mexico. That's without rest stops. With them, we're talking about 55 hours. So, yeah, you're either flying or riding with a bus tour. This is actually one of the cheaper flights: If you buy tickets now, you can get a round-trip, nonstop-each-way flight from Newark to
A
eropuerto Internacional de la Ciudad de México for a shade over $400.
Once In the City.
Mexico uses the metric system. Distance is measured in centimeters, meters and kilometers, not inches, feet and miles. Weight is measured in grams, including kilo- and milli-. Volume is measured in liters, not quarts or gallons. Temperatures will be listed in Celsius, not Fahrenheit.
Mexico's currency is the peso, which is divided into 100 centavos. Coins come in denominations of 5, 10, 20 (not 25 like ours and Canada's) and 50 centavos; and 1, 2, 5 and 10 pesos. Peso notes, or bills, come in denominations of 20, 50, 100, 200, 500 and 1,000 -- which sounds like a lot, but remember, 1,000 pesos is only about $53.
The name of the nation, pronounced MEH-hee-koh by its people, comes from a name for both the people and the region around the capital. Founded in 1325 as Tenochtitlan, Mexico City is the oldest major city in North America. Through Hernan Cortes' defeat of Montezuma, Spain conquered the Aztec Empire in 1521, and held it as the State of Mexico for 300. Independence came after a long revolution in 1821.
The Mexican-American War of 1846-47 cost them about 1/3rd of their land, what is now the American Southwest: Texas, New Mexico, Colorado, Arizona, Utah, Nevada and California. Mexicans remain unhappy about this, and retain romantic thoughts of a
Reconquista
of
El Norte
. (Don't tell Trump -- although he probably already believes it.)
France took over in 1862, due to America being wrapped up in its Civil War and unable to enforce the Monroe Doctrine against European interference in the Western Hemisphere. (Cinco de Mayo, the celebration of the Battle of Puebla on May 5, 1862, is celebrated more in America than in Mexico, mainly because Mexico lost the war.) By 1867, the Second Empire was falling apart, and
Benito Juárez reclaimed the nation. But a nasty revolution in the 1910s left the country in chaos, and Mexico remains a nation where corruption is, if not worse than in America, certainly more open.
Like America, Mexico calls its administrative subdivisions "States" (
Estados
-- it has 31 of them), and has a separate "district" for the national capital (Mexico Distrito Federal, or D.F. -- Day eff-ay -- or "Mexico City" in English). The nation has about 120 million people; the metropolitan area of Mexico City, 20.4 million (a little more than New York); the City itself, 8.9 million (also a little more than New York).
As with American States and Canadian Provinces,
Mexican States have their own separate license plates.
A working knowledge of Spanish will help tremendously. However, people working at Mexico City's downtown hotels will be able to speak with you in English. Don't buy any newspapers unless your Spanish is very good; you're better off reading their English translations online. Like Canada, Mexico has a whopper of a Value Added Tax (IVA in Spanish): 16 percent. As for the warnings about Mexican water: Unfortunately, they still hold true, and "Montezuma's revenge" (the Latin American name for traveler's diarrhea) is no joke.
This link gives you guidelines about how to handle water and food doubts.
The Zócalo, or the Plaza de la Constitución, is considered the center of Mexico City, the way Times Square is for New York City, City Hall for Philadelphia or Downtown Crossing for Boston. A "z
ócalo" is the base of a column, which was planned as a monument to the independence movement of 1810 to 1821, but only the base was built.
It was made into a giant flagpole, fronted by the Cathedral Metropolitana on the north and the Palacio Nacional on the east.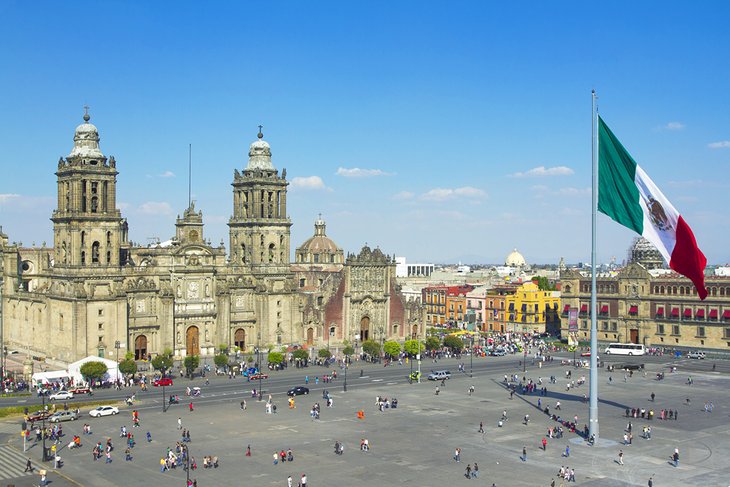 The Zócalo. Those "twin towers" are the
Cathedral Metropolitana.
The Palacio Nacional is to the right.
Mexico City is Latin America's "New York": The center of the media world, both print and broadcast. It's also their "Los Angeles": The center of the film and music worlds.
It has a subway system, called the Metro. It uses rechargeable cards, and a single-day ticket costs MXN $5.00 -- about 26 cents U.S., making it one of the cheapest rapid transit systems in the world. Most of Mexico City's main tourist attractions can be accessed by Line 2. Avenue Rio Churubusco is an incomplete Beltway for the city.
A Metro train
No matter how hot it gets, don't even think about going to the beach: The nearest beach town to Mexico City is Túxpam de Rodríguez Cano, in the State of Veracruz, about 180 miles away. Mexico does have famous beach towns, but these are all far away from Mexico City: Acapulco, in the State of Guerrero, 235 miles; Puerto Vallarta, Jalisco, 535 miles; Cancún, Quintana Roo, 1,000 miles.
Going In.
Named for the ancient empire that ruled Mexico, the Estadio Azteca opened in 1966, as the home of the national team and of

Club de Fútbol América S.A. de C.V., or simply

Club América

, the most-loved -- and, like the Yankees, the most-hated -- sports team in the country.
It is older than every MLS stadium except Providence Park, Robert F. Kennedy Stadium and Grant Field (and both of those will have been replaced by the middle of next season); every NFL stadium except the Los Angeles Coliseum and Lambeau Field; every MLB stadium except Fenway Park, Wrigley Field, Dodger Stadium and Angel Stadium; every NBA arena; and every NHL arena.
The official address is Calzada de Tlalpan, 3465, about 9 miles south of downtown. Take the Metro's Line 2 to
Tasqueña
, and switch to Xochimilco Light Rail Line 1. Get out at Azteca station, and you'll be outside the stadium's east stand.
From a peak of 119,853 fans at a 1968 game, renovations have reduced the soccer seating capacity to an official 87,000, which still makes it larger than all but 21 stadiums in the world, 15 of them in the U.S. The stands, especially in the upper deck, are steep, the kind you might have had to negotiate at the old Yankee Stadium, or maybe at one of those Memorial Stadiums built to honor the dead of World War I from the college whose football team plays there. The field is natural grass, and runs north-to-south.
Known as "El Coloso de Santa Úrsula," the Colossus of Saint Ursula (for the neighborhood it's in), a
long with the
Maracanã
in Brazil, it is 1 of 2 stadiums to have hosted 2 World Cup Finals: 1970, in which Brazil beat Italy; and 1986, in which Argentina beat West Germany. It also hosted the 1970 Semifinal between Italy and Germany that became known as "The Game of the Century"; and the 1986 Quarterfinal between Argentina and England in which Diego Maradona scored what became known as "The Goal of the Century," only 4 minutes after his handball goal that he called "The Hand of God," the most famous cheat in the history of sports on planet Earth.
In addtion to
Club América, the Azteca has been the home field for
Club Necaxa, who played there from 1966 to 1970, and again from 1982 to 2003 before going back to the city of Aguascalientes; Atlante, who played there off and on from 1966 to 2007, before returning permanently to their home base in Cancun;
Club de Fútbol Universidad Nacional A.C.
, a.k.a.
Pumas de la UNAM, Pumas or UNAM from 1967 to 1969 (more about them in Sidelights);
Atlético Español from 1970 until they went out of business in 1982; and Cruz Azul (Blue Cross) from 1971 to 1996
(more about them in Sidelights).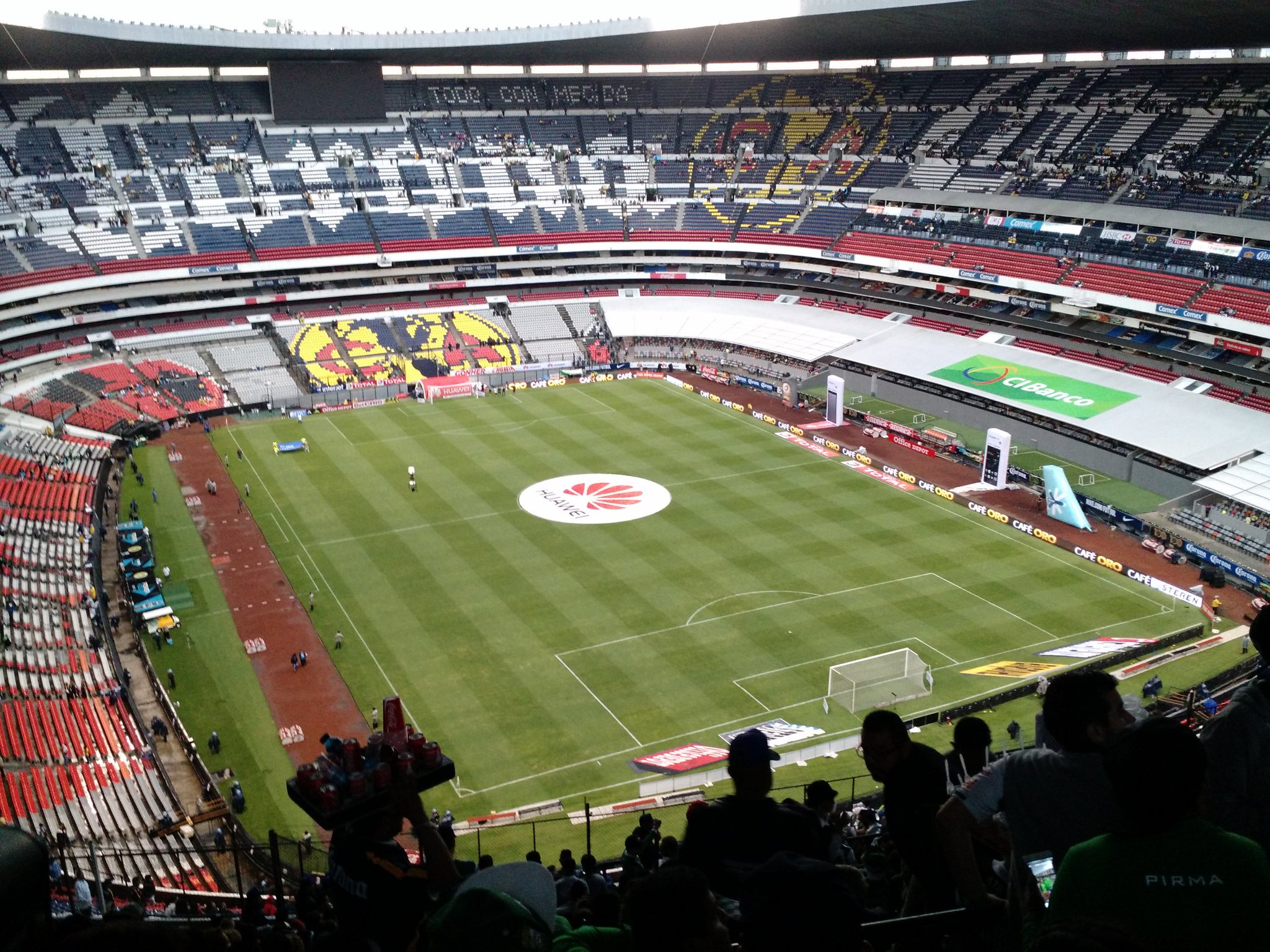 It's also hosted soccer for the 1968 Olympics, the 1975 Pan American Games, the 1993 and 2003 CONCACAF Gold Cups, the 1999 Confederations Cup, and the 2011 Under-17 World Cup. It's hosted our football 3 times: August 15, 1994, a preseason game in which the Houston Oilers beat the Dallas Cowboys 6-0, in front of the largest crowd in NFL history, 112,376; October 2, 2005, the 1st regular-season NFL game in Mexico, Arizona Cardinals 31, San Francisco 49ers 14, in front of 103,467, setting a since-broken NFL regular-season record; and November 21, 2016, the 1st
Monday Night Football
game played outside the U.S., Oakland Raiders 27, Houston Texans 20, in front of 76,743.
On February 20, 1993, the stadium's all-time attendance record was set, as 132,247 people saw Mexico's greatest-ever boxer,

Julio César Chávez, knock Greg Haugen out to retain the Light Welterweight Championship of the World. T

he stadium has also hosted concerts, including by Paul McCartney, Michael Jackson and U2; and religious convocations, including the funeral of Chesperito, a legendary Mexican comedian who was a

Club América fan

.
Tours are available, taking 30 to 40 minutes, from 10 AM to 2 PM. However, they are not available on matchdays or on the day before. They cost MX$105 -- about US$5.50.
Food.
As I said, eating in Mexico is an iffy proposition. A writer (not credited) at
StadiumGuide
suggested getting a quesadilla at a concession stand outside the stadium before the game. However, being that the Azteca is arguably the most famous building in all of Central America, I'm guessing they take precautions to make sure they don't have 87,000 cases of food poisoning, even if some of the 87,000 are
Yanquis
.
There are lots of vendors roaming the aisles, and it may be considerably easier to get something you'd like if you let them come to you, rather than going up to get on line.
Team History Displays.
Despite being the stadium of the national team and the most popular club team in the country, there is no display of titles won in the stadium's fan-viewable areas.
Mexico's national team, known as
El Tricolor
because it adopted the green-white-red colors of the national flag, or
El Tri
for short, have won the CONCACAF Gold Cup -- the "continental" championship for North America, Central America, and the Caribbean region combined -- 10 times, including the most recent one in 2015, and 3 of the last 4. (The U.S. has won it 5 times: 1991, 2002, 2005, 2007 and 2013.)
El Tri
have also won the 1999 Confederations Cup; and the soccer tournaments at the 2012 Olympics; the Pan American Games in 1967, 1975, 1999 and 2011; and finished runners-up in
the 1993 and 2001 Copa

América.
When
El Tri
come to the U.S. -- they will be playing Croatia at the Los Angeles Coliseum on May 27, Ireland at the Meadowlands on June 1, and Ghana at the Houston Texans' NRG Stadium on June 28 -- they are joined by hordes of fans, not just crossing the border or flying in, but from Mexican communities all over America. They have particularly made NRG Stadium a 2nd home field.
The USMNT often finds itself outnumbered on its own grounds, particularly in California and Texas. Even fans from other Latin American nations come and, although they normally have no love for Mexico, root against the U.S. (This doesn't just apply to Mexico: I was at the U.S.-Argentina match at the Meadowlands in 2011, a 1-1 tie, and it was almost evenly split between Americans and Hispanics rooting against the U.S.)
El Tri is also the name of Mexico's most famous rock band, led by Alex Lora, formed from his former band, Three Souls in My Mind. He chose an English name and wrote and sang in English because, when the band was founded in 1968, rock and roll was not seen as compatible with Mexican identity. Eventually, he decided that his songs had to be sung in Spanish for his audiences to properly understand him. El Tri split from TSIMM (the initals were used) in 1985, and the rest is history.
Club América, also known as
Las Águilas
(the Eagles), celebrated their 100th Anniversary last October. have won 16 league titles, including a record 12 since the 1943 founding of the national league, now known as Liga MX; 11 of those have been since the Azteca opened, most recently in 2014. They've won the Copa MX (the country's version of the FA Cup) a record 6 times, although not since 1974. And they've won the CONCACAF Champions League a record 7 times, including the last 2. (They did not qualify for the 2017 tournament, although the Final will be between 2 Mexican teams, Tigres UANL of Monterrey and CF Pachuca.)

Club América
have 3 major rivalries, playing
El Super Clásico with C.D. Guadalajara (a.k.a. Chivas), El
Clásico Capitalino
with UNAM, and
El Clásico Joven
with Cruz Azul.
Stuff. The Nike Store Azteca is located outside the stadium's east stand. In 2007, Roger Magazine published the nonfiction book Golden and Blue Like My Heart: Masculinity, Youth, and Power Among Soccer Fans in Mexico City

.

DVDs of the various Liga MX clubs are available at various stores.
During the Game.
It has been recommended that you not wear red, white and blue, particularly the USMNT uniform. Well, if you are with a group, you will probably be safe. Belts are not allowed inside the Azteca for soccer games, as they have been used as weapons..
The Mexican fans will be warned to not boo "The Star-Spangled Banner." They will boo it anyway. Don't be shocked: Many a Yankee fan watching us play the Toronto Blue Jays, and many a hockey fan watching an American team play one of the Canadian teams, has booed the performance of "O, Canada." Well, when "Himno Nacional Mexicano" is played, the best thing to do is stand, stay still, and remain silent. They'd probably respect that more than trying to sing it along with them, in Spanish, badly.
A translation of said anthem:
Mexicans, at the cry of war,
make ready the steel and the bridle,
and may the Earth tremble at its core
at the resounding roar of the cannon!
If a referee's call goes against
El Tri
-- since you're in the Azteca, it is unlikely that a significant call will, but even if it's a less consequential call -- things will be thrown by the Mexican fans. If you can understand shouted Spanish, you will hear how the referee's girlfriend -- or perhaps his mother, or both -- are various forms of livestock.
Do not be surprised if the game goes against us: In more than 70 World Cup qualifying matches played at the Azteca, Mexico have lost only once. The heat, the high altitude, and the noise of the fans are both major factors. Overall, Mexico have won 34 matches against us, we've won 19, and there have been 14 draws. But on Mexican soil, the count is far in Mexico's favor: Mexico 23, U.S. 1, 2 draws. At the Azteca, Mexico 9, U.S. 1, 2 draws. The 1 win? A friendly on August 15, 2012. Contrast that with games on American soil: We've won 9, they've won 2, and there's been 2 draws.
We also beat them in our 1st-ever match against them, in Rome in a qualifier for the 1934 World Cup; and in the 2002 World Cup Round of 16 at Jeonju, Korea, the famous
Dos A Cero
game. In fact, of our 19 wins over Mexico, 9 have been by the score of 2-0. The next night, on
The Tonight Show
, Jay Leno joked, "Half of California went into mourning! And the other half said, 'There was a game?'" Suffice it to say, America's attention to soccer has grown tremendously since June 17, 2002.
Assigned to
El Tri
matches are 4,000 police officers, or 1 for every 25 fans. They use riot shields to ward off projectiles. Visitors are also warned to beware of thrown liquids: "If cold, it's beer; if warm, it's kidney water." Mexican fans, raised Catholic and observing certain doctrines, tend to use the term "Puto" -- slang for "homosexual," in essence the Mexican variation of "faggot." Also, "culero" -- "asshole."
After the Game.
If we do somehow win the game, do
not
celebrate inside the stadium. When you are let out, leave very calmly, keep quiet, and do not taunt anyone. Remember: They know the streets, and hiding places, and they know that you don't know.
Estadio Azteca is located in a predominantly residential area, and there is little entertainment around. So your best best for a postgame meal is to get back on the light rail, and head back downtown.
There is an "American restaurant" named
Times Square
. It serves hamburgers and pizza, like you would expect an American eatery to do, and you can get a good solid meal for the American equivalent of $13. It's at Avenue Prado Norte 421, about 5 1/2 miles west of the
Zócalo. Not easily reachable by public transit.
Sidelights. Mexico City is a great sports city, and they don't only love soccer. There are 2 other Liga MX teams in the city.
Cruz Azul, or Blue Cross, have won 8 league titles, most recently in 1997; 3 Copas Mx, last in 2013; and 6 CONCACAF Champions League titles, last in 2014.
They play at Estadio Azul, seating 34,253 (and, yes, all seats are blue). It was built in 1947, and plans are underway for a replacement, which the club hopes will open in time for the 2018-19 season. The old stadium is at Calle Indiana 255. Mexico's leading bullfighting ring, Monumental Plaza de Toros, is next door. Line 1 to Metrobus Ciudad de los Deportes.
The other is Club de Fútbol Universidad Nacional A.C.
, a.k.a.
Pumas de la UNAM, Pumas or UNAM. They were founded as a team of the National Autonomous University of Mexico, and have won the league 7 times, last in 2011; the Copa MX in 1975; and the CONCACAF Champions League 3 times, last in 1989.
The play at

Estadio Olímpico Universitario, which opened in 1952, seats 48,297, and was the main stadium for the 1968 Olympics, including the track & field events: Bob Beamon's record-shattering long jump, Dick Fosbury revolutionizing the high jump with the Fosbury Flop, Jim Hines becoming the 1st man to run the 100 meters in under 10 seconds, and Tommie Smith and John Carlos following up their medal-winning run with their black-gloved salute.
Av. de los Insurgentes Sur and Circuito Escolar.
Line 2 to
Miguel Ángel de Quevedo, then Bus K1 to Ciudad Universitario.
The Mexican Baseball League (LMB in Spanish) has 16 teams, in North and South Divisions, but only one team played in Mexico City. In 1940, they were founded as the Mexico City Reds, but in 1942, an opponent said, "These Reds, they play like Devils!" And they have been Los Diablos Rojos de

México ever since.
They have won 16 Pennants, the last in 2014. Their 1st home was Parque Delta, which was demolished and rebuilt for
1955 as the 25,000-seat
Parque Deportivo del Seguro Social. This stadium was also home of Tigres, who groundshared with the Red Devils until they moved to
Cancún in 2011. A shopping center named Parque Delta is now on the site of Mexico's most famous baseball park.
Avenida Cuauhtémoc 462. Line 3 to Obrero Mundial.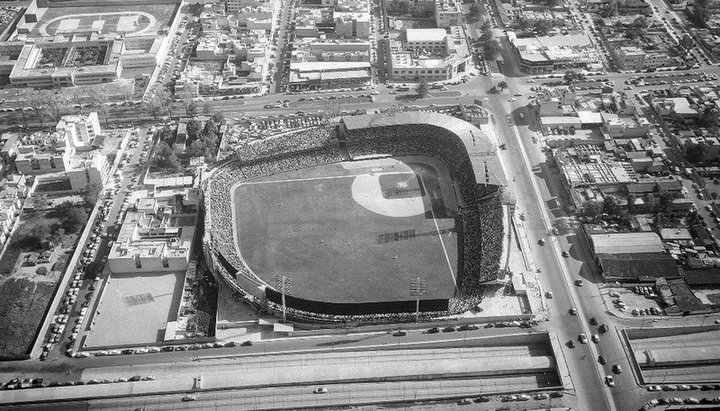 El Seguro Social was replaced with the 26,000-seat Foro Sol (Sun Forum), which opened in 1993 and took in both Rojos Diablos and Tigres in 2000, before Tigres left. (Rojos Diablos and Tigres remain arch-rivals.) It can seat 65,000 for concerts, including the annual Vive Latino rock festival. (Neither Elvis Presley nor the Beatles ever performed in Mexico.)
The 20,000-seat Palacio de los Deportes is across the street from Foro Sol. It opened in 1968, in time to be used for basketball at the 1968 Olympics. On December 6, 1997, it hosted an NBA regular-season game, with the Houston Rockets beating the Dallas Mavericks 108-106. Avenida Viaducto Rio de la Piedad and Avenida Rio Churubusco. Line 9 to

Velódromo.
Foro Sol, with Palacio de los Deportes behind it.
Mexican stadium and arena architecture in the 1950s and '60s
was no better than its American counterpart.
In 2014, Rojos Diablos moved into Estadio Fray Nano, which seats only 5,200. Avenida

Fernando Iglesias Calderón and Avenida Venustiano Carranza, about a 10-minute walk from their previous home.

Line 9 to Mixiuhca. They will move into a new 16,000-seat stadium for the 2018 season, at the

Magdalena Mixhuca Sports City, just to the east of Foro Sol. Line 9 to Ciudad Deportiva.
CGI depiction of new ballpark
There is one stadium in Mexico that has hosted regular-season Major League Baseball games, but it's not in Mexico City.
Estadio de Béisbol Monterrey, a 27,000-seat stadium opening in 1990, hosted a 3-game series between the Mets and the San Diego Padres (the nominal home team) in August 1996.
The series was moved because the Republican Party wanted to borrow Qualcomm Stadium for the last night of their Convention, but they ended up not using it anyway. The 1st game was notable for the Padres' starting pitcher being Hermosillo native and Los Angeles Dodgers legend Fernando Valenzuela -- and the Padres taking a 15-0 lead before hanging on to win 15-10. The Mets won the 2nd game 7-3, and the Padres took the rubber match, 8-0.
The Padres again played host on Opening Day, April 4, 1999, losing 8-2 to the Colorado Rockies.
Av. Manuel L. Barragán. It's 568 miles from Mexico City, 1,449 from San Diego, 490 from Houston, and 140 from the closest border point, at Laredo, Texas.
Estadio de Béisbol Monterrey
Arena México opened in 1956, and hosted boxing for the 1968 Olympics, including George Foreman's Gold Medal. An earlier building named Arena Modelo was on the site. 189 Calle Dr. Lavist.
The most popular U.S. baseball team in Mexico is the Dodgers, largely because of Valenzuela. The Padres, the closest team to the border (16 miles from Petco Park to Garita El Chaparral in Tijuana), are a distant 2nd. Despite recent efforts to market themselves to Phoenix's Mexican-American community and to Mexico itself, the Arizona Diamondbacks are 3rd, and not going to catch the Padres, let alone the Dodgers, anytime soon.
The Phoenix Suns are the most popular NBA team, not so much because of proximity, but because their conscious efforts to reach out to Hispanics in Arizona, and to people in Mexico itself, has already borne more fruit than those of their downtown neighbors, the Diamondbacks. Mexicans don't seem to care about hockey, but they have filled the Azteca for NFL games (regular and pre-season). Unfortunately, as with our own country, their favorite teams appears to be the Dallas Cowboys. As if you, as an American, needed another reason to root against our soccer arch-rivals!
Mexico City has a Six Flags, the most-visited theme park in Latin America. Bus 13-A. It also has its own World Trade Center, at Avenida Insurgentes and Calle Fileadelfia. Bus 1 to Poliforum.
Their version of the Metropolitan Museum of Art is Palacia de Bellas Artes (Palace of Fine Arts), at the eastern end of the park Alameda Central. Line 2 to Bellas Artes. Their version of the Museum of Natural History is Museo Nacional de Antropologia. It is in the park Bosque de Chapultepec (Chapultepec Forest), as are historic Castillo de Chapultepec (Chapultepec Castle), the national auditorium, the national zoo, and Los Pinos, the Presidential residence, Mexico's "White House." Line 7 to Auditorio. There are also museums dedicated to husband-and-wife painters Diego Rivera and Frida Kahlo.
Despite having a civilization considerably older than ours, Mexico's current capitol building is relatively new. The

Palacio Legislativo de San Lázaro opened in 1981, and hosts both houses of the Congress of the Union: The lower house, the Chamber of Deputies; and the upper house, the Senate of the Republic. Line 1 to

San Lázaro. As I said, the President of Mexico (currently

Enrique Peña Nieto, who not only speaks English better than Donald Trump but totally rolled him on who was going to pay for his precious wall) has his residence at Chapultepec, while the Palacio Nacional, on the east front of t

he Zócalo, is now merely ceremonial.
The tallest building in Mexico City is the 801-foot Torre Reforma (Reform Tower), at Paseo de la Reforma 483, adjacent to the 2 next-tallest, the 771-foot Torre BBVA Bancomer and the 739-foot Torre Mayor (Major Tower). All are just to the east of Bosque de Chapultepec, and overlook it. But none of these is the tallest in the entire country: Mexico's tallest building is Torre KOI, standing 918 feet just outside Monterrey.
(There are 2 buildings in Latin America that are taller: The 984-foot Gran Torre Santiago, in Santiago, Chile; and the 932-foot Trump Ocean Club International Hotel and Tower in Panama City, Panama. Big surprise: Trump has been sued for plagiarizing the design of a hotel in Dubai.)
A list of movies and TV shows filmed and/or set in Mexico City would be to extensive for this guide. But most of them are produced by and for Mexicans, and most Americans wouldn't recognize them, unless they understand Spanish fluently and watch telenovelas on Univision or Telemundo.
*
Seeing the U.S. national soccer team play away to Mexico can be very difficult, and even carries with it the kind of danger you almost never see in American sports, not even in rivalries like Yankees-Red Sox or Duke-North Carolina. But if you read this guide carefully, you should be able to avoid trouble.
If you have any trouble at all, do not hesitate to contact the U.S. Embassy.
Paseo de la Reforma 305. Bus 76-A.
Phone:
+52 55 5080 2000.