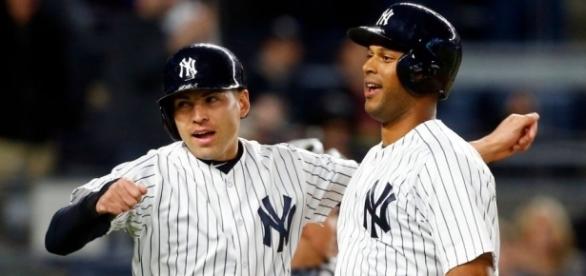 St. Louis Cardinals fans like to talk about being "the best baseball fans in America," and their city being "the best baseball town in America."
Per capita, that may be true, as St. Louis is a lot smaller than New York. But don't insult me, my friend, remember who you're talking to.
The Cards came into Yankee Stadium for a weekend Interleague series. By a quirk of the scheduling, every other MLB team (all 28 potential opponents besides St. Louis) had been to The Bronx since their last visit. It was 2003, and it included the game in which Roger Clemens won his 300th game and notched his 4,000th strikeout.
Masahiro Tanaka started for the Yankees, and still hasn't fully shaken off the wear of the World Baseball Classic where he pitched for Japan. But he was better, going 6 1/3rd innings, allowing 3 runs on 5 hits and 2 walks, striking out 5. Included in that was a 1st inning home run to Matt Carpenter.
But Starlin Castro countered in the bottom of the 1st, with a homer, his 2nd of the season, off Cardinal starter Michael Wacha, driving Brett Gardner home ahead of him, and making it 2-2. Austin Romine added his 1st home run of the season in the 2nd. A Chase Headley double in the 5th made it 4-2 Yankees.
Tyler Clippard got Tanaka and the Yankees out of a jam in the 7th, leaving the score at 4-3, and Dellin Betances struck out the side in the 8th. The 9th seemed to be going smoothly as well, as Aroldis Chapman got the 1st 2 outs. Then he issued a walk to Randal Grichuk, and then a double to Jose Martinez. Luckily, Grichuk could only get to 3rd base, but suddenly a single could well have given the Cards the lead.
Fortunately, Chapman got Dexter Fowler to ground to 2nd to end it. Whew. Yankees 4, Cardinals 3. WP: Tanaka (1-1). SV: Chapman (3). LP: Wacha (1-1).
That's 5 straight wins, after starting the season 1-4. If you had told me on Opening Day that the Yankees would start the season 6-4, I would have taken that, given the bad starts that have plagued us pretty much every season since 2007.
The series continues this afternoon. CC Sabathia starts against Carlos Martinez.
*
If the Rangers lose this series to the Montreal Canadiens, they will have lost it last night, when they choked away a 3rd period lead in Montreal, and lost in overtime.
Red Bulls vs. DC United. Come on you Boys In White!