The Yankees had the best record in baseball in Spring Training: 24-9. The hitters were hitting well, the pitchers were getting the job done, the fielders were fine.
There was hope that, this time, we might not get off to a bad start, might look like contenders, might not need further rebuilding, might actually do something this season without waiting for all those "prospects" for whom general manager Brian Cashman threw away our Playoff chance last season.
And all that optimism from Spring Training didn't even get out of the 1st inning that actually counted.
It is true that the relievers that manager Joe Girardi used in the regular-season opener against the Tampa Bay Rays at Tropicana Field in St. Petersburg, Florida yesterday - Tommy Layne, Adam Warren, Jonathan Holder and Chasen Shreve - pitched 5 1/3rd innings, allowing no runs on 5 hits and just 1 walk.
It is also true that Masahiro Tanaka, on whom we are counting to be the ace of a title contender, and who had looked great in March, had absolutely nothing. He allowed 3 runs in the 1st inning, 2 in the 2nd, and 2 more in the 3rd. It was the worst outing of his major league career.
Starlin Castro and the much-maligned Chase Headley each got 3 hits, including a bunt single by Headley that started a 9th inning comeback, loading the bases with nobody out, but the Yankees only got 1 run out of it, on a pinch-hit sacrifice fly by the newly-acquired slugger Chris Carter.
The Yankees' 2nd, 3rd, 4th and 5th hitters in the batting order, Gary Sanchez, Greg Bird, the newly-acquired Matt Holliday and Jacoby Ellsbury, went a combined 0-for-16 -- as the guy said in
Bull Durham
, "a big fucking donut hole for 16." Their only time reaching base was a walk drawn by Bird.
Rays 7, Yankees 3. WP: Chris Archer (1-0). SV: Alex Colome. LP: Tanaka (0-1).
Already, the Yankees are a game out of 1st place.
#GirardiOut #CashmanOut
After a day off today - which is absolutely unnecessary, since the stupid Rays play in a dome - the series resumes tomorrow night. CC Sabathia starts for the Yankees, Jake Odorizzi for the Rays.
*
Rubén

Amaro Sr. died this past Friday. Born on January 6, 1936 in Veracruz, Mexico,

Rubén Amaro Mora was the son of Santos Amaro, a Cuban right fielder nicknamed "Cangura" who starred in the Mexican League. Ruben was a shortstop, got a cup of coffee with the St. Louis Cardinals in 1958, and came back up with the Philadelphia Phillies in 1960.
In 1964, wearing the Number 20 that the Phils would later retire for Mike Schmidt, he was part of the team that looked like it was going to win the National League Pennant, but lost 10 straight games in late September to blow it. He did, however receive a Gold Glove that season.
Traded to the Yankees in 1966, with the intention of succeeding Tony Kubek, who retired due to a back injury, he collided with left fielder Tom Tresh in his 1st season with them, and was never the same. He played 3 seasons with the Yankees, and 1 more with the California Angels, 1969.
He was later the Phillies' 1st base coach, and got a World Series ring with them in 1980. He later worked for the Baseball Assistance Team (BAT), helping indigent players.
"Number 12... Ruben... Amaro... shortstop... Number 12."
-- Bob Sheppard
His son,
Rubén Amaro Jr. (known as RAJ), born in Philadelphia while his father played there, and a batboy while his father was a coach there, played as an outfielder on the Stanford University team that won the 1987 College World Series.
He played in the majors in the 1990s, and in 1993, did something his father was unable to do: Win a Pennant with the Phillies. He won another in 1995 with the Cleveland Indians. The son had a slightly higher lifetime batting average than the father: .235 to .234.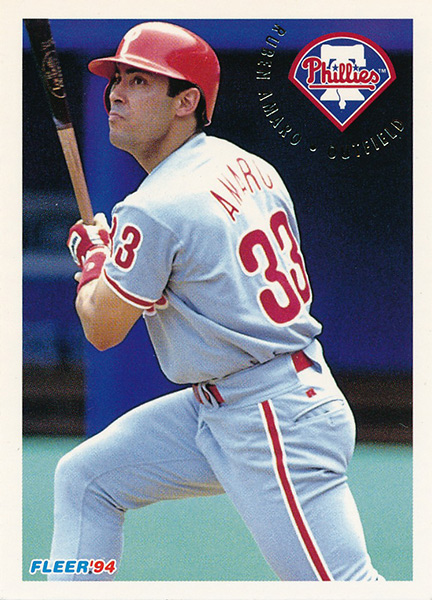 Rubén Jr.
later served in the Phils' front office, as assistant general manager under Ed Wade, then Pat Gillick, helping to build the team that won the 2007 NL Eastern Division title and
the 2008 World Series. Gillick retired after that Series, and
RAJ was promoted to general manager, winning another Pennant in 2009 and Division titles in 2010 and 2011.
Injuries caught up with them the next season, and he was unable to rebuild, and was fired in 2015. He is now the 1st base coach for the Boston Red Sox. Another son of
Rubén Sr., Luis Amaro, played in the Phillies' farm system and is currently GM of a team in Venezuela's league.
Rubén Amaro Sr. was elected to the Mexican Baseball Hall of Fame like his father, and died on Friday, March 31, 2017, in Miami, at the age of 81.