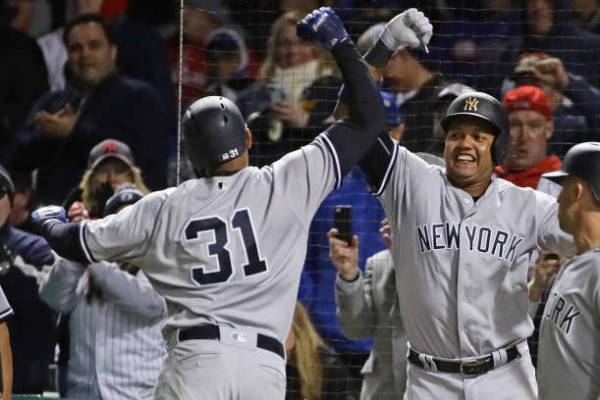 And now, we're going to find out if I can write this blog in my sleep.
The Yankees went for the sweep of the defending World Champion Chicago Cubs at Wrigley Field last night. Aaron Hicks drew a walk, Matt Holliday singled him over, a double steal was carried out, and Starlin Castro grounded to short to score Hicks. One-nil to the Bronx Bombers.
Luis Severino ran with that early lead. He was terrific: 7 innings, 1 run (a home run to Javier Baez in the 3rd), 4 hits, 1 walk, and 9 strikeouts.
Castro led off the top of the 7th by reaching 2nd on an error, and Aaron Judge drove him in with a triple. Brett Gardner led off the 8th by pinch-hitting for Severino. Interleaved game in a National League park, no designated hitter. This time, it worked to the Yankees' advantage, with a single, and Jacoby Ellsbury hit a home run, his 4th of the season, to make it 4-1.
Dellin Betances pitched a scoreless 8th, and, with Aroldis Chapman, one of the heroes of the Cubs' title last season, coming on for the bottom of the 9th, the sweep looked like it was in the bag.
It wasn't, as Chapman had a rare meltdown. He allowed a leadoff walk. Cliche alert: A leadoff walk can kill you. He allowed a single. Tying run to the plate. He got a strikeout, but allowed one RBI single, then another. He got another strikeout, then Joe Girardi ordered an intentional walk to Kris Bryant, to load the bases and set up the force play at any base.
It was good strategy. All that was necessary for it to work was for Chapman to avoid the following against the next batter, Anthony Rizzo: A hit, a walk, a wild pitch, or hitting him with a pitch.
Chapman hit Rizzo with a pitch. That forced in a run. Tie ballgame.
If this had been an Arsenal match, in spite of the Yankees having taken the 1st 2 games of the series and still being in 1st place, Twitter would have been inundated with "Chapmans shit" and "FFS" (an abbreviation meaning "For fuck's sake") and #GirardiOut and #CashmanOut.
Girardi took his closer out, and brought Tyler Clippard in to stop the bleeding. He got Ben Zobrist to ground out to 2nd to end it. Extra innings.
The Yankees got nothing in the 10th, 11th and 12th innings. The longer a game goes on, the less I trust Girardi with the bullpen. Gardner led off the 13th with a single. Gary Sanchez walked with 1 out in the 14th. Ellsbury walked with 2 out in the 15th. In the 16th, Ronald Torreyes singled, and Sanchez walked again. All were stranded. The Yankees got nothing in the 17th.
Tribute must be paid to the Yankee bullpen. Chapman aside, it pitched brilliantly. Betances: A scoreless 8th inning; Clippard: The last out of the 9th, and a perfect 10th; Adam Warren: A hitless 11th and a scoreless 12th; Jonathan Holder: A perfect 13th, a hitless 14th, and a scoreless 15th; and Chasen Shreve: A hitless 16th and a perfect 17th.
Top of the 18th inning. Hicks led off with a bunt. Cubs catcher Willson Contreras threw it away, and Hicks got to 2nd. Torreyes bunted him over to 3rd. Castro grounded to short, and Addison Russell had to throw home, but he was too late. At 1:58 AM, the Yankees finally had the lead.
Bottom of the 18th. Shreve was being asked to pitch a 3rd scoreless inning. I was reminded of a line in the film
Ferris Bueller's Day Off
, which had a scene shot at Wrigley in 1985:
Ed: I don't trust this kid any further than I can throw him.
Grace: Well, with your bad knee, Ed, you shouldn't be throwing anybody.
I now have a bad knee. Fortunately, Shreve doesn't. He got Baez to ground out. He struck out Kyle Schwarber. One more out.
But he walked Bryant. Tying run on 1st. Winning run at the plate. Oh no.
But Girardi, who not only managed in the NL with the then-Florida Marlins, but played most of his career in it -- including, as fate would have it, for the Cubs in 1992 in the last 18-inning game played at Wrigley -- realized that he could walk Rizzo intentionally. This would put the tying run on 2nd, and the winning run on 1st, putting the Yankees in an even more precarious position.
But it would also bring up the pitcher's spot in the batting order. And with no more pinch-hitters left on his bench, Cub manager Joe Maddon would be forced to send up his current pitcher, Pedro Strop, who'd come to bat only once before in his 8-year major league career; or send up another pitcher to pinch-hit. He chose Kyle Hendricks, who has a .105 lifetime batting average, but had gotten 2 hits already this season, and is a decent pitcher, who could have pitched the 19th inning had the Cubs only tied it instead of winning it.
Hendricks took a ball 1 after 2 strikes, then Shreve struck him out to end the marathon.
Yankees 5, Cubs 4. WP: Shreve (1-0). No save. LP: Strop (0-2). Attendance: 40,584, pretty much a sellout, although there might have been 5,000 left in the Friendly Confines when it was done. And the time of the game, as Michael Kay would say, a very unmanageable, but satisfying in the result, 6 hours and 5 minutes.
It was the 1st time the Yankees had won a game at least 14 innings in length since a win over Texas on July 22, 2014; the 1st in at least 15 since a win over Baltimore on May 18, 2011; the 1st going at least 16 since a 17-inning win over Detroit on June 1, 2003; and the 1st going at least 18 since beating Detroit on September 11, 1988. The longest game in Yankee history remains 22 innings, also against Detroit, on June 24, 1962.
This game ended at 1:16 AM -- 2:16 New York Time. It's like the old public service announcement: "It's 10 PM: Do you know where your children are?"
It's 2:16 AM. Do you know where your baseball team is?
*
With 5 of the Major League Baseball regular season's 26 weeks gone, mine is in 1st place in the American League Eastern Division, with a 20-9 record, the best in baseball, the only remaining team still in single digits in losses. The Baltimore Orioles are half a game behind, the Boston Red Sox are 4 back, the Tampa Bay Rays 6 back, and the Toronto Blue Jays 10 back. In the all-important loss column, those teams are, respectively, 1, 5, 8 and 11 games behind.
The Yankees started out losing 4 of their 1st 5. Since then, they have won 19 out of 24, a 128-win pace.
They leave Chicago for a quick 2-game stop in Cincinnati, to play the Reds. Tonight, Masahiro Tanaka pitches what everybody hopes is a game that is not only good, but complete; against the aptly-nicknamed William "Rookie" Davis. Tomorrow night, CC Sabathia vs. Tim Adleman. Then a travel day, and then, on Thursday night, starting a 4-game home series with the Houston Astros.