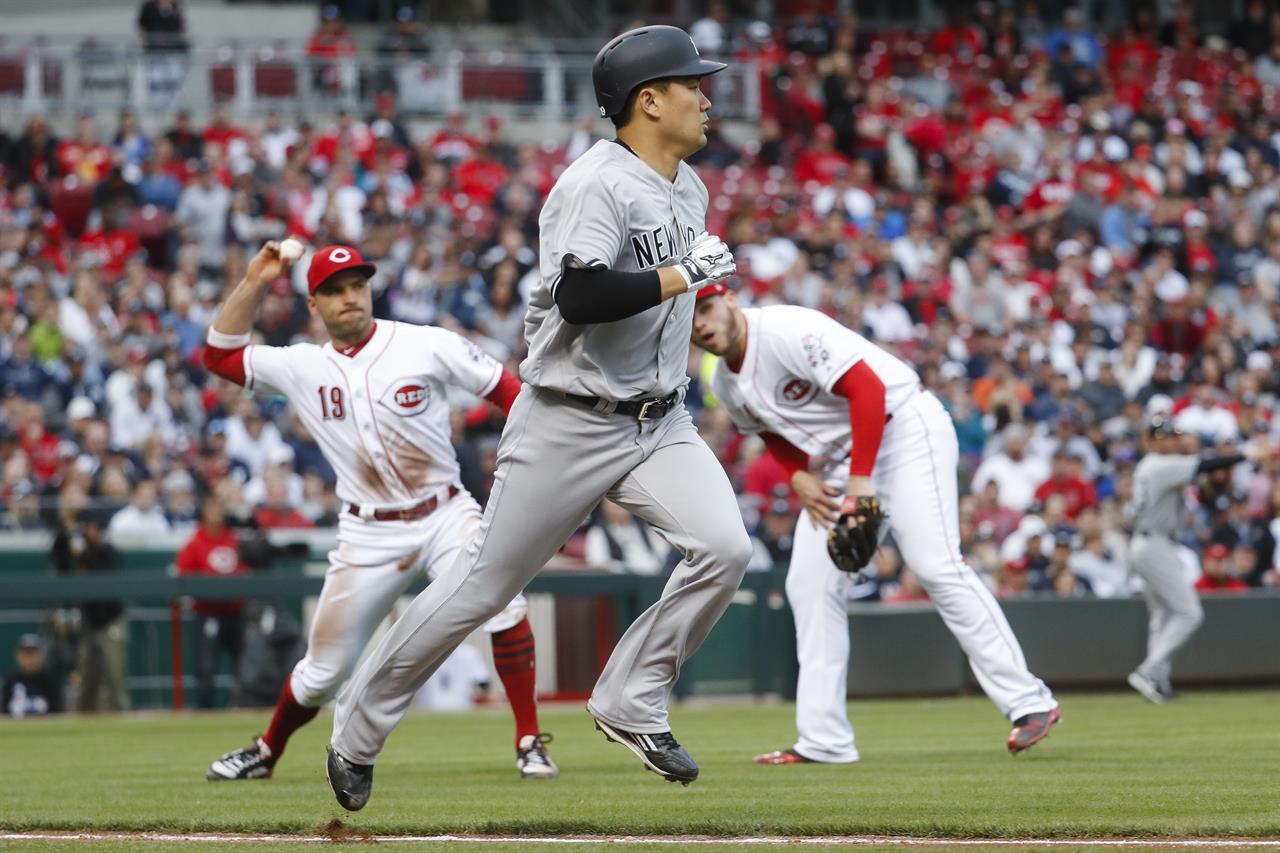 Somehow, the Yankees dragged their 18th-inning-winning carcasses (carcaii?) from Chicago to Cincinnati, and played another game last night, starting a brief 2-game series against the Cincinnati Reds at Great American Ball Park.
With the bullpen exhausted the night before, and with Aroldis Chapman having melted down in the 9th inning to make the following 9 innings possible, Yankee Fans were hoping that, A, Masahiro Tanaka would be able to go a long way; and, B, Joe Girardi would let him.
The Yankees gave him a lead to start with. Brett Gardner and Aaron Hicks got on base, Gary Sanchez singled them home, and Didi Gregorius singled him home. But Tanaka allowed a run in the bottom of the 1st, to make it 3-1. An RBI single by Hicks made it 4-1 in the 2nd, and a Gregorius sacrifice fly in the 5th not only made it 5-1, but chased the Reds' 1st-year starter, William Davis, who, appropriately, has the nickname "Rookie."
The Reds got a run back in the bottom of the 5th, but the Yankees loaded the bases in the 7th, and Drew Storen hit Chase Headley with a pitch to force home another run. Ronald Torreyes singled home Matt Holliday, but Sanchez was thrown out also trying to score, leaving the score at 7-2.
Joey Votto crushed a home run off Tanaka in the 7th, making it 7-4, but Gardner and Holliday added homers in the 8th. For each, it was his 6th of the season -- and we're still in single digits in May. Tyler Clippard pitched a perfect 8th, and Tommy Layne pitched a scoreless 9th.
Yankees 10, Reds 4. WP: Tanaka (5-1). No save. LP: Davis (1-2).
The Yankees go into tonight's action with the best record in baseball, but still only half a game (a full game in the loss column) ahead of the Baltimore Orioles in the American League East. Still, after starting the season 1-4, I don't think anybody anticipated that the Yankees would win 20 of their next 26, including 1 with a blown save by Chapman against the Cubs.
This team is looking a lot like the 1998 Yankees in their efficiency, and a lot like the 2009 Yankees in their having of the fun.
The Cincy series concludes tonight, with CC Sabathia starting against Tim Adleman. I'm hoping CC will give the lineup the chance to do enough damage to win. And if he doesn't? If you had told me before this Midwestern Interleague roadtrip started that the Yankees would take 4 out of 5, I would have gladly taken it.
The Yankees have now taken the 1st 4. The 5th awaits. Then a day off, and home to face Houston. Come on you Bombers!