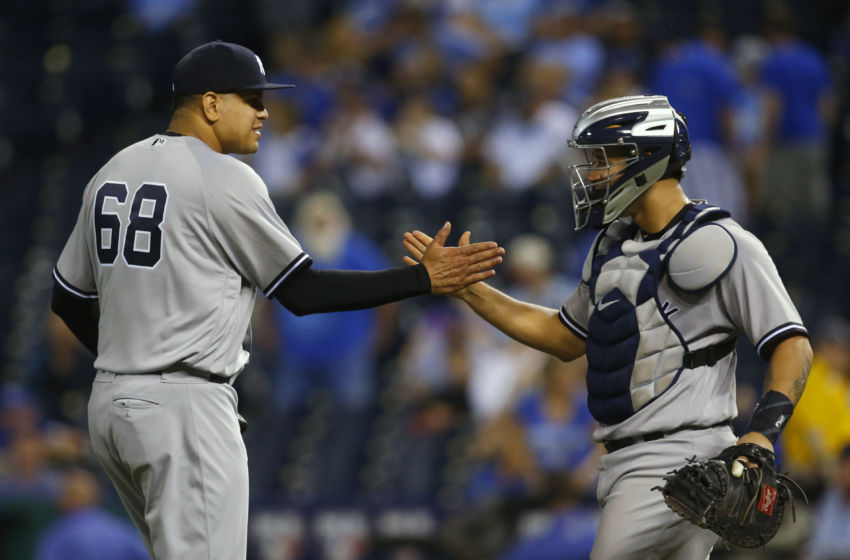 The Kansas City Royals have fallen way off from their back-to-back Pennant winners of 2014-15. Their fans might have expected a new era of dominance, but it just didn't happen.
The Yankees, on the other hand, are looking very good after a brief slump last week. They scored a run in the 1st inning at Kauffman Stadium last night, on a Starlin Castro double. They tallied 5 times in the top of the 4th, including a 3-run home run by Aaron Hicks (his 7th homer of the season -- and it's still mid-May).
Michael Pineda took that 6-0 lead into the bottom of the 4th, and wobbled a little, giving up a 444-foot home run to Salvador Perez, to make it 6-2. The Yankees made them pay for this, playing "small ball" to get 4 more runs in the top of the 5th, but Pineda allowed another long homer, 428 feet, to Whit Merrifield in the bottom of the 5th.
Joe Girardi had seen enough. He took Pineda out after 6 innings, allowing 4 runs, 3 of them earned, 6 hits and 2 walks. Tommy Layne and Adam Warren pitched the 7th and the 8th, allowing another run. Yankees scored again in the 8th, and took a nice 11-3 lead into the bottom of the 9th.
Aroldis Chapman is on the Disabled List, so Dellin Betances is the
de facto
closer. But with a 7-run lead and 3 outs to go, you don't need your closer, right?
Girardi sent Giovanny Gallegos out to pitch the bottom of the 9th. But he had nothing: He allowed a single, got a strikeout and a fly out, but then allowed 4 straight singles, for 3 runs.
Suddenly, it was save situation. And so, for the 1st time since Chapman's return to the Yankees on Opening Day, Betances had to step in for him in his (at least) monthlong injury layoff. He got a groundout to end it. Yankees 11, Royals 7. WP: Pineda (5-2). SV: Betances (1). LP: Jason Vargas (4-2).
The series concludes tonight. Jordan Montgomery starts for the Yankees, Danny Duffy for the Royals. Then the Yankees head down to St. Petersburg for a weekend series with the Tampa Bay Rays.
If Betances is to be our 9th inning man for the rest of the month, that begs the same question we had last year, when Brian Cashman stupidly traded Chapman and Andrew Miller away: Who pitches the 7th and 8th innings? Because Girardi rarely lets the starting pitcher go that long, no matter how well he's doing.
Until the Yankees can answer that question, the great season we've had thus far will always have that "Yeah, but... " hanging over it.