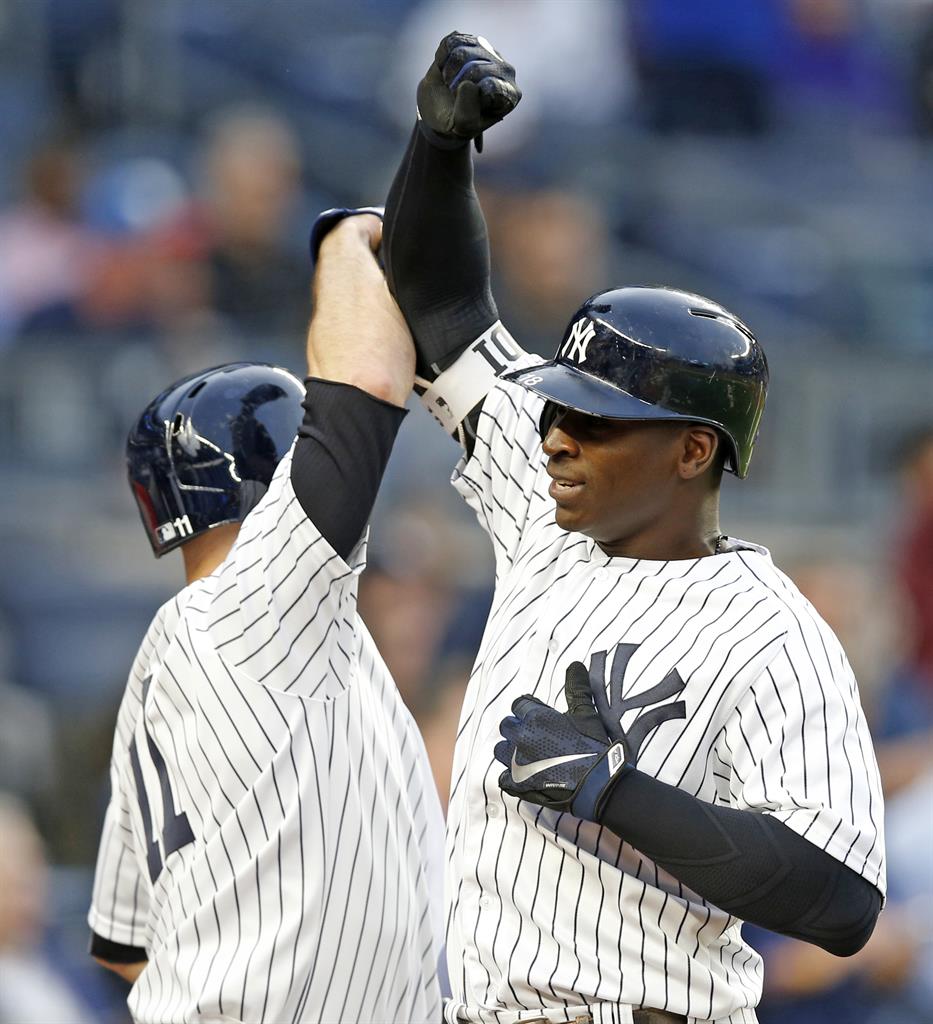 After Tuesday night's game, which the Yankees lost to the Kansas City Royals, 6-2 at Yankee Stadium, I said they needed to score a bunch of runs on Wednesday night.
They didn't. They only got 1 more. This time, Joe Girardi didn't screw up the pitching, and that 1 more run was more than enough.
It would have been pretty hard to screw the pitching up, although, knowing Girardi and his binder, he might have had a way printed out for him. In fact, he had it: Luis Severino threw 114 pitches, which is 14 more than Girardi's red alert, and about 19 more than his yellow alert.
But Joe left Sevy in because he was brilliant, pitching perhaps the best Yankee start of the post-Jeter era: 8 innings, no runs, 4 hits, 1 walk, 7 strikeouts.
But you gotta score runs, no matter how good your pitcher is. Didi Gregorius provided, as it turned out, all the offense the Yankees would need in the bottom of the 3rd inning, with a home run to right-center field, his 3rd jack of the season. Matt Holliday brought home another run with a sacrifice fly in the 6th, and a Brett Gardner single brought Sir Didi home in the 7th. Royals starter Jason Hammel pitched decently, and were he doing it against a team other than my own, I'd say he deserved a better fate.
Dellin Betances struck out the side in the 9th, making him now 4-for-4 in save opportunities since Aroldis Chapman's injury forced him back into the closer's role he had for the last 2 months of last season. Yankees 3, Royals 0. WP: Severino (3-2). SV: Betances (4 ). LP: Jason Hammel (1-6).
After a game like that, you wanna get right back out there. And the Yankees were scheduled for a Thursday afternoon "getaway day" 1:00 start. Alas, the weather had other ideas, and the game was rained out, and rescheduled for an off-day on both teams' calendars, September 25.
Rain is a great stopper of momentum. And we're not exactly in a drought, so we didn't need it for non-baseball reasons.
So the Yankees, now 2 1/2 games (3 in the loss column) ahead of the Baltimore Orioles in the American League Eastern Division, had to wait until tonight to play again. They start a 3-game home weekend series with the Oakland Athletics, who come in struggling, 4 games under .500. Here are the projected pitching matchups:
* Tonight, 7:05 PM: Masahiro Tanaka vs. Sean Manaea, an All-Pacific matchup, as Manaea is a Samoan from Indiana. Tanaka has a tendency to give up home runs, especially early, canceling out his good performances. Hopefully, he will control his hungry gopher tonight.
* Tomorrow, 1:05 PM: CC Sabathia starts against the team he grew up rooting for in the East Bay, against Jharel Cotton.
* Sunday, 1:05 PM: Michael Pineda vs. Andrew Triggs.
This could be a very tricky series for the Yankees, whose trend, for as long as I can remember (going back to the Reggie-Thurman Dynasty), is to struggle against pitchers they've never seen before. They beat Triggs on May 20 of last season, but that was in relief. They've never faced him as a starter before. They beat Manaea when he started against them the next day, but that's their only game against him. Like Manaea, Cotton debuted in the major leagues last season, and has 12 major league appearances under his belt, none against the Yankees.
We shall see.