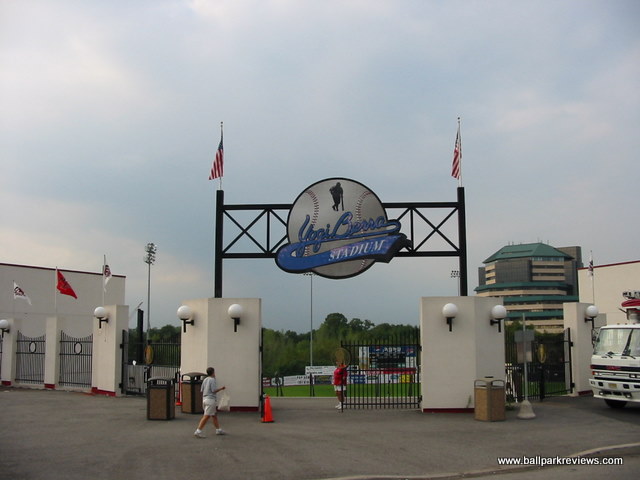 With the folding of the new Newark Bears after the 2013 season, and with the Sussex County Miners being so far up in the boonies that they might as well be in the Catskill Mountains of New York or the Pocono Mountains of Pennsylvania, the New Jersey Jackals are, for all intents and purposes, the only minor-league baseball team left in North Jersey. They open their 2017 season next Thursday night, at Yogi Berra Stadium.
Before You Go.
The weather will be the same as it is in New York when you go. You won't need to change your timepieces, bring your passport or change your money.
Tickets.
Unlike the other 7 minor-league ballparks built in New Jersey in the 1990s, and the 2 built in New York City in the early 2000s, Yogi Berra Stadium doesn't see somewhere between 6,000 and 7,000 people. Only 3,784. And their attendance is never great, so getting tickets shouldn't be an issue. After all, as the man himself said, "If people don't wanna come out to the ballpark, nobody's gonna stop 'em." All tickets are $12.
Getting There.
It's 16 miles from Midtown Manhattan to "The Yog." (That's pronounced "Yoag," as in "Yogi," not "Yahgg.") You don't need a plane. There is a bus route there, a train route, and a train-and-bus route.
From Port Authority Bus Terminal, take New Jersey Transit's Bus 191 to Long Hill Road & Jacobus Road. Get off, cross the street, and wait for Bus 28, going back toward Newark. This bus will drop you off in front of Montclair State University's Alexander Kasser Theater, on College Avenue. Turn right on Carlisle Road, then turn right on Yogi Berra Drive. After you get off the bus, you'll be walking for about 15 minutes. Round-trip fare is $19.20.
From Penn Station, take NJ Transit's Montclair-Boonton Line to Montclair State Station, leaving at 5:30 PM and arriving at 6:23 for a 7:05 start. To get back, your train will leave at 10:25 PM. Round-trip fare is $15.50. Unfortunately, this line doesn't run on the weekend.
The more complicated way is as follows: Penn Station to Penn Station -- New York to Newark. Take the Newark Light Rail (formerly known as the Newark Subway) to Bloomfield Avenue, walk upstairs, and transfer to the aforementioned Bus 28.
If you'd rather drive, it's considerably simpler: Take the Lincoln Tunnel to New Jersey Route 3 West, all the way to the end. Right after it merges with U.S. Route 46, your 1st exit will be Valley Road. As Yogi himself would have said, "When you come to a fork in the road, take it." The right fork will be Yogi Berra Drive, and the Stadium will be on the right. For your GPS, the address is 27 Clove Road.
Once In the City.
Both Montclair, in Essex County, and adjoining Little Falls, in Passaic County, were incorporated in 1868. Montclair, home to 38,000 people, is the stereotypical "bedroom community" of people working in New York City, although Upper Montclair, north of downtown, is very wealthy. Yogi Berra lived there for most of his adult life, much of it next-door to Dr. John McMullen, the naval engineer who was a minority owner of the Yankees before buying the Houston Astros, and bringing the NHL version of the Colorado Rockies to the Meadowlands and making them the New Jersey Devils. Little Falls is a bit more blue-collar, home to about 14,000.
The campus of Montclair State University straddles the 2 towns. Founded in 1908 as the New Jersey State Normal School, it became Montclair State Teachers College in 1927, Montclair State College in 1958, and Montclair State University in 1994.
It competes in the New Jersey Athletic Conference, along with the New Jersey City University (formerly Jersey City State College) in Jersey City, Hudson County; Ramapo College in Mahwah, Bergen County; Rutgers University-Newark in Essex County; William Paterson University in Wayne, Passaic County; The College of New Jersey (formerly Trenton State College) in Ewing, Mercer County; Kean University (formerly New Jersey State Teachers College at Newark) in Union, Union County; Rowan University (formerly Glassboro State College) in Glassboro, Gloucester County; Rutgers University-Camden in Camden County; and Stockton University (formerly Stockton State College) in Galloway, Atlantic County. Rutgers-Camden, Rowan and Stockton are the only 4-year colleges in South Jersey. The NCAA classifies all of these schools as Division III.
Montclair, from the French for "clear mountain" as it is at the foot of the Watchung Mountain range (really not mountains, just hills), doesn't have a "centerpoint" where addresses start, but the house numbers generally increase going from east to west, and from south to north -- in other words, the further you get from Newark. The sales tax in New Jersey is 7 percent.
ZIP Codes in North Jersey tend to begin with the digits 07, including 071 for Newark and environs, 072 for Elizabeth, 073 for Jersey City, and 075 for Paterson. Central and South Jersey got ZIP Codes starting with the digits 08, including 084 for Atlantic City, 086 and 086 for Trenton, and 089 for New Brunswick and environs.
New Jersey's original Area Code was 201. 609 was split off in 1958, 908 in 1991, 732 in 1997, and 856 in 1999. Now, they serve as follows: 201, with 551 overlaid in 2001, serves only Bergen and Hudson Counties (including the Meadowlands, and thus MetLife Stadium, and Harrison, and thus Red Bull Arena); 609 serves Mercer County (including the capital of Trenton and Princeton University) and the Southern Shore region (including Atlantic City); 732, with 848 overlaid, much of Central Jersey (including Rutgers University) and the Northern Shore region; 856, the Delaware River region that serves as suburbs of Philadelphia; 908, the Counties of Union, northern Somerset, Morris and Warren; and 973, with 862 overlaid, the Counties of Essex (including Newark, and thus the Prudential Center) and Passaic.
New Jersey Transit runs the 11, 28 and 29 buses up Bloomfield Avenue. The 28 turns onto Valley Road and runs north to the campus and the Yogi facilities. A 1-one ride is $1.60, and a 2-zone ride is $2.55. NJT also runs the Montclair-Boonton Line, going through Montclair on its way from Hackettstown to Hoboken Terminal, with Secaucus Junction allowing for transfers to New York's Penn Station. The area does not have a beltway.
Going In.
The Jackals' stadium, with an address of 8 Yogi Berra Drive (formerly Quarry Road), was named Yogi Berra Stadium after Montclair's most famous resident, even though the stadium is actually in Little Falls. (The most famous person ever to live in that town is magician David Blaine.) If you drive in, parking is free!
Adjacent is the Yogi Berra Museum & Learning Center, at 4 Yogi Berra Drive. The Museum and the Stadium opened for the Jackals' founding in 1998. It's 3 1/2 miles north of downtown Montclair, 14 miles northwest of downtown Newark, and 17 miles west of Midtown Manhattan.
Most of the stadium is below ground level, so you go down to go in, instead of up. The field is natural grass, and points north. The distances are 308 feet to the foul poles, and 398 to center -- ending in 8 as a tribute to Yogi's uniform number.
It seats 3,784 people, making it the smallest of the 8 minor-league stadiums built in New Jersey in the final years of the 20th Century, but a grass berm down the right field line allows for capacity to be raised to over 5,000. They rarely need it, though. And Montclair State, who also use it, never even need that many for football. (Their stadium is across the campus.)
The rather large building looming over center field, much as the Bronx County Courthouse once did over the old Yankee Stadium, is the Overlook Corporate Center, at 150 Clove Road. Just an office park, nothing special.
Food.
There are concession stands, including a Kosher option, but nothing special.
Team History Displays.
The Jackals have won their Division 5 times: 1999, 2002, 2003, 2004 and 2016. They've won their League's Pennant 4 times: 1998, 2001, 2002 and 2004. But there is no outward display for these achievements in the fan-viewable areas.
Nor is there any for the team's 4 retired numbers -- 5 if you count the universally-retired Number 42 of Jackie Robinson. Even though he obviously never played for them -- though he did play for the original Newark Bears in the 1946 season before being called up to The Bronx -- the Jackals retired 8 for Lawrence Peter Berra.
Lawrence, or Larry, or "Lawdie" as his Italian parents pronounced "Larry," grew up on the north side of St. Louis, across the street from Joe Garagiola, and near a couple of boys who would go on to play for the New York Giants baseball team, Bobby Hofman and Jack Maguire.
It was Maguire who gave him the nickname. They were playing ball at a field without dugouts or even benches, and Larry was sitting on the ground with his arms and legs folded. They'd seen a movie together the previous night, set in India, in which one of the characters was a yogi, and Jack said to Larry, "You look like a Yogi."
Broadcaster Bob Costas once asked him what his wife Carmen calls him. He said, "She calls me Yogi. If she calls me Lawrence, I know I'm in trouble."
The Yogi Berra Museum and Learning Center is located adjacent to Yogi Berra Stadium, and overlooks the field. It even had a skybox, where Yogi and his guests would watch the games. The museum is typically open from 12 noon to 5:00 PM, Wednesday through Saturday, and occasionally extends their hours on evenings when the Jackals have a home game.
The Museum's exhibits include Yogi's World Series rings and his Most Valuable Player awards. Also included are the original plaques that honored Joe DiMaggio and Mickey Mantle at Yankee Stadium, before they were replaced with monuments following their deaths.
There are displays honoring sports' connections with the armed forces, as Yogi was the only person to be a veteran of both Major League Baseball and the D-Day invasion of June 6, 1944. Civil rights is honored with a tribute to Jackie Robinson (but Yogi insisted until his death that Jackie was out when he stole home on him in the 1955 World Series) and the Negro Leagues, and there's now an exhibit called "Championing Respect," supporting the inclusion of gay athletes in sports.
There is an auditorium for various events, some of which have been taped for broadcast on the YES Network.
The Museum offers a wide range of school and public programs on all aspects of sports and society. It conducts guided school tours and character education programs (Grades 2-8), provides off-site assemblies on anti-bullying and sportsmanship, and also collaborates with Montclair State University on programs examining topical issues in media and sports.
The other retired numbers are 4, for center fielder Zach Smithlin of nearby Fair Lawn, Bergen County, 2004-09, who holds the team records for games and hits; 14, for coach Ed Ott, 2007-present, whom you might remember platooning with Steve Nicosia as the catcher of the 1979 World Champion Pittsburgh Pirates; and 28, for pitcher Joel Bennett, 2001-07, holder of most of the team's pitching records.
Stuff.
There are souvenir stands, but there is no team store, unless you want to count the Yogi Museum's gift shop. There are no books or videos about the team, but the Museum's gift shop has plenty about Yogi, the Yankees, and his era of baseball (running from his big-league debut in 1946 until his last coaching job with the Houston Astros in 1989).
During the Game.
Safety will not be an issue. What is an issue is that, just a week before Opening Day, they have not yet released their promotional schedule.
The Jackals hold auditions for singing the National Anthem. Their mascot is Jack the Jackal. A jackal is similar to a coyote, a predator of small animals and a scavenger. Among its indigenous areas is the Middle East, and the Bible has many references to it, including calling it a "wild dog" and "doleful creatures." They are not well-liked in popular culture. Media figures, particularly scandalmongers, have been called "jackals," and notorious terrorist Ilyich Ramirez Sanchez became known as Carlos the Jackal. Jack the Jackal is considerably friendlier. Like many mascots, he wears Number 00.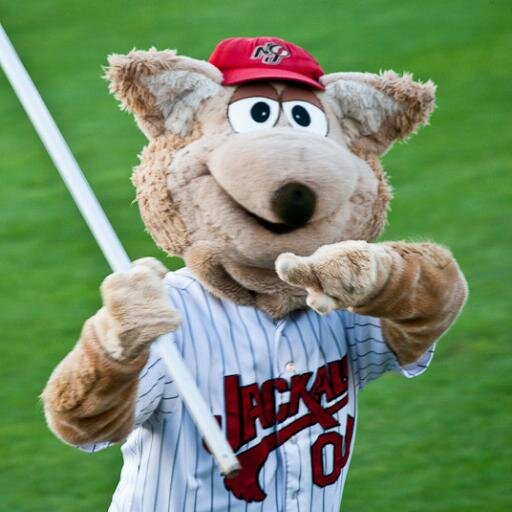 After the Game.
Considering the small crowds the Jackals usually get, getting out by car should not be a problem. Getting a bus back to Newark shouldn't be an issue. But if you came in by train, remember: Your train back will leave at 10:25 PM. If the game is still going on at 10:00, you may need to leave early.
The MSU campus probably won't have any eateries open after the game. This is also likely to be true for downtown Montclair. The good news is, there are plenty of places to eat within a 5-minute drive of the stadium. The bad news is, they're all on U.S. Route 46.
Sidelights.
There aren't many, aside from the Yogi Museum. Downtown Montclair has many old buildings that they call "historic sites," but they're mostly about people you wouldn't know about unless you were a native.
The ballpark is 10 miles from the Meadowlands, 11 miles from the Prudential Center, 16 miles from Madison Square Garden, 20 miles from Yankee Stadium, 22 miles from the Barclays Center, 26 miles from Citi Field, and 37 miles from Rutgers Stadium. In sports fandom in Montclair, as in most of the New York Tri-State Area, the Yankees easily have the edge over Mets, and the Giants have it over the Jets. This being New Jersey, the Devils have it over the Rangers. However, the Nets never really caught on in New Jersey, and, as a result, the 2nd-most popular NBA team in North Jersey, after the Knicks, isn't the Nets, it's the Los Angeles Lakers.
*
The Jackals aren't quite New Jersey's most successful current minor-league team -- the Somerset Patriots have won more Pennants -- but, now that the new Newark Bears are gone, they are the one closest to New York City. They are worth a visit, even if your main objective is the Yogi Berra Museum, rather than Yogi Berra Stadium.