1. The other Edgar Allan Poe
Edgar Allan Poe, a 2nd cousin of the author of the same name, was born on September 15, 1871 in Boston. He led the Princeton football team to an undefeated 10-0 season in 1889. That was the year the 1st All-America Team was announced, and he was named the team's quarterback. (For the sake of perspective, quarterback was a very different position then. For one thing, the forward pass wasn't even legal until 1906.)
Like his cousin, he has a connection to Baltimore. He went to law school, rose to become City Solicitor for Baltimore, and in 1910 was elected Attorney General of the State of Maryland. He died on November 29, 1961, at age 90 -- while his cousin only lived to be 40.
2. The other William Shakespeare
William Valentine Shakespeare was born on September 27, 1912 in Staten Island, New York City. His family claimed to be descendants of the Bard of Avon, but this has not been confirmed. He became a 2-way halfback and a punter for Notre Dame, and in 1934, he threw a touchdown pass to beat Army in front of 81,000 fans at Yankee Stadium. In 1935, in a game sometimes called the Game of the Century, he threw a touchdown pass that gave the Fighting Irish a last-second 18-13 win over Ohio State.
The Bard of South Bend, a.k.a. The Merchant of Menace (a play on
the
Shakespeare's play
The Merchant of Venice
), played Northwestern the next week, and they had a player named Henry Wadsworth Longfellow. Both were All-Americans in 1935. Longfellow caught a touchdown pass, Shakespeare was intercepted in the end zone on the last play of the game, and Northwestern handed Notre Dame its only defeat of the season, 14-7.
The 1st NFL Draft was soon held, and Shakespeare was the 1st Notre Dame player taken in an NFL Draft, by the Pittsburgh Steelers. But he chose to go into business instead, with the Cincinnati Rubber Company. He won a Bronze Star for serving in the Battle of the Bulge. He rose to the presidency of his company, and died on January 17, 1974, only 61 years old. He was posthumously inducted into the College Football Hall of Fame.
3. The other Scotty Bowman who won Stanley Cups with the Detroit Red Wings
Ralph Blaylock Bowman was born on June 20, 1911 in Winnipeg. Unlike the legendary coach, whose real name is William Scott Bowman, he was nicknamed Scotty simply because he was of Scottish descent. Also unlike the coach, to whom he was not related, he was actually a good player, a defenseman for the Detroit Red Wings, winning the Stanley Cup with them in 1936 and 1937.
(This team also had "the other Howe to win Stanley Cups with the Red Wings," Syd Howe, no relation to Gordie.)
Previously, he played for the Ottawa, Senators, and moved with them to become the doomed St. Louis Eagles. On November 13, 1934, with St. Louis Eagles, he scored the 1st penalty shot goal in NHL history. He continued to play in the NHL, with Detroit, until 1940, and in the minors until 1943, when he was called away to war.
He was elected to the Manitoba Hockey Hall of Fame, and died on October 17, 1990, at the age of 79.
4. The other Jackie Robinson who was a great athlete in the 1940s
Robert Jackson Robinson was born on April 26, 1927 in Fort Worth, Texas. But instead of being called "Bob," "Bobby," "Rob" or "Robbie," he was nicknamed for his middle name, and called "Jackie." This isn't that ridiculous: Jackie Robinson the eventual Brooklyn Dodger
was
previously famous, as a running back at UCLA in 1939 and '40. But there's no hard evidence that this Jackie Robinson was nicknamed for that one, especially since he was a white Southerner.
He played basketball at Baylor University, and is the last surviving member of the U.S. basketball team that won the Gold Medal at the 1948 Olympics in London. Instead of playing pro ball, which was still in its early stages and didn't pay much, he went into the ministry (Baylor is a Methodist school). He is now retired and living in Georgia.
5. The greatest

Luis Suárez

to play for Barcelona
Luis Alberto Suárez Díaz is a striker from Uruguay, who has scandalously played for his national team, Nacional of Montevideo, Dutch clubs Groningen and Ajax Amsterdam, Liverpool, and, since 2014, Barcelona.
But the very fact that he has to cheat to succeed (as do all Barcelona players in the 21st Century) proves he's not as good as was
Luis Suárez Miramontes, a.k.a. Luisito. Born on May 2, 1935 in
A Coruña, Galicia, Spain
, he played as an attacking midfielder for hometown club Deportivo La
Coruña (the "A" is in the Galician dialect, while the "La" is the dominant dialect of Spain, Castilian), the now-defunct
La España Industrial, and, from 1955 to 1961, Barcelona, where he won La Liga in 1950 and '60, the Copa del Rey in 1957 and '59, and the Inter-Cities Fairs Cup in 1958 (the 1st time the tournament now known as the UEFA Europa League was played) and 1960. In 1960, he was awarded the Ballon d'Or as World Player of the Year.
He moved on to Milan's Internazionale, where he was a part of the Grande Inter team that won Serie A in 1963, '65 and '66, and the 1964 and '65 European Cups. He closed his career in Genoa, Italy with Sampdoria. He is still alive.
6. The greatest Reggie Jackson
Reginald Shon Jackson, a point guard who reached the NBA Finals with the 2012 Oklahoma City Thunder and now plays for the Detroit Pistons, trends on Twitter so often that I end up seeing "Reggie Jackson" trending, and worry about my favorite athlete of all time, Reginald Martinez Jackson -- who, to be fair, is about to turn 71. Nonetheless, my man appears to be in good health.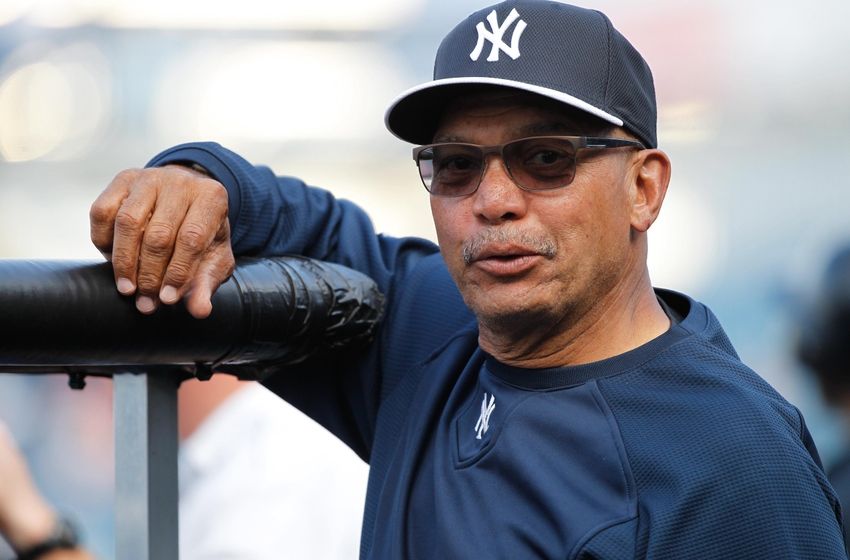 Mr. October hit 563 home runs in the regular season, and 18 more in postseason play, winning 6 Pennants and 5 World Series. The basketball-playing Reggie Jackson is a decent player, but has yet to achieve anything remotely that significant.
7. The Mike Tyson who played baseball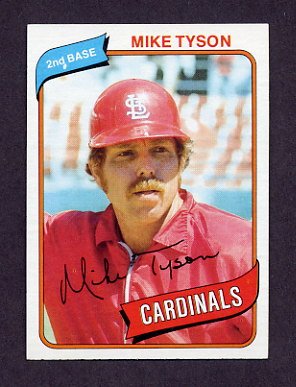 Michael Ray Tyson was born on January 13, 1950 in Rocky Mount, North Carolina. From 1972 to 1981, he was a middle infielder for the St. Louis Cardinals and the Chicago Cubs, batting .241 over those 10 season. He wasn't much of a hitter. He could hardly be said to have been punching above his weight.
But he never bit anybody's ear, and, as far as I know, has never been arrested for any crime. Still looks like a guy you wouldn't want to mess with, though. (I think I still have that card.) He is still alive.
8. The other Bobby Brown who played in the World Series for the Yankees
Rogers Lee Brown was born on May 24, 1954, in Norfolk, Virginia. At the time, Norfolk was home to a Yankee farm team. And, at the time, Robert William Brown was in his last month as a Yankee 3rd baseman, before being released and beginning a career as a cardiologist. He had won the 1947, 1949, 1950 and 1951 World Series with the Yankees, before missing the 1952 and 1953 titles due to serving in the Korean War.
He had previously served in World War II. He later served as President of the American League, and is now 92, and the last surviving member of the Yankees' '47 and '49 title teams.
Somehow, Rogers Lee Brown, a black outfielder, was nicknamed "Bobby" like the white 3rd baseman. He was called up to the Toronto Blue Jays in 1979, and was traded to the Yankee organization later in the season.
After winning the Most Valuable Player award in the International League for his performance with the Columbus Clippers, he was a September callup. He made the Yankees the following Spring Training and played in the 1980 and '81 American League Championship Series, and the 1981 World Series. Unlike his "namesake," he did not win a World Series.
Notably, he and Oscar Gamble helped carry the aforementioned Reggie Jackson off the field to end a brawl that came after Reggie was decked by Don Hood of the Cleveland Indians, then hit a home run, then, immediately after touching home plate, charged the mound.
He played for the Seattle Mariners in 1982, and the next 3 years for the San Diego Padres, including the 1984 team that also had former Yankees Graig Nettles and Goose Gossage, allowing him to play in (but still not win) another World Series. (His 1-for-15 performance was a reason why.)
He batted .245 lifetime, to the original Bobby Brown's .279. He is about to turn 63, but I can find no record of what he's done since he played his last major league game. As far as I know, he is not related to Bobby Brown the singer.
9. The other Karim Abdul-Jabbar to wear Number 33 for UCLA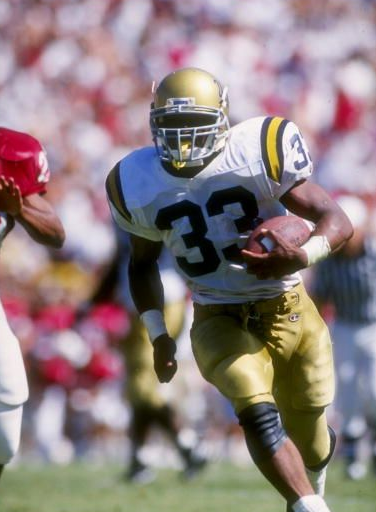 Ferdinand Lewis Alcindor Jr., or Lew Alcindor for short, played for UCLA and was, beyond any doubt, the greatest player in the history of college basketball: 88-2, 3 National Championships, 3 NCAA Tournament Most Valuable Player awards. He led the Milwaukee Bucks to the 1971 NBA title, changed his name to Kareem Abdul-Jabbar, and won 5 titles with the Los Angeles Lakers in the 1980s. And all 3 teams retired the Number 33 that he wore.
In 1995, a running back on the UCLA football team changed his name from Sharmon Shah to Karim Abdul-Jabbar, on the recommendation of his imam. He also switched to Number 33. In 1997, playing for the Miami Dolphins, he led the NFL with 16 touchdowns. He remained in the NFL through the 2000 season.
People began to presume that he was the son of Kareem, who does have a son named Kareem Abdul-Jabbar Jr. Kareem actually sued, because Karim was making money off the confusion. In 2000, they settled, and Karim slightly changed his name to Abdul-Karim al-Jabbar. He is now a personal trainer in Washington, D.C.
10. The greatest Ronaldo to play at striker for Real Madrid in the 21st Century
For Sporting Clube de Portugal, Manchester United and Real Madrid, soccer striker Cristiano Ronaldo has been spectacular. He has also been a spectacular cheat. Which is a good reason why anybody who calls him "the world's greatest footballer," or even "the greatest footballer who ever lived," is a fool
He's not even the greatest Ronaldo to play for Real Madrid in this century.

Ronaldo Luís Nazário de Lima starred for Curzeiro in his native Brazil, PSV Eindhoven in the Netherlands, Barcelona in Spain, Inter in Italy, Real Madrid, and AC Milan, before returning to Brazil to close his career with Corinthians.
Unlike Cristiano, this Ronaldo has won the World Cup. Twice, in 1994 and 2002. Cristiano has never reached the Final. T
he true mark of original Ronaldo's greatness is that he played for both Spanish giants, and both Milan clubs, and is still beloved by fans of all 4.