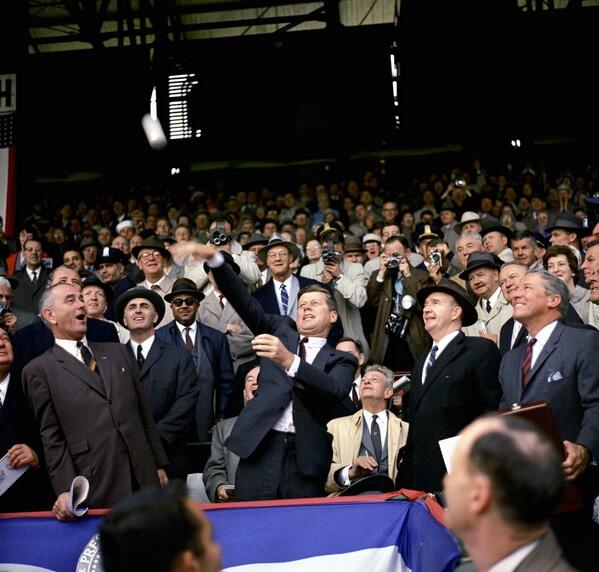 May 29, 1917, 100 years ago: John Fitzgerald Kennedy is born at his family's home at 83 Beals Street, in the Boston suburb of Brookline, Massachusetts.
I don't remember either Jack or Bobby Kennedy as a living, breathing, acting, achieving, dreaming public figure. I only know them as martyred heroes. Nor do I remember Ted Kennedy as an untainting public figure: The Chappaquiddick accident (and, yes, it
was
an accident) happened 5 months before I was born.
I don't know what it was like in those 10 years and change from November 22, 1963 to August 9, 1974, when the nation had to suffer through Vietnam, race riots and Watergate. Whether JFK would have made it different, I don't know.
I do know that all 3 Kennedy brothers were big sports fans. JFK threw out the ceremonial first ball on Opening Day in Washington all 3 Aprils he was in office. This included 1962, when the Washington Senators opened (after the NFL's Washington Redskins had already played their first season there the fall before) District of Columbia Stadium. Just 7 years later, D.C. Stadium would be renamed for his brother, Robert F. Kennedy Memorial Stadium. (Or "RFK Stadium.")
JFK liked attending the Army-Navy Game at Municipal Stadium in Philadelphia -- which, after his assassination, would be renamed for him. As Presidents traditionally did, so as not to be seen as "taking sides," he sat on the side of the stadium where Army's bench was for one half and the Navy side for the other. But, just as his predecessor, Dwight D. Eisenhower, was an Army General in World War II and people joked he couldn't truly be neutral in the game, JFK was a Navy hero in the same war, and probably also wasn't exactly impartial.
Tossing the coin at the 1961 Army-Navy Game.
Oldest brother Joseph P. Kennedy Jr. played football at Harvard University. Jack didn't make the varsity. Bobby did, scoring a touchdown against Western Maryland, but injuring his ankle. He hadn't yet won his varsity letter, and, in those days, the only way you could was by playing in The Game. Harvard vs. Yale. So it entered into the Kennedy myth that "Bobby Kennedy played in the Harvard-Yale game with a broken leg." No, not a broken leg, but an injured ankle. He did get his letter.
"Some men see Yale beating Harvard, and say, Why?
I dream of Harvard beating Yale, and say, Why not?"
Or something like that.
In a twist of fate, his brother would be assassinated on the anniversary: November 22, 1947. Despite whatever contributions Bobby could have made, Yale won, 31-21 at the Yale Bowl in New Haven, Connecticut.
On November 19, 1955, Ted, easily the best player of the brothers, played two-way end (today, we would call it "tight end" and "defensive end," although in the two-platoon system then taking over football he most likely would have been either a tight end or a linebacker), and caught a pass and took it in for a touchdown in the Yale game.
Ted at Harvard Stadium
What the Kennedy legendeers (myself sometimes included) don't like to say is that it was the only Harvard touchdown of the day; that Ted dropped a pass in the end zone earlier, which might have made a difference; and Yale won, 21-7, also at the Yale Bowl.
This past Saturday, at Harvard Stadium, Harvard beat Yale 28-21, but Yale still solidly leads the all-time series between them, 66-59-8.
When the Red Sox had their "Impossible Dream" season in 1967, the final series of the year was between the Sox and the Minnesota Twins at Fenway Park. Ted had invited Vice President Hubert Humphrey, Minnesota's once and future Senator, to watch the games with him and the now-ailing former Ambassador Joseph P. Kennedy Sr. Bobby wasn't there that weekend, but the TV cameras caught Ted and Hubert sitting together talking about the game.
Interviewed for
Impossible To Forget
, a 40th Anniversary DVD about that season, Ted said that it was the last summer that he and Bobby were together, and that it made them and their father very happy to see the Red Sox win that Pennant.
When Fenway Park opened on April 20, 1912, throwing out the first-ever first ball was the Mayor of Boston, John F. "Honey Fitz" Fitzgerald, father of Rose, mother of the four Kennedy brothers. In 2009, with Ted battling a brain tumor, the Red Sox invited him to throw out the first ball on Opening Day. Weakened by his battle and 77 years, Ted threw a soft toss to new Hall-of-Famer Jim Rice right in front of the mound.
A little more than 4 months later, Ted joined his brothers, his parents, 3 of his nephews (JFK Jr. and Bobby's sons David and Michael) and all but one of his sisters -- Jean is the only one of the 9 still alive.