May 23, 1788:
South Carolina becomes the 8th State to ratify the Constitution of the United States, and joins the Union.
Top 10 Athletes from South Carolina
No South Carolina-trained football player has ever won the Heisman Trophy. Felix "Doc" Blanchard won it in 1944, and was born in McColl, but the family left the State at age 5, and he qualifies for Mississippi instead.
George Rogers won it at the University of South Carolina in 1980, but is from Georgia. So is Gamecocks wide receiver Sterling Sharpe. They are the only 2 players from the school only people in the Palmetto State call "USC" to make the College Football Hall of Fame.
As for Clemson, which won the National Championship in 1981 and again last year, the best player on their 1st title team was Terry Kinard, a decent defensive back for the Super Bowl-winning Giants, but hardly a pro legend. The best player on last year's team was Deshaun Watson, a quarterback who was just drafted by the Houston Texans, but it's way too soon to put him, or any other Clemson player -- including William "the Refrigerator" Perry of the Super Bowl Shuffle Bears of 1985-86 -- on this list.
Larry Doby was born in Camden, South Carolina, and Althea Gibson was born in Clarendon County. But both grew up in the New York Tri-State Area: Doby in Paterson, New Jersey; and Gibson in Harlem, before settling in East Orange. Al Rosen was born in Spartanburg, but grew up in Miami, so he qualifies for Florida.
Honorable Mention to 2 Yankees who were born in Holly Hill, South Carolina. Willie Randolph
moved with his family to Brooklyn as a small boy, so he doesn't remember the place. But
Brett Gardner
was not only born there, but grew up there.
Honorable Mention to William Julius "Mookie" Wilson of Bamberg, South Carolina
, and the 1986 Mets.
Honorable Mention to Calvin Reese Jr., a.k.a. Pokey Reese, of Columbia
, who, with his teammates on the 2004 World Champion * Boston Red Sox, was selected by
Sports Illustrated
as their Sportspeople of the Year. (As far as I know, he didn't use performance-enhancing drugs.)
Honorable Mention to Arnold Tucker of Calhoun Falls.
He was Army's quarterback in their 1944 and '45 National Championship seasons, and in 1946 finished 5th in the balloting for the Heisman Trophy, behind teammates Glenn Davis in 1st and Blanchard in 2nd. So, Honorable Mention to him. He never played pro ball, staying in the Army upon graduation from West Point, being transferred into the new U.S. Air Force in 1947, served in the Korean and Vietnam Wars, and rose to the rank of Lieutenant Colonel.
Honorable Mention to Chris Antley of Elloree. In 1991, he won the Kentucky Derby aboard Strike the Gold. But he fell victim to drug use. He got clean for a while, and in 1999 rode Charismatic to win the Derby and the Preakness Stakes. He had Charismatic leading in the Belmont Stakes. a few furlongs from winning the Triple Crown, but the horse got hurt. Antley saw this, and jumped off, and held him in place, so he wouldn't injure himself further.
He saved Charismatic's life, but couldn't save his own. He fell back into drug use, and died the next year. He was posthumously elected to the National Museum of Racing and Hall of Fame.
10. Bobby Richardson of Sumter.
The 2nd baseman was an average, occasionally very good, player in the regular season, but a terror in World Series play, raising his batting average from .266 to .305. He won 7 Pennants with the Yankees from 1957 to 1964, and 3 World Series: 1958, 1961 and 1962.
Ironically, his best performances came in defeats. In 1960, he set a Series record that still stands with 12 RBIs, and became, to date, the only player from a losing team to be named Most Valuable Player of a World Series. In 1964, he became the 1st player (there are now others) to collect 13 hits in a single Series. But he's best known for catching a line drive from Willie McCovey for the last out to preserve a 1-0 Yankee win over the San Francisco Giants in Game 7 in 1962.
An injury ended his career at age 30. He became the head coach at the University of South Carolina, getting them to their 1st NCAA Tournament appearance in 1974. He was also the head coach at Jerry Falwell's Liberty University and at Coastal Carolina University. He is an ordained minister, and officiated at the funeral of teammate Mickey Mantle. He wore Number 1 through most of his Yankee career, and it is retired, but not for him. (Rather, it's for the man he succeeded as the Yankees' starting 2nd baseman, Pennant-winning manager Billy Martin.)
9. Bob Montgomery of Sumter.
He might have been the 1st great boxer to grow up in South Carolina and move to Philadelphia to turn pro as a teenager, but he wasn't the last. He beat Beau Jack to become Lightweight Champion of the World in 1943, lost it to him 6 months later, and took it back again 4 months after that, holding the title until 1947. He is in the International Boxing Hall of Fame.
8. Jim Rice of Anderson.
His career total of 382 home runs might not sound like a Hall of Fame-worthy total -- Frank Howard hit exactly as many, and Rice's Boston Red Sox teammate Dwight Evans hit 385
and
was a great defensive outfielder, and they're not in Cooperstown. And, as a Yankee Fan who remembers 1978, I can tell you that Rice getting the nod over Ron Guidry was the most dubious decision in the history of MLB Most Valuable Player voting.
But Rice was an 8-time All-Star. He led the American League in home runs in 1977, and led it in both homers and RBI in 1978 and again in 1983. He got the Sox into the postseason in 1975, (sort-of) in 1978, and in 1986. The team has retired his Number 14, and elected them to their team Hall of Fame.
7. Alex English of Columbia.
The forward was an 8-time NBA All-Star, and led the league in scoring in 1983. When he retired in 1991, he was 1 of only 7 players to have scored 25,000 career points. His Number 22 was retired by the University of South Carolina, and his 2 was retired by the Denver Nuggets. He is in the Basketball Hall of Fame.
After coaching on the staffs of Philadelphia, Atlanta, Toronto and Sacramento, he is now a color analyst for college basketball games on the SEC Network.
6. Harry Carson of Florence.
The linebacker was the Captain of the Giants team that won Super Bowl XXI, the G-Men's 1st World Championship in 30 years. He was a 9-time Pro Bowler, and has been elected to the Pro Football Hall of Fame and the Giants Ring of Honor.
5. Kevin Garnett of Mauldin.
After 3 years at Mauldin High School, he went to Chicago to attend Farragut Career Academy, and was named Illinois' Mr. Basketball in 1995. He skipped college to go directly to the NBA. That doesn't work out for a lot of players. It did for him, as he was an All-Star 15 times, including being named the Game's MVP in 2003.
He was named the league's MVP in 2004, and got the Minnesota Timberwolves to, to date, their only Conference Finals. He signed with the Boston Celtics, and led them to the 2008 NBA Championship, being named NBA Defensive Player of the Year. He also won a Gold Medal with the U.S. team at the 2000 Olympics in Sydney.
He retired after last season. Barring his doing something incredibly stupid, he will be elected to the Basketball Hall of Fame. The Timberwolves will almost certainly retire his Number 21. Whether the Celtics retire his 5 (they'd already retired 21 for Bill Sharman) remains to be seen. If the NBA does a 75th Anniversary 75 Greatest Players in 2021, he will surely be in it. He might even be in the top 20.
4. Art Shell of North Charleston.
The Oakland Raiders had one heck of an offensive line in the 1970s and into the early 1980s, with Shell at tackle, Gene Upshaw at guard, and Jim Otto and then Dave Dalby at center, protecting first Ken Stabler, then Jim Plunkett as they won 3 Super Bowls between them.
Shell was named to the Pro Football Hall of Fame, the NFL's 1970s All-Decade Team, 8 Pro Bowls, and The Sporting News' 100 Greatest Football Players.
In 1989, during their Los Angeles sojourn, Shell was named the Raiders' head coach, making him the 1st black head coach in the NFL, unless you count Fritz Pollard in the league's early days, when it was barely a semipro league. In 1990, he coached them to the AFC Championship Game, and was named NFL Coach of the Year.
3. Pete Maravich of Central, South Carolina.
The family lived there while his father, Press Maravich (Petar Press Maravich Sr.), was the head coach at Clemson. The future Pistol Pete was born, while Press was playing in the NBA's 1st season, for the Pittsburgh Ironmen (who didn't play a 2nd season), in Aliquippa, Pennsylvania -- also the hometown of Mike Ditka and Tony Dorsett.
His father became the head coach at Louisiana State University (LSU), and Pete went there, and averaged 44.2 points per game, still an NCAA record, despite there being neither a 3-point shot nor a shot clock in college ball at the time (1967-70).
He starred for the Atlanta Hawks, then back in Louisiana with the expansion New Orleans Jazz. He was with them in their 1st season in Utah, 1979-80, but was soon traded to the Boston Celtics, and a recurring knee injury ended his carer after that season. His luck was bad: Although his own play was stunning, as he made 5 All-Star Games and led the NBA in scoring in 1977 -- and his floppy hair and floppier socks made him something of an icon -- the Hawks stopped being good right after he arrived, and both the Jazz and the Celtics got good again right after he left.
That didn't stop him from being elected to the Basketball Hall of Fame, and being named to the NBA's 50th Anniversary 50 Greatest Players in 1996. Unfortunately, he was the only one of the 50 who had yet died, felled by an undetected heart defect in 1988, only 40 years old. His uniform number was retired by LSU (23), the Hawks (44), the Jazz (7), and, even though he never played for the franchise, the new team in New Orleans, the Pelicans (7).
2. Joe Jackson of Greenville.
There was no All-Star Game in the era of "Shoeless Joe." If there was, he would have made it several times. His .356 lifetime batting average would surely have dropped if he'd had a full career. On the other hand, he would have been a shoo-in for 3,000 hits and the Hall of Fame. Alas...
1. Joe Frazier of Beaufort.
Topping Shoeless Joe, and every other player on this list, is Smokin' Joe. He lived on a farm outside Beaufort until he was 15, before going north and famously becoming a Philadelphia fighter. So you're seeing him on this list, instead of when I do a list for Pennsylvania.
He won an Olympic Gold Medal in 1964, won his 1st piece of the Heavyweight Championship of the World in 1968, unified the title in 1970, and made it official every which way by beating the defrocked Muhammad Ali in 1971.
The Ring
magazine named him Fighter of the Year in 1967, 1970 and 1971.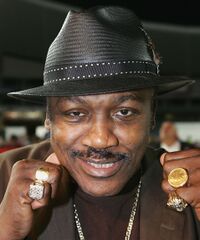 He lost the title when he got clobbered by George Foreman in 1973, and lost to Ali in 1974 and 1975, but remains one of the greatest punchers in the history of boxing, a member of the International Boxing Hall of Fame.