Jim Bunning was a Hall-of-Famer as a pitcher. As a politician, well, let's just say we were not often in agreement. For this post, I'm going to stick to the facts.
James Paul David Bunning was born on October 23, 1931 in Southgate, Kentucky, about 3 miles across the Ohio River from downtown Cincinnati. He was born the same week as Mickey Mantle, but took much better care of himself, and, as a result, lived 22 years longer.
He attended Cincy's St. Xavier High School and Xavier University, getting a degree in economics while pitching minor-league baseball. In 1950, he signed with the Detroit Tigers, and remained in their minor-league system until his promotion in 1955. In between, he married Mary Catherine Theis.
He made his major league debut on July 20, 1955. Wearing Number 15, he started for the Tigers at Briggs Stadium (renamed Tiger Stadium in 1961), and lost to the Baltimore Orioles 6-3. Eventually, he switched to Number 14, and developed a hard slider, and a pitching motion that made his 6-foot-3, 190-pound frame look like it was jumping out at the batter, much as did that of fellow future Hall-of-Famer Bob Gibson. That slider enabled him to pitch a no-hitter against the Boston Red Sox on July 20, 1958, a 3-0 win at Fenway Park.
Sox star Ted Williams was not impressed. Jim Pagliaroni, a rookie catcher on the Sox in Ted's last season, 1960, recalled hearing Ted psych himself up in batting practice, saying things like, "My name is Ted Fucking Williams!" (He would swing the bat, and hit the ball, and produce a Crack! sound.) "And I'm the greatest hitter in baseball!" (Crack!) "Jesus H. Christ himself couldn't strike me out!" (Crack!) "Here comes Jim Bunning!" (Crack!) "Jim Bunning, with that little shit slider of his!" (Crack!) "He can't get me out, I'm Ted Fucking Williams!" (Crack!)
After the 1963 season, the Tigers traded Bunning and his slider -- Williams' opinion to the contrary, a really good one -- to the Philadelphia Phillies. The Phils raced out to 1st place in the National League, and Bunning was a big reason why. On June 21, 1964, he pitched a perfect game against the Mets at brand-new Shea Stadium.
It was the 1st regular-season perfect game in 42 years (Don Larsen, of course, pitched one in the World Series 8 years earlier), the 1st by a National League pitcher in 84 years, and the 1st no-hitter by a Phillies pitcher in 58 years. It made him only the 2nd pitcher to have pitched no-hitters in both Leagues, after Cy Young. (They have since been joined by 2 others: Nolan Ryan and Hideo Nomo.) He even doubled home 2 runs in the 6th inning, as the Phils won 6-0. It was the 1st game of a doubleheader, and the Phils also won the 2nd game, 8-2, as Rick Wise got his 1st major league win.
It was Father's Day, and Bunning was already the father of 7 children. Eventually, he would have 9, including David Bunning, now a federal judge. He had 35 grandchildren, including Patrick Towles, now the starting quarterback at the University of Kentucky; and 14 great-grandchildren.
But that 1964 season would end in embarrassment for the Phillies, as they had a 6 1/2-game lead with 12 games to play, lost 10 straight games, and blew it. for over half a century, manager Gene Mauch has been criticized for overpitching righthander Bunning and lefthander Chris Short during the slide. Fair or not, the St. Louis Cardinals won the Pennant, and then the World Series.
The Phils traded Bunning to the Pittsburgh Pirates in 1968, they traded him to the Los Angeles Dodgers in 1969, and they traded him back to the Phillies in 1970. That year, the Phils closed out their tenure at Connie Mack Stadium. On April 10, 1971, Bunning started and won the 1st game at Veterans Stadium, beating the Montreal Expos 4-1.
He retired at the end of that season, with a record of 224-184, becoming only the 2nd pitcher, after Cy Young, to have won at least 100 games in each League: 118-87 in the American, and 106-97 in the National. His career ERA was 3.27, his ERA+ 115, and his WHIP 1.179. He had 2,855 strikeouts, then 2nd on the all-time list behind Walter Johnson. He was a 9-time All-Star, was elected to the Philadelphia Baseball Wall of Fame in 1984, was elected to the Baseball Hall of Fame in 1996, and had his Number 14 retired by the Phillies in 2001.
*
In 1977, he was elected to the City Council in Fort Thomas, Kentucky. In 1979, he was elected to the State Senate. In 1983, he was the Republican nominee for Governor, but lost. In 1986, he ran for the U.S. House of Representatives, for the District that included the Kentucky suburbs of Cincinnati, including Cincinnati/Northern Kentucky International Airport. It is considered the State's most conservative District, and he won it 6 times.
When longtime Democratic Senator Wendell Ford retired, Bunning won his seat. Winning this seat in November 1998 and being sworn into it in January 1999 made him 1 of 2 Republicans who voted to impeach President Bill Clinton in the House, and then vote to convict him in his impeachment trial in the Senate. The other was Mike Crapo of Indiana. Of course, Clinton was acquitted, because the Republicans had no admissible evidence.
In 2004, knowing that his District depended on the Ohio River flowing well, and not flooding he sponsored a bill that became the Bunning-Bereuter-Blumenauer Flood Insurance Reform Act of 2004. (Apparently, to sponsor it, you had to have a German last name that started with a B.)
But that year, as he approached his 73rd birthday, people began criticizing him for "bizarre" behavior, especially concerning allegations he made against his Democratic opponent as he ran for re-election. His race was a lot closer than it was expected to be.
In April 2006,
Time
magazine did a profile on "America's Five Worst Senators." Fairly or not, it named Bunning to that list, saying he treated his staff badly and "shows little interest in policy unless it involves baseball." He had been part of the investigation into steroid use in the game. (I said I would stick to the facts. Saying that he was one of the worst Senators would be an opinion, and
Time
held it; saying that Time called him that is a fact.)
In 2009, as the Bush Recession hit rock bottom, he refused to vote for a bill boosting unemployment insurance until he was mollified with some amendments. His approval rating dropped to 28 percent, and he announced he wouldn't run again in 2010.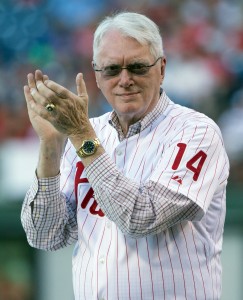 Jim Bunning continued to attend induction ceremonies for both the Baseball Hall of Fame and the Philadelphia Baseball Wall of Fame until last year, when he suffered a stroke. He died in a hospital in Southgate on May 26, 2017, at the age of 85.