August 15, 1965, 50 years ago today:
The Beatles open their 2nd full North American tour, at Shea Stadium, home of Major League Baseball's New York Mets and the American Football League's New York Jets. On hand is a full house of 55,600 fans – probably the largest audience ever assembled, to that point, for any concert, anywhere -- mostly screaming teenage girls. Ticket price: $5.75 -- about $43.36 in today's money.
The stage was set at 2nd base, far from any of the 55,000 fans. And the sound system wasn't good, as the singing and music mixed with the screaming to produce a dull sound that was far below the standards the Beatles had already set with the albums they'd recorded to that point:
Please Please Me, With the Beatles, Beatles for Sale
, and the soundtracks to the films
A Hard Day's Night
and the newly-released
Help!
But you can't blame the Mets, or the City of New York which owned the stadium, for that. At that point, nobody knew how to stage a rock concert in an outdoor stadium. So John Lennon, Paul McCartney, George Harrison and Ringo Starr -- who, for all they had already achieved, were still rather young men, between the ages of 22 (George) and 25 (Ringo) -- did the best they could, as can be seen and heard on the concert's color film.
It is the 8th sellout that the Flushing Meadow amphitheater has had since the Mets opened it on April 17, 1964. The Jets had only sold it out once in their inaugural season (a loss to the Buffalo Bills on November 8, 1964), the Mets 6 times -- and the stadium's opener wasn't one of them. All were against the former New York teams: 4 against the Los Angeles Dodgers, 2 against the San Francisco Giants. And 3 of those 6 were doubleheaders, not single games. (The Beatles didn't sell Shea out on their 1966 return, getting only about 40,000 fans.)


The last concert at Shea, in 2008, was hosted by Billy Joel, and he invited Paul McCartney onstage with him. The 1st concert at its replacement, Citi Field, was hosted by Paul, and he returned the favor and invited Billy.

*

In 1964, '65 and '66, the Beatles gave a total of 66 performances in North America, at 45 separate venues. For the moment, 50 years later, 23 of them still stand. They are, in alphabetical order by metropolitan area:

* Convention Hall in Atlantic City, now Boardwalk Hall, which had hosted the Democratic National Convention the week before, and had nominated President Lyndon B. Johnson for a full term.
* The Baltimore Civic Center, home of the NBA's Baltimore Bullets. The Bullets moved to Washington in 1973, and the arena is now the Royal Farms Arena.
* Suffolk Downs Racetrack in Boston.
* Cincinnati Gardens, home of the NBA's Cincinnati Royals. They moved in 1972, and are now the Sacramento Kings.
* Public Auditorium in Cleveland.
* The Dallas Memorial Auditorium, later home of the ABA's Dallas Chaparrals, the team that became the NBA's San Antonio Spurs.
* Red Rocks Amphitheatre in Morrison, Colorado, outside Denver.
* The Indiana State Fairgrounds Coliseum in Indianapolis, later to be the 1st home of the ABA/NBA's Indiana Pacers.
* The Hollywood Bowl and
* Dodger Stadium in Los Angeles.
* The ballroom of the Deauville Hotel in Miami, where they played for their 2nd Ed Sullivan Show appearance.
* The Milwaukee Exposition and Convention Center Arena, a.k.a. the MECCA, formerly the home of the NBA's Milwaukee Hawks (by that point in St. Louis, and now in Atlanta), and later the home of the Milwaukee Bucks (who have since moved across the street). This area is now named the UW-Milwaukee Panther Arena.
* The Montreal Forum, then the home of the NHL's Montreal Canadiens.
* City Park Stadium in New Orleans, a high school football stadium, now named Tad Gormley Stadium in New Orleans.
* The newly-opened Memorial Coliseum in Portland, Oregon.
* The Grand National Livestock Pavilion in Daly City, California, outside San Francisco, a.k.a. the Cow Palace, then home of the NBA's San Francisco Warriors, who've called themselves the Golden State Warriors since moving to Oakland. The 1975 and 2015 NBA Champions are moving back to San Francisco for the 2017-18 season, but appear to be keeping the Golden State name. The Cow Palace was also the 1st home of the NHL's San Jose Sharks.
* Maple Leaf Gardens in Toronto, then the home of the NHL's Toronto Maple Leafs.
* The Washington Coliseum and
* District of Columbia Stadium in Washington, D.C. The former had previously hosted the NBA's Washington Capitols, was a mainstay of minor-league hockey, and would later host the NHL's Washington Caps. Now it is commuter parking for the nearby Union Station. The latter was renamed Robert F. Kennedy Stadium, and was then the home of MLB's Washington Senators and the NFL's Washington Redskins. It now hosts only MLS' D.C. United.
* And, in New York, CBS Studio 50 (now the Ed Sullivan Theater)...
* Carnegie Hall and...
* The Paramount Theater in Midtown Manhattan, and...
* Forest Hills Stadium in Queens.

While the Paramount's and the Montreal Forum's structures still stand, both have had their interiors drastically altered, so that they can no longer stage sporting events or concerts.


Of these 23 buildings, the Baltimore arena and RFK Stadium are the only ones that, barring a disaster, might not still be standing on the 60th Anniversary of the Beatles' tours in 2024-26. (UPDATE: The Cincinnati Gardens has since been closed, and probably won't last much longer.) No longer standing are:

* The newly-opened Atlanta Stadium, soon to be home to MLB's Atlanta Braves and the NFL's Atlanta Falcons, later renamed Atlanta-Fulton County Stadium.
* The Boston Garden, home of the NBA's Boston Celtics and the NHL's Boston Bruins.
* The International Amphitheatre and
* Comiskey Park in Chicago. The former hosted several teams briefly but is best known as the site of several political conventions, including the infamous Democratic Convention of 1968. The latter was the longtime home of MLB's Chicago White Sox and the NFL's Cardinals before they moved, now in Arizona.
* Crosley Field in Cincinnati, home of MLB's Cincinnati Reds.
* Cleveland Municipal Stadium, home of MLB's Cleveland Indians and the NFL's Cleveland Browns.
* The Olympia Stadium in Detroit, home of the NHL's Detroit Red Wings and the 1st home in Detroit for the NBA's Pistons.
* The Sam Houston Coliseum in Houston, home to several minor-league basketball and hockey teams, eventually the home of the World Hockey Association's Houston Aeros.
* The Gator Bowl in Jacksonville, home of the postseason college football game of the same name. The home of the NFL's Jacksonville Jaguars, currently named EverBank Field, was built on the site, incorporating some of the former stadium.
* Kansas City Municipal Stadium, home of MLB's Kansas City Athletics and the AFL's Kansas City Chiefs.
* The arena that was part of the otherwise-remaining Las Vegas Convention Center, which would soon host the Heavyweight Championship fight between champion Muhammad Ali and former champion Floyd Patterson.
* The Mid-South Coliseum in Memphis, later home to the ABA's Memphis Tams.
* Metropolitan Stadium in Bloomington, Minnesota, outside Minneapolis, home of MLB's Minnesota Twins and the NFL's Minnesota Vikings.
* Shea Stadium.
* The Convention Hall of the Philadelphia Civic Center, home of the NBA's Philadelphia 76ers and formerly the Warriors before they moved to San Francisco.
* John F. Kennedy Stadium, formerly Sesquicentennial Stadium and Philadelphia Municipal Stadium, home of the Army-Navy Game and a few stray home games by the NFL's Philadelphia Eagles.
* The Civic Arena in Pittsburgh, home of the minor-league hockey team the Pittsburgh Hornets and soon the NHL's Pittsburgh Penguins.
* The original Balboa Stadium in San Diego, home of the AFL's San Diego Chargers.
* The Seattle Center Coliseum, soon to be home of the NBA's Seattle SuperSonics.
* The 1966 version of Busch Stadium in St. Louis, home of both the MLB and the NFL versions of the St. Louis Cardinals.
* The original Empire Stadium in Vancouver, home of the Canadian Football League's British Columbia Lions.
* And, its demolition in progress at this writing, Candlestick Park in San Francisco, site of their last concert on August 29, 1966, home of MLB's San Francisco Giants and later the NFL's San Francisco 49ers.


Of the 45 buildings in North America that hosted Beatles concerts, I've been inside 9: Carnegie Hall, Forest Hills, Shea, the Philadelphia Civic Center, Boardwalk Hall, the Montreal Forum, the Boston Garden, RFK Stadium and Comiskey Park. Just 5 of those remain: Carnegie, Forest Hills, Boardwalk Hall, the Montreal Forum and RFK.

There were 18 buildings that hosted both an Elvis Presley concert and a Beatles concert. Now gone are: The Boston Garden, the International Amphitheatre in Chicago, the Olympia Stadium in Detroit, the Sam Houston Coliseum, the Mid-South Coliseum in Elvis' hometown of Memphis, the Pittsburgh Civic Arena, the Seattle Center Coliseum and the old Empire Stadium in Vancouver.

The 10 that remain are: The Baltimore Civic Center/Royal Farms Arena, Cincinnati Gardens, the Cleveland Public Auditorium, the Dallas Memorial Auditorium, the Indiana State Fairgrounds, the Milwaukee Arena, the Portland Memorial Coliseum, the Cow Palace, Maple Leaf Gardens, and, of course, the Ed Sullivan Theater.

The only 1 of the 18 that I have ever been inside was the now-demolished Boston Garden. Of the 10 that are left, I've been outside 5 of them – Royal Farms Arena, Public Auditorium, Milwaukee Arena, Maple Leaf Gardens and the Sullivan – but inside none.

*


New York's Top 10 Rock Concerts

These are in chronological order. Notice I am not counting TV show appearances, such as either Elvis or the Beatles on The Ed Sullivan Show.

Nor am I counting pre-rock shows, although the October 12, 1944 Frank Sinatra show at the Paramount, besieged by bobby-soxers, that became known as the Columbus Day Riot, could count. Certainly, it was a major New York event.

Nor am I counting jazz shows, such as Miles Davis' many appearances at Birdland in the 1950s, John Coltrane at the Village Vanguard in 1961 when he debuted his improvised reworking of "My Favorite Things."


0. August 15, 1965, Shea Stadium, Flushing Meadow, Queens: The Beatles. No, the sound wasn't great then, and the recording isn't great now, but it was a landmark. So I'm giving it the Number Zero. (It's my blog, and I can make whatever rules I want.)
Warmup acts included Brenda Holloway (a Motown singer whose hits included the original versions of "Every Little Bit Hurts" and "You've Made Me So Very Happy"), saxophone legend King Curtis, and a vocal group named Sounds Incorporated, all backed by The Discotheque Dancers.
Honorable Mention: Other big shows at Shea
included The Clash and The Who on October 12 and 13, 1982 (that's how big The Who were: The Clash opened for them), The Police on August 18, 1983, a double bill of Elton John and Eric Clapton on August 20, 1992, and Billy Joel's "Last Play at Shea" on July 16 and 18, 2008.
1. August 1, 1971, Madison Square Garden, Midtown Manhattan:
The Concert for Bangladesh. Ex-Beatle George Harrison and his close friend, Indian sitar icon Ravi Shankar (whom your generation might know as singer Norah Jones' father), organized it after hearing of the plight of refugees from the Bangladesh Liberation War and a devastating cyclone. (The country, then as now one of the poorest in the world, had gained its independence from Pakistan, having previously been known as East Pakistan, separated from Pakistan proper by India.)
There were actually 2 shows that Sunday, both filmed for a documentary: At 2:30 in the afternoon and 8:00 at night. It was George's 1st full concert since the Beatles' last tour, 5 years earlier. His band included, among others, Ringo, Eric Clapton (who did the show despite being ill), Billy Preston, Klaus Voormann, Leon Russell and Jim Keltner. Shankar played with his group. Also on the bill: Bob Dylan, in his 1st full show since his motorcycle wreck 5 years earlier, and the British band Badfinger.
Harrison, Dylan, Russell
This spectacle stamped The Garden as the most important concert venue in the New York Tri-State Area, in a way that the Nassau Coliseum, the Meadowlands Arena, and the baseball and football stadiums could never be.
While the 1925-68 "old Garden" never hosted a rock and roll show, the "new Garden" (which has now lasted longer than any of its predecessors) remains
the
place. An act that comes to New York and doesn't play The Garden either isn't big enough to do so, or is brash enough to think that only the Meadowlands stadium can hold him/her/them.
2. June 9, 1972, The Garden: Elvis Presley.
In his book
Only the Good Die Young
, about dead rock stars and how they got that way, Robert Duncan recalled attending this concert at age 18 with his older brother. The brother was an Elvis fan. Robert was not. He wrote, "I was once in the same room with Elvis Presley. The year was 1972. The room, however, was Madison Square Garden... But I was once in the same room with Elvis, and that's what matters, isn't it?" (He went on to savage Elvis, repeating in brief some of the seamier allegations about him. Duncan was clearly a Sixties Guy, a Beatles Person, not a Fifties Guy, an Elvis Person.)
Elvis did 4 shows that week, his only full concerts in New York City. (He did a few TV appearances in Manhattan in 1956 and '57, and played the Nassau Coliseum after this, but never gave a concert in New Jersey, and never gave another within the 5 Boroughs.) The last one, on June 9, was filmed. It's not his best work, but his voice is strong, he was in good shape, and it was Elvis in New York. If it was anybody else, I wouldn't consider putting this one in the Top 10. But what Robert Duncan wrote with sarcasm, I write with conviction: It was Elvis in New York, and that's what matters, isn't it?
3. August 30, 1972: The Garden: The One-to-One Concert.
Another ex-Beatle, this time John. (Paul doesn't appear on this list as a headliner, even though he's given more shows in New York after the breakup than the other 3 Beatles combined.)
This show was done at the request of TV journalist Geraldo Rivera, who'd befriended John and done an

exposé

on the treatment of children with mental disabilities at the state-run Willowbrook School. John called Geraldo (not the other way around, as I previously thought), and recommended a benefit concert. John swallowed his differences with Paul and invited him, and Paul almost accepted, but didn't want Allen Klein involved. John did, and Paul backed out.
As with the Concert for Bangladesh, it was actually 2 shows in 1 day, both sold out. John was preceded onstage by doo-wop tribute group Sha Na Na, Roberta Flack and Stevie Wonder. John was backed by his wife Yoko Ono, Mark Volman and Howard Kaylan from The Turtles and Frank Zappa's Mothers of Invention, and Elephant's Memory, with whom he'd recorded the album
Some Time in New York City
over the previous Winter.
The concert was filmed, and became the live album
Live in New York City
. He played only his solo work, aside from 1 Beatle song: "Come Together." Film of these performances was combined, by one enterprising Beatle fan, with footage of George and Ringo in the Concert for Bangladesh and Paul's Wings Over America tour in 1976, to create a video for the song, which the Beatles never made together -- nearly creating an "alternate history" in which the Fab Four hadn't broken up in 1970.
Sadly, the history we know says that this was John's last full concert.
Dishonorable Mention. July 27, 28 and 29, 1973, The Garden: The Song Remains the Same. I am not a big Led Zeppelin fan. The concert film of the same title, released on October 20, 1976, didn't change that.
well as possible), drinking like a fish, smoking like a chimney, screwing like a rabbit, acting like an ass, paying lip-service (and maybe more) to the occult, and, oh yeah, lots and lots of cocaine.

One member of Led Zeppelin, drummer John Bonham, died in 1980 from mixing booze and drugs. The other 3? Lead singer Robert Plant, guitarist Jimmy Page, and bassist John Paul Jones? They're still alive, but have you seen them lately? They look like they died 35 years ago, too!

4. November 28, 1974, The Garden: Thanksgiving with Elton. On Thanksgiving night, close to the height of his musical talent, fame and charisma, Elton John rocked The World's Most Famous Arena with considerable gusto. But that, by itself, wouldn't have put this concert on the list.

At the end of the show, Elton brought on a special guest. He had made a bet with John Lennon that if John's song "Whatever Gets You Through the Night," on which Elton had sung backup, hit Number 1 in the U.S., John would join him for this show. It did. John kept his word, and the audience, totally unaware, gave the building its greatest ovation ever, with the possible exception of when Willis Reed limped out for pregame warmups before Game 7 of the 1970 NBA Finals.

Together, the Walrus and the Rocket Man played 3 songs: "Whatever Gets You Through the Night," Elton's reworking of John's Beatle classic "Lucy in the Sky with Diamonds," and a song John introduced as being "by an old friend named Paul": "I Saw Her Standing There."
Saturday Night Live in 1976 -- made this show a legend. That, and it was John's last concert appearance of any kind.

5. August 15, 1975, 40 years ago today, the Bottom Line, Greenwich Village, Manhattan: Bruce Springsteen & the E Street Band. Up until this night, Bruce was a cult act, as U2 and R.E.M. would be in the early 1980s: Those who knew his music couldn't get enough of it, but not enough people knew it.

From August 13 to 17, for 5 nights, 2 shows a night, the E Streeters would support the release of their album Born to Run by playing the 400-seat Village venue, which was then a year old and would close in 2004, and have the concerts broadcast live on WNEW-FM, New York's biggest rock station at the time.
Time and Newsweek at the same time -- a rare feat for a non-politician. And, 40 years later, Born to Run is still one of the most beloved albums of all time, even though it only has 8 songs (but running over 42 minutes), including the title track, which is one of the top 10 rock and roll recordings ever made -- and Bruce isn't even a great singer!

6. September 19, 1981, The Great Lawn, Manhattan: The Concert in Central Park. Half a million middle-aged Baby Boomers flocked to the Park, then in a rough period, to see Paul Simon and Art Garfunkel.

Paul & Artie hadn't toured together in 11 years, and hadn't sung together in public since an early Saturday Night Live in 1975. They opened with "Mrs. Robinson," and sang several of their other hits, plus Paul solo hits like "Me and Julio Down by the Schoolyard" and "Kodachrome." They also sang covers of songs from their youth: The Everly Brothers' "Wake Up Little Susie" and Chuck Berry's "Maybellene." And a good time was had by all -- even the performers.
Hearts and Bones. Paul, alone, would give another performance before 500,000 fans in the Park on August 15, 1991 -- again, today is the anniversary. Diana Ross would also give a big concert in the Park, drenched by rain, on July 21, 1983. So would Luciano Pavarotti -- minus rain -- in 1993.

7. June 22, 1990, Yankee Stadium, The Bronx: Billy Joel. The big ballyard in The Bronx had the occasional music festival and postgame concert, but not until 1990 did a single performer headline there without a game. Billy, born in The Bronx and raised on Long Island, was the first. (The place was also sold out the day before, for a rally by Nelson Mandela.)
The Wall (which was also done, more appropriately, at Fenway Park in Boston.) As usual, Billy opened with his keyboard-hammering "Prelude/Angry Young Man," and closed with "Piano Man."

Needless to say, he got big cheers during "We Didn't Start the Fire" when he mentioned Joe DiMaggio and Mickey Mantle, and even Brooklyn Dodger legend Roy Campanella -- and when he flipped the bird at the line, "California baseball," showing that there were still locals ticked off at the Dodgers moving to Los Angeles and the baseball Giants to San Francisco. The weird part was seeing Billy not sitting at the piano, but standing and playing guitar on that song and "A Matter of Trust."

8. October 16, 1992, The Garden: Bob Dylan: The 30th Anniversary Concert Celebration. Or, as one of the performers, Neil Young, put it, "This one's for you, Bob. Thanks for having Bobfest!" Actually, it was Columbia Records, Dylan's label the whole way, that put the show on.

And what a show it was. It may have been the greatest array of musical talent ever brought together for one show in one building. (Live Aid was 1 show, but in 2 stadiums on 2 continents, and I'm not sure it was a better show, anyway.) The house band consisted of Booker T. & the M.G.'s, with Jim Keltner and World's Most Dangerous Band member Anton Fig filling in for the late Al Jackson Jr. on drums, plus G.E. Smith of the Saturday Night Live Band. Kris Kristofferson, himself one of America's greatest songwriters, was master of ceremonies.
John Mellencamp kicked it off with perhaps Dylan's greatest song, "Like a Rolling Stone." One by one, some serious legends came, each playing a Dylan song or two: Stevie Wonder (singing the gospel-inflected version of "Blowin' in the Wind" that he hit with in 1966), Lou Reed, June Carter and Johnny Cash, Willie Nelson, Johnny Winter (whose version of "Highway 61" was particularly blistering), Ron Wood of the Rolling Stones, Richie Havens (whose acoustic version of "Just Like a Woman" was epic), the Clancy Brothers (Village folkie contemporaries of Dylan's, singing "When the Ship Comes In" with an Irish brogue), Neil Young (who blitzed through "Just Like Tom Thumb's Blues" and made absolutely nobody miss Jimi Hendrix with "All Along the Watchtower"), Chrissie Hynde of the Pretenders, Eric Clapton (who totally tore the place up with a bluesy rendition of "Don't Think Twice, It's All Right"), the O'Jays, The Band, George Harrison, Tom Petty & the Heartbreakers, and Roger McGuinn of the Byrds.
The younger generation got in on the act, too: Pearl Jam's Eddie Vedder and Mike McCready, Tracy Chapman, and a performance of "You Ain't Going Nowhere" by Mary Chapin Carpenter, Shawn Colvin, and Johnny's daughter (and June's stepdaughter) Roseanne Cash.
Said younger generation included a performer who became the focus of the show's one moment of controversy: Mere days after singing Bob Marley's "War" and tearing up a picture of Pope John Paul II on
SNL
, Sinead O'Connor tried to sing Dylan's "I Believe in You," but got booed off the stage. Kristofferson, perhaps anticipating such a reaction, tried to introduce her by saying that, like Dylan, she stood for freedom, including freedom of speech. It was to no avail: Harder than Dylan was at Newport in 1965, she got booed. She walked off and cried on Kristofferson's shoulder, and a microphone picked up him saying to her, "Don't let the bastards get you down."
George Harrison introduced Bob, and the big question everybody had was, "What's Bob going to do?" Not because so many of his great songs had already been done, but because a Bob Dylan show is like a box of chocolates: You never know what you're going to get. Was he going to say something controversial? Was he not going to be understandable as he sang?
There was no issue with him: He sang, "It's Alright, Ma (I'm Only Bleeding)," and he was totally understandable, and he was on his game. In turn, the 6 verses of "My Back Pages" were sung by McGuinn, Petty, Young, Clapton, Dylan and Harrison. Bob closed with "Knockin' on Heaven's Door" and "Girl from the North Country."
Wood, Harrison, Cash, McGuinn, Dylan
I still have most of this concert from the WNEW-FM broadcast. To me, it sounds better than any other recording of it.
9. October 22, 2001, The Garden: The Concert for New York City.
Played just 6 weeks after the 9/11 attacks, emotions were still running deep. Most of the audience was cops, firemen, rescue workers, and people who had lost family members in the attacks, many of them holding up photos of the victims.
Every act was introduced by a non-singing celebrity: Billy Crystal (MC), Mark Wahlberg, Susan Sarandon, Harrison Ford, Christy Turlington, Edward Burns, Meg Ryan, David Spade, Jim Carrey, Mike Myers, Howard Stern, Julia Stiles, Jerry Seinfeld, Michael J. Fox, Hilary Swank. Leonardo DiCaprio and Robert DeNiro introduced a short film by Martin Scorcese, Halle Berry one by Spike Lee, John Cusack one by Woody Allen, Jon Bon Jovi doing one for New Jersey with one by Kevin Smith.
Comedy routines were done by Crystal, Adam Sandler as his
SNL
character Operaman, Jimmy Fallon, and Will Ferrell in character as George W. Bush. The real Bush didn't show up, but there were speeches by real politicians: Former President Bill Clinton, Senator Hillary Clinton, Governor George Pataki, Mayor Rudy Giuliani, and Senate Majority Leader Tom Daschle.
The big thing, of course, was the music. David Bowie, accompanied only by himself on bongos, opened the show with Simon & Garfunkel's "America," then did his own "Heroes" with a full band.
Bon Jovi, Jay-Z, Goo Goo Dolls, Destiny's Child (including
Beyoncé
), Eric Clapton & Buddy Guy, the Backstreet Boys, Macy Gray, James Taylor, John Mellencamp & Kid Rock, Five For Fighting, and Janet Jackson. (The last big musical event in The City before the attacks had also been at The Garden, a 30th Anniversary tribute to her brother Michael.)
Billy Joel was a little bit of a problem. He showed up drunk, and went into rehab not long thereafter. Of course, he played "New York State of Mind." But first, he played "Miami 2017." On September 10, 2001, it looked like the apocalypse he'd predicted for The City in 1976 had been prevented. But on the 11th, it came far too close to reality: "I watched the mighty skyline fall" -- although it was the World Trade Center, not the Empire State Building, that he saw "laid low." He later joined Elton John, who had played his New Yorker-themed "Mona Lisas and Mad Hatters," for a performance of Elton's "Your Song."
"A bottle of white, a bottle of red... "
Melissa Etheridge's microphone went out during her acoustic performance of "Come to My Window," but everybody was singing along anyway, and none of those hard-edged, blue-collar cops and firemen gave a damn that she was openly gay. Her mike went out again as she did an acoustic version of Springsteen's "Born to Run" -- and nobody flinched as she sang lines of love and passion to a woman named Wendy.
"And strap your hands 'cross my engines!"
Mick Jagger and Keith Richards of the Rolling Stones sang "Salt of the Earth" and "Miss You" (with its reference to walking through Central Park in the '70s). When they were done, Mick said, "If there's one thing we've learned from all this, it's that you don't fuck with New York!" True.
The Who came out, with Ringo Starr's son Zak Starkey filling in on drums for the late Keith Moon, and it turned out to be bass player John Entwistle's last performance. They did a nasty "Who Are You," an intense "Baba O'Riley," a melancholy "Behind Blue Eyes," and a roaring "Won't Get Fooled Again." Billy Crystal said, "I'd never seen The Who live before. It was great to see these middle-aged men get out on stage and kick ass.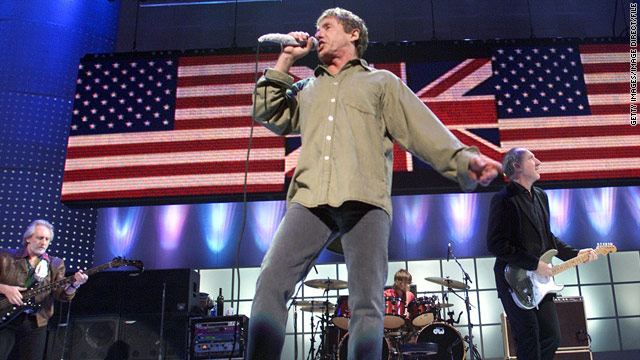 With Elvis unavailable, it was appropriate that the show closed with a surviving Beatle, Paul McCartney, who played, among others, "Yesterday," his new song "Freedom," and "Let It Be." (George had cancer, and died within weeks.)
Honorable Mention: September 20, 2005, The Garden: From the Big Apple to the Big Easy.
This wasn't one of the better ones, but it was one of the most important. When New York was attacked by a force of man, virtually every major city in the world stepped up to help, including New Orleans. When New Orleans was attacked by a force of nature 4 years later, virtually every major city in the world stepped up to help, including New York.
About $9 million was raised, including for charities involving 4 different Presidents (and possibly a 5th): The Bush Clinton Katrina Fund, and Jimmy Carter's much-needed down there house-building and house-restoring Habitat for Humanity.
The list of performers wasn't as big as for 9/11 and Hurricane Sandy, but there were some big ones. A star since 1957, Clarence "Frogman" Henry took his funny novelty song and made it massively relevant to the Crescent City's situation: "Ain't Got No Home." He was one of several New Orleans-based (or, at least, Louisiana-based) performers that also included Dave Bartholomew (bandleader for Fats Domino, who for 2 days was missing and thought lost in the hurricane), Allen Toussaint, the Dixie Cups, Irma Thomas, the Neville Brothers, Buckwheat Zydeco, and the Meters. From outside New Orleans came Elton John, John Fogerty, Bette Midler, Elvis Costello and his wife Diana Krall, Jimmy Buffett, Ry Cooder, Lenny Kravitz, and a rare Simon & Garfunkel reunion.
10. December 12, 2012, The Garden: 12-12-12: The Concert for Sandy Relief.
When Hurricane Katrina wrecked New Orleans on August 29, 2005, a fundraising concert was held at MSG. When Hurricane Sandy pounded New York and New Jersey on October 29, 2012, a fundraising concert at MSG was inevitable.
"I don't care what consequence it brings.
I have been a fool for lesser things."
As with the Concert for New York City, there were nonsinging celebrities on hand. Returning from that show were Crystal, Sarandon, Sandler, Shaffer and Fallon. Among the musical performers who had also been at the CFNYC were McCartney, Jagger and Richards (who brought the rest of the current Stones lineup with them), The Who's Roger Daltrey and Pete Townsend, Joel, Clapton, Bon Jovi and Vedder.
"Sprung from cages on Highway 9":
Freehold's Bruce and Sayreville's Jon
New to this show were Springsteen -- one of the few bills he's ever shared with Joel -- Roger Waters of Pink Floyd, Alicia Keys, Kanye West, Chris Martin of Coldplay; and nonmusical personalities Brian Williams, Ben Stiller, Whoopi Goldberg, Kristen Stewart, Jon Stewart (no relation), not Bill or Hillary but Chelsea Clinton, Stephen Colbert, Sean "Diddy" Combs, Olivia Wilde, Steve Buscemi, Joe Pantoliano, James Gandolfini, Chris Rock, Seth Meyers, Bobby Moynihan, Jake Gyllenhaal, Patricia Farrell, Blake Lively, Katie Holmes, Jason Sudeikis, and Quentin Tarantino and his
Django Unchained
stars Jamie Foxx and Christoph Waltz.