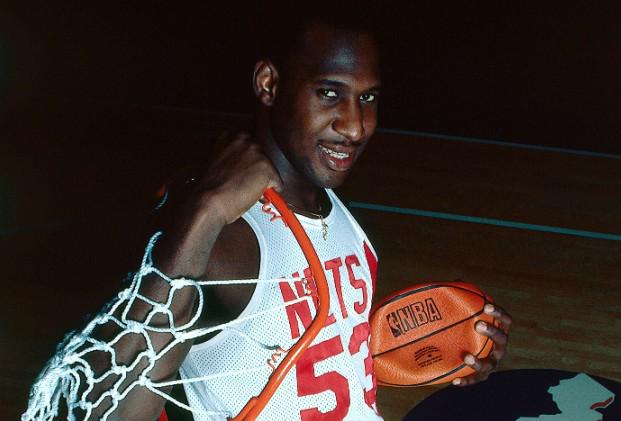 I met Darryl Dawkins once. The date was May 31, 1986. The place was Public Storage, a storage facility at Route 18 & Milltown Road in my hometown of East Brunswick, New Jersey.
I was a 16-year-old, 5-foot-6, 120-pound high junior at nearby East Brunswick High School, stopping off at the event on my way to see EBHS compete in the Greater Middlesex Conference baseball tournament in New Brunswick. (We beat Carteret, and went on to win the tournament.)
He was a 29-year-old, 6-foot-11, 250-pound professional basketball player for the nearby New Jersey Nets, already a legend.
In those days before sports salaries got out of control, and offseason personal appearances really did help a bee-baller's bank account, he was hired to referee a contest between E.B.'s police and fire departments, to see who could fill up a storage unit with basketballs the fastest.
He was late, and we were wondering if he was going to show up at all. Just as I decided he'd stood us up, and turned to leave and get on my bike to head out to New Brunswick, I heard this big voice say, "I gotta sign all those?"
It was the man known as Chocolate Thunder, and, no, he was not asked to sign every one of those basketballs. The event then went off without a hitch.
He was big and scary-looking, but that was just an image. He couldn't have been nicer. He was, figuratively and all-too-close to literally, bigger than life.
*
Contrary to the legend he wrote up for himself, Darryl Dawkins (no middle name) was not born on a planet named Lovetron. But he was born near a Magic Kingdom, in Orlando, Florida, on January 11, 1957.
In 1975, he led Maynard Evans High School to a Florida State Championship. This was a year after Moses Malone had been pursued by both the NBA and the ABA out of Petersburg High School in the Norfolk, Virginia area. Hoping to follow the same path, Dawkins renounced his college eligibility, and declared himself eligible for the NBA Draft as a hardship case. As Malone was selected by the ABA, Dawkins became the 1st high school star chosen by the NBA.
The Philadelphia 76ers made him the 5th overall pick. David Meyers (Ann's brother) was chosen ahead of him, but did not become an NBA star. The others picked ahead of him did: Marvin Webster, Alvan Adams, and the man known as Skywalker before anyone ever heard of Mark Hamill, David Thompson.
Dawkins' 1st game was against the Knicks. Walt Frazier, himself a legend, looked at him and said, "I bet his teachers called him Mr. Darryl."
"They wanted me to be Wilt Chamberlain right away," Dawkins said. He had no college education, but he knew he was not going to be the Big Dipper at the age of 18 1/2. He didn't play much in his rookie season, 1975-76. But in 1977, the 76ers reached the NBA Finals for the 1st time in 10 years, since they had, yes, Wilt Chamberlain at center. They played the Portland Trail Blazers, who had Bill Walton healthy for one of the rare times in his career. Dawkins guarded Walton, and it certainly wasn't Dawkins' fault that the Sixers blew a 2-games-to-none lead and lost 4 straight. He earned the admiration of many basketball observers, including Walton himself.
In 1978, the 76ers traded George McGinnis, and at 21 Dawkins was the starting center for one of the NBA's greatest franchises. He became a star, and, hearing about his dunking ability, music superstar Stevie Wonder gave him the nickname "Chocolate Thunder."
On November 13, 1979,
his legend truly began
. The Sixers played the Kansas City Kings (now in Sacramento) at the Kansas City Municipal Auditorium (as their regular home, the Kemper Arena, was undergoing repairs). He reached up for a dunk, and threw it down with such ferocity that the glass backboard shattered, sending shards of glass to the hardwood below.
Dawkins was not the 1st man to do this. During pregame warmups for one of the first games ever played by the Boston Celtics in 1946, Chuck Connors -- who also played baseball and became much more famous as an actor -- accidentally broke a backboard with a warmup shot, forcing a delay in the tipoff as a backboard was found from another arena in town. Gus Johnson of the Baltimore Bullets, one of the NBA's earliest dunk artists, supposedly broke 3 in the late 1960s and early 1970s.
Before "dunk victims" got "posterized," there was Bill Robinzine. When Dawkins broke the backboard, Robinzine ducked, covered his face, and ran. After the game, Dawkins' imagination went wild, and he named the incident "The Chocolate-Thunder-Flying, Robinzine-Crying, Teeth-Shaking, Glass-Breaking, Rump-Roasting, Bun-Toasting, Wham-Bam, Glass-Breaker-I-Am Jam."
(Robinzine became a tragic figure. He was a decent defensive forward who played 7 years in the NBA, but was released after the 1982 season. Unable to sign on with another team, he committed suicide. He was only 29.)
Three weeks later, at home at The Spectrum, playing the San Antonio Spurs, Dawkins broke another backboard on a dunk. Unlike the Connors and Johnson incidents, both of his breakings were caught on live television, and so they were seen by pretty much anyone who wanted to see them.
And Dawkins, like baseball great Satchel Paige naming his vast array of pitches, started naming his dunks, including the Rim Wrecker, the Spine-Chiller Supreme, and, creating an expression that became a description for big dunks in general, the In-Your-Face Disgrace.
He also gained nicknames for himself. Added to "Chocolate Thunder" were "Sir Slam" and "Doctor Dunkenstein." That last one, however, would become better remembered for Utah Jazz star Darrell Griffith.
Like the aforementioned Paige, his baseball contemporary Dizzy Dean, and Dawkins' own contemporary, football quarterback Terry Bradshaw, Dawkins figured out that if you've got a certain image, use it to your advantage before others can use it to theirs. Possibly inspired by the man known as Doctor Funkenstein, rock bandleader George Clinton and his "P-Funk Empire," with his "Mothership Connection" stage set (the first "black people in space" most people saw, outside of
Star Trek
's Lieutenant Uhura), Dawkins began telling people he was from the planet Lovetron, where he had a girlfriend named Juicy Lucy, and practiced "interplanetary funkmanship."
(As far as I know, he never explained what "interplanetary funkmanship" meant. I would have liked to have found out. Clinton and James Brown were probably mad that they didn't think of it first.)
But despite having Dawkins, Julius "Dr. J" Erving, Maurice Cheeks, Bobby Jones, Andrew Toney and Caldwell Jones, and being coached by Hall of Fame player Billy Cunningham, the Sixers kept falling short in the Playoffs, despite telling their fans "We Owe You One" after the '77 Finals choke. They lost the 1978 Eastern Conference Finals to the Washington Bullets (now Wizards). In the 1980 NBA Finals, Dawkins showed that he might have been from another planet, but by NBA standards, he was no superman, and Kareem Abdul-Jabbar of the Los Angeles Lakers was. They blew a big Game 7 lead in the 1981 Conference Finals and lost to the Boston Celtics.
It got worse in the 1982 Finals, also between the Sixers and Lakers. Kareem absolutely abused Dawkins in that series. The Sixers finally had enough, trading Dawkins to the New Jersey Nets for a 1st Round draft pick. Ironically, considering how his career began, the Sixers also traded for Moses Malone -- and Big Mo (as opposed to Cheeks, a.k.a. Little Mo) finally won the NBA title in 1983, sweeping the Lakers.
*
The Nets, who had moved to the Brendan Byrne Arena at the Meadowlands Sports Complex in East Rutherford in 1981, after 4 years at the Rutgers Athletic Center in Piscataway following their Long Island tenure as the New York Nets, were a good team at the time. Dawkins joined Buck Williams, Otis Birdsong, Mike Gminski and Albert King, and in 1984, the Nets eliminated the defending World Champion 76ers in the 1st round of the Playoffs. Then they took the Milwaukee Bucks to 6 games before losing.
Dawkins' ability to get inside and dunk, but also his shooting proficiency, meant that he was always among the league leaders in field-goal percentage. And he was a good rebounder on both offense and defense. And, of course, the big dunks kept on coming. The late 1970s and early 1980s was the golden age of science fiction movies (although TV sci-fi at this point was campy as hell and not really worth watching), and every basketball fan wanted to visit Lovetron. (It had to have been a better experience than visiting Mork's homeworld of Ork.) I suspect there was more than one NBA scout who wanted to visit Lovetron, just to see if there was another Chocolate Thunder there.
But, as it turned out, that win over the Sixers would be the Nets' only postseason series win since joining the NBA from the ABA in 1976, until Jason Kidd arrived for the 2001-02 season. And injuries began to plague Dawkins. In particular, a back injury in 1985-86 (a few months before that day at Public Storage) put an end to his NBA productivity. In 1987, the Nets traded him to the Utah Jazz. The next season, he went to the Detroit Pistons. In 1989, the Pistons won their 1st NBA title, but Dawkins only played 14 games, none of them in the Playoffs, and did not get a ring.
He then bounced around, playing 5 seasons in Italy's league, then spending the 1994-95 season with the Harlem Globetrotters, where his dunks and his personality would seem to have been a perfect fit. Alas, even there, injuries frequently kept him off the court. After a pair of brief comebacks in the minor leagues, he finally hung up his sneakers in 2000.
By that point, dunking became not the province of enormous centers -- despite the actions of Shaquille O'Neal -- but quick guards like Michael Jordan and Vince Carter, and forwards like Dominique "the Human Highlight Reel" Wilkins. But Dawkins' legend never faded away.
He overcame a drug habit, and married 3 times, having a son and 2 daughters. He coached the Newark Express of a women's league, and later a pair of minor-league teams, the Winnipeg Cyclone (as a player-coach) and the Pennsylvania ValleyDawgs of Allentown in the Lehigh Valley.
He stayed in the area, and coached at Lehigh Carbon Community College. He seemed to have his life together, embracing both his legend and a responsibility of teaching the game to a new generation.
He was a regular Twittere
r from January 2012 onward, claiming in his bio that he was still "bringing funkiness to all over the world."
His last tweet came just 14 hours before I heard that he had died of a heart attack this morning, at the age of 58.
It is hard to believe that he is dead. Men from the planet Lovetron can't die, can they?
I hope the planet gives him a state funeral.