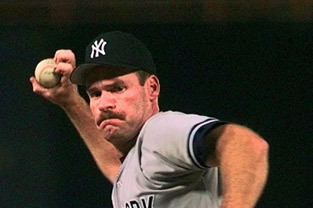 Occurrence. Date: Name, usual position. Pitching performance on that day.
1. 1908: Hal Chase, 1B.
Pitched to 1 batter and got him out. I have no further information, not even an exact date. This is the same Hal Chase who was accused of throwing multiple games and ultimately banned from baseball, one of the most disreputable characters in the game's history.
2. May 11, 1909: Charles "Butch" Schmidt, 1B.
Pitched 5 innings, finishing the game. 8 runs, but only 4 earned. 10 hits, 1 walk, 2 strikeouts. Later won a World Series with the 1914 Boston Braves.
3. June 1, 1920: Babe Ruth, RF.
Appropriate that he's Number 3 here. Made 5 appearances as a pitcher for the Yankees, after having been a really good pitcher for the Red Sox from 1915 to 1918. But by 1919, he was almost a full-time pitcher, so this counts.
On June 1, 1920, he started, pitched 4 innings, gave up 4 runs, 2 earned. According to the rules of the time, he got credit for the win. On June 13, 1921, he started, pitched 5 innings, gave up 4 runs, 3 earned, hit 2 home runs, and got the win. On October 1, 1921, he pitched 4 innings of relief, and got the win, despite allowing 6 runs and causing the game to go into extra innings. All 3 of those appearances were home games at the Polo Grounds. (The original Yankee Stadium didn't open until 1923.)
He didn't pitch again until September 28, 1930, another late-season performance, a complete-game victory over the Red Sox, who, knowing the former Sox start might bring in a huge crowd, asked the Braves to borrow Braves Field, instead of playing it at Fenway Park. His mound finale was another end-of-season job, October 1, 1933, his only outing as a Yankee pitcher at Yankee Stadium. He was shaky, but he went the distance in a 6-5 win over the Red Sox.
Then it didn't happen for the Yankees again for 33 years -- and then it happened on back-to-back days.
4. August 25, 1968: Rocky Colavito, RF.
The Bronx native starred for the Cleveland Indians and the Detroit Tigers, but was only a Yankee for the last 3 months of a career that saw him hit 374 home runs and showcase a rifle arm in right field.
He pitched most of the 4th inning, plus all of the 5th and the 6th, against the Tigers at Yankee Stadium, allowing no runs on a hit and 2 walks, striking out 1, and ended up the winning pitcher as the Yankees won, 6-5 at Yankee Stadium. He had previously pitched 3 innings in a 1958 game for the Indians, and in 5 2/3 career innings pitched, his ERA was 0.00.
5. August 26, 1968: Gene Michael, SS.
The very next day, "Stick" went 3 innings, in relief of Al Downing, against the California Angels, and allowed 5 runs -- none of them earned. Ironically, it was the man substituting for him at shortstop that day who made an error that led to a 4-run 8th inning: Ruben Amaro Sr., father of the current Philadelphia Phillies' general manager. (Both Rubens also played for the Phils.) Stick allowed 5 hits, but no walks, and struck out 3. The Yankees lost, 10-2. This was the last time a position player pitched for the Yankees at the old Stadium.
6. August 6, 1991: Alvaro Espinoza, SS.
The last long-term Yankee shortstop before ol' What's His Name, he got 2 outs in the 8th inning of a 14-5 loss to the Chicago White Sox in Chicago.
7. July 18, 1996: Mike Aldrete, OF.
The last player to wear Number 20 on a Yankee title team other than Jorge Posada, he pitched the last inning of a 16-4 loss away to the Milwaukee Brewers. It was his last season in the majors, but he got a ring.
8. August 19, 1997: Wade Boggs, 3B.
The Yankees were in the middle of what used to be a traditional bad August trip to the Coast -- some of them were "Borg roadtrips," where we lost seven of nine and resistance was futile -- losing 12-4 to the Anaheim Angels (as they were then known), when Joe Torre brought Boggs in to pitch the 8th inning. He threw 16 knuckleballs and didn't allow a run. He would also pitch a scoreless inning for the Tampa Bay Devil Rays.
9. April 13, 2009: Nick Swisher, RF.
The Yankees got off to a rough start in their 1st season in the new Yankee Stadium, before losing badly in 2 of their 1st 3 games in it. This was a 15-5 loss to the Tampa Bay Rays at Tropicana Field, after trailing 9-0 after just 2 innings. Swish pitched the 8th and final Yankee inning in the field,and allowed a hit and a walk, but no runs. Meaning that, at that point, he was the Yankees' best pitcher of the season. Things did settle down, and the Yankees won the World Series.
10. June 30, 2012: Dewayne Wise, OF.
This was the 1st time it happened for the Yankees at the new Stadium, in a 14-7 loss to the White Sox. Wise throws lefthanded, so it's surprising that Joe Girardi didn't pitch him over and over and over again to pitch to 1 lefty batter and then take him out for a righthander. Of course, he had Boone Logan for that, to every Yankee Fan's dismay. Wise got 2 outs in the 9th, without allowing a run.
11. May 15, 2013: Alberto Gonzalez, IF.
Got the last out of a 12-2 loss to the Seattle Mariners.
12. April 19, 2014: Dean Anna, SS.
Another whacked-out move that couldn't possibly have been in Girardi's Binder Full of Strategies, he allowed the last 2 runs of a 16-1 battering from the Rays in St. Petersburg. As with the last day on this list, the shelled starter was Ivan Nova.
13. May 23, 2015: Garrett Jones, 1B.
Got the last 2 outs of a 15-4 home throttling at the hands of the Texas Rangers.
14. August 25, 2015: Brendan Ryan, 3B. Coming
47 years to the day after Colavito's mound appearance, i
n a 15-1 home disaster inflicted on us by the Houston Astros, he
pitched the 8th and 9th innings, pitching to 8 batters, allowing 2 hits, no walks, and no runs.